The 2012 14-Day Alaskan Explorer, Holland America ms Amsterdam
Text and pictures by Snookums, webification by Filbert
Part Two
July 3 (Tuesday, Day 6, Juneau) –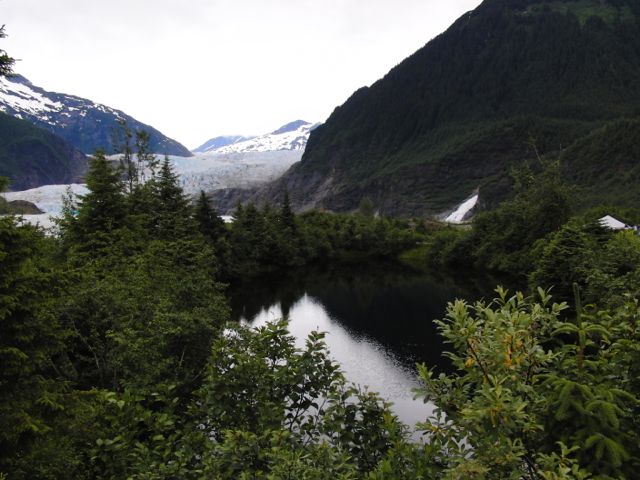 Mendenhall Glacier
Filbert and Snookums walked to Juneau Car Rental Company, about a mile from the ship, for our 8-passenger rental van. We picked up everyone else back at the ship and drove to Mendenhall Glacier. Mom and Dad stayed in the visitor's center while the rest of us "hiked" to Nugget Falls which is a waterfall near the glacier. The weather was nice and it was an easy walk. Pat spotted a mountain goat that all of us were able to see. Snookums still wants to see a bear and a moose, though!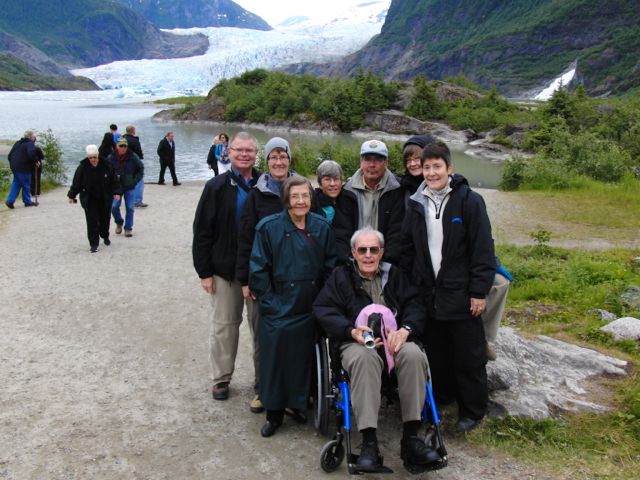 The gang at the glacier
After that we drove to Sand Bar & Grill for what many consider to be Alaska's best halibut and chips. We all thought it was very good. Filbert and Matt ordered the 8 oz. meal for $17 while the rest of us had the 5 oz. meal for $14. A pitcher of Alaskan Summer Ale was also consumed.
Then we drove to Shrine of St. Therese. We hoped to see whales and other wildlife and nature but didn't. It was beautiful, but we all stayed in the car since the mosquitoes (and mud) were prevalent. Then we headed to WalMart for some basic purchases before heading to the Alaskan Brewing Co. This brewery no longer gives tours (a video is played) but the free tastings are large and the limit is six per person! Dad enjoyed his Amber Ale. We piled into the van one more time, filled it with gas at $4.23/gallon and headed back to the ship. Everyone except for Snookums, Judy and Jean got out and returned to the ship. We returned the van and then we walked back to the ship while stopping at all of the free charm and necklace places. Snookums and Jean each bought a large bag of kettle corn for later, too.
Everyone was intrigued that Juneau can only be reached by air and water and not by road. It is the capitol of Alaska and has a fleet of state-owned seaplanes that we kept seeing land and take off.
The ship left Juneau at 10 PM and Juneau was going to celebrate its 4th of July with fireworks at 11:45 PM on July 3. (Sunset was at 9:56 PM.) Starting around 7 PM people built bonfires on the shore across from the ship and started shooting off fireworks. There were just a few to begin with, but as the night went on, more and more were shot off. Boats came to the harbor, too, since the official fireworks shows was going to be in the channel. As the ship was leaving there was a large personal fireworks display and the smoke was intense. Although he was dead tired, Filbert sat on the verandah and watched all of it. Snookums joined him for some of it and we ate the kettle corn purchased earlier in the day.
July 4 (Wednesday, Day 7, Icy Strait Point) –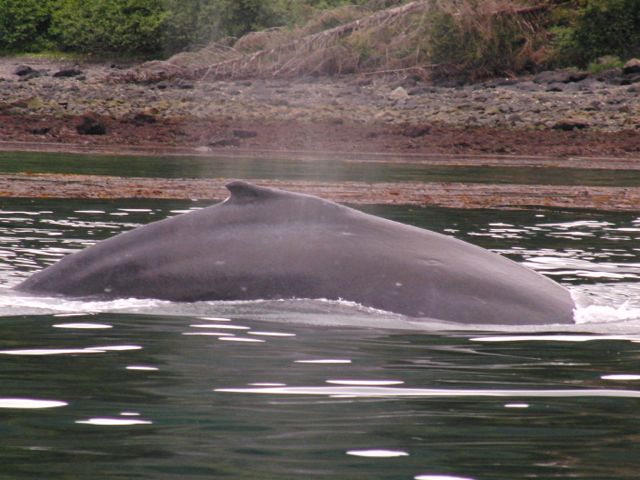 Humpback, rather close
We were on the first tender of the day and got to Icy Strait Point around 7:35 AM. Our whale watching captain, Paul Comolli, was waiting for us with the Hoonah Travel Adventures van (hoonahwhalewatching.com). He asked us if we wanted coffee and Jean said "yes" and so we stopped at one of the two coffee shops for coffee to go. It was Jean's birthday so if she wanted coffee, she could have coffee.
Then we drove to the 35-foot whale watching boat and set out for our adventure. We saw humpback whales, sea otters, stellar sea lions (even mating ones!), harbor seals, bald eagles and a mink. At one point, the water was full of "boiling fish" since there was a huge school of herring that were making lots of small waves and "pops" at the top of the water. Captain Paul gave Jean an enamel pin of a humpback whale since it was her birthday. After our 4-hour whale watching tour, Captain Paul took us on a tour of Hoonah.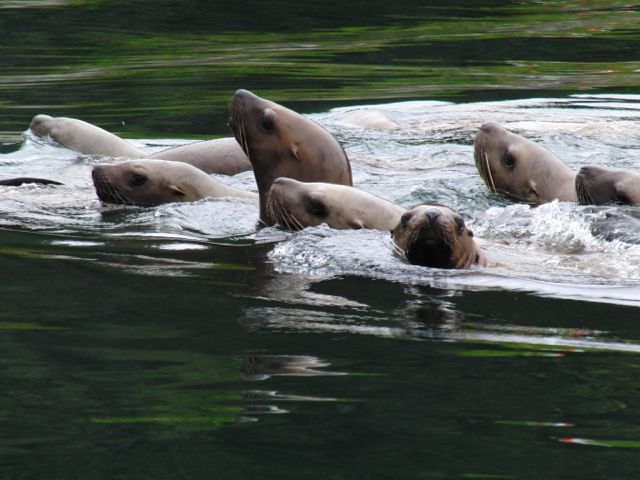 Sea lions
He was a member of Juneau's police department for 20 years before retiring to Hoonah, population 850. He wears many hats including being a volunteer fireman, an EMT, an electric company employee on Saturday and Sunday, and a whale watching captain. In his spare time he hunts bear and deer and does chainsaw art (by commission). His wife enjoys living in Hoonah, as do his three children. Hoonah has a grocery store, Ace Hardware and filling station all in one location and also has two coffee shops and a bait/tackle/gun store. We also saw a thrift store and a gift store (most likely for the tourists that come during the summer on the four weekly cruise ships). It is located three hours from Juneau, via ferry, or 30 minutes via seaplane. A round-trip ticket costs $150 for either mode (with a car allowed on the ferry). People buy a lot of their food from the Costco in Juneau and ship it in at a cost of about $1 per pound. Gasoline is $5.05/gallon. The high school class of 2011 had four graduates!
In the 1940s government housing that was destined for Guam was redirected to Hoonah. As a result there are many, many houses that look identical. And, since they were gifts of the government they are exempt from property tax. As a result, there is no property tax in Hoonah for anyone (and no state income tax for Alaska).
After our great tour we got back on the tender and headed back to the ship. We briefly stopped in our cabins to shed some layers and then arrived in Lido for lunch around 2 PM. Everyone was starving. There is something about being out in nature to make you extra hungry.
In the afternoon we had a birthday party for Jean in Mom and Dad's room. Jean opened her presents and Mom even got various sweets from Neptune Lounge to go with the one bottle of champagne that was given to each Deluxe Verandah Suite.
There was another party at dinner as the wait staff sang the Indonesian version of "Happy Birthday" and presented Jean with a birthday cake with a candle in it. Everyone was full so Rofi, our waiter, made it into an aluminum foil swan to take back to the cabin. It was a good day.
July 5 (Thursday, Day 8, At sea) –
Today was a quiet day. It was overcast and around 50°. The highlight was that we all met in Neptune Lounge prior to the formal dinner for a family photograph.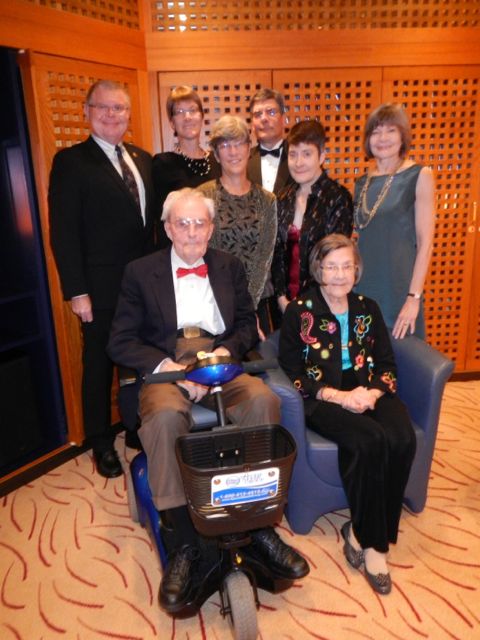 Family photograph
Snookums and Filbert attended the 4-star Mariner cocktail party after dinner which was hosted by Captain Fred Eversen and Hotel Manager Frank Ulbricht. Snookums ordered a non-alcoholic blended mocha drink but it wasn't as good as the free one she had on the ms Nieuw Amsterdam in February. Filbert had red wine.
For those of you wondering what there is to do during a day at sea, the following activities happened between 11:00 and 2:00 today:11:00 – History of Faberge, Queen's Lounge11:00 – Flavors of the Amsterdam, Culinary Arts Center11:00 – Women's Football Toss, Sports Court11:30 – Windows 7 with Techspert Patti, Digital Workshop1:00 – Team Trivia Challenge, Explorer's Lounge1:00 – Art Auction, Ocean Bar1:00 – Relay Race, Atrium1:00 – Flower Arranging, Culinary Arts Center1:00 – $500 Slot Tournament, Casino1:30 – Texas Hold'em Tournament, Casino2:00 – Card Players Meet, King's Room2:00 – Toast with Celebrity Designer Onboard, Piano Bar2:00 – Travel Guide Jeanette Presents "Fire and Ice", Queen's Lounge2:00 – Navigator Wine Tasting, La Fontaine Dining Room2:00 – Dance Class: Quickstep, Crow's Nest
July 6 (Friday, Day 9, Anchorage) –
Snookums and Filbert took the shuttle to downtown Anchorage and then waited for around 50 minutes in line at Avis. We finally got the minivan and drove back to the port to pick everyone up. After a few delays for security reasons, we got to the ship around 10:30. Everyone was there except Mom who didn't sleep much due to being slightly under the weather. She was fine, but tired, and decided to stay on the ship.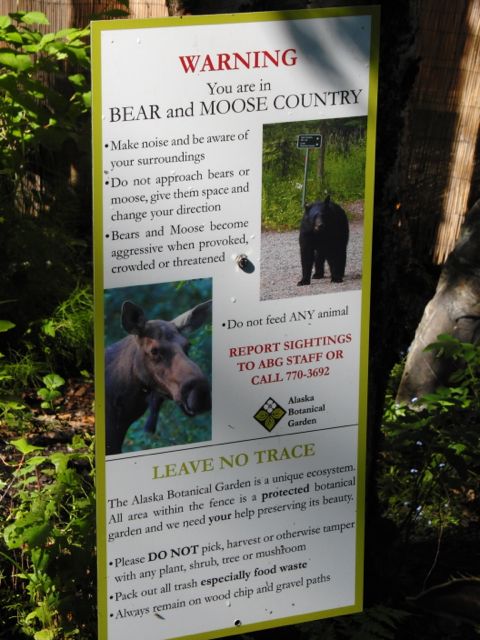 Closest we ever got to a moose
Our first stop was the Alaska Botanical Garden. Unlike most botanical gardens, this doesn't have an arboretum and instead has woodchip paths through the woods with a few gardens sprinkled throughout. The mosquitoes were thick (and big and slow and easy to kill if you saw them in time) and we stayed for about thirty minutes. We did see the famous Meconopsis (Himalayan Blue Poppy) which was very, very blue and very pretty. Dad picked up two of the petals from the ground to show Mom.
At the Alaska Botanical Garden
Then we drove to Humpy's, which is a local bar with food and around 50 beers, many local, on tap. We sat at two tables and Snookums ordered the cod and chips, Jean ordered the salmon and chips and Filbert ordered the halibut and chips. The three of us shared and the halibut and chips was definitely much, much better in Juneau. It was $6 more at Humpy's as compared to the cod or salmon. The deep fried cod and deep fried salmon were both good and the salmon didn't even taste "salmon-like". It was red so it was definitely salmon, but it was very mild. Pat ordered a tuna salad sandwich that the menu specifically stated was made without onions and she was thrilled with that since raw onions make her sick. It came with homemade clam chowder, too, and she said that was also delicious. Two kinds of beer were consumed and everyone was happy.
After lunch we drove to Point Woronzof which is very close to the airport. It is supposed to be a scenic spot to see the ocean and downtown Anchorage. We were hoping to see whales or something but didn't. However, since it was close to the airport, we ended up sitting on the side of the runway so that the interested parties (Dad, Matt and Filbert) could watch a DC-6 and several cargo 747s take off. At one point while Snookums was at a stop sign and before we realized how close we were to the airport, she put her foot on the gas pedal right as a 747 flew overhead a few feet. (Okay, it was probably more than a few feet, but several people in the minivan yelled and Snookums thought they saw a moose. Nope, a very low flying plane. That incident led to parking on the side of the airport and watching planes for 45 minutes or so.)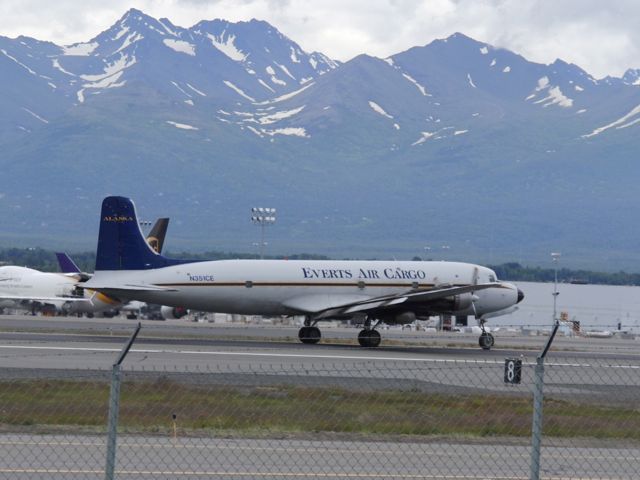 DC-6 taking off
After the airport "sightseeing" we stopped at Earthquake Park which is a small park that has plaques describing the 1964 Anchorage earthquake. The mosquitoes were thick there, too, and Snookums spent most of the time in the minivan. Judy was covered from head to toe, including having the hood of her parka on and tied so that only her eyes, nose and mouth were showing and she still managed to get five mosquito bites right above her eyebrows. But, unlike Snookums, she read all of the earthquake signs.
On our way to our last stop we filled up with gas and used the bathroom. While in the gas station convenience store, Dad realized that the licorice that was being sold was Mom's favorite brand. There were seven packages of it (American is the manufacturer) and we bought all of them. Then it was on to Potter Marsh Bird Sanctuary which was another nature spot with boardwalks built over the marsh for bird viewing. We found Potter's Marsh but never saw any boardwalks. Instead we drove up a curvy hillside, with lots of switchbacks, to a subdivision and saw some very, very nice houses. On the way out, we went a different way and finally saw the boardwalks. By this time, though, we were done sightseeing and decided to go back to the ship.
Snookums and Jean dropped everyone off and returned the minivan to Avis and took the shuttle back to the ship. After a quick stop in one of the ship's public bathrooms to wash hands, they went straight to dinner and got there around 5:45, right on time!
Pat and Matt stayed up for sunset at 11:39 PM and told everyone that it was still very light out at that time.