Contributed by: filbert Monday, May 31 2010 @ 12:58 PM CST
The Panama Canal-Ft. Lauderdale to San Francisco-20-night Voyage, May 6-26, Regent Seven Seas Navigator
Text by Snookums, Pictures by Filbert
Part Seventeen
May 24 (Monday, Day 20, San Diego, continued) –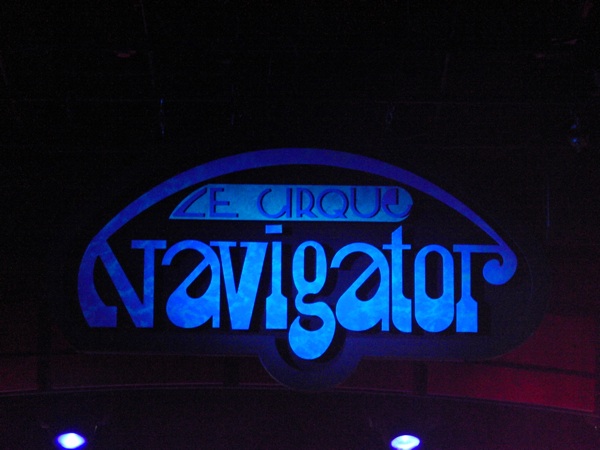 Le Cirque Navigator
The Le Cirque show was odd and didn't make any sense at all. It turns out there was a reason it didn't make sense (and not just, as Filbert thought, it was a Cirque-style show, which aren't supposed to make sense according to him . . .)
More after the jump . . . Half-way through the show, Paul Reynolds came out and said that it had to be stopped since two straps that the aerialists used were malfunctioning and interfering with the rest of the show. Out came the ladder and the backstage crew and in about five minutes they had it fixed and the show continued. It still didn't make any sense. We found out later that the four female dancers that were in shiny unitards with attached pointy hats were supposed to be sharks. We knew that a crow started the show, but we never did figure out how sharks came into play.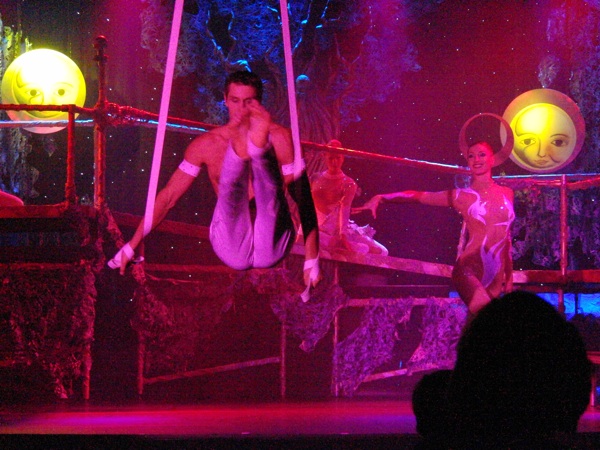 The straps, in use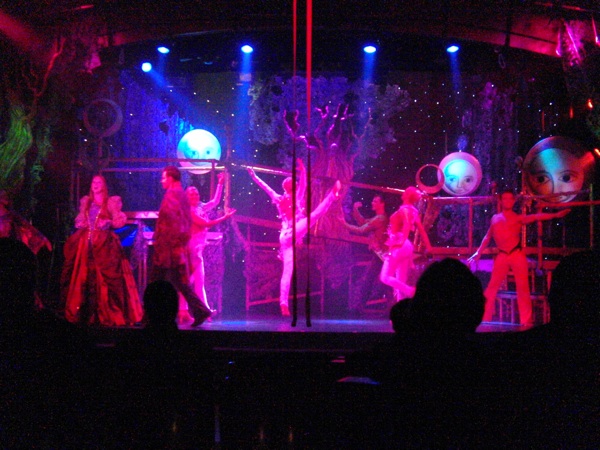 Strap malfunction!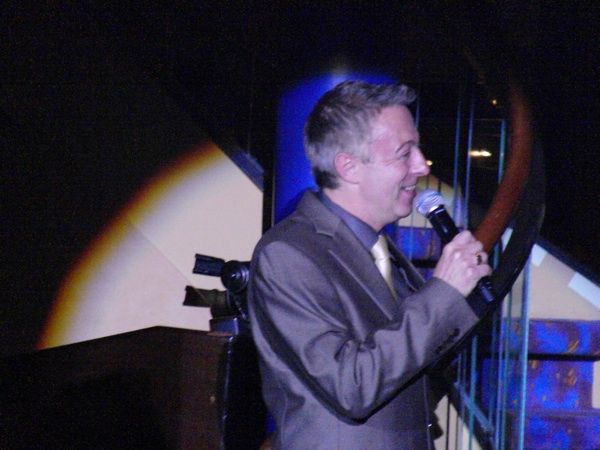 Paul's unscheduled intermission . . .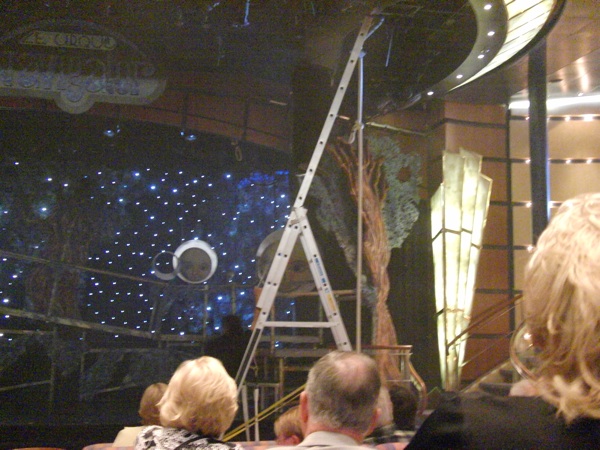 . . . to fix the strap malfunction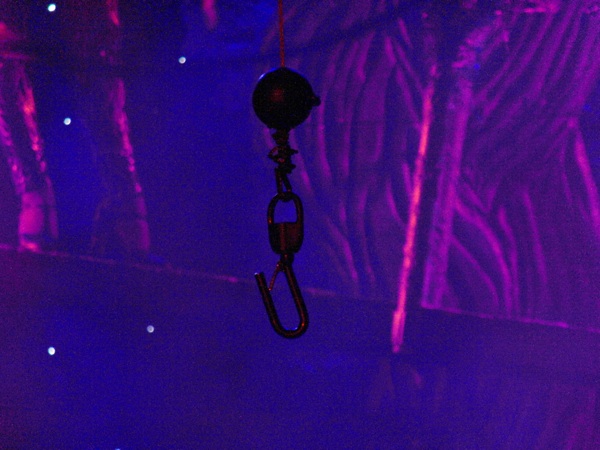 Someone got the hook! (OK, that was cruel.)
Later, we found out the reason the show made so little sense is that a costume of a butterfly, that was supposed to fight with the crow that did show up (the fight is an integral part of the plot) got wrecked in the rehearsals. No crow-butterfly fight pretty much blew any hope for a comprehensible plot completely out of the water (if you can say that about a show on a cruise ship). Combined with the strap malfunction, it was basically a complete disaster.
Oh well. Barb had to get off the ship by 10:30PM and barely made it since the show ran long. It was a quick visit, but lots of fun. Unfortunately, Filbert didn't get asked to take any pictures of Barb and Snookums, so that didn't happen!
Filbert watched us sail away at 11PM while listening to local radio. At one point the ship passed a buoy that a bunch of sea lions were on and he barked at them and they barked back!
May 25 (Tuesday, Day 21, At sea) –
The day before disembarkation is always a bit of a downer since you have to pack. For some very odd reason, Snookums didn't sleep well last night since she kept waking up worrying about packing. This didn't make any sense at all. Packing at the end of a cruise is always very easy since you just have to empty the cabin of all of your possessions and put them in the suitcases. We started to pack before lunch and in about one hour we were 99% packed, including the stick-on thermometer and our door decoration. Filbert takes charge of all packing (pre-cruise and post-cruise) and does an excellent job balancing out the suitcases.
Snookums did one last load of laundry since the pants she wore yesterday ended up getting quite sooty. The boilers on the ship frequently spit out chunks of soot. They tried to fix them when the ship was in dry-dock but didn't succeed. They are still working on the problem and hope to get it fixed before the ship reaches Alaska since the EPA might not be too happy with the pollution issue. Anyway, the soot easily washes out and since Snookums wants to wear these pants on the way home, a wash was in order.
Filbert did some last-minute dolphin spotting, and while there were dolphins to be seen, none were close enough to be photographed. He did however spot a couple of humpback whales going south (which is the wrong direction for humpbacks this time of year–that was weird.)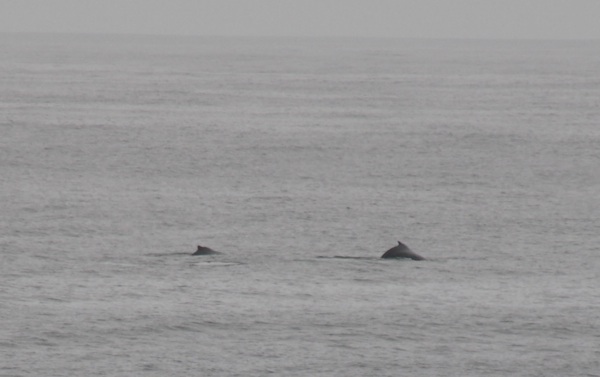 Two humpbacks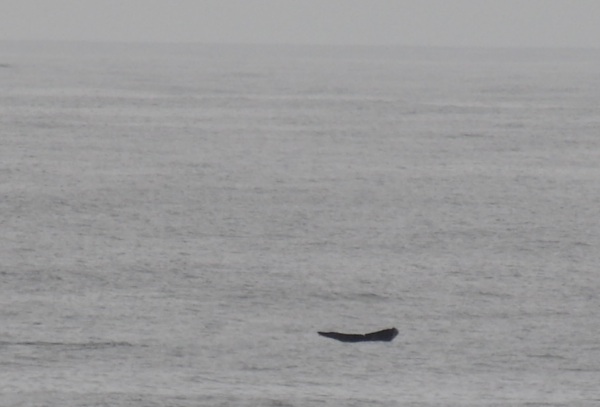 The final fluke
The day was mostly cloudy but the sun peeked out every now and then. The temperature was around 65 so it wasn't too bad. Snookums spent the afternoon by the pool talking to Bill. After lunch she had two scoops of chocolate ice cream with chocolate sprinkles and caramel sauce and then she had two colada sensations milkshakes (three scoops of vanilla ice cream, cream of coconut, pineapple juice and whipped cream). After eight scoops of ice cream she was still ready to eat dinner later that night!
Snookums, Judy and Mom shopped at the boutique to spend $64 still on our shipboard account. Nothing jumped out at us so Filbert ended up with a new high quality polo shirt that does not have any logo on it at all. And, a large fit him rather than his usual extra-large!
Mom, Dad and Snookums attended "Krew Kapers" before dinner and thoroughly enjoyed it. On every cruise the crew puts on a show. It usually consists of the best crew singer singing "Impossible Dream", some dances from their home countries (like the Filipino Candle Dance and the Filipino Tinikling [stick dance]), five or six crew members hip-hop dancing to some modern songs and other acts. Anyway, this version was the best Snookums had seen. It lasted 35 minutes and each act immediately followed the other so there wasn't any dead time. The acts were very short, too. She liked it so much due to the fact that it was short and sweet and also since each performance was just the right length of time.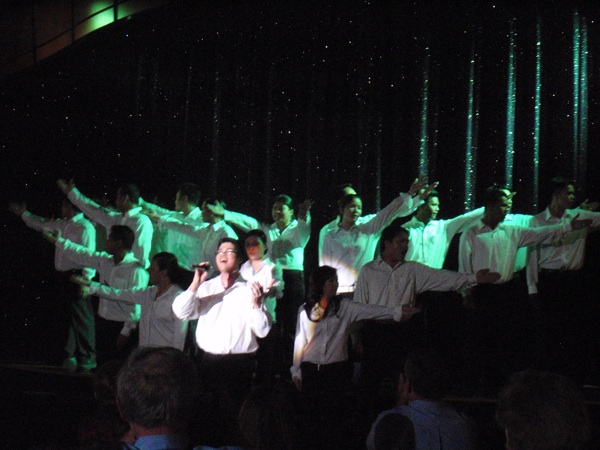 The crew show
After the show it was time for dinner and Judy joined us but Filbert ate his low calorie and high protein instant oatmeal in the cabin. Snookums returned to the room and it was time to put our fully packed luggage in the hall.
Judy, Mom and Dad went to Marty Henne's show about Gershwin. They enjoyed it but not as much as his first show a few nights ago.
May 26 (Wednesday, Day 22, San Francisco) –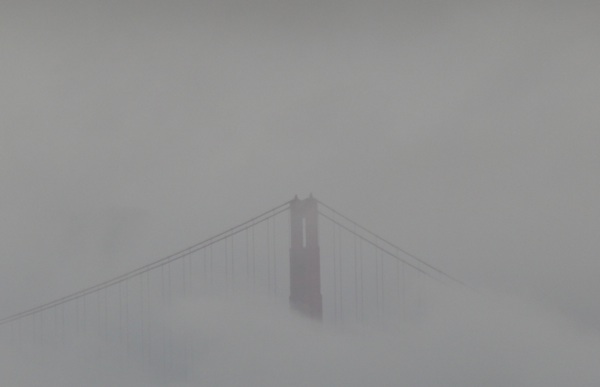 Goodbye to the Golden Gate
Snookums woke up when she heard the fog horn. She thought it was the ship's, but found out it was the Golden Gate Bridge's fog horn. It was 5:45AM and she didn't plan on getting up since she's sailed under the Golden Gate Bridge before. Filbert, of course, was already on the balcony snapping pictures of the fog. We waved to Bill on his balcony and he came to our room for a morning chat. He was dressed and ready to go. We still had to shower so he left and we got ready for the day.
We were supposed to be out of our suites by 8AM and we were supposed to get wheelchair assistance for Dad at 8:45. Well, since the ship wasn't cleared until 8:30, we just stayed in our suite and went to the Navigator's Lounge at 8:45. When no one ever came for wheelchair assistance, we decided to just leave at 9:15 (and, yes, our tag color had already been called so we weren't jumping in the front of the line [yet]). Filbert pushed Dad to the gangway and they quickly converted the stairs to a ramp. The Captain (John McNeill) and General Manager (Franck Galzy) were at the bottom of the gangway saying goodbye to everyone. That was a nice touch, but Snookums bypassed them since there was a little bit of a backup. Our luggage was waiting for us and we got a porter for it. A wheelchair porter (not a Regent employee) also came to push Dad through the terminal. When we exited the terminal we saw a very, very, very long line for taxis and not many taxis. Snookums started to inwardly panic since our flight left at noon and it was already 9:30. (Yes, that seems like a lot of time but when you factor in lots of luggage for a traveling party of five and a wheelchair, you need extra time.) The wheelchair pusher said he would take us to the front of the line and none of us tried to stop him! He told the taxi dispatcher that we needed a van for the five of us. We got the next SUV but it could only legally hold four passengers. No problem, Snookums and some of the luggage got in the next cab.
Both cabs made it to the airport and we were at the gate by 11AM. Then we found out that there was a 30-minute "Obama delay" since the President attended Democrat fundraisers in town the previous night.. No problem since we still needed to buy lunch, use the bathrooms and generally just relax. Other than that, our trip home was completely uneventful. We like "uneventful," at the end of a cruise trip. We did circle Emporia, Kansas a few times on the flight home, waiting for wind shear to depart the area of the Kansas City airport, but we were still able to enjoy the trademark chocolate chip cookies. We landed about 30 minutes late and Matt was there waiting to pick us up.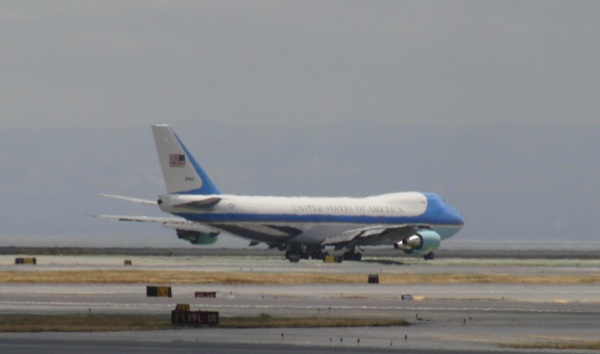 The President's plane, departing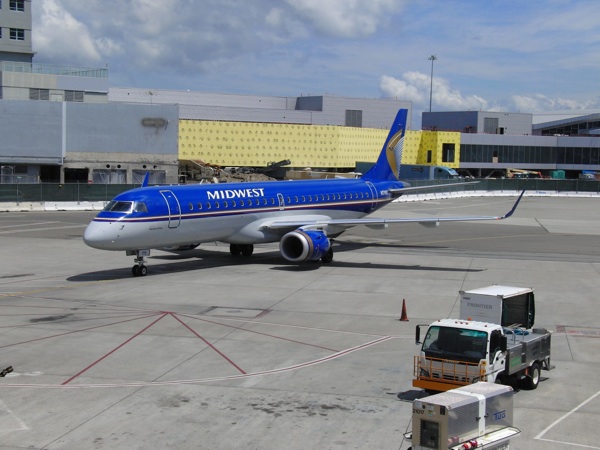 Our ride homeward
We got home around 7:30PM, opened and sorted our mail and Snookums went to the store for a gallon of real skim milk (not that long-life, boxed stuff that ships have). Unpacking and doing laundry waited until the next day. We did weigh ourselves, though. Snookums gained three pounds and Filbert gained eight. Not too bad for a 21-day vacation that covered 5,416 nautical miles. Hopefully we'll lose it within a week! Stay tuned for our next adventure – a 14-day Alaska cruise. Maybe we'll have pictures of bears, moose and salmon to post.
Comment (0)