Contributed by: filbert Saturday, May 29 2010 @ 08:09 AM CST
The Panama Canal-Ft. Lauderdale to San Francisco-20-night Voyage, May 6-26, Regent Seven Seas Navigator
Text by Snookums, Pictures by Filbert
Part Fifteen
May 22 (Saturday, Day 18, Cabo San Lucas, Mexico) –
Sunrise, May 22
Filbert woke up at 5:45 AM in order to do some early sealife watching. He didn't see anything other than a nice sunrise.
More after the jump . . . Our kayak and snorkel excursion left at 10AM. We were supposed to have a van transfer us to the beach but had to walk instead. The Mexican guide said it was about 1.5 blocks but we think he meant 1.5 kilometers. We made it just fine, but everyone was wondering about the van transfer that was supposed to have occurred. We got our kayaks and Judy paired up with Arwin, the casino manager. We were supposed to paddle to the El Arco rock formation (the famous Cabo arch) but instead got as far as Pelican Rock when the guide told us it was too rough. We beached our kayaks and then went snorkeling. Snookums put her wetsuit on and was still shocked by how cold the water was. The Sea of Cortez has COLD water and it literally took her breath away. Even with his half-Norwegian blood, Filbert was a little chilled. Both Snookums and Filbert were amazed when Judy went ahead and got all the way in the water and snorkeled, too. We snorkeled around Pelican Rock and the fish were larger than we had seen in Grand Cayman or in Huatulco and the water was a little murkier. Only about 1/5 of the group snorkeled since it was so cold. We got back in our kayaks and paddled back to the original beach. After we were all done the guide said that the rough water was hard to kayak in and that he was impressed that we all made it. We did get to take a van back to the pier which was nice. Then we shopped for Filbert's Mexican shirt and found one. This one was white (compared to the first one which was cream) and we paid $28 for it. The vendor started at $44. The ones we saw at Sam's Club yesterday were around $30 so we felt okay paying $28 for it.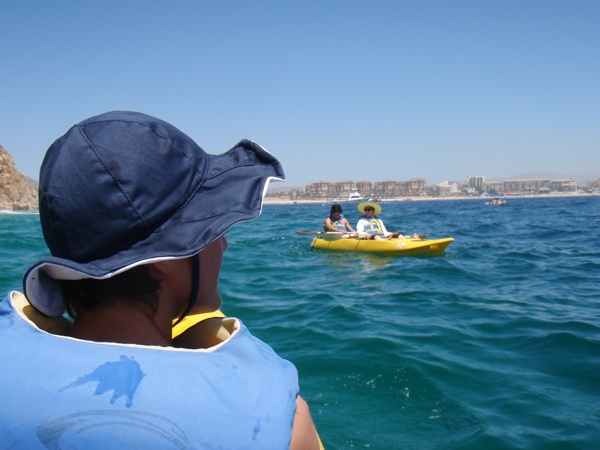 Sisters at sea, in kayaks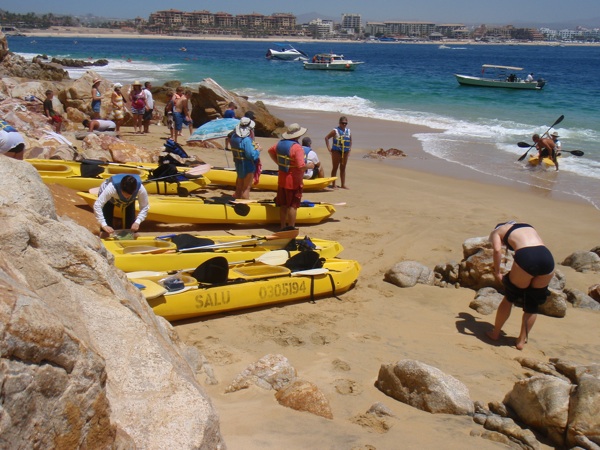 Kayaks on beach (with bonus glamour shot of Snookums, at right–I didn't do that on purpose, honest, hon!)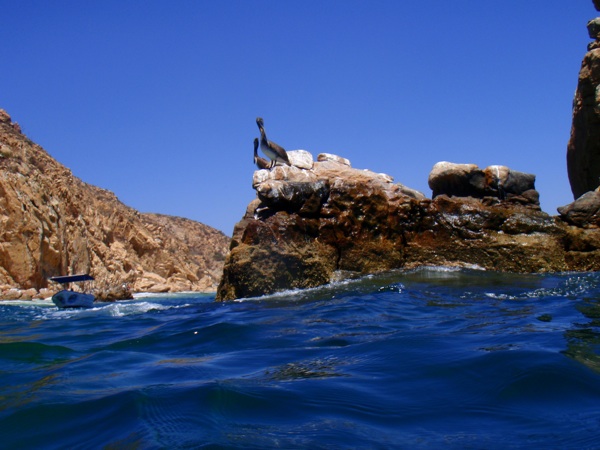 Pelicans on rocks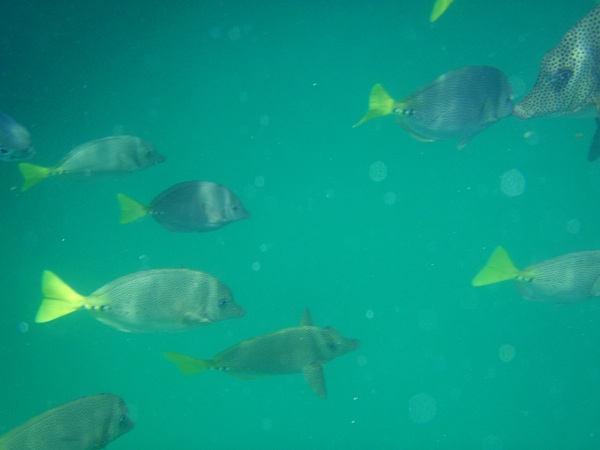 One of these fish is going the wrong direction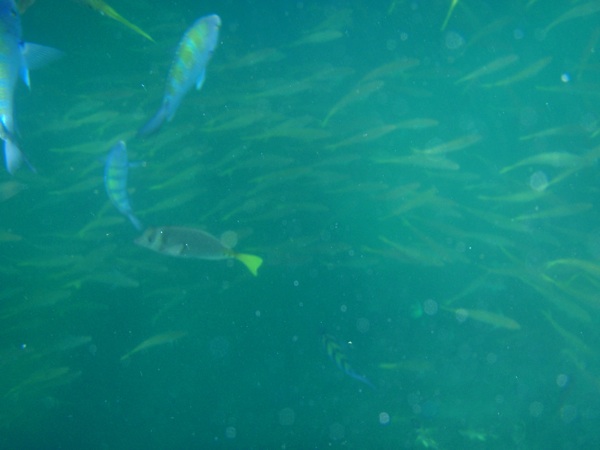 Lots of fish, murky water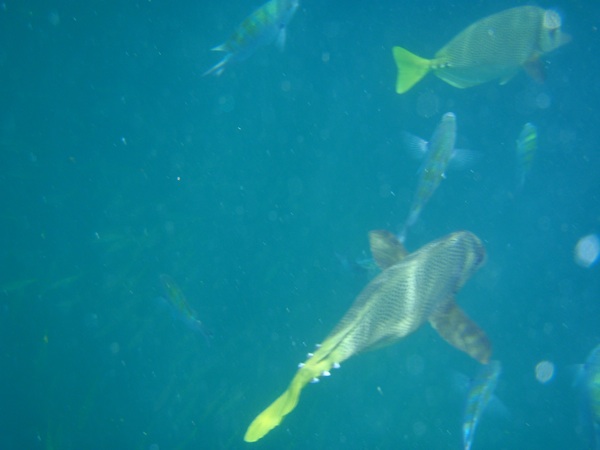 The best fish picture of the snorkel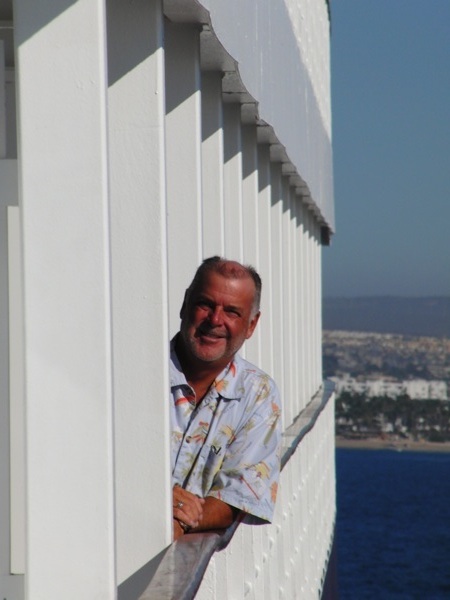 Bill, on his balcony, not blurry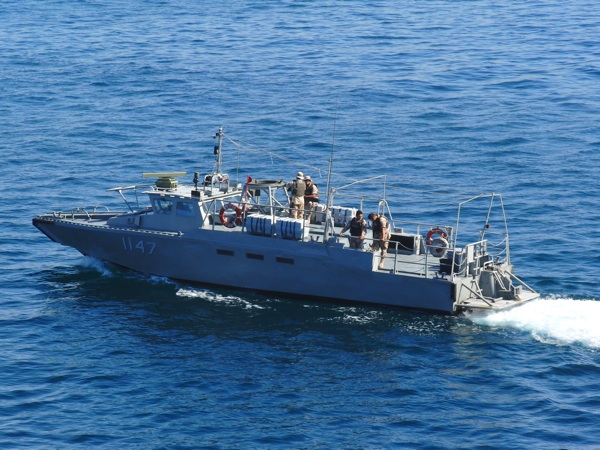 The Mexican navy wants no incidents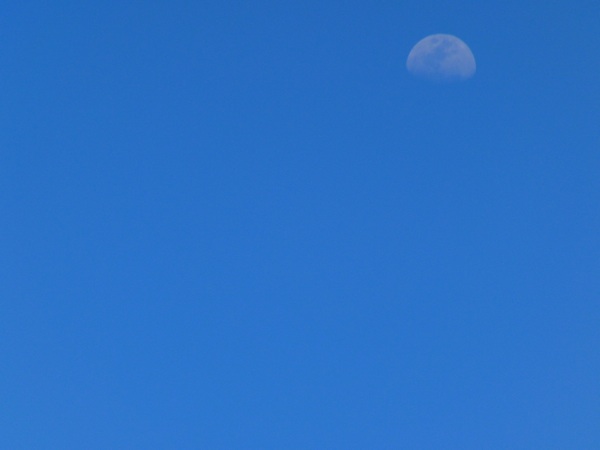 Moon over Cabo
As we sailed away, we finally got to see the El Arco rock formation (the famous Cabo arch) that we were supposed to kayak to. Judy didn't get to see it since she was at yoga. (Judy went to the 9AM and 5PM fitness classes most days which usually meant she did two sessions of Pilates, yoga or stretch & relax.) The wind started picking up and we left the balcony earlier than we would have liked to.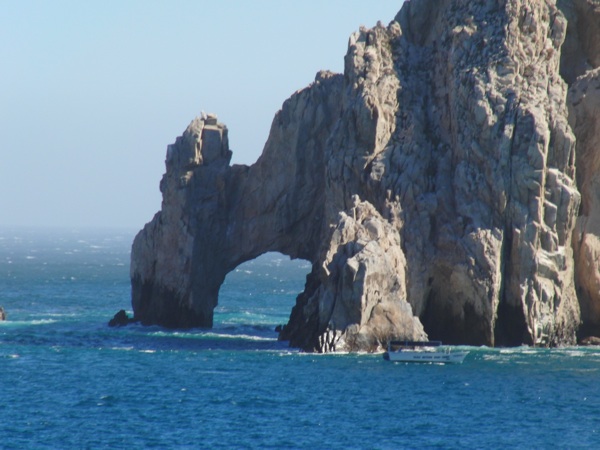 The Cabo arch
Snookums and Filbert were invited to join Paul Reynolds, Cruise Director, and Bill for dinner. We had a great time and around 9:25PM Bill happened to glance at his watch and announced the time. (We met Paul [and Bill] on our 30-day Hawaii/Tahiti cruise in 2005. Paul was onboard to figure out whether he wanted to be a cruise director or not. He decided he did and the rest is history.) Paul always introduces the 9:30 show so he had to hustle to Seven Seas Lounge in order to introduce the comedian, Tom Fletcher. We went to the show but walked out after three jokes since he was so bad. We went back to our suite to wait for the 10:30PM Liars Club. Unfortunately Snookums fell asleep and when Filbert woke her up to ask about going, she declined. Kayaking must have worn her out.
Next: San Diego, here we come!