Contributed by: filbert Sunday, May 30 2010 @ 12:50 PM CST
The Panama Canal-Ft. Lauderdale to San Francisco-20-night Voyage, May 6-26, Regent Seven Seas Navigator
Text by Snookums, Pictures by Filbert
Part Sixteen
May 23 (Sunday, Day 19, At sea) –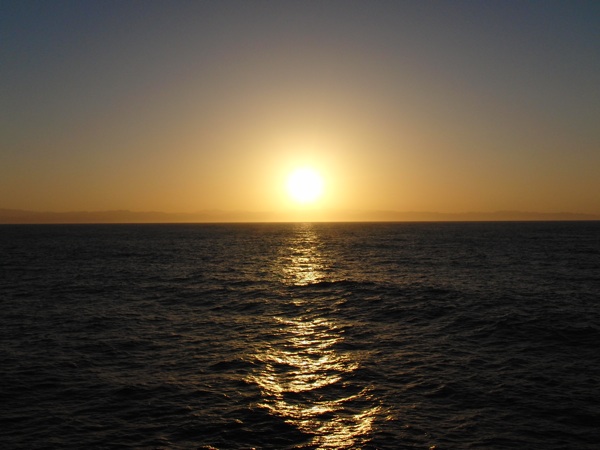 Sunrise, May 24
The ship was rocking a bunch all day today. Snookums was fine for breakfast but around 11AM she started to feel a little icky. She took a meclizine (seasick pill) and that knocked her out for the next 4 hours or so. More after the jump . . .
Mom was pretty much out for the day since she kept taking one meclizine after another. The package says not to take more than two per day, but Mom has taken many more than that on this cruise. We say that she's addicted to them. Filbert woke Snookums up around 6:30PM to find out if she was going to dinner with the rest of the family but she said "no". He went next door to inform them and found out that Dad was not feeling that well, either, since he was so tired. We don't know what Judy ended up doing for dinner. Mom ordered soup in her cabin while Dad slept through dinner and the night. Snookums ordered a full meal and enjoyed eating it in bed. She was feeling fine other than being extremely lazy. She watched "Wild Child" which probably didn't even make it straight to DVD but instead probably went to remainder DVD (per Filbert). Emma Roberts starred in it and Natasha Richardson was also in it, but that didn't make up for the stupid plot.
At 8PM an announcement came into all of the suites about the evening's show. A "Le Cirque"-type show was supposed to be performed but due to the rocky conditions, it was postponed to tomorrow and a movie was shown instead. Dad even slept through this announcement!
May 24 (Monday, Day 20, San Diego) –
The seas calmed down at some point during the night and the morning was calm. Snookums, Filbert and Judy attended the galley tour at 10:30AM and learned that the ice cream on the Navigator is not homemade. The ice cream on the Voyager and Mariner is homemade since they are bigger ships and have room for ice cream makers. It was interesting to see some of the 40 chefs and 17 utility workers (dish washers) working in such a small space. The Executive Chef, Anthony Gatherall, said that he's worked on the 3,000 passenger ships and smaller ships and he doesn't really care what the size is as long as things are organized.
The Galley Tour (6 pictures):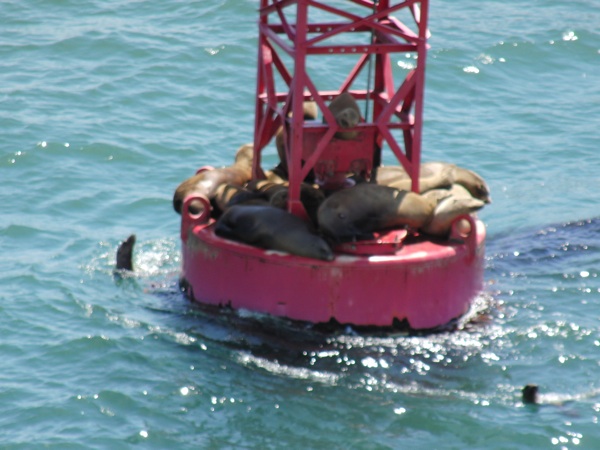 Seals on a buoy, entering San Diego Harbor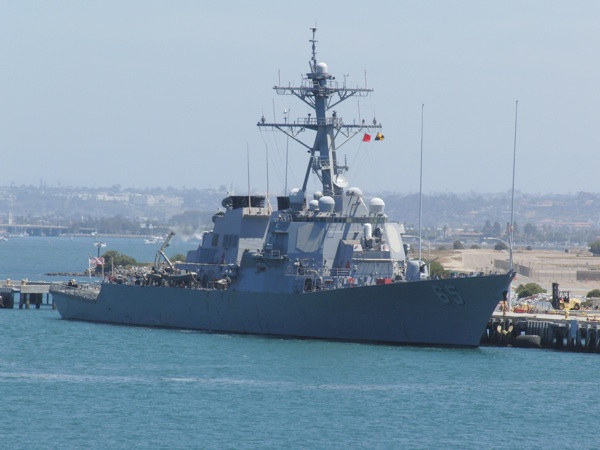 The USS Benfold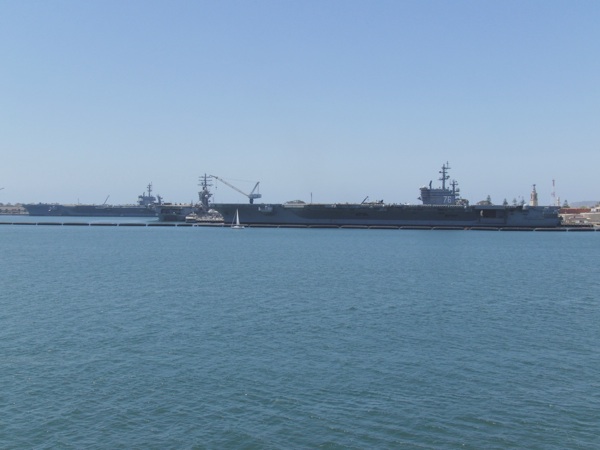 Three aircraft carriers, the Carl Vinson, the Nimitz, and the Ronald Reagan, at home port in San Diego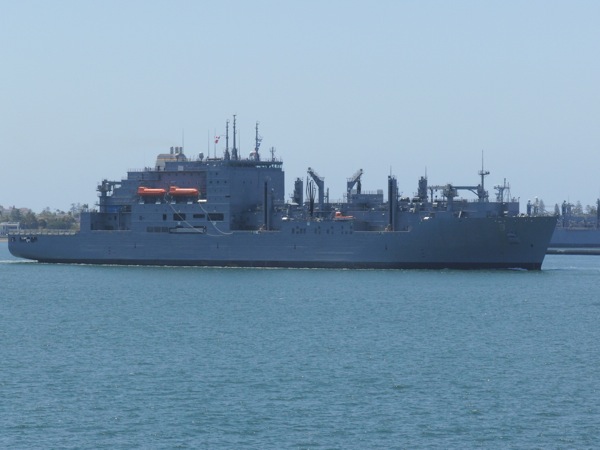 The USNS Matthew Perry
We docked in San Diego around noon but Customs and Immigration wasn't completed until around 1:45PM. No one could leave the ship until it was completed. Snookums was anxiously looking forward to her friend, Barb, coming onboard. Regent lets visitors board the ship after getting permission in advance. Snookums decided to wait for Barb in front of the large terminal and Barb called Snookums when she was about 15 minutes away. Snookums's phone rang again about 30 minutes later and it was Filbert saying that Barb and everyone else was sitting by the pool! Somehow Barb walked right by Snookums, who was reading her book, and neither one noticed the other. She had found her way to Filbert and Snookums' suite and had rung the doorbell. Filbert had answered, and was quite perplexed that Barb was there, but Snookums wasn't. He tried calling Snookums' cell phone, but didn't get an answer, so he collected himself and took Barb up to the pool deck, where the rest of the family was sitting in the sun.
Snookums got to the pool right away and the reunion started. Barb immediately ordered a strawberry daiquiri and a blue cheese bacon cheeseburger. After that we both enjoyed ice cream and Barb had another strawberry daiquiri while Snookums tried a chocolate banana milkshake. We enjoyed sitting by the pool and the sun was quite warm although the air temp was around 62. We returned to the cabin around 6:20 (dinner was at 6:30) and Filbert was all dressed up in his suit ("in order to impress") which meant that we needed to change our clothes. That didn't take too long and we were in Compass Rose in no time. Dinner was great (and we all loved the first rhubarb dessert served during the entire cruise) and then we all went to the Le Cirque show. (Dad decided to call it a night and he went to bed.)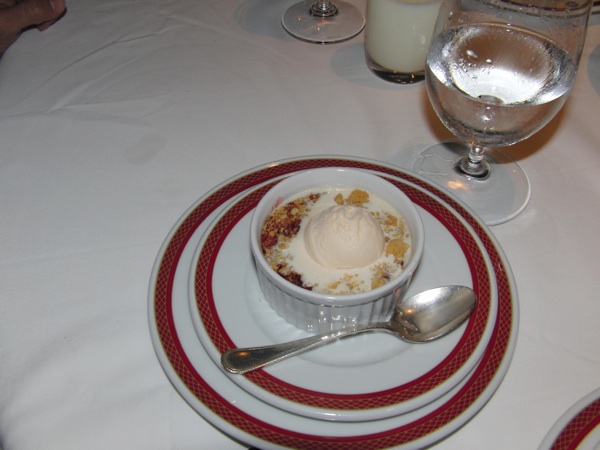 Strawberry rhubarb crumble
Next: Le Cirque de Strap malfunction!