The 2012 14-Day Alaskan Explorer, Holland America ms Amsterdam
Text and pictures by Snookums, webification by Filbert
Part One
(Remember to click "read more" if you're looking at this from the main medary.com page to get the whole article!)
June 28 (Thursday, Day 1, Flying to Seattle) –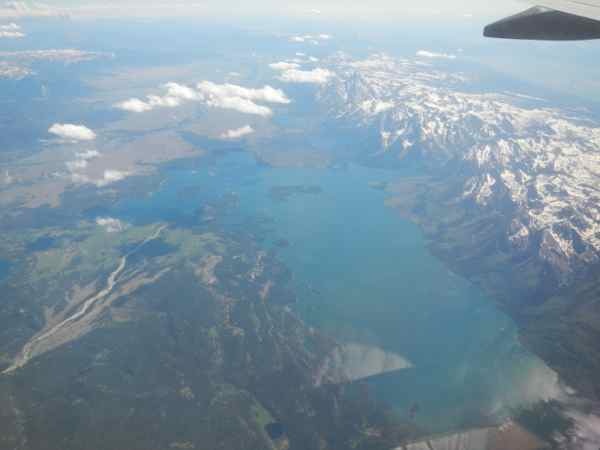 Flying over Yellowstone
Note – Snookums, four of her siblings, her parents and her husband Filbert are on this cruise.
Our shuttle minivan to the airport showed up on time. Unfortunately, the driver didn't know how to stow the seat in the floor and after 15 minutes, Filbert was the one that figured it out. In the meantime, Snookums called the shuttle's office and requested another (complimentary) shuttle minivan be dispatched to Mom and Dad's house. Our shuttle made it to Mom and Dad's house and five minutes after we arrived there, the other shuttle arrived. The five of us (Mom, Dad, Judy, Snookums and Filbert) piled into the two minivans and took off for the airport. Jean and Matt (Snookums's siblings) were there, too. Judy and Snookums pre-boarded the Southwest flight with Mom and Dad and settled in while saving seats for the others. After ten minutes, we had to get off the airplane since there was a mechanical problem with the flaps. We joined Filbert, Matt and Jean back in the Kansas City airport gate area. Southwest announced that a spare plane was flying from Portland, Oregon to Kansas City to come for us. That meant we had a four-hour wait. Oh well, at least it wasn't a weather delay. We knew we were going to get out of Kansas City, albeit a bit later than expected. Southwest gave every passenger a $100 travel voucher good for one year. That was a very nice thing for Southwest to do since it was not mandated. Much to our surprise, about an hour later an announcement was made that the mechanics identified the problem as being just a sensor and replaced the sensor and everything was okay. We re-boarded and took off on our 4-hour flight to Seattle and landed around 2 hours after originally planned (and $100 per person richer in Southwest travel funds).
Our hired 10-passenger shuttle van was waiting for us. It was around 63° and overcast which was nicer than the 95° we left in Kansas City. On our way to the Hyatt at Olive 8 we stopped at the local Walgreen's so Jean could run in and get her antibiotic prescription that her Kansas City doctor had called in for her walking pneumonia. When we got to the Hyatt at Olive 8, Pat was waiting for us since her flight landed four hours earlier.
Matt walked to Pike Market for dinner and Snookums and Filbert enjoyed tilapia and a spicy chicken dish at Thai Ginger. The others ate dinner at the restaurant in the Hyatt. After dinner Snookums and Filbert went to Bartell's Drugstore and bought three boxes of wine and a case of water to take on the cruise.
Filbert was asleep by 10 PM!
June 29 (Friday, Day 2, Boarding ms Amsterdam) –
Everyone enjoyed the free breakfast at the Hyatt at Olive 8's restaurant. Snookums managed to save a free breakfast certificate for her and Filbert's return visit later this summer. Mom and Dad ate breakfast with Mom's cousin who also cruised with us to Alaska in 2010.
The van picked us up at 11 AM and we boarded the ship around noon and went to Lido for lunch. The rest of the day was spent unpacking, going to the lifeboat drill and running among four cabins. (Snookums and Filbert are in 7046, Jean and Judy are in 7048 and Mom and Dad are in 7058. These three cabins are very close to each other. Pat and Matt are in 6216 which is down one deck and halfway between 7046 and 7058.) Our steward, Soly, speaks excellent English and he is the steward for all three of our cabins on Deck 7. Sienna and Kate, the Neptune Lounge concierges, also speak very good English and Sienna remembered us from the 2010 Alaska cruise. Jean and Matt hadn't been on a cruise in around twenty years so we all had fun bringing them up to speed.
Dinner was nice and we met our waiter, Rofi, and our assistant waiter, Pras. As usual, it was an early to bed night.
June 30 (Saturday, Day 3, Cruising Vancouver Island) –
Snookums and Filbert went to the gym around 6:30 AM and worked out. Then we went to Neptune Lounge for breakfast. Neptune Lounge is only for passengers in Deluxe Verandah Suites. On this ship, there are around sixty Deluxe Verandah Suites which means that Neptune Lounge is never very crowded. We didn't make it to the noon Welcome Cocktail Reception for Deluxe Verandah Suite passengers. It was 50° and the seas were rough so Mom took Dramamine. Even Pat was feeling the motion of the ocean.At 2 PM Filbert and Snookums went to Jeanette Shanigan's lecture, "Feathers, Fins and Furs" and then went to Royal Dutch High Tea with everyone. We dressed up for the formal dinner and had a good time in the Dining Room. The wait staff sang to Mom and Dad since we were celebrating their 61st anniversary. In addition to the desserts we ordered, we all enjoyed the chocolate cake that was part of the celebration.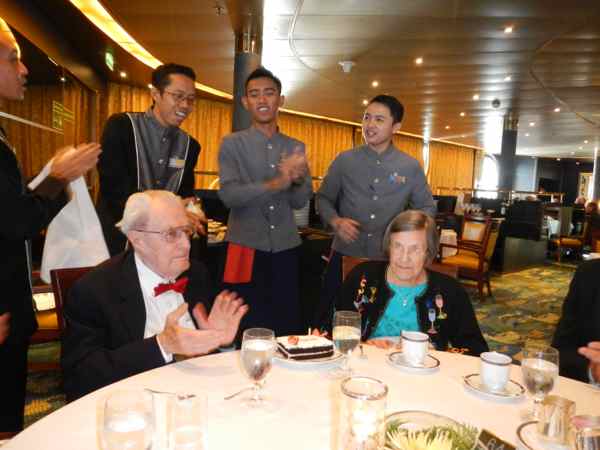 Anniversary serenade, with cake
Filbert and Snookums went to their cabin while others attended the "Dancing Under the Stars" production show.
July 1 (Sunday, Day 4, Ketchikan) –
Snookums woke up early and went to the gym. That was a first since she never works out on port days!
Everyone but Mom and Dad met at 8 AM for our 4-hour salmon fishing charter with Captain Dan Leathers (http://northpacificcharters.com/default.htm). Captain Dan has been leading fishing charters in Ketchikan for 22 years. His 35-foot boat, the Kisutch, was well suited for the six of us. It had inside seating as well as a large fishing deck at the back. Captain Dan lives on the boat and during the off-season goes to his permanent home in Walla Walla, Washington. We saw bald eagles and they swooped in to get herring. It was amazing watching them get the herring in their talons and then transfer it to their beaks.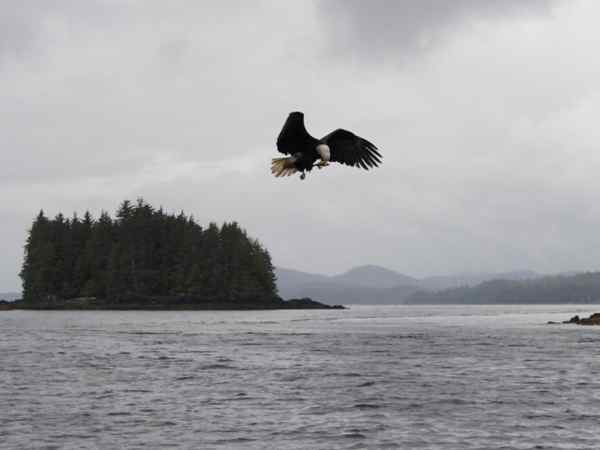 Eagle with a fish
Captain Dan put six trolling lines in the water and soon enough, Matt caught a king salmon, a coho and a pink. Matt also caught one that was too small and it was released. Filbert caught a king salmon and Snookums caught a coho. Pat tried catching four, but they all got away. Judy did her best to not have anything to do with the fishing and Jean didn't want to actually catch any, but she did help. Everyone but Judy managed to get salmon blood on them. (After the first salmon was caught it was thrown on the back fishing deck. The hook made a bloody gash in the salmon and when it thrashed around, it managed to spray blood. Snookums's khaki pants took the brunt of it, but she didn't mind.)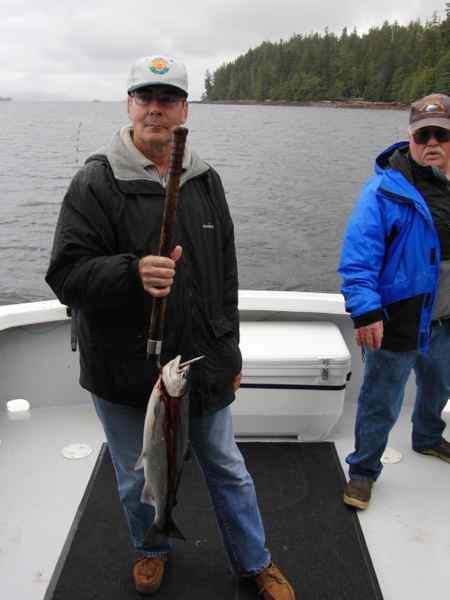 First catch of the day
During the fishing, Matt spotted a black-tailed Sitka deer on the shore. They are very small deer. We also saw a lot of whale spouts, some backs and flukes. Captain Dan even grilled a pound of pink salmon for us on his portable Coleman propane grill and we devoured it. That convinced us to get our salmon catch processed in 1-pound vacuum packed packages and not smoked. Captain Dan figured that we would end up with around 22 pounds of processed salmon from our five fish!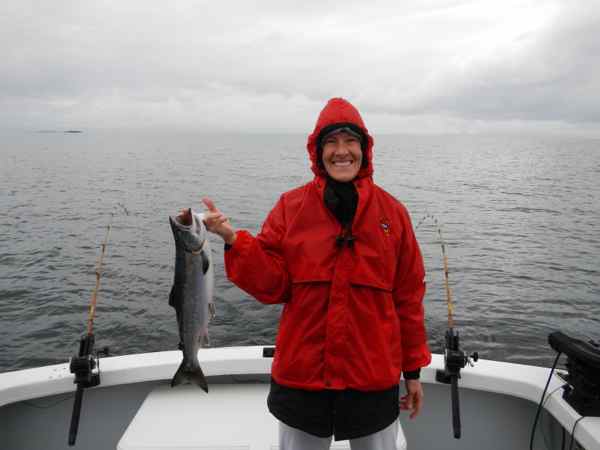 Snookums' prize
Filbert's king salmon
(Note – Our frozen salmon arrived on July 18. We actually received 28 pounds of salmon – 14 pounds of king, 9 pounds of silver and 5 pounds of pink. The total cost was $207.61 and here is the cost breakdown from The Cedars Lodge:
– 28 pounds (filleted weight) of fresh salmon at $1.99/pound = $55.72  (Smoked would have cost $3.99/pound) – Boxing cost = $12 – Shipping = $114.70 – Tax = $4.06 – FedEx fuel surcharge = $21.13 – Grand total = $207.61 [or $7.42/pound])
It started raining on the way back to the harbor. When we got back, we went to Salmon Etc. and Filbert bought four cases of smoked salmon. Two years ago he bought two cases (24 total cans) and loved it so much that he doubled his purchase on this cruise. The store ships it so we don't have to worry about hauling it back with us. After that stop, everyone went back to the ship for a quick lunch and then Jean, Judy and Snookums went back out, in the rain, to get the free charms at the various jewelry stores. We made it back to the ship by 4:15, which was 15 minutes before the all-aboard time. It was a full day!
Filbert put together a slide show depicting the day's activities and everyone enjoyed seeing it at dinner. After dinner Mom and others went to the show that featured Jeff Tracta. He is an actor and is "Thorne" on CBS's "The Bold and the Beautiful" which is Mom's favorite soap opera. She really enjoyed his show which was a combination of comedy, impressions and singing. He performs in Las Vegas, too.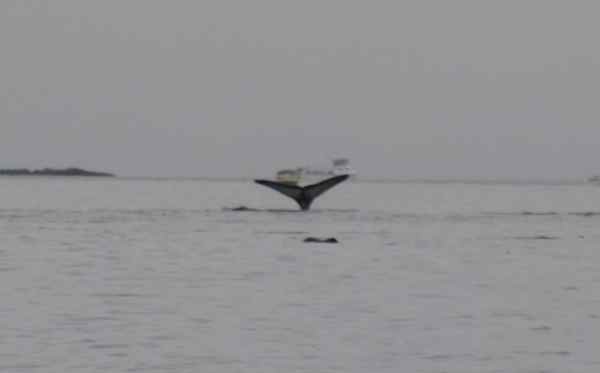 Diving whale
July 2 (Monday, Day 5, Cruising Tracy Arm) –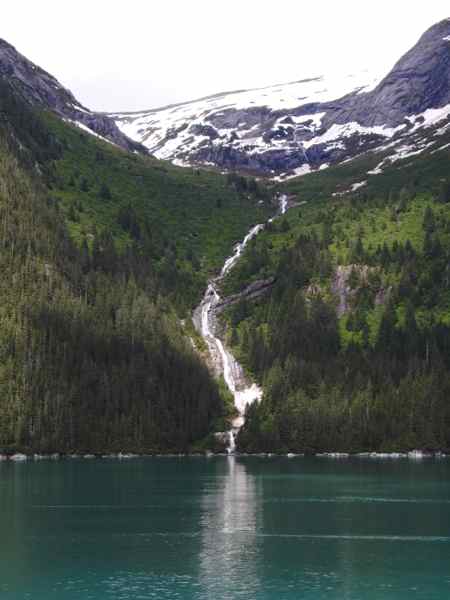 Waterfall
We woke up and went to the gym for cardio and did our planks back in the cabin. (We've been sprinkling flax meal and chia seeds on our food since we started doing that at home, along with daily planks [core exercises], about a month prior to the cruise.)
We enjoyed breakfast in Lido and Snookums enjoyed her first raisin bun of the cruise. It was tasty.
Mom went to Jeff Tracta's 10 AM "Behind the Scenes" talk and enjoyed it, too. Pat and Dad went to the Veterans' Get-together hosted by Ted Arnold, the ship's Safety, Environmental and Health Officer who was also a veteran.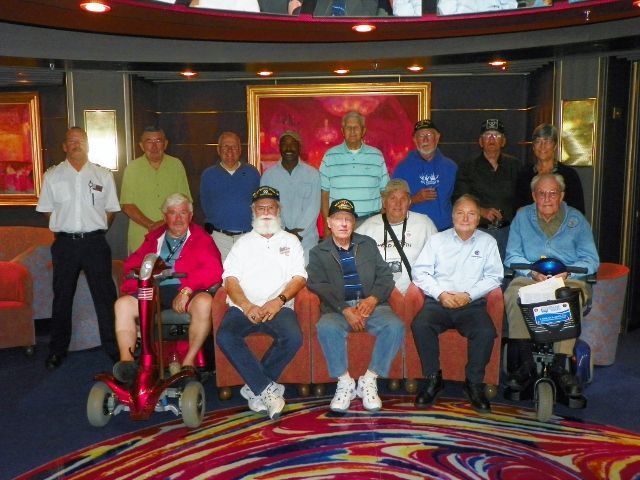 Veteran's Get-together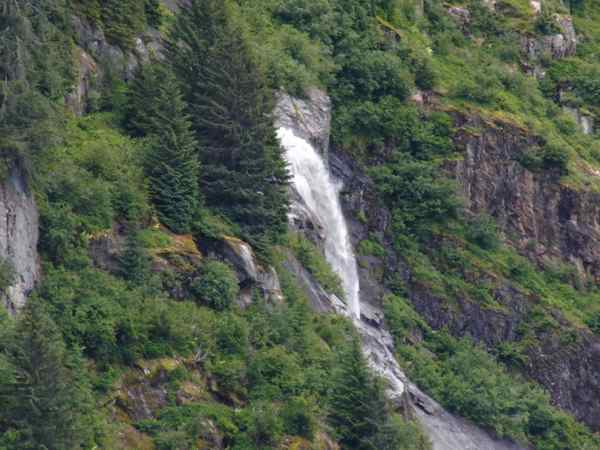 Waterfall: closeup
Then it was time to bundle up and head outside at 10:30 AM for Dutch split pea soup served on the bow of the ship. Nothing like eating split pea soup in the morning while standing outside in a beautiful natural setting. The rest of the day was spent doing "scenic cruising" and the majority of it was between noon and 3 PM.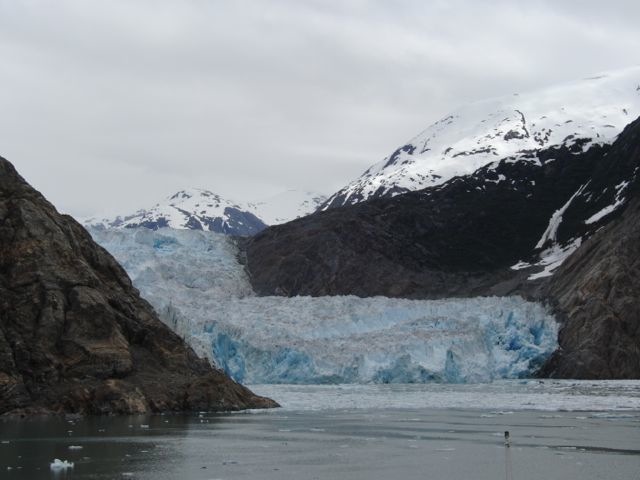 The glacier
We were fortunate in that Mother Nature cooperated and the ship was able to get as close as possible to the glacier. Some times there are icebergs in the way and the ship can't get all the way there. But, this time we could. We saw several seals on icebergs and we also saw several icebergs that had red splotches on them that looked like large pools of blood. There was snow on the tops of the mountains and lots of waterfalls on the sides of the mountains.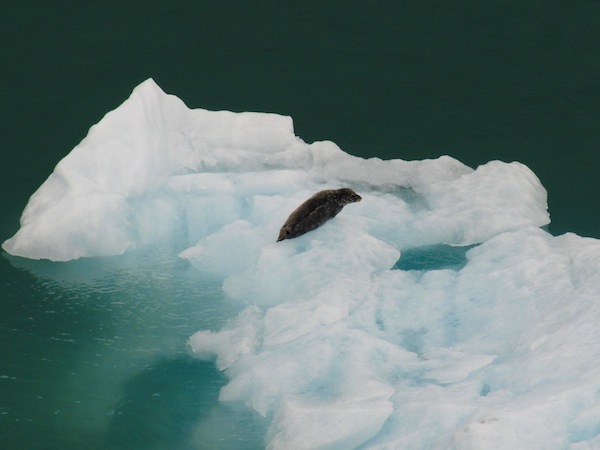 Seal on ice
Mom and Dad watched the scenic cruising from their Deluxe Verandah Suite, Crow's Nest, the Dining Room and Lido. They opted not to go outside in the 55° weather. It was partly sunny for most of the day and was a nice day for scenic cruising.
Snookums had three of her four shirts ruined by HAL's laundry service. Her two ExOfficio long sleeve shirts were snagged in many places and her long sleeve dressy t-shirt was returned with a large hole near the elbow. Strange!! The salmon blood mostly came out of her khaki pants, though.