The 2012 14-Day Alaskan Explorer, Holland America ms Amsterdam
Part Three
July 7 (Saturday, Day 10, Homer) –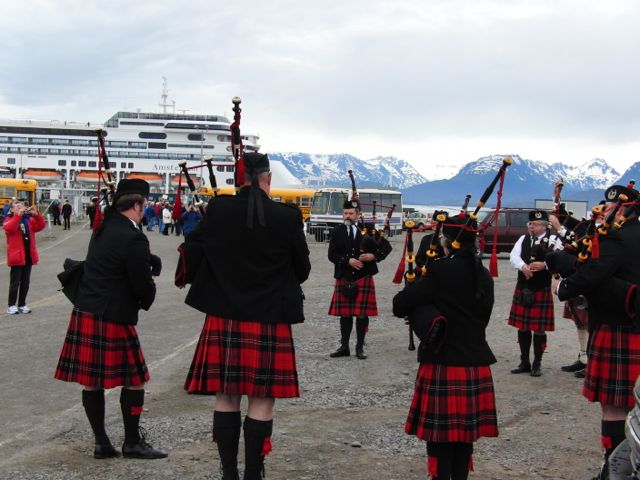 Kilts in Homer. Why? Who knows?
Snookums, Filbert and Matt left the ship and looked for the rental car woman on the dock. We didn't see anyone and asked a local to call the rental car number. We then found the woman in the big maroon van that was to be our rental car. She took us to the airport for us to do the paperwork and then we were off on our adventure. On the way to the scenic overlook by the cell towers, we passed the Farmer's Market and stopped. It was small but sold all sorts of produce, fish, handicrafts and potting plants. Zucchini were $4 each and tomatoes were $5 per pound. We talked to a vendor to find out why things were so expensive and he explained that he has two green houses that he heats with wood for 24 hours a day beginning in March and that is why things are so expensive. Matt wanted to bring his zucchini to Alaska and become a millionaire. It started sprinkling and was around 55° but we were okay.
We then headed to the overlook and were on the hunt for moose. We didn't find any moose, but we did have a nice view of Homer. The Sprint phones had no service and Matt's Verizon phone had one bar of service while standing next to several cell towers!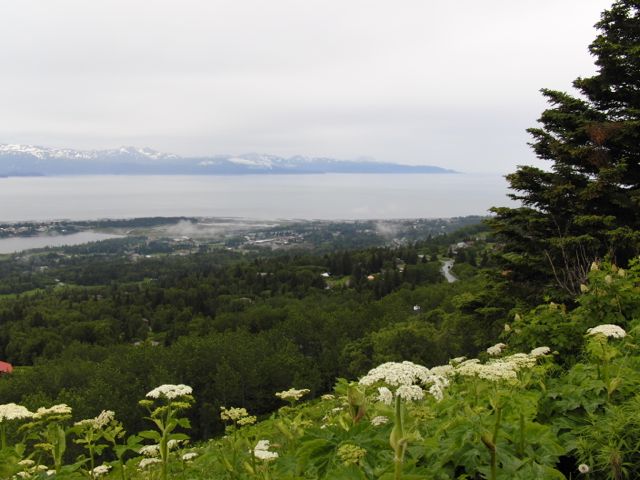 On the heights over Homer
Then it was on to Fritz Creek General Store. First, though, we passed the sign for Bear Creek Winery so we stopped there. Matt and Filbert enjoyed several tastings and ended up buying six bottles of various wines including gooseberry, rhubarb, raspberry and port wine. Both of them were amazed at how little the rhubarb wine tasted like rhubarb (which they both love) but they really enjoyed the rhubarb wine and bought two bottles of it. Snookums enjoyed the crackers with salmon spread that the lady was handing out while they tasted many wines.
We continued on to Fritz Creek in order to hopefully find moose. We didn't see any moose but drove on a little road for a long time before it finally ended at a house. Along the way we saw houses, shacks, a rundown school bus that somebody probably lived in at some point and other dwellings. We drove back to Fritz Creek General Store and Snookums had the soup of the day (curry spiced tomato with garbanzo beans plus three slices of homemade sourdough bread – delicious soup and bread), Matt had a piece of blackberry/blueberry pie with a custard layer on the top (excellent) and Filbert had an Italian hoagie and carrot cake (yummy). Milk was $8 gallon in the store and Matt talked to the sales clerk and found out that a lot of the homes in Fritz Creek don't have running water so they don't even bother trying to save money by using powdered milk! Fritz Creek is kind of a hippie community, albeit a very small one.
On the way back to Homer we stopped at NOMAR which is a local company that makes polar fleece and sea tarp travel bags. We could see the factory part of the store which contained 10 huge tables and each one had a sewing machine on it. Since it was Saturday, no one was working, but all of the work stations appeared to be in use. Zippers could be purchased by the yard from a bolt as well as all sorts of fasteners and buckles. NOMAR specializes in making marine items like canvas for boats.
After that shopping trip, we went to the Alaska Islands and Oceans Visitor Center and watched a short movie about the area and looked at some exhibits, including hands on items like marine life that was caught that morning (starfish, little fish, etc.) and plants that were cut that morning. We learned that the white flowering weed that we kept seeing that kind of looked like Queen Anne's Lace is highly toxic (like poison ivy) and is called Cow's Parsnip. We did the little half-mile nature walk and saw three lesser sandhill cranes. There are four that are nesting in Homer and the naturalist was very excited about them since they return to their nesting areas each year. So, we saw three-fourths of the lesser sandhill crane population in Homer!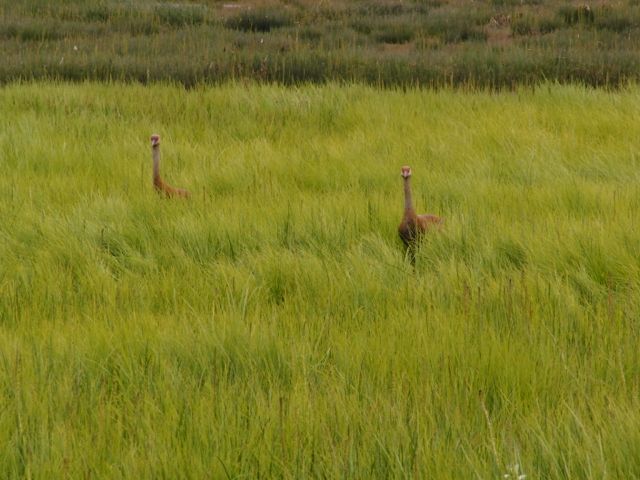 At the Alaska Islands and Oceans Visitor Center (chicks are in there somewhere)
Our final stop was at Homer Brewing Company. Two tastings per person were allowed and they were much smaller tastings than at the brewery in Juneau. Matt bought beer in a plastic 2-liter soda bottle to take to dinner.
We drove back to the ship but first drove up and down Homer Spit since that was the part of Homer that Jean and Pat would have seen since they were just going to walk from the ship. (You can't walk to Homer proper from the ship. You can only walk to Homer Spit which is a mix of commercial fishing, some touristy stores and restaurants.) A lot of RVs and campers were parked in the various Homer Spit RV areas and the only road was busy. We drove to the end of the road on the Spit and turned around and parked the rental van at our dock. Matt agreed that just walking the Spit didn't look too exciting. (Snookums and Filbert walked the Spit two years ago.) Although we didn't see any moose, it was a good day.
July 8 (Sunday, Day 11, Kodiak) –
Snookums, Filbert and Matt got a rental car and ended up driving 107 miles. There are less than 100 miles of road on Kodiak Island!! Snookums really wanted to see a bear, but instead we saw a bison ambling down the middle of Pasagshak Bay Road for about ten minutes. There were two cars in front of us so the three cars just patiently waited for the bison to leave the road. Matt said that the bison was on the road since it was much easier terrain than the hill on either side of us. We also saw a lot of eagles and Filbert and Matt saw a large black tailed Sitka deer. Snookums drove the car back to where they spotted it, but it was gone by then (or at least hidden by the heavy brush). We also saw a rabbit (maybe an arctic hare?), cows and some horses that appeared to be untethered and unfenced, grazing half-way up a small mountain.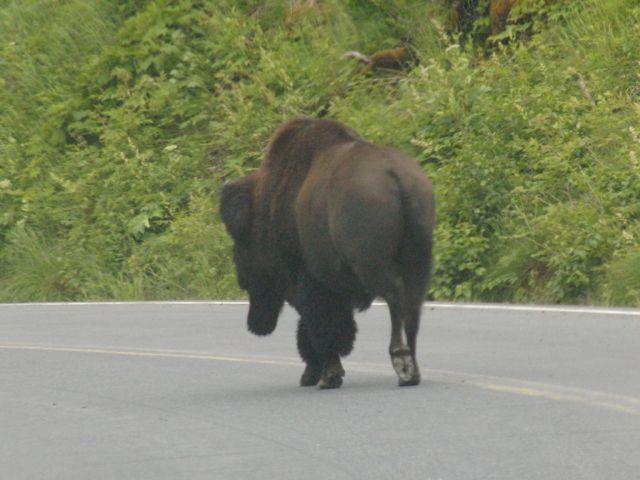 Bison on the road
We drove to the end of the Pasagshak Bay Road and saw the Kodiak Launch Complex which is a commercial rocket launch facility owned by the State of Alaska. It has had 14 launches, all successful, since it opened in 1991. After we drove to the end of that road, we decided to drive to the end of Chiniak Highway. It turned into an unpaved road which we followed for several miles before turning around.
After our four-hour driving tour, we went to the Kodiak Refuge Visitor Center museum that has the whale skeleton in it. While there we ran into Jean, Judy and Pat and ended up taking Jean with us while Judy and Pat decided to walk back to the ship. Then we drove over the Fred Zharoff Bridge in downtown Kodiak and got out for a view of Kodiak, population 6,000. After a quick stop at the Safeway, we drove to the ship. First, though, we had to stop at Kodiak Island Brewing Company and Matt and Filbert each decided to buy a pint. Beer is sold in growlers or in pints. The pints must be consumed on the premises. It is NOT a bar and really is a brewery. There is no food and no other beverages. Just the beer on tap. While there, Matt took an empty 50-pound hops bag that he was thrilled with since it was made out of heavy-duty plastic. He said he was going to use it for his dirty clothes on the way home.
We got back to the ship around 2:30 and had a light (late) lunch since dinner would be at 5:45. Tonight is formal night but we had reservations for Canaletto, the Italian restaurant, which doesn't require formal attire. Everyone was happy with that decision.
July 9 (Monday, Day 12, Cruising Hubbard Glacier) –
Snookums met with the future cruise consultant to put a deposit on a South American cruise. Snookums and Filbert then attended the talk by the travel guide about the many tribes (12 or 13 – Snookums can't remember how many!) in Alaska. It was very interesting.
At noon six of us enjoyed the Indonesian lunch that was just for the Deluxe Verandah Suite guests. (Snookums asked if Matt and Judy could attend and was told "yes". Jean and Pat weren't interested in attending since they wanted to eat Caesar salads with lots of anchovies in Lido.) It was very good and a nice change of pace.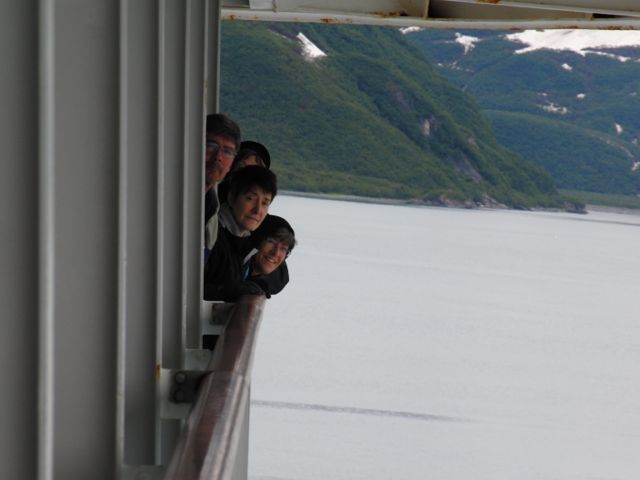 Scenic cruising
Snookums and Filbert attended the park ranger's talk and learned about the glaciers we would be seeing. Around 3 PM the "scenic cruising" started as we entered Yakutat Bay. We cruised by Malaspina Glacier which is the world's largest piedmont glacier at 40 miles wide and 28 miles long. A piedmont glacier never reaches the water and instead just fills a plain with ice. Since it didn't meet the water, we couldn't really see much of it but did notice a line on the horizon where it was. The star of the show was Hubbard Glacier. It is North America's largest tidewater glacier and is more than 6 miles across and 300 feet high. It was actively calving and the weather was sunny. The ship got as close as it could and then the port side (our side) was turned to face of the glacier. We stayed that way for at least 30 minutes since there was so much calving going on. At one point the ship started to leave but the calving really started so it stayed where it was. Our side got a great show and even Mom and Dad could enjoy it from the comfort of their suite. The rest of us were on the verandahs, though, listening to the loud roars as the ice broke and watching the big splashes as they tumbled into the water.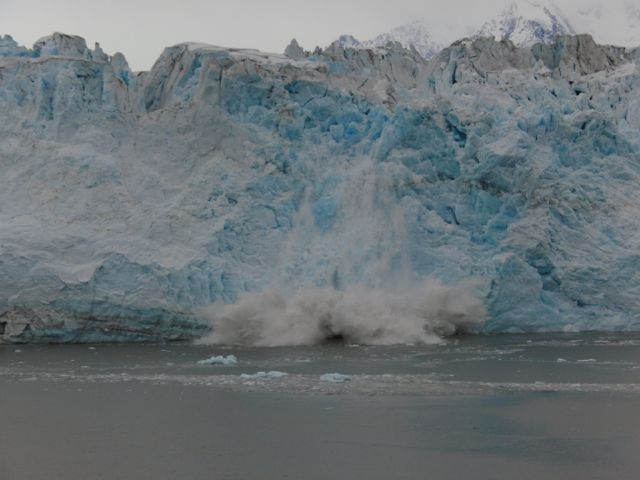 Splash
Jean attended the Indonesian Crew show at 11 PM since both of our waiters were in it. She enjoyed the hand dance the most. Everyone else in our group was probably sound asleep!
July 10 (Tuesday, Day 13, Sitka) –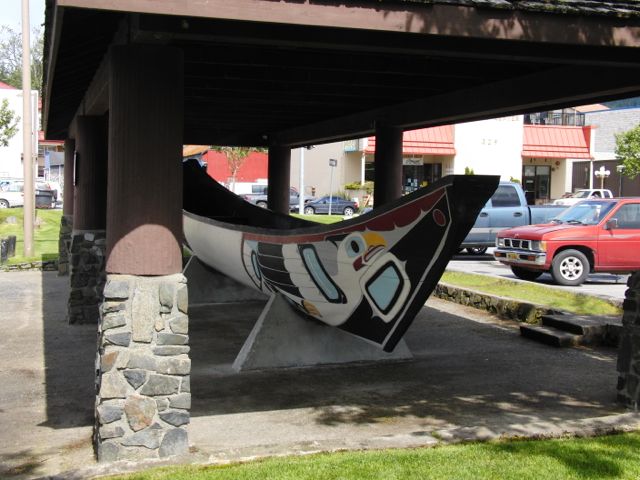 Tlingit canoe
Filbert and Snookums took one of the first tenders to Sitka and walked around. Snookums got the free charm of Sitka and both got the free mink roses. When we were in Sitka two years ago we didn't know about any free items since we went on a tour right away and missed the coupons being handed out at the dock. We bought duct tape, too, since Mom's luggage (that Snookums lent to her) had a three-inch rip in it. We saw the commemorative Tlingit canoe by the library. We also saw an eagle on the top of St. Michael's Cathedral, a Russian Orthodox church that is a major Sitka sight.
July 11 (Wednesday, Day 14, At sea) –
Today was a sea day and it was overcast and 59°. Everyone attended the medallion ceremony and saw Dad get his copper medallion for cruising on Holland America for 100 days. (Mom got hers on the last cruise since she did a Panama Canal cruise 25 years ago with Snookums and other women.) Snookums also got a new medallion, a silver one, for 300 days. According to her calculations Snookums was only at 238 days, but if HAL says she gets the silver medallion, she'll take it. (Filbert is at 204 days.) Mom, Dad, Judy, Jean and Matt enjoyed the Mariner's lunch after the ceremony and sat with the mother of the future cruise consultant. They learned that the ship is chartered for the next two weeks by two different religious groups and so the casino staff, bar staff, performers and future cruise consultant are not allowed to work. They will get paid, but for those that work on tips, like the Filipino bar staff, the HAL wage is basically nothing. The future cruise consultant, though, is an officer and essentially gets a two-week paid vacation if she stays on the ship. If she goes home to Portland, she won't get paid so she is going to stay on the ship and enjoy being like a normal passenger.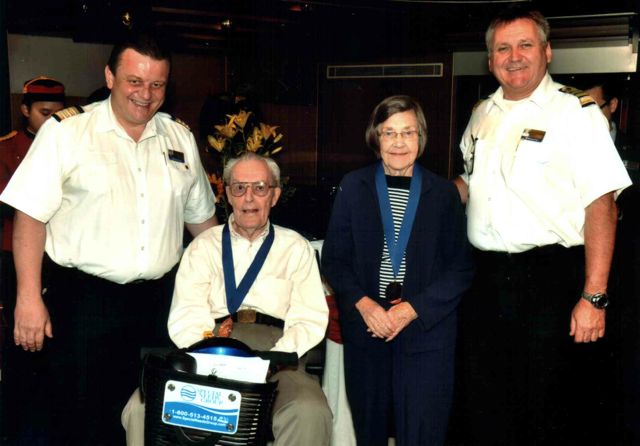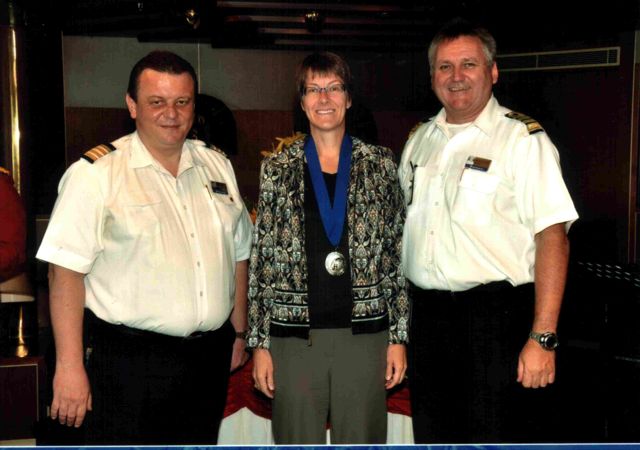 Medallions
Tonight was the last formal night and Filbert was happy that Escargots Bourguignons (escargot in melted butter) was on the menu. Our last cruise a few months ago was on Oceania and this typical formal night appetizer was never served so Filbert ordered two of them! (It should be noted that most nights Snookums ordered two desserts since the fruit crisp of the day was usually a good flavor and then there was always another dessert she wanted to taste.) As a surprise to Matt, the waiters sang the Indonesian "Happy Birthday" song since his birthday is in one week and we gave him a Hoops & YoYo singing surprise card. He was surprised and enjoyed the chocolate birthday cake.
After dinner Pat bought two future cruise deposits for Holland America since she is going to take her husband on an Alaskan cruise. She has four years to use these so the clock is ticking! Snookums and Filbert might just have to accompany them, too, since they are always looking for a reason to cruise.
July 12 (Thursday, Day 15, Victoria, BC) –
We woke up to the foghorn sounding every five minutes and fog so thick that you literally couldn't see. Snookums and Filbert have experienced the foghorn before but never in fog this thick. It lasted for at least three hours and then as we got closer to Victoria, we sailed out of it. We could look behind us and see the line of fog. It was weird. Around 11 AM it was sunny and nice, though, and everyone enjoyed the salmon bake that was being grilled by the pool.
Matt, Jean, Snookums and Filbert left the ship around 12:30 and headed for the Tilley store. Tilley is a Canadian company and the founder created hats that are guaranteed for life. Filbert bought one five years ago and has worn it a lot and recently decided to buy a lighter weight version for the hot climates that we travel to. After Snookums pulled it out of the wash the last time, the nylon stiffener was coming out of the edge of the brim which meant it could be replaced for free. Filbert found a hat that he liked and Snookums found a pair of pants. Jean and Matt didn't find anything. We continued walking around downtown and Filbert found a used bookstore. At that point Jean and Matt went on their way. While Filbert was in the bookstore Snookums enjoyed sitting outside in the sun people watching. She put on Filbert's hat and decided she needed one, too. So they went back to the Tilley store and bought a hat for her and got another pair of free socks since there was a coupon for free $16 socks with purchase. They left the Tilley store for the second time and walked through the inner harbor and looked at the various vendors. They bought kettle corn and enjoyed eating it while walking the mile or so back to the ship. There was about an hour and a half before dinner so packing was started.
After dinner Filbert continued packing while Snookums wrote in the journal and also went from cabin to cabin delivering things and passing along messages. The bags were put in the hall around 10 PM and we settled in for the night.
July 13 (Friday, Day 16, Flying to Kansas City) –
After cruising 3,675 nautical miles (or 4,225 statute miles), the ship was cleared for disembarkation at 7:20 AM. We all met at 7:45 AM for a leisurely breakfast and then met in Mom and Dad's cabin at 9:15 AM to leave the ship for the last time. We gathered our eleven checked bags and multiple carry-ons (including Matt's bag of dirty laundry that was in the 50-pound hops bag from Kodiak Island Brewing Company!), found a porter, cleared Customs and headed out to where our pre-booked van would pick us up. All of this took about 25 minutes but was relatively hassle-free.
When we got to the airport at 10:15 AM it was a mob scene and getting our bags checked and going through security took at least an hour, but we had plenty of time since our flight had already been delayed an hour until 2:45 PM due to bad weather in Houston. We ate lunch while waiting for the plane and also bought dinner for on the plane since we wouldn't land until 8 PM in Kansas City. The Southwest flight was uneventful and four of us even had an empty seat next to us. Our shuttle van was waiting for us at the KC airport and the first stop was at Mom, Dad and Judy's and then Filbert and Snookums got home around 10 PM. Everything was fine except the yard was brown due to the watering ban in Lee's Summit.
Other than not seeing any moose or bears, Snookums thought it was a great cruise. Filbert really enjoyed feeling like "being at home" on Holland America as compared to his feeling while on Oceania. Filbert gained 3 pounds and Snookums gained 3.4 pounds and enjoyed every one of her dinners that included double desserts since the Daily Baked Alaska or the Fruit Crisp of the Day was typically one of her dessert choices.