Contributed by: filbert Friday, January 25 2013 @ 08:00 AM CST
The 2012 35-Day Hong Kong-Athens Cruise, Oceania ms Nautica, 4 of 6
Text and pictures by Snookums, webification by Filbert
Part Four
May 6 (Sunday, Day 31, Aqaba, Jordan; continued) –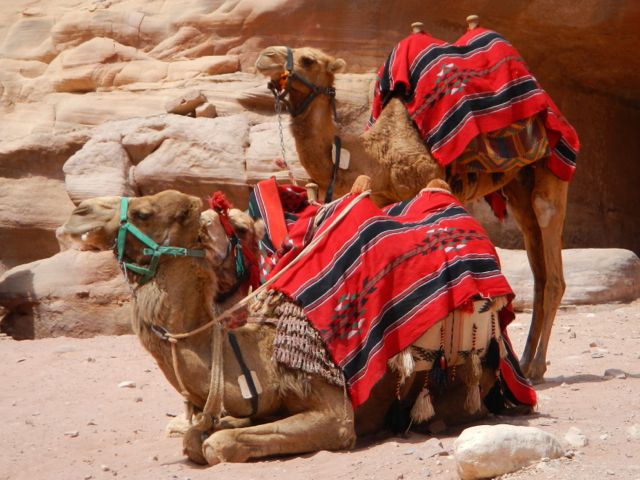 We're ships of the desert, you know.
Another major site was the Theatre. It is carved into solid rock and can seat 7,000. Although it looks Roman, the Nabataeans built it in the 1st century AD and each seat has a seat number carved into it. (It was, however, apparently impossible to photograph — Filbert.) Ashraf asked us if we wanted to ride donkeys out of Petra to a different exit from where we came in and we all agreed and paid him $20 each. We walked around Petra and saw more of this dead city, including the 6th century AD Petra Church, until we made our way to the donkeys. If we wouldn't have ridden the donkeys, we would have had to walk about one hour back to the beginning, retracing our steps. By riding the donkeys we got an extra 30 minutes walking around Petra and got to see other things on the way out during the 30-minute donkey ride.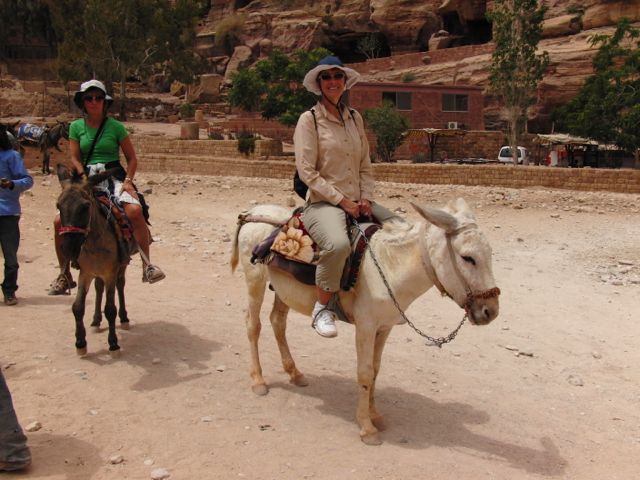 Snookums and donkey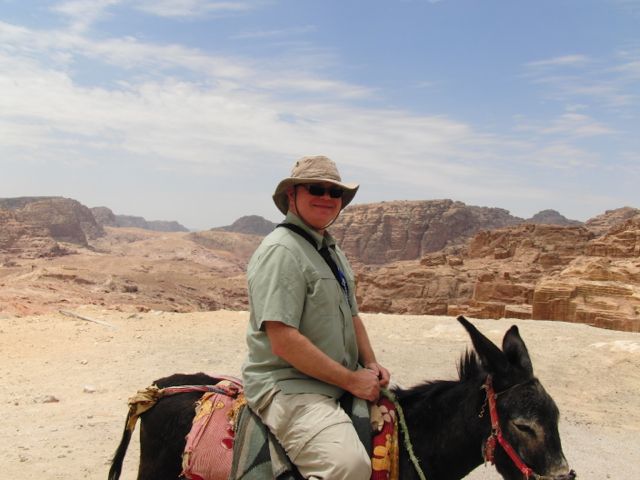 Filbert and donkey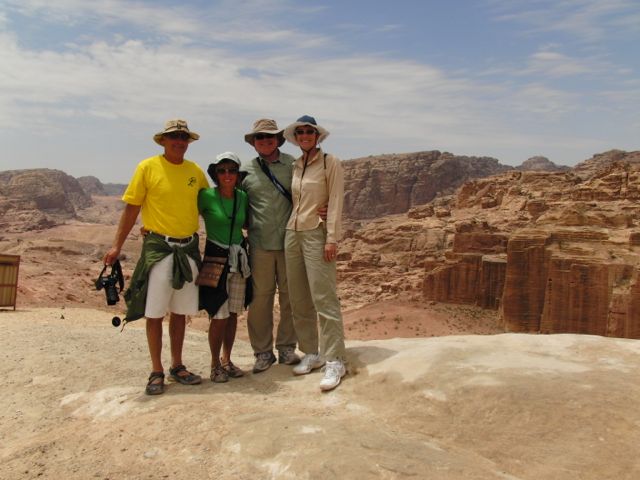 The 2012 Petra Expedition
The van picked us up at the other Petra gate and we headed to a great buffet lunch at Al Qantarah Restaurant. Ashraf said it probably cost around $18. It had a lot of cold salads, including hummus and other Middle Eastern specialties, and several excellent hot dishes like pinto beans and beef, chicken with a red sauce, lamb and fish with a yellow sauce. It also had a nice selection of desserts, including a delicious creamy bread pudding with cinnamon and raisins that is a special occasion Jordanian dessert. As a primarily Muslim country, the restaurant didn't sell alcohol and Filbert drank a $3 can of Coke Light.
After lunch we made a quick stop at a spring that was supposedly created by Moses. Then it was off to Wadi Rum ($28 per person), around 1½ hours away. (Wadi means "dry valley".) We got out of the van and climbed up a bunch of steps for a view of the Seven Pillars of Wisdom, named after TE Lawrence's (Lawrence of Arabia) famous book. Then we got in the bed of a truck on seats facing each other for our two-hour desert tour.
The desert landscape of Wadi Rum is considered one of the most awe-inspiring sights in the entire Middle East. Huge ochre-colored rock pinnacles, weathered into bulbous, outlandish shapes, rise up 2,000 feet from the flat valley floors, like islands in a sea of red sand. This area was once a major trade route and carvings and inscriptions of the Thamud people are evident. The region is still inhabited by semi-nomadic Bedouin tribes.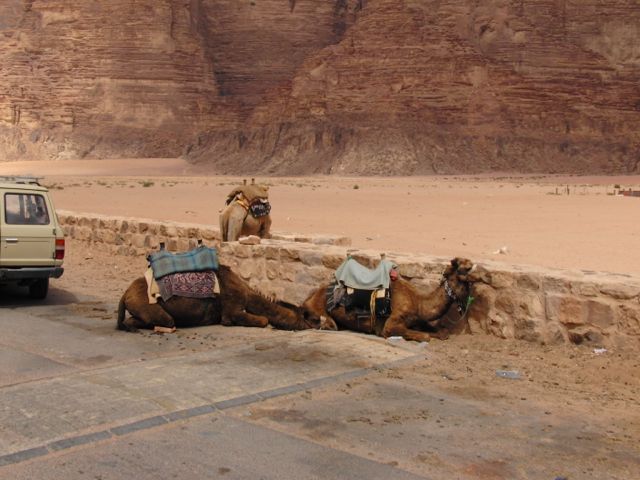 Camels, on break
Our first stop was at a Bedouin camp, but all we got to see up close and personal was one large tent (probably 200 square feet) that was closed on three sides that contained souvenirs. We were invited to come in and we sat on cushions which were on carpets that covered the red sand. We were offered tea but none of us took any. Frankincense was burning and it was rather peaceful to just sit there while looking at one of the large red pinnacles. Our guide gave each of us a Bedouin name. Filbert was given "Stawie" which means "listens to wife" and Snookums was named "Fatima" which means "speaks from the heart". We thought they were accurate. The Bedouin camps that we could see in the distance all looked similar with their goat hair tents and one or two trucks.
We got back in the truck and drove to our next stop, Khazali Canyon. We were able to carefully scramble around 600 feet, starting on a ledge on the right-hand side, in order to see Thamudic inscriptions dotting the walls.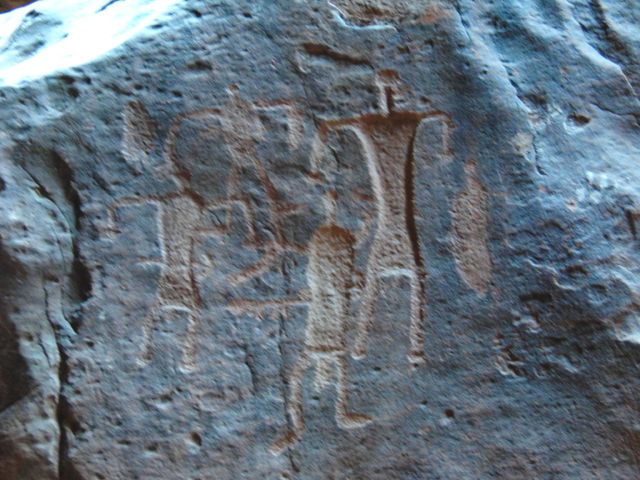 Petra-glyphs. That's a pun, son. (Possibly NSFW) (The picture, not the pun.)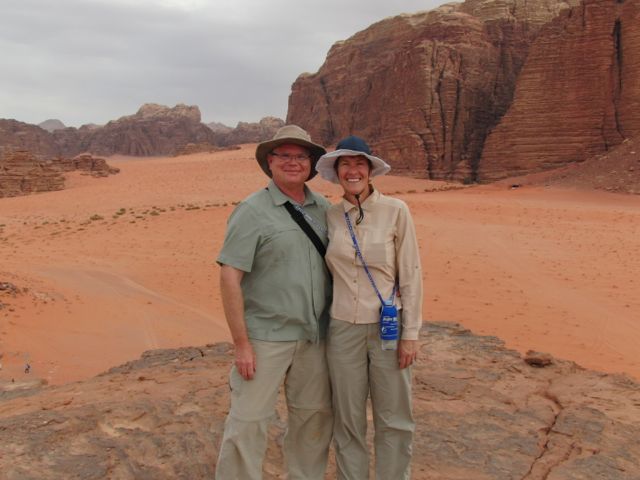 On top of a rock.
Then we went to a large outcrop and saw that 20 jeeps of people were there from the ship busy climbing up on it. It looked pretty high, but doable. Our guide, though, said we were going to climb a sand dune across from it. We thought he was kidding, but he was serious. So, we started climbing up the sand dune. It was extremely hard to do since the sand was so fine and deep. Snookums was following the guide and a third of the way up she had to stop to catch her breath. She looked behind and saw that Filbert was coming but didn't know if he would continue since he has a bad knee and it was very, very, very tough to climb. She didn't worry about Filbert and kept climbing the deep, steep sand. The next time she looked back she saw that Filbert was still climbing but didn't notice where since she was so tired. She kept climbing and finally made it to the top of the sand dune and then climbed on top of the rock outcropping that was next to it. Then she saw that Filbert was climbing on the side of the sand dune that was connected to the rock and therefore he was climbing on the rocks rather than the deep sand and took the easy (and smart!) route up to the top. Stan followed Filbert's lead and Renée followed Snookums's. The men were smarter, that was for sure, but the women got a workout for the ages! From the top we saw that the people on the Oceania tour were on the top of their rock, but it was way down below our rock. We had a great view of this strange red landscape. And, we had shoes full of fine red sand and white socks that were now red. Going down was very, very easy as we all ran. Snookums was reluctant, but Filbert shrugged and chugged down. That's why he was at the bottom to take this picture: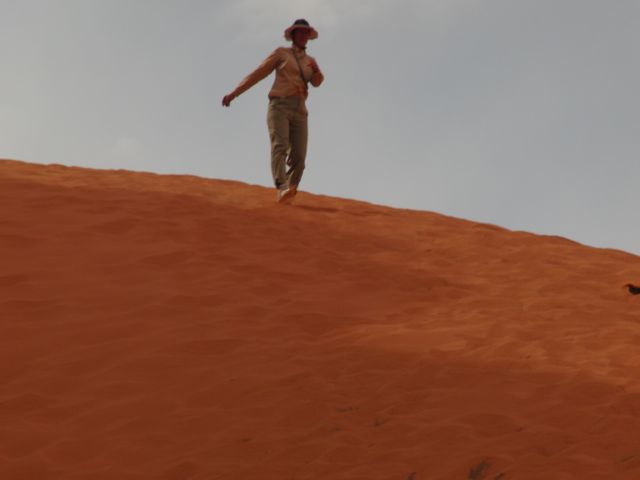 After our hike, we drove to Jebel Umm Fruth Rock Bridge which is a natural phenomenon that rises straight from the desert floor. Everyone hiked up and Stan and Snookums made it to the end of the rock bridge, but Renee and Filbert couldn't get up the almost three-foot step up to the bridge but still had a great view of the desert landscapes.
Around 5 PM we left for the fifty-minute drive back to Aqaba. We were covered in red sand dust, and our shoes and socks were possibly permanently dyed red, and we were very tired but exhilarated from our great day.
Based on what little we saw, it looks like Jordan's prices are similar to the U.S. A two bedroom unfurnished apartment in Aqaba, population 65,000, is around $500 per month. Gasoline is $5.50 per gallon. (It used to be cheaper than water until the Iraq War.) Aqaba, Jordan's only port, is a special duty free zone and it sells alcohol. On the way back to the ship, the van stopped at a liquor store so Stan could by some Amaretto and Southern Comfort. Filbert bought some bottles of Italian wine for around $15 each.
May 7 (Monday, Day 32, Safaga, Egypt; 1 EGP = $0.17; $1 = 6.04 EGP) –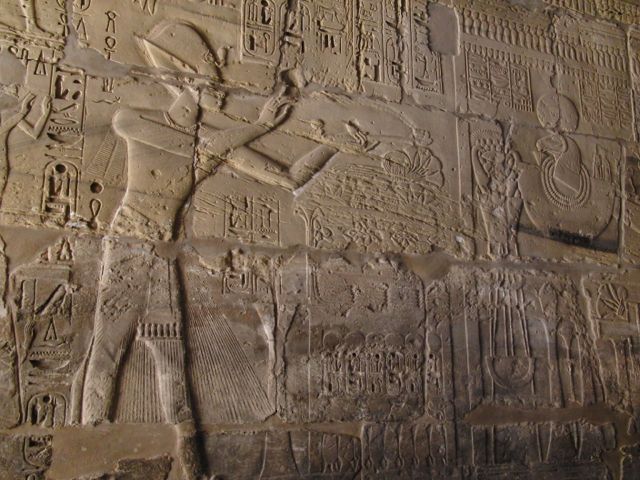 Yup. Egypt.
At 8 AM we joined Barbara and Donna for our private 4-person overnight tour of Luxor, Egypt. They live in Los Angeles in the summer and Hawaii in the winter. Barbara organized the tour with Ramses Tours and it cost $220 per person. The ship was doing the same tour and charging $700 per person and 200 people signed up for it. Riding with only three other people for a lot less money is a much more enjoyable experience as compared to being on a bus with 40+ people.
We literally were the first people off the ship and our driver was standing at the end of the gangway with a sign with our names on it. We got in the van and took off. Filbert had the back row of three seats, Snookums had the middle row of two seats and Donna and Barbara had the front row of three seats. Everyone was very happy. For two hours and 30 minutes we passed nothing but rocky desert and several checkpoints, but most of them seemed deserted. We didn't stop at the one and only tourist stop. The last 30 minutes of the ride were more interesting since we reached the Nile Valley and there was green in the landscape, including crops. In fact, we saw the crops being harvested by hand. There were sheaves of wheat and we also saw a threshing machine and the wheat was being blown onto the field in a pile. Donkeys were being used to haul carts and we saw three tractors, including one on the road that was being pushed by three men. Since last year's revolution in Egypt, gas has been hard to get and it's possible that the tractor's gas was being saved. We saw two gas stations in Luxor with long lines of tour vans and very few personal cars waiting. We also saw several gas stations closed since they didn't have any gas.
We got to Karnak Temple ($10.50 per person, but all admissions were included in our tour price), the largest place of worship ever built, around 11 AM and realized that visiting this vast complex of 3,000 year-old temples built over a 2,000-year span during the heat of the day wasn't the smartest thing to do. However, when you only have a short window of time to see Luxor, you bite the bullet and do what you have to do. The sun was very intense and there was not a cloud in the sky. The temperature was probably 105° and it gets to 125° during the summer months! Donna decided to sit in the shade and wait for the rest of us. Filbert, Snookums and Barbara traipsed around and listened to our guide, Amr, talk about Egyptian ruins. Our guide also told us that Luxor hasn't had any rain for 2 ½ years!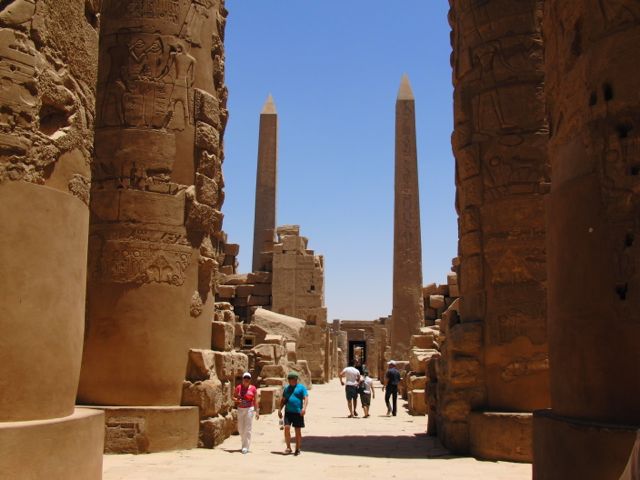 Karnak Temple, Luxor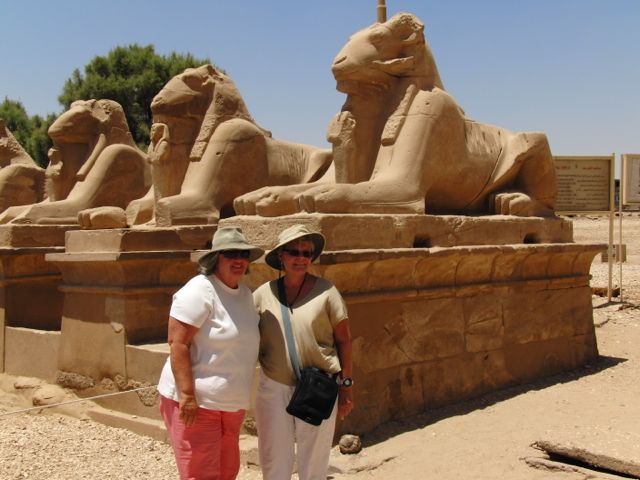 Barbara and Donna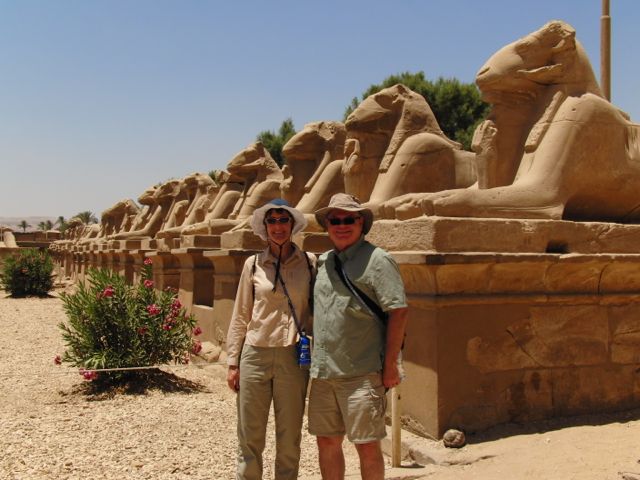 Snookums and Filbert
After getting very red in the face from the heat, we went to a so-so buffet lunch at Luxor Museum. (We didn't get to see the museum.) The food was nothing special, but the stewed potatoes and the vegetables in the chunked up kebab chicken (bones and all) were okay. And, the room that we ate in was air-conditioned. The area where the buffet was displayed was air-conditioned, but not very well. After lunch we took a little boat to the west side of the Nile where the van was waiting to pick us up.