Contributed by: filbert Thursday, January 24 2013 @ 08:00 AM CST
The 2012 35-Day Hong Kong-Athens Cruise, Oceania ms Nautica, 3 of 6
Text and pictures by Snookums, webification by Filbert
Part Three
(April 28 (Saturday, Day 23, Mumbai, India; 1 INR = $0.02; $1 = 51.66 INR) –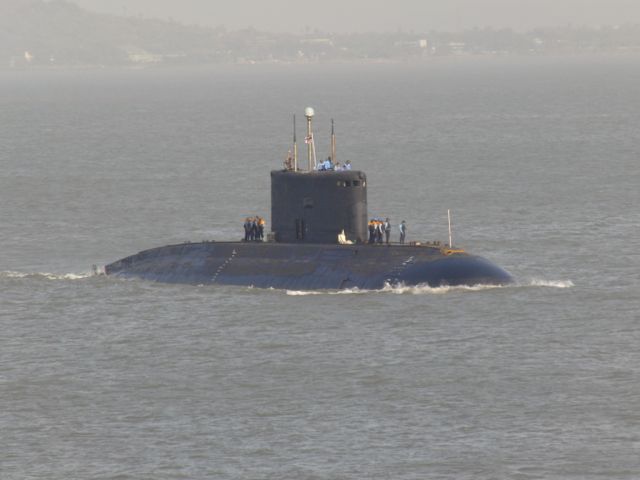 Indian Navy submarine, out for a weekend cruise around Mumbai Harbor
Since we are not that fond of India, we didn't get off the ship. The ship left Mumbai at 5 PM. April 29 (Sunday, Day 24, Cruising the Arabian Sea) –
April 30 (Monday, Day 25, Cruising the Arabian Sea) –
May 1 (Tuesday, Day 26, Salalah, Oman; 1 OMR = $2.60; $1 = 0.39 OMR) –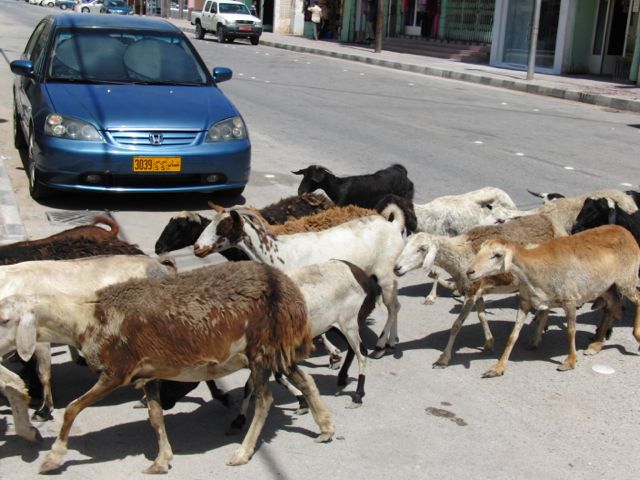 Goat Crossing
We woke up and got off the ship at 9:30 AM. We decided to take a taxi to the Museum of the Frankincense Land and then walk to Haffa souq (shopping area). A free shuttle had to be used to get out of the port since it was a large container port. We got off the shuttle and immediately were pounced upon by cab drivers. We looked at the printed price list at the gate and after talking to the head taxi dispatcher with his so-so English decided to just take a cab to the souq for 10 OMR ($26). Using the taxi dispatcher, we made sure the cab driver, who spoke very little English, understood that we wanted to go to an ATM and then the souq for 10 OMR.
We stopped at the ATM a few minutes from the port and then drove for another 15 minutes or so. There was a lot of sand all around and some grain elevators and not much else. We were definitely in a commercial port area. Then we started seeing a lot of sand colored buildings and some nice landscaping, including a lot of green grass and flowers. (Everything else was sand.) Our driver pulled over and we realized he was showing us the Sultan's palace. We think the driver told us that he has one in Muscat, Oman and Rome, Italy, too. While Filbert was taking pictures of the palace, the driver asked Snookums if we wanted to have a tour with him for two hours for 20 OMR, including getting back to the ship. Well, since we were going to have to pay another 10 OMR to get back to the ship anyway, it seemed like a great deal so we said "yes".
Our next stop was the Haffa souq. We got out of the taxi and wandered around a few open-air stalls that were mostly selling frankincense and the Omani national symbol, the silver-sheathed dagger known as the khanjar. We also saw a lot of arsaas for sale. An arsaa is a tribal walking stick with a concealed sword in it. Most of the vendors were men, but there were some women and they were wearing black robes from head to toe with just their eyes exposed. Some of them even had black chiffon veils over their eyes. We purchased three postcards in order to get some coins so that Snookums would have her souvenir. The vendor told her that the smallest coin was the cheap one. It was all in Arabic but since the other coin had a five on it, Snookums assumed it was a .01 OMR coin or worth $0.03. We walked out of the souq and passed a food stand and saw a man buy a huge piece of flatbread (larger than a tortilla, but similar) with a bunch of chopped meat on it. It looked delicious, but we had basically just eaten breakfast so we kept walking.
We turned down a street that must have been tailor's row since every single shop was a "Gents Tailoring" shop that had one male employee in it, one or two sewing machines and at least 100 bolts of fabric. Oman men wear plain robes that don't look like they require custom tailoring, but there must have been 100 tailoring stores. We saw a few for women, too. As we were walking along the desolate tailoring street in the hot, dry sun, a herd of goats crossed the street. There didn't appear to be a shepherd or anyone with the goats. We passed a few little fruit stands, some laundries and some stores that were selling toys and little plastic junky things. Otherwise, we just saw a lot of tailors.
We wandered back to the souq and got in the taxi for our next stop, the Museum of the Frankincense Land. This is a set of ruins that belong to the 12th-century trading port of Zafar. From here, frankincense was shipped across the sea to India in exchange for spices. There was a nice new museum, too, and we learned that the current sultan of Oman came to power on July 23, 1970 and that is when Oman entered the "modern" world and started building its cities, including Salalah (current population 140,000).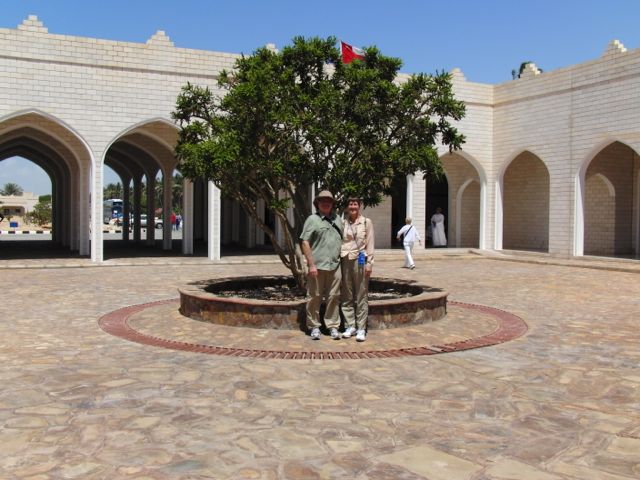 In the Museum
After seeing the museum, the taxi driver took us to the footprints of the Prophet Saleh's camel. We didn't know what this was, but it was on the map and we said "OK" when the driver pointed to it. Snookums wanted to see a camel so she was excited when she saw this open-air covered structure (like an animal's pen at a zoo). Unfortunately, it was simply a protected bunch of dirt that had some hoof prints in it. Filbert and Snookums looked at each other and since the driver was excited about it, Filbert made a point of taking some photos. There was a sign in Arabic at the front of the structure. This structure was near some apartment buildings and some parking lots – just kind of in the middle of nowhere.
The taxi driver then stopped so Filbert could jump out and take a picture of a clock tower and then we went to the Grand Mosque that has five minarets to match the five pillars of Islam. It can hold 15,000 men and also has a room for 750 women.
Then we asked to go back to the ship and on the way stopped at LuLu Hypermarket which was a huge, brand new grocery store that was probably the nicest one Snookums had ever been in, including US grocery stores. Every product that could be found in the US and the UK was in this three-story store (except for Crystal Light!) and we bought a case of Diet 7-Up ($0.37/can) and four cans of Diet A&W rootbeer ($0.65/can). There was a whole section devoted to dates and date spread, too. When we were checking out a man bought what looked like a 5-quart pail of ice cream but was really 4 kg (8.8 pounds) of Dannon yogurt! On the way out of the store, Snookums had to buy some fresh caramel popcorn from the vendor out front for $1.30 – very pricy, but it was tasty.
We got back to the ship around 12:30 and freshened up just a bit before heading to lunch. It was a good day, especially since we did more than the ship's $95 per person "Scenic Salalah" tour and only paid $61 total.
Dinner was at Polo Grill. Filbert's lobster bisque was "off" so he didn't eat it but Snookums ate her clam chowder and her Waldorf salad and then enjoyed her 14 oz. pork chop while Filbert ate his 12 oz. ribeye. Neither of us had dessert.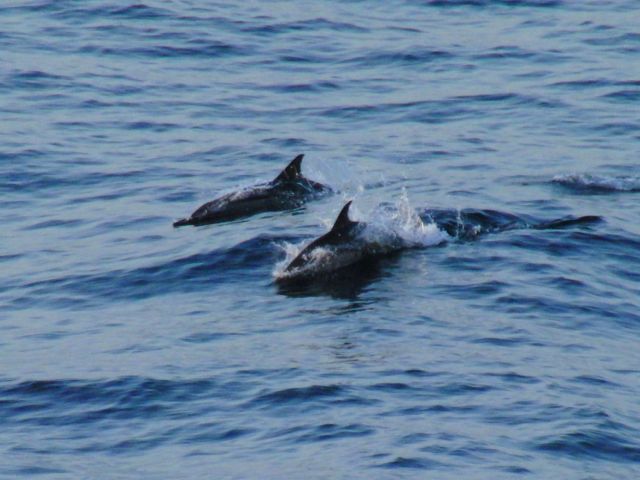 Finally! Some dolphins!
May 2 (Wednesday, Day 27, Cruising the Gulf of Aden)
For those of you wondering what there is to do during a day at sea, the following activities happened between 11:00 and 3:00 today:
11:00 – Beginners Bridge Lesson, Polo Grill
11:00 – Cellar Master's Wine Sale, Upper Hall
11:15 – Food & Beverage Questions & Answers Session, Nautica Lounge
2:00 – Egyptian Cartouche Seminar, Martinis
2:30 – Black Jack Tournament, Casino
2:30 – Card-Making with Julie, Terrace Café
2:30 – Enrichment Presentation "Jordan: The Amazing 'Yes I can' Country", Nautica Lounge
3:00 – Golf Putting Tournament, Sports Deck
May 3 (Thursday, Day 28, Cruising the Red Sea) –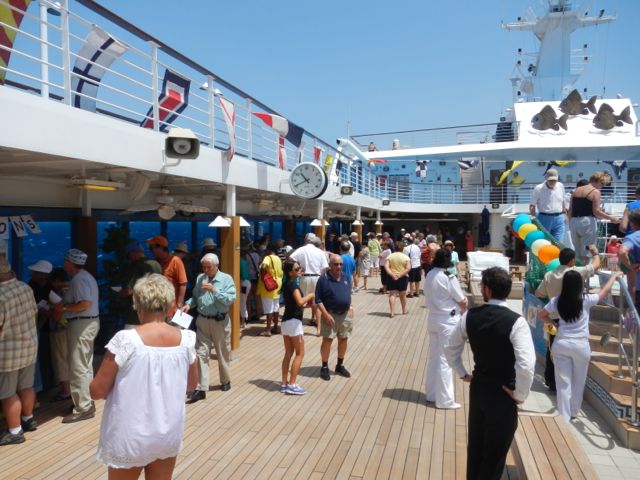 Country Faire
Today's big event was the Country Faire. We've seen this on our other cruises that have several back-to-back sea days. Each department sets up a game on the pool deck and the passengers get to play the games and win raffle tickets. Prizes (bottles of wine, logo merchandise, etc.) are then given to the winning raffle ticket holder. Filbert and Snookums competed in the Boutique's "dress the mannequin" contest. As the winner, Snookums won two tickets and Filbert won a ticket. Snookums then competed in Housekeeping's "Put the pillowcase on the pillow" and she was the runner-up and got one ticket. Then Snookums went and bugged Barbara and Donna in their cabana that they rented for the entire cruise. (Barbara organized our upcoming tours in Luxor and Haifa.)
May 4 (Friday, Day 29, Cruising the Red Sea) –
Tea time today was in the Nautica Lounge (the showroom) rather than Horizons (the front of the top deck) since it was a fancy tea. It was kind of like the chocolate extravaganza that Holland America has but had more varieties of sandwiches than the normal tea and had more sweet choices. There was a long line to get in. By the way, Oceania's normal high tea (daily at 4 PM) is very good. It beats Holland America's afternoon tea hands-down.
May 5 (Saturday, Day 30, Cruising the Red Sea) –
We woke up and Filbert decided to wash his sleep apnea face mask and hose which he has done several other times on the cruise. Like normal, he left the pieces on a white bath towel on the table in the room. When we returned from breakfast, our room had been cleaned and one of Filbert's two face masks was no longer on the table. (Filbert travels with two in case something happens like this.) He called the front desk and Security came to the room and met with him. He explained that Housekeeping threw away (or whatever) one of his face masks and Security told him that a lost/stolen form would be delivered to him today or tomorrow.
There was an Arabian Nights "event" on the 5th floor starting at 9 PM. Each revenue-generating department did something special. The bars had drink specials, there were free hand massages from the spa, and there were sales at the boutique. We didn't go.
May 6 (Sunday, Day 31, Aqaba, Jordan; 1 JOD = $1.41; $1 = .71 JOD) –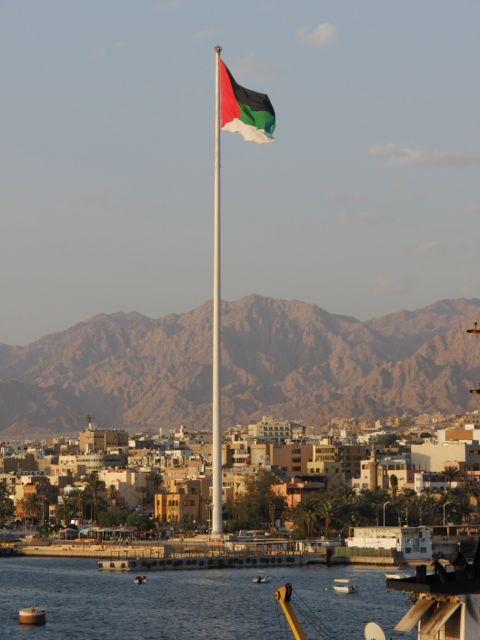 The Big Flagpole
At 7 AM we met Stan and Renée, from Park City, Utah, and found our Via Jordan Travel guide, Ashraf H. Alnawafleh. (We booked this tour with www.viajordan.com and by having four to six people on it, each person only had to pay $204. Oceania was charging $495 for a Petra/Wadi Rum tour on a huge tour bus.) Snookums was disappointed to see the guide and driver wearing Western clothing and realized that a lot of Jordanian men wear Western clothing although the robes are also frequently worn. Women mostly wear full robes, although we also saw many just wearing a head scarf along with Western clothes.
The four of us were in the back of a comfortable van and headed out to Petra, two hours away. Along the way we saw many Bedouin camps with herds of goats and some camels. The Bedouin tents are made of naturally water repellent goat hair that the women weave.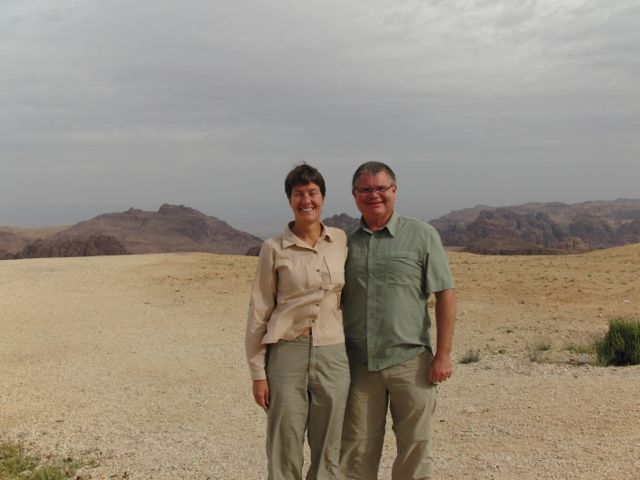 Somewhere in Jordan
Luckily the four of us got to Petra ($70 per person entry fee) before the tour buses did and it wasn't too crowded. (The Azamara Quest was also in port and it is an identical ship to Oceania's Nautica.) We started walking through the Siq, the ancient main entrance to Petra. The Siq is a ¾ mile long, deep and narrow gorge of stunning natural beauty. Cliffs soaring up to 265 feet hem it in. We saw bizarre-looking geological formations, colorful rocks, agricultural terraces, water channels cut into the cliffs, dams and votive-niches carved into the rocks. The Nabataeans, ancient Arab tribes, created all of this more than 2,200 years ago originally from the Arabian Peninsula. By the 1st century BC, Petra was a city that supported 30,000 Nabataeans and Petra had a lucrative position on the spice and incense trade routes from East Asia and Arabia to the Mediterranean. Key to the Nabataeans' success was their ability to control and conserve water. Petra was gradually abandoned, primarily due to earthquakes, and after the 14th century was completely lost to the West, until a Swiss traveler rediscovered it in 1812. Our guide told us that his family has been from Petra for 15 generations. In fact, his father was born in one of the caves that was originally carved as a tomb. (Around 300 people still lived in the caves as recently as 1985 when the Jordanian government relocated them to a new village on the edge of Petra.)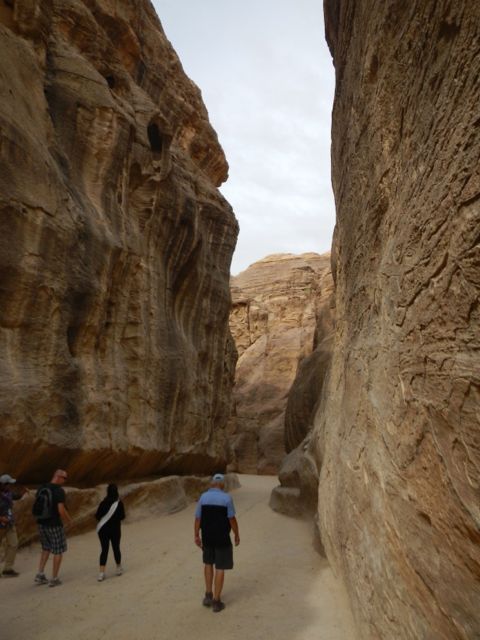 The Siq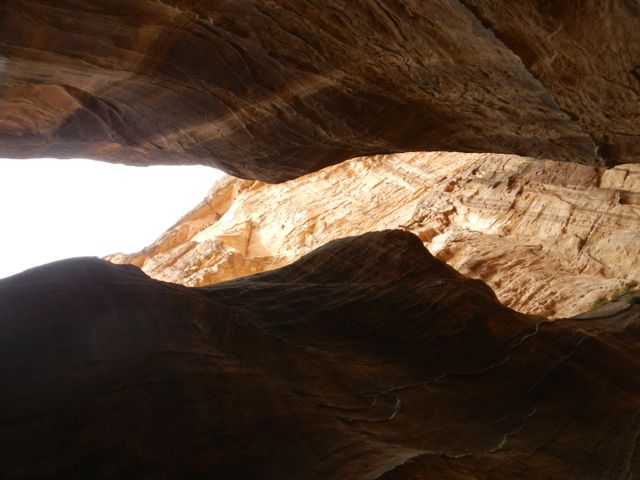 It got narrow (looking up)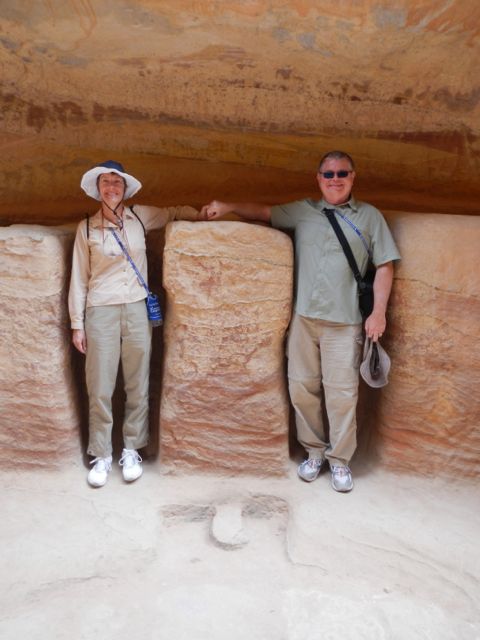 I don't remember what this pose was about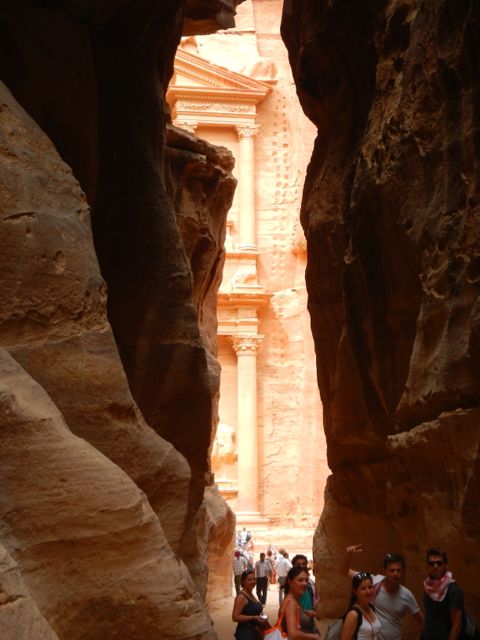 Emerging from the Siq
As we emerged from the Siq, we suddenly came face-to-face with the Treasury, the pride and joy of Petra. Its elaborately carved façade is 100 feet wide by 140 feet high. It was carved in the first century BC as a tomb for an important Nabataean king.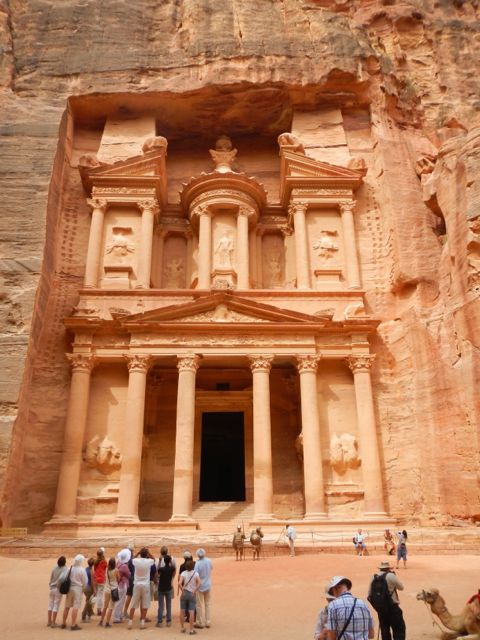 The Treasury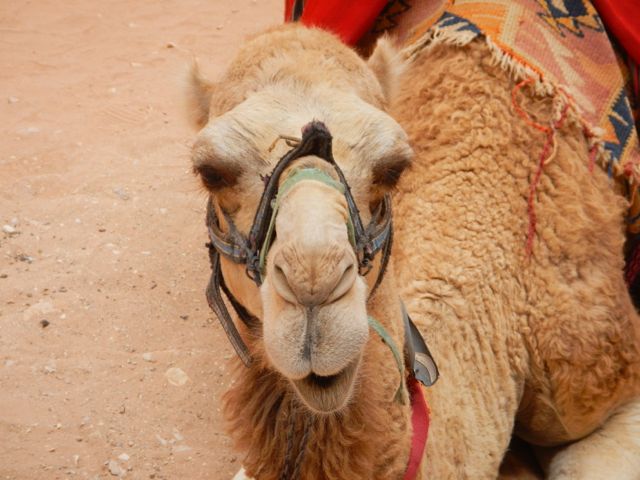 What are YOU looking at?