Contributed by: filbert Saturday, January 26 2013 @ 08:00 AM CST
The 2012 35-Day Hong Kong-Athens Cruise, Oceania ms Nautica, 5 of 6
Text and pictures by Snookums, webification by Filbert
Part Five
May 7 (Monday, Day 32, Safaga, Egypt continued) –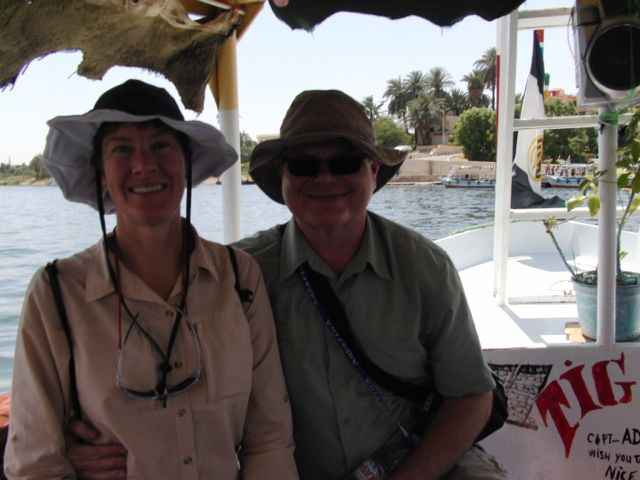 Crossing the Nile
We drove to an air-conditioned alabaster shop in order to drop Donna off since she decided she was kind of done for the day due to the heat and the need for two knee replacements. The rest of us continued on to the Valley of the Kings ($13.25 per person). This is a valley that contains a lot of tombs that were built for the pharaohs and noble from the 16th to 11th centuries BC. It is most famous for the tomb of Tutankhaman. We saw the tombs of Ramses 1, 9 and 4. Of the three, Ramses 1 was buried the farthest underground and there were quite a few steps and then a ramp to navigate to get to it. The ticket puncher at the entrance gave Filbert a flashlight and helped Barbara down all the steps and ramp. Then he pointed at various paintings/figures on the tomb and told us about them. We were pretty glazed over by that time. We started up the stairs and he expected a tip. We walked by him and ignored him. We didn't ask for the flashlight or the help down the stairs! We forgot that in Egypt just about everyone expects a tip (or baksheesh). Cameras weren't allowed in the tombs (all underground, but still hot and stuffy) since the colors could be damaged by flash photography. Barbara went back and waited in the visitors' center after going to the first tomb but Filbert and Snookums saw all three. (A ticket allowed entrance to three tombs.) There are many tombs and our guide chose these three for us to see. Other tourists were seeing other tombs. We went back to the alabaster shop to get Donna and Barbara bought an alabaster cat since she figured they needed to buy something since Donna was being "hosted" for an hour. Then we all went to Queen Hatshepsut's Temple ($5.00 per person). From a distance, this temple looked like a 1970s-era government building with three stories and a lot of windows. Filbert and Snookums were the only ones that climbed the steps to see this temple. After this quick visit, we all got back in the van and headed to Colossi of Memnon for a quick photo stop of these two huge statues. Then we had a 15-minute drive to the Steigenberger Nile Palace Luxor hotel. We got a top floor room with a great view of the Nile River. We sat on the balcony for a little while and watched the felucca boats sailing on the Nile and looked at the farms on the other side. It was very pretty and peaceful. The hotel was a beautiful 5-star hotel and the bathroom even had a bidet in it!
Filbert and Snookums decided to take a quick stroll around the hotel and tried three ATMs before finding one that worked. Then we went to the little grocery store next door. Snookums bought a can of Diet 7-Up and Filbert bought a larger bottle of Coke Zero. They were each $0.83. Filbert had been thinking he had a sinus infection so we went to the pharmacy in the hotel and Filbert bought a box of five 500 mg azithromycin pills for $22. (The standard U.S. dose is 250 mg for five days.) Then we went to our room and relaxed.
The four of us decided to eat dinner at the Thai restaurant in the hotel. Reviews on TripAdvisor said that it was the best restaurant of the four in the hotel and it was very good. The chef was actually from Thailand. Filbert and Snookums enjoyed their entrees and Filbert's two beers (alcohol is really only available in luxury hotels in the Muslim country of Egypt and each beer cost $5.50) for around $45. (The hotel prices matched prices in a Hyatt in the U.S. It seems that regardless of where you are in the world, if you stay in a very nice Western hotel, you'll pay U.S. prices!) The two of us probably could have eaten like kings at a restaurant down the street for $15 but we were tired and didn't want to deal with "Egypt" so we were willing to pay for the ease of eating in the luxury hotel.
After dinner we went back to our room and sat on the balcony and saw that the Theban Hills on the Nile's west bank were lit. It was beautiful and we sat outside for awhile before deciding that we were pooped. Our lights were out by 10 PM! Our guide told us that around two years ago the various temples and antiquities started being lit at night when Luxor became its own governorate. Luxor has a population of around 150,000 and enjoys more autonomy than other areas of Egypt.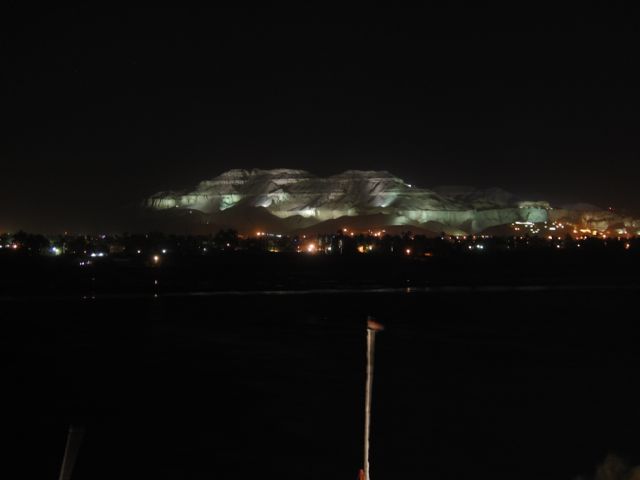 Theban Hills at night from across the Nile
May 8 (Tuesday, Day 33, Safaga, Egypt; 1 EGP = $0.17; $1 = 6.04 EGP) –
We woke up at 6 AM and went out on the balcony and saw the hot air balloons that were taking tourists on rides to see the sights. We showered, ate at the included breakfast buffet and got in the van at 7:30 AM. Then we drove to Luxor Temple ($8.25 per person) and all four of us enjoyed walking around this smaller temple that was built between 1390 and 323 BC. We also really enjoyed the morning's cooler temperature. Around 8:30 AM we said goodbye to Amr and our driver took us back to Safaga.
We learned that the driver dropped people off at hotels at 10:30 PM last night and then went to get gas for the van. He waited in a long gas line and didn't get home until 2:30 AM. He woke up at 5:30 AM so only slept for three hours. Twenty minutes into the drive the driver stopped at a little roadside store and we could see that he was buying various packages of junk food. He got back in the van and we asked him if it was his breakfast and he said "yes" and then gave each of us a Twinkie. Snookums was thrilled and told Barbara and Donna that she used to get Twinkies and PopTarts and stuff like that for birthdays when she was younger and actually just got SnoBalls for her 48th birthday from one of her sisters. Filbert, Barbara and Donna each gave Snookums their Twinkies. She ate two of them but there really wasn't any cream filling in them even though the package clearly showed it on the photo.
We stopped at the only tourist stop between Luxor and Safaga and Filbert bought two 1-liter bottles of Coke Zero for $8.25 (yes, they were horribly overpriced) AND gave the vendor a $1 tip! He is such a softy. (Three days ago our cabin stewardess told us that the ship didn't have any more Caffeine Free Diet Coke or Coke Zero. We left a note for the Executive Concierge that we expected Oceania to get us some in Safaga, but we're not counting on it.) We pulled up to the ship around 11:45 and saw a bunch of Egyptians with tons of luggage leaving the port. We noticed two shabby cruise ships in port, too. Our driver said that the two ships came from Saudi Arabia which is about 24 hours away. The people were coming from their trip to Mecca and our driver said that they probably were there 30 days. That explained the huge amounts of luggage that the families had.
The price for the four of us was $220 each for our overnight Luxor tour with Ramses Tour Egypt which included everything except for dinner. The ship was charging $219 per person for the 1-day Luxor tour. That would have meant seven hours of driving in one day on a bus full of people to see just some of the things we saw. For Snookums, the night in the hotel overlooking the Nile was the main highlight of the Luxor trip.
We ate dinner at Toscana, the reservations-only Italian restaurant, and really enjoyed the food. The third time's the charm!
May 9 (Wednesday, Day 34, Suez Canal Transit) –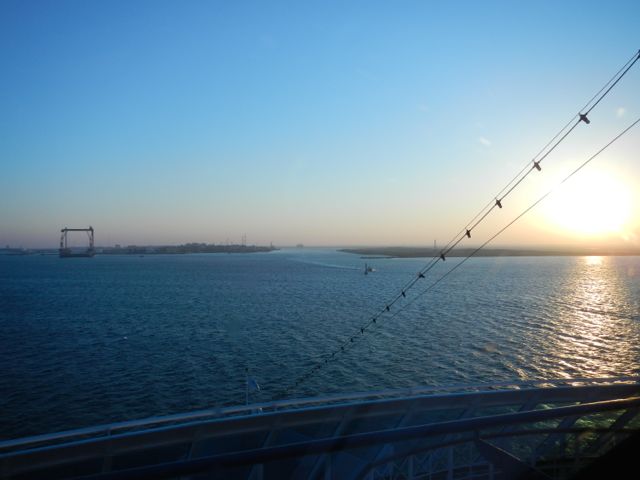 Entering the Suez Canal
Filbert woke up around 4:30 AM and went up to Horizons to see the Suez Canal. Snookums joined him around 6. It was cool and clear. Most of the day was spent on the veranda during our 11-hour canal passage. Our veranda faced the Sinai Peninsula side of the canal which was mostly desert with a solitary soldier stationed about every mile or so next to a guardhouse, a hut or even just a little tent. Around 3 PM Filbert put on long pants and a jacket since it was very cool (71°) and windy outside. Unlike the Panama Canal, the Suez Canal doesn't have any locks. It has a lake in the middle of it where there were all sorts of ships including some of the largest container ships Snookums has ever seen. There were also two war ships but we couldn't tell their country. After the Six Day War in 1967, the canal was closed until June 5, 1975. A UN peacekeeping force has been stationed in the Sinai Peninsula since 1974. 14% of the world's shipping passes through the Suez Canal.
About thirty minutes after we exited the canal Filbert noticed that there was a submarine in front of our ship. That was kind of cool.
One of the things that is very annoying about Oceania is that every bingo session is announced and it comes in the cabin on all of the TV stations. So, if you are watching a repeat of a lecture, it is automatically muted while the bingo announcement is made. And, on sea days there are usually two bingo sessions. Ugh……
We went to the Middle Eastern buffet tonight for dinner. The ship has had a couple of special dinner buffets, but the food really isn't very flavorful and tonight they ran out of several items (turkey kebabs, baklava) and it took more than five minutes for the buffet to be replenished with them. Service is also quite poor at the buffet since they don't let the guests serve anything themselves and there aren't enough servers manning the stations which means guests just stand there and have to wait for a server to come over and pick up the serving utensil in order to serve the guest. And, it took us a long time to get our water glasses filled. We got back to the room, turned our clocks forward (which hasn't happened too often on this cruise since we've been turning them back most of the time), and got ready for our big day in Jerusalem tomorrow.
May 10 (Thursday, Day 35, Haifa, Israel; 1 ILS = $0.26; $1 = 3.79 ILS) –
We met Donna, Barbara, John and Ronnie for our 10-hour tour. John and Ronnie were born in Hong Kong and immigrated to Vancouver in 1987. We met our Guided Tours Israel guide, Omri, and got in his Land Rover, one seat per person, and headed towards Jerusalem, two hours from Haifa for our $150 per person 10-hour tour. (We were supposed to dock in Ashdod which is closer to Jerusalem, but due to Gaza launching a rocket a few months ago that landed near Ashdod, the ship docked at Haifa instead.)
We stopped at the Mt. of Olives overlook and had a wonderful view of Jerusalem, including the beautiful gold Dome of the Rock, which is Muslim, and the walls of the Old City. Jerusalem is a very large, hilly city. We got back in the car and drove to the Gardens of Gethsemane. Our guide literally got the closest street parking spot for this site, which is what he was able to do for the Mt. of Olives overlook, too. That is one of the benefits of not doing a bus tour. Individual cars can always get closer than huge buses. When we walked into the gardens, a man gave us an olive tree branch since the garden had 2000-year old olive trees in it. We didn't realize it at the time, but he expected us to pay for the olive branch so we all gave them back. We also saw the rock where Mary cried. There is a church that was built in 1929 and while we were in the church, a small tour group from Nigeria started Mass (with around eight or nine priests/seminary students/brothers on the altar) and started singing and it made it extra special since the sound was so beautiful.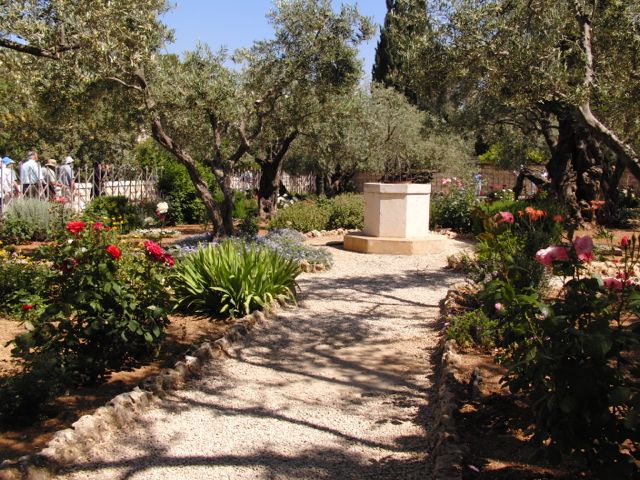 Gethsemane
We got back in the car and drove to the Old City. The streets were very crowded with local cars as well as the tour buses and it took a little while. It was strange seeing locals drive on the same streets near the Old City as all of the tourists, but the street must be one of the main ones in Jerusalem. While waiting in traffic, our guide pointed out David Citadel which was part of the Old City.
We parked in a modern underground parking lot that is used by the nice mall on top of it. We walked a block to the old city and entered through Jaffa gate. The streets were cobblestone and cars were allowed to drive on them! We walked through the city and saw a very old moat but there was never any water in it since they didn't have any at the time (and Israel still doesn't have much) and they used arrows and burning oil, instead.
We continued walking (and walked out of the city through the Zion Gate) and Barbara and Donna decided to wait for all of us at the King David statue, so the rest of us went upstairs to the room of the Last Supper.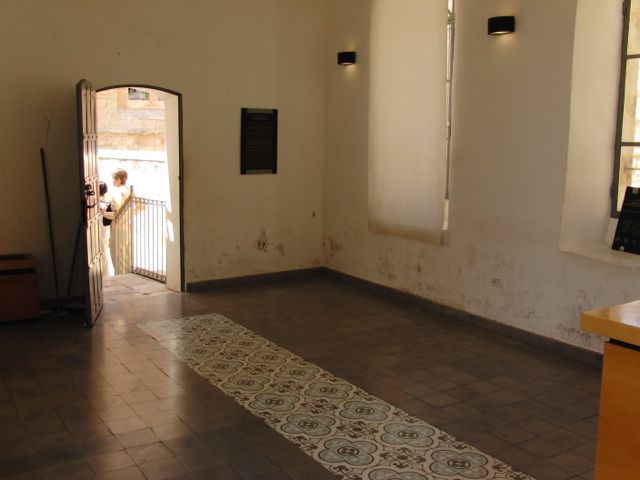 Room of the Last Supper
Then we walked to the Hagia Zion Church, which is Benedictine, and went downstairs to the crypt where Mary lived and died after the resurrection. While walking around the Old City, we saw a bar mitzvah parade. At one point the ram's horn was blown right by Donna and she was very surprised. The parade was made up of four boys holding a canopy over the head of the honoree plus a videographer and twenty or thirty friends and family members. They were singing, clapping and carrying blue and white balloons (the same colors as the Israeli flag) and parading through the Old City. One member was carrying a basket of candies but Snookums never saw her give them away or throw them at people. Other Jewish people clapped and danced as the parade went by. It was festive.
In the Hagia Zion Church
We also saw three soldiers with their rifles running around and when we saw a few more join them we got worried for a split second before Omri told us they were doing a navigation exercise and were still in training. They were not supposed to run since that scares people, but they did. Omri yelled at them but they didn't listen. (All male and female citizens, except Orthodox Jews, have to serve three years in the Israeli military so Omri was a veteran and they should have listened to them.)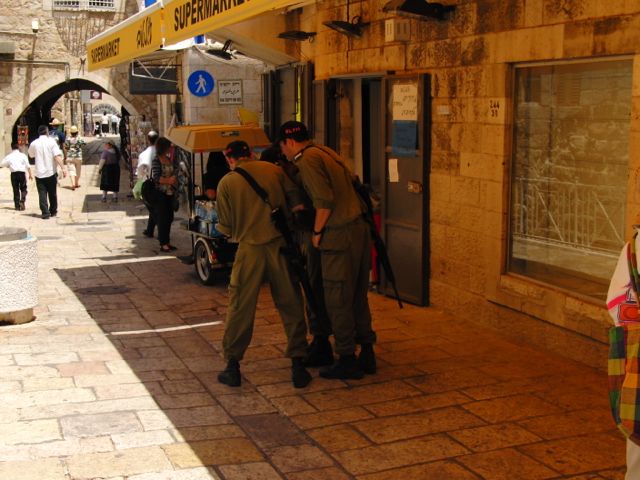 Recruits
We soon found ourselves walking on the Cardo, which means the "heart of the city" (hence cardiology). This street was from King Herrod's time. Barbara and Donna requested a brief stop and they went to a pizza parlor to sit down and ended up having a slice of corn pizza and ice cream. Snookums went down the street (which was filled on both sides with open-air restaurants and souvenir stores) and found a working ATM. Then she bought a $0.50 postcard in order to get change while Filbert bought a $2.50 Coke Zero which also produced change (unbeknownst to her).
We continued our walk down a bunch of steps and came to another overlook where we could see the Dome of the Rock and the Mt. of Olives overlook that we stopped at in the morning. We walked down more stairs to the checkpoint to enter the Western Wall area. (By now we've walked about an hour on all sorts of surfaces and have walked up and down a lot of stairs. The Old City is NOT handicap-accessible!) We had to go through metal detectors and our bags went through X-ray. It was no big deal. Women that were wearing shorts were handed a free flimsy blue skirt and men without hats were given a yarmulke. The Wailing Wall was split down the middle by a divider and the women went on the right and the men went on the left. Snookums wrote her prayer on a piece of paper and stuck it in the wall. Well, it fell out of the crack and then she placed it on a little rock ledge in the wall. She figures she got twice as much for the two tries.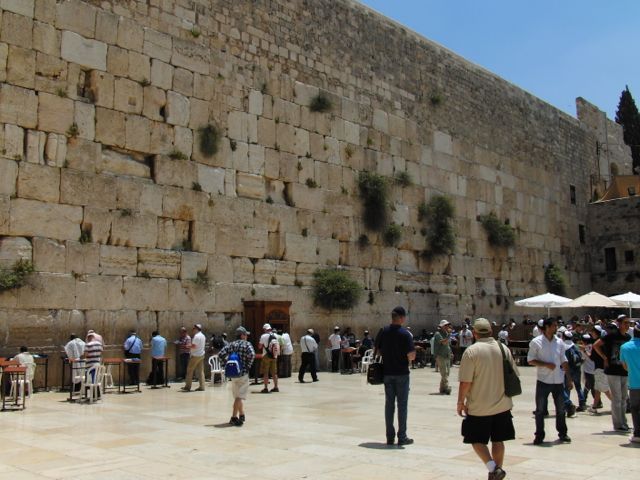 The Western Wall (aka Wailing Wall)
After we were all done at the Wailing Wall, we continued walking through the Old City through the Muslim Quarter. The shops lining the cobblestone path (which was too narrow for cars and had a lot of steps in it) seemed just like the ones in the Jewish quarter (luggage, souvenirs, socks, antiques, cafés, etc.). At one point, Omri told us we were back on the Cardo and that it separated the Muslim quarter from the Christian quarter and the Muslim stores were on one side of the cobblestones and the Christian stores were on the other, but they all looked the same.
We soon made our way to the Via Dolorosa, or Stations of the Cross. We saw the 5th, 6th and 7th stations. Each station was marked with a door and an inscription in the stone wall above the door. We had now walked for at least two hours up and down many steps and Barbara and Donna decided to stop and let the group go without them. While they were drinking $3 Cokes, the rest of us went to the Church of the Holy Sepulcher and the13th station of the cross. We also saw Jesus' grave.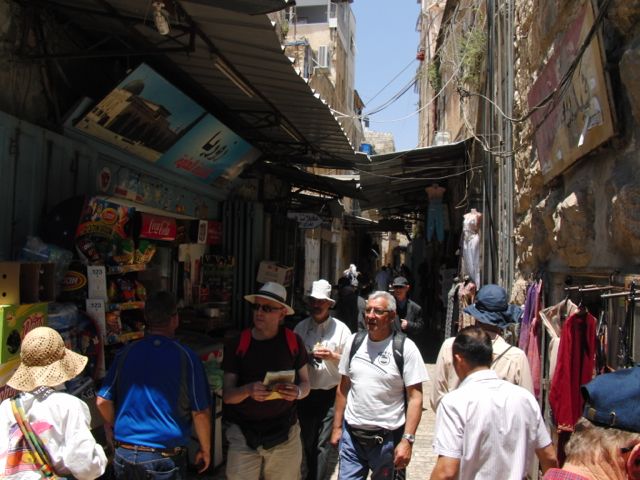 The Via Dolorosa, or the Way of Suffering. Times have changed.
We got Barbara and Donna and walked back to the car through the Old City with its cobblestone, steps and stores. Snookums bought a large donut-shaped yellow pastry for $1.75 filled with dates and shared with everyone. It was pretty good and hit the spot since it was around 1:30 by now. A street vendor was selling it as well as huge ovals (around 10 inches long and 6 inches wide) of bread that were topped with sesame seeds, called "bagels"!
When we got back to the car a local woman wanted our parking space since the underground lot was full. She was on her phone to the driver of the car she came in and was giving directions to where we were. (Of course, the conversation was in Hebrew, but it was obvious what she was doing.) Omri did a great job of getting that spot when he did.
We settled into the car for the drive to lunch and the Dead Sea, the lowest body of water on earth. We ate lunch at a typical tourist site cafeteria (Qumran Dead Sea Visitors Center & Restaurant). However, Snookums didn't realize it was a buffet and thought that you had to pay by the item. She took the meatballs and rice. Filbert took the meatballs, mixed vegetables and schnitzel and was charged the same price ($12.00). And, there was a great salad bar but Snookums didn't take any since she knew her entrée would be enough. When the others got to the table, that is when she learned that it was a "buffet". That is what Snookums gets for going through the line first! Sodas were $2.50 each and Filbert's Israeli beer was $4.35. The food was what you would expect from a tourist site – overpriced and just food. However, Omri took us here since if you eat at this restaurant you don't have to pay $13 to use the showers and changing room at the Dead Sea stop. So, we kind of made money by eating lunch!!
The wall between Jewish Israel and Palestinian territory
After lunch we drove a little bit more and came to a Dead Sea "day resort". We put on our bathing suits and walked down the many steps to get to it. The Dead Sea is shrinking every year and so it keeps getting farther and farther away from the changing rooms. We had to go down a lot of stairs to reach it and Donna decided that her two knees couldn't do it and she sat in the open-air bar area.
When we finally got to the Dead Sea, Filbert got in and started walking farther into it. One of his legs went in a hole so that his leg was submerged in this mud up to his knee. Then the same thing happened to Snookums! It didn't hurt, but was very surprising. The bottom of the Dead Sea is very, very muddy and it is supposed to be good for the skin so we saw several people smearing the mud on their bodies. We soon realized that the Dead Sea was not getting any deeper so we decided to try our skills at floating. It is made up of 35% salt and is very easy to float. Even Snookums could do it. After a few minutes floating, we all trudged up the steps, took showers, got in the car and headed back to the ship. Arriving back to the ship around 6:30 PM never felt so good. It was a very long day with a lot of walking and we have another day with Omri tomorrow.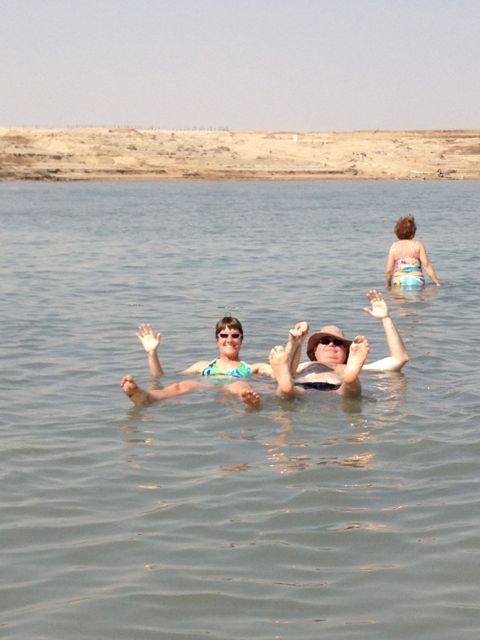 Floating in the Dead Sea