Contributed by: filbert Thursday, April 19 2012 @ 05:14 PM CST
The 2012 14-Day Eastern & Western Caribbean Cruise, Holland America ms Nieuw Amsterdam
Text and pictures by Snookums, webification by Filbert
Part Eight
February 9 (Thursday, Day 13, St. Maarten) –
We woke up and it was raining (naturally!). It didn't stop us, though, from heading out to meet with our private tour guide, Joyce Prince ($375). And the rain had stopped and the sun was shining. The five of us found Joyce and her nice big van and she started by taking us on an island tour. Then she dropped off Pat, Judy and Snookums on Front Street so they could get their two Diamonds International charms (sunglasses and clock charms) and the Effy pendant and took Mom and Dad on more of an island tour for twenty minutes or so. When the five of us met up again, we went to the butterfly farm ($12 per person) and spent a nice hour there. It was supposed to be handicap accessible and for the most part it was, but due to the heavy rain that had occurred earlier in the day, Dad's wheelchair wheels got stuck a few times in the mud and had to be manhandled out. Snookums found a 10 cent (Euro) coin, too, at the butterfly farm. She was hoping to find a guilder from the Dutch side, but settled for the Euro coin from the French side.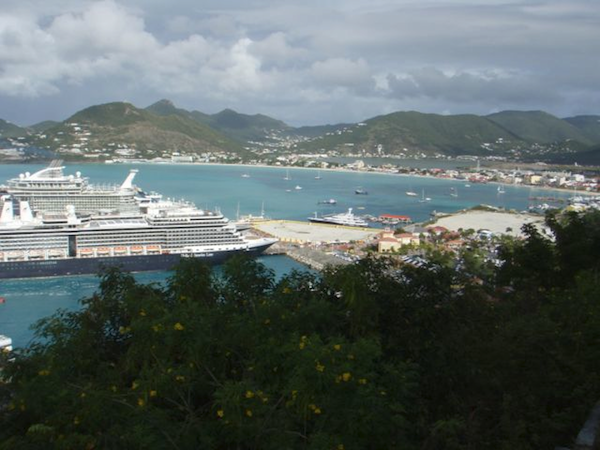 St. Maarten scenic overview
Front Street in Filbertipsburg, St. Maarten (Dutch side)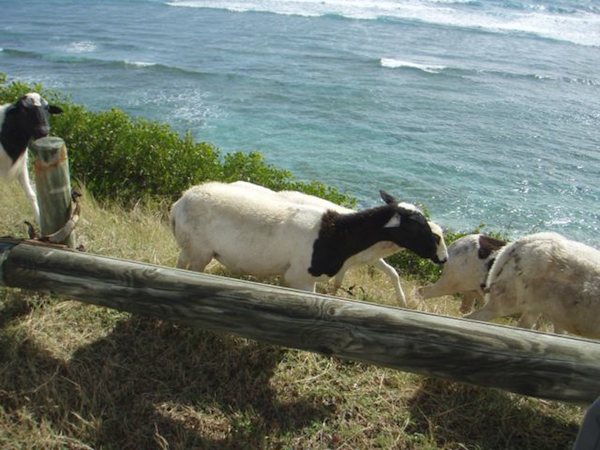 Goats minding their own business
Butterfly farm photos: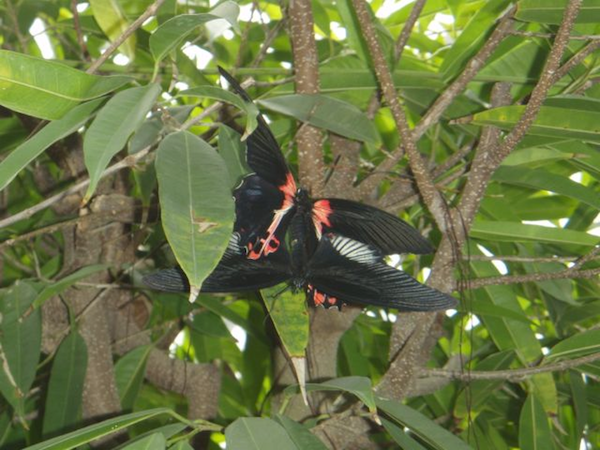 Mating butterflies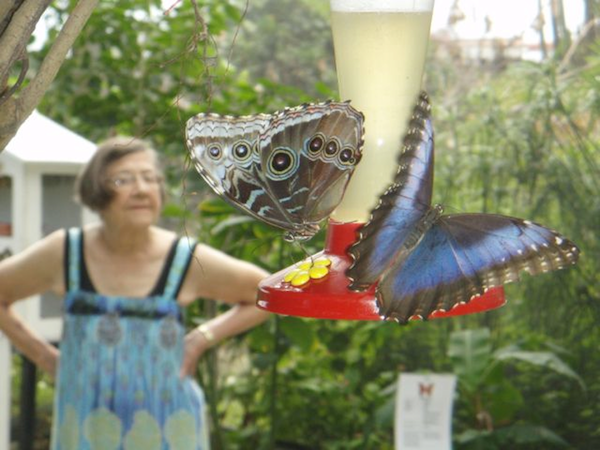 A beautiful photo!! – Mom and butterflies
After seeing the butterflies we continued our island tour by going to the French side of the island, or Saint Martin. No passports are needed, but there are two school systems, two phone systems, two sets of currency (the guilder and the Euro – but dollars are taken on both sides as are the guilder and Euro), etc. Two nations have peacefully co-existed on a small island since 1648. We decided it was time for lunch so Joyce stopped in Marigot, a charming seaside resort on the French side, and the six of us enjoyed lunch at an outdoor café. Mom ordered the fried red snapper which was very similar to what she had in Ft. Lauderdale at Pancho's Backyard the night before the cruise started. She loved it just as much, too. Dad and Snookums ordered the $10 combo special of three curries – goat, shrimp and chicken. It also came with rice and beans, a nice tossed salad, pasta and fried plantains. Pat and Snookums love fried plantains. Pat ordered the oxtail stew and Judy ordered garlic shrimp. (Judy ordered something that she knew wouldn't have any bones and that she wouldn't have to use her fingers and she was right!) Joyce enjoyed another special of the day which was crab stuffed mahi mahi with clams. Joyce said that the red snapper, mahi mahi and goat were local. Heineken was the only beer offered (and, yes, we were on the French side of the island and NOT the Dutch side!) and Mom, Dad, Pat and Judy enjoyed that, too.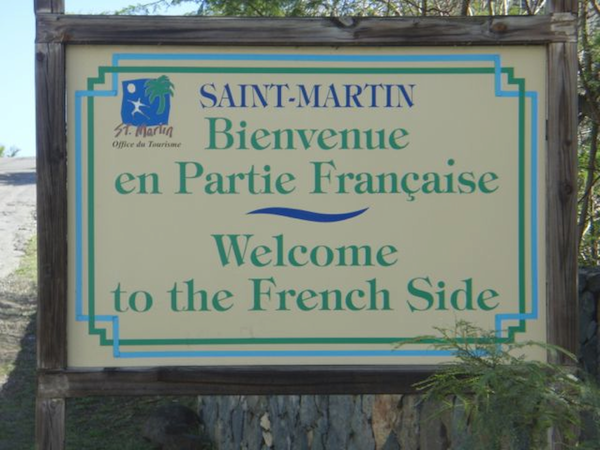 The French side – Saint Martin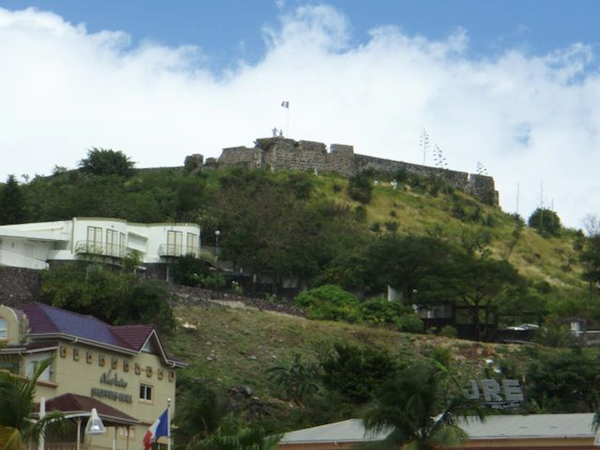 Fort Saint Louis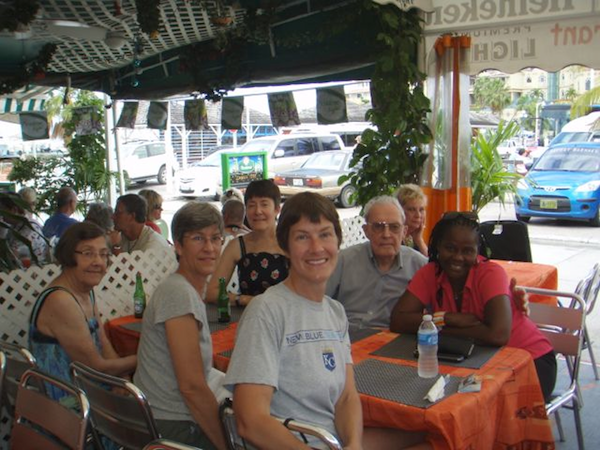 Lunch in Marigot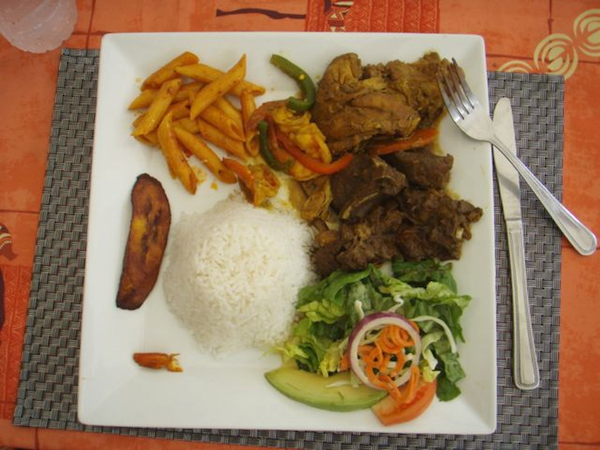 Trio of curries – goat, chicken and shrimp (and a plantain!!)
After lunch we saw more of the island when we headed back to the ship. (We didn't have time for snorkeling.) When we got to the port area, we got more Diamonds International charms and even Mom got in on the act and got a sunglasses charm! We also hit up Effy for more free lemon quartz pendants and Mom got one of those, too. Snookums made Pat taste the guavaberry liqueur, the guavaberry rum and the guavaberry colada (made from the liqueur). Pat thought the liqueur was the best (and really enjoyed the colada, too) so two bottles were purchased – one for each household. The liqueur can also be used in cooking which is what Joyce uses it for. Guavaberry liqueur can only be purchased on St. Maarten and is not exported.
After we got back to the ship, Snookums took her first nap of the entire cruise. (Snookums usually takes a nap every day on cruises, but the 5:30 dinner seems to put a crimp in that!)
We ate at Tamarind and since we ate there last week everyone kind of knew what Asian entrees to order. Snookums and Judy again had the red curry chicken and Pat ordered it, too, and loved it. Dad ordered the crispy duck and Mom had the seafood hot pot. Mom's bowl was loaded with crab legs, shrimp, clams, mussels and all sorts of other seafood items. In Snookums's opinion, the desserts are not that wonderful but Pat really enjoyed the wasabi sorbet. Snookums recommended it since Gary, our friend on the 2011 Eurodam cruise, ordered it and just loved it. Pat agreed!
After dinner we all received invitations to the Captain's cocktail reception so from 7:30 to 8:15, we enjoyed free beverages. Dad ordered a scotch on the rocks and Snookums ordered a coco-mint blender drink (non-alcoholic, of course) and Judy and Mom settled for champagne. Dad started falling asleep in his scooter which meant it was time for bed. It was a full, full day for all of us.