Contributed by: filbert Saturday, April 21 2012 @ 05:18 PM CST
The 2012 14-Day Eastern & Western Caribbean Cruise, Holland America ms Nieuw Amsterdam
Text and pictures by Snookums, webification by Filbert
Part Nine
February 10 (Friday, Day 14, At sea) –
Snookums and Pat slept in until 9:15 and then showered. Pat ate a light breakfast of muesli while Snookums read on the verandah. The sun was out and the sea was calm. Then Snookums realized that Mom might get a 100-day medallion at the 11 AM Mariner reception and had to logon to try to verify it. She failed and decided to ask the concierge at Neptune Lounge if Mom was on the list. She was!
Snookums went to Mom's room at 10:00 AM and opened up the door just a bit to see that it was pitch black and Judy was still sleeping so she didn't go in. She returned to Mom's room around 10:30 AM and now everyone was up but still in pajamas. Snookums made sure that Judy knew that Mom was going to get a copper medallion. Everyone said that they were attending so Snookums let them get dressed. Snookums and Pat arrived at the event at 10:45 in order to secure good seats.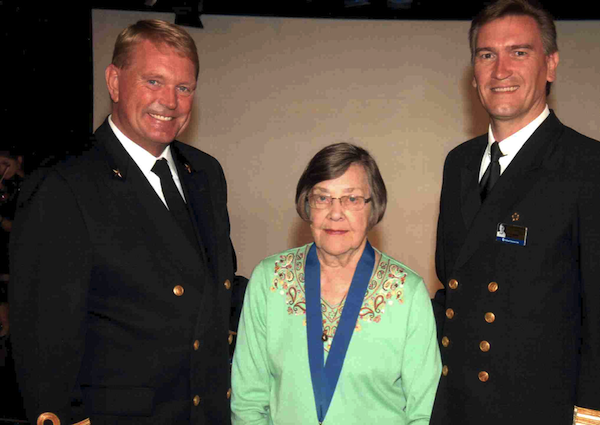 Captain van Zaane, Mom with her copper medallion, Hotel Manager Stan Kuppens
The five of us were there and the Cruise Director announced medallion awardees one by one so that the honoree could get a photo with Captain van Zaane and Hotel Manager Stan Kuppens. Soon enough Mom's name was called (and pronounced correctly) and she went to get her medallion. (Dad is fifteen nights behind Mom in the standings due to a Panama Canal cruise that Mom took with Snookums and other females around 20 years ago.) Free drinks were also offered at this reception and Dad ordered scotch on the rocks even though he hadn't had breakfast yet. Mom, Judy and Pat each had mimosas while Snookums had a Caffeine Free Diet Coke and then a virgin pina colada. Judy also had a bloody Mary. Mom looked resplendent with her medallion and when the ceremony was over, we went to the Manhattan Dining Room for the Mariner lunch.
After lunch Snookums attended the invitation only "Question and Answer Session" with Stan Kuppens and gave her normal three suggestions about not putting the laundrymark (very sticky tag) ON stitching, posting a copy of the daily 1 PM captain's announcement and offering a larger internet package (or even an unlimited one). She also enjoyed a virgin strawberry daiquiri.
Snookums worked on the journal and Pat read on the verandah. Around 4 PM, Pat came inside and fell asleep. We both managed to enjoy the last formal dinner. Mom brought their chilled bottle of champagne (compliments of HAL) to dinner and it was emptied before dessert was served! Mom, Dad and Judy went to see Cantaré, featuring HAL's singers and dancers, again. Because this is a back-to-back cruise most of the production shows were repeated from last week but they have still gone to see some of them again.
Pat and Snookums returned to their cabin and set the clocks back one hour. Since the clocks showed that it was 6:45 PM (!), they even managed to stay awake to watch the movie "Saving Grace" and really enjoyed it. Judy came by with two new dresses for Pat and one of her daughters. Pat then wore her new dress to the chocolate extravaganza that started at 10:30 PM. They said it was weird since most of the desserts were like petit fours and weren't even chocolate. There was a chocolate fountain but they just ate some fruit without the chocolate. The cotton candy machine was broken. They just said it was a very strange chocolate extravaganza. Snookums told them that she hasn't been to one of those in at least four years (and many cruises ago).
February 11 (Saturday, Day 15, Half Moon Cay, Bahamas — Canceled) –
We woke up at 8 AM when the captain's voice came over all of the loudspeakers. Snookums's first thought was a medical emergency, but it was the captain telling everyone that the port was canceled due to high winds. It seemed fine outside, but some harbors are difficult to tender to when it is windy. Luckily we stopped at this port, HAL's private island, last week and knew that it was just a beach.
Pat and Snookums went ahead and got up and got ready for the day and went to breakfast. It was actually nice and sunny outside and we enjoyed getting hot while eating muesli (Pat) and sticky buns and sunshine parfait (Snookums). After an hour or so, we went back to our clean cabin. By then it was cloudy and cooler and a little squall came through, too.
We spent time running back and forth between cabins for no apparent reason and soon enough it was time for lunch. We went to Lido and saw that Mom, Dad and Judy were eating there, too, and joined them.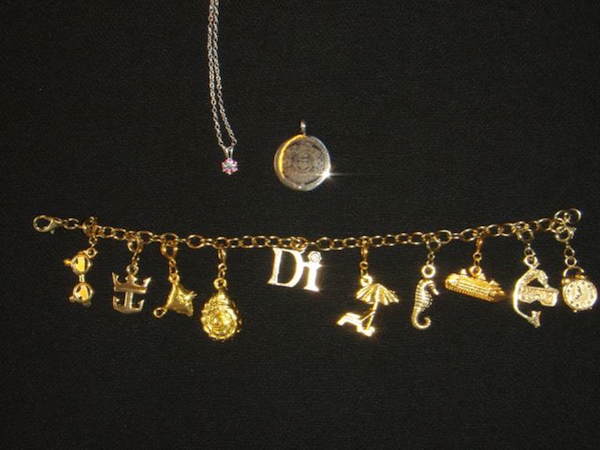 Some of the free jewelry, including the Diamonds International charm bracelet and charms
After lunch we decided to go ahead and pack since it was still cloudy out. Pat's luggage weighs right at 50 pounds and Snookums's is around 43 pounds. There shouldn't be any luggage weight issues tomorrow.
Snookums was still waiting for one blouse to come back from the laundry (it was more than one day late and wasn't with the rest of the laundry order) and it finally appeared. Our St. Maarten guavaberry liqueur was also delivered so that it could get packed in the suitcases.
Dinner was at Canaletto which is the free Italian restaurant in Lido. Everyone enjoyed it and really liked the antipasti that was presented at the beginning of the meal. The grilled vegetables, mozzarella, salami, artichokes, olives and other tidbits were a great start. The cotton candy that was served before the dessert was a weird concept, but was greatly enjoyed by Judy and Pat. Free champagne was served with dessert due to the canceled port.
February 12 (Sunday, Day 16, Ft. Lauderdale) –
We docked at 7 AM but the midship gangway was broken so the crew couldn't unload the luggage as planned and had to use the aft gangway instead. This resulted in around a 30-minute delay. It didn't bother us since we weren't going to leave until 10 AM or so anyway.
Per the cruise journal, our cruise traveled 4,425 nautical miles (or 5,090 miles) with an average high temperature around 77º.
Pat said that it was very rough during the night but Snookums didn't notice it at all. Pat didn't get much sleep. Mom also said it was rough and didn't get much sleep but she is fighting a cold that she started to notice on Friday. And, she has had a cough for a few days, too.
Pat and Snookums ate a leisurely breakfast inside due to the 51º temperature outside. It is cloudy, too – what else is new??? We all left the ship around 10 AM and easily found our luggage and went through Customs and Immigration. All five of us and our luggage managed to fit in an SUV taxi and we got to the airport in no time at all. Even though Pat was flying Delta and the rest of us were on Southwest, Pat got out when we did since all of the luggage was jumbled together. We said our goodbyes and she walked to her terminal. There was a huge line, about 90 minutes long, at the security checkpoint but Dad's wheelchair got us to the front of the line. It really did take people 90 minutes to get through TSA for the Southwest terminal at FLL. That is what happens when at least six ships, including a 5,000 passenger one, disembark at the same time.
We got to our gate and Snookums bought coffee, sandwiches and a Sunday paper. After around a 90-minute wait, it was time to board our flight and we arrived in Kansas City on time. Filbert was waiting to pick us up and after we got the luggage and wheelchair in the minivan, we headed off. It was sunny but only 32º and 2 inches of snow are forecast for Monday, naturally!
Note – Mom woke up on Monday with a temperature and went to Urgent Care and was diagnosed with pneumonia and a sinus infection. She had a great time on the cruise, but didn't need this as a lasting memory!