Contributed by: filbert Tuesday, April 17 2012 @ 05:12 PM CST
The 2012 14-Day Eastern & Western Caribbean Cruise, Holland America ms Nieuw Amsterdam
Text and pictures by Snookums, webification by Filbert
Part Seven
February 8 (Wednesday, Day 12, San Juan, Puerto Rico) –
Snookums woke up around 9:15 and immediately yelled to Pat to wake up since she was going with Dad to the 9:30 AM "Veterans Meeting". To Snookums's surprise, Pat was not in the room. Snookums got up and showered and piddled around until 11:00 or so. It was very cool and cloudy and windy and rained a bit, too. Pat came back to the cabin and then Ian, the Travel Guide, announced that a scenic narration would occur as we passed El Morro Fort so we went outside on the bow of the ship on deck 5 to see our approach. It was VERY, VERY windy on the bow but the view was great and the sun was fully out. After we got our pictures, we went to Lido for lunch and ate by the pool. While we were eating, the pool's retractable roof was opened up the whole way since it was so sunny (finally!). Dad drove by in his scooter and we talked to him for a few minutes before he left for the library and we went back to our cabin to get ready to walk around San Juan.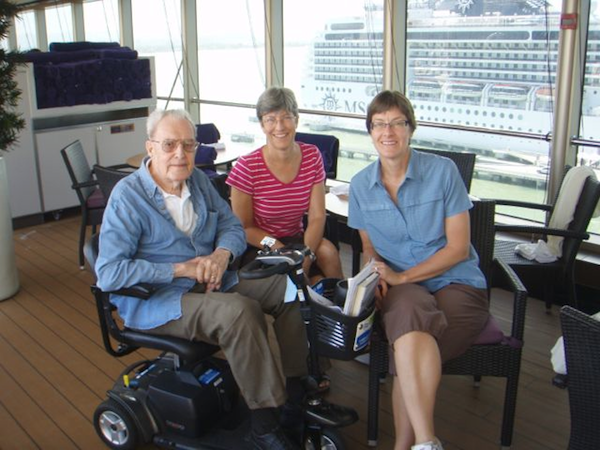 Dad, Pat and Snookums
Since we are on the 14-day back-to-back cruise, all of us were invited to an international brunch in the dining room but it was a buffet and packed at 11:15 when it opened so Lido was the lunch spot of choice for everyone today.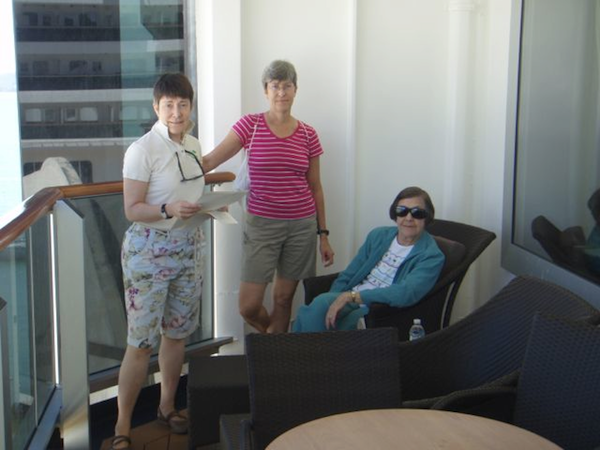 Judy, Pat and Mom on 7057's verandah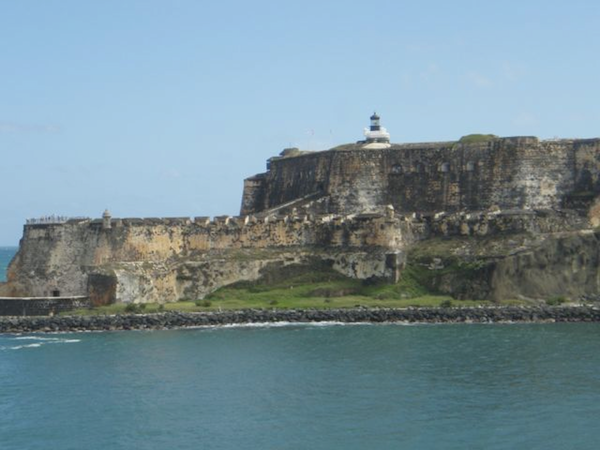 El Morro Fort as seen from the ship
Judy, Pat and Snookums left the ship around 1:15 and headed for El Morro Fort. First stop, though, was at CVS (Snookums's favorite store!) where some non-drowsy Dramamine and a postcard for Mom were bought. Then Judy decided to go to the three stores that were giving away free jewelry so we did that and each got a ½ carat amethyst pendant, a frog charm, an anchor charm and a 1 carat loose midnight sapphire (appraised at $100 – yeah, right). We also stopped at a souvenir store where all of the handicrafts were made in Puerto Rico. Snookums bought a $10 pressed tin on wood hanging of the fort and Pat bought a $6 terracotta tile nativity scene. This was all in Old San Juan which is over 465 years old and has streets paved with adoquine stones. They are tinted a beautiful blue from their prior use as furnace slag. The stones arrived as ballast on the early Spanish ships.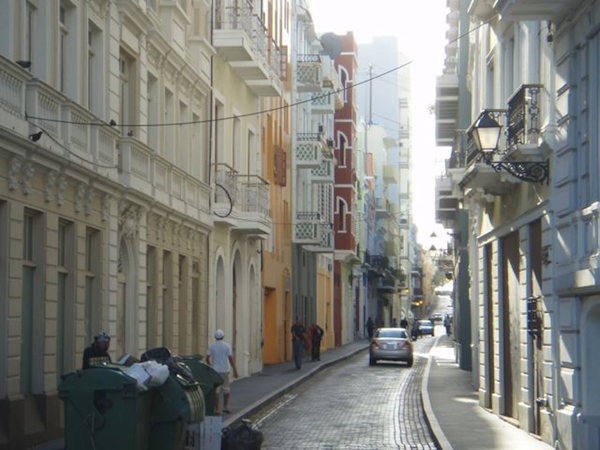 Old San Juan
We finally made it to El Morro Fort and rather than pay $5 to go in, we just walked around it. El Morro Fort has six levels and rises 140 feet above the sea and has 18-foot wide walls. The wall fell only once, in 1538, when the Earl of Cumberland led his troops over the barrier. Then we walked to Fort San Cristobál and passed by a nice lighted, outdoor basketball court named for NBA star Carmelo Anthony. We continued walking to the capitol of Puerto Rico and enjoyed looking at the mural on the inside of the dome as well as the other painted ceilings and walls. It had a nice bathroom, too! We continued our walk and decided to get more free jewelry since we had extra coupons. Pat didn't want to participate and she just stood outside the stores. We ended our walk at the Governor's mansion before heading back to the ship.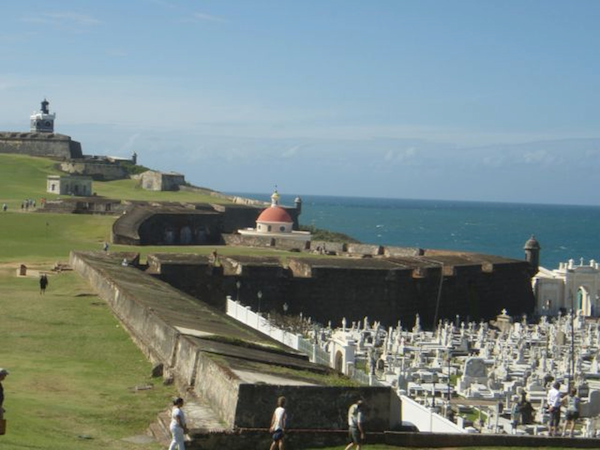 El Morro Fort and cemetery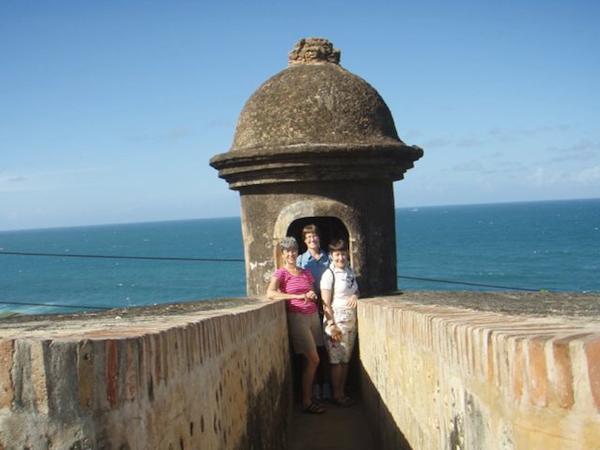 Pat, Snookums and Judy in front of a sentry tower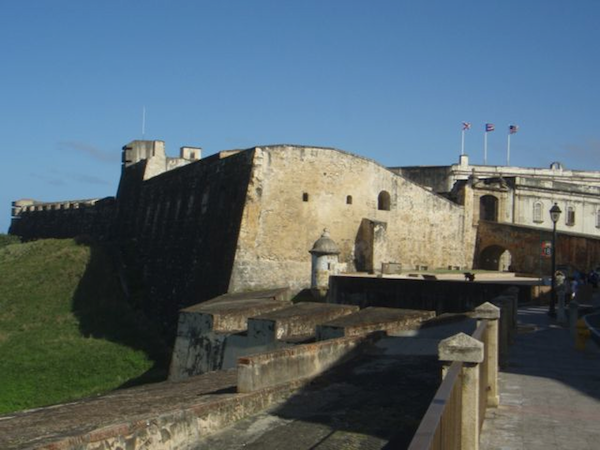 Fort San Cristobál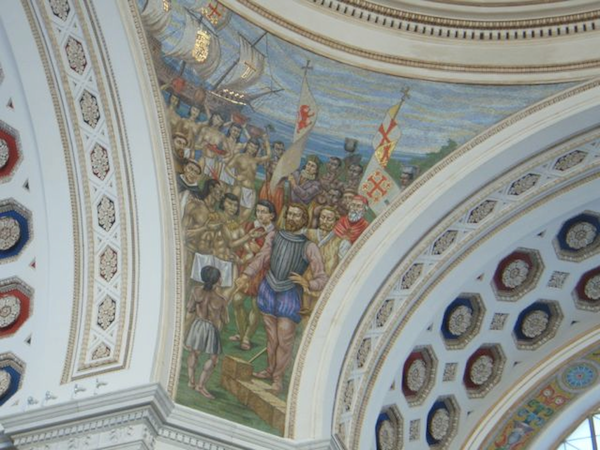 Ponce de Léon mural in capitol rotunda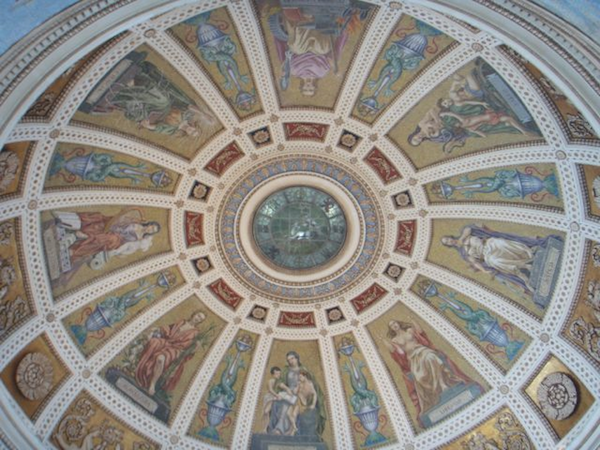 Capitol rotunda mural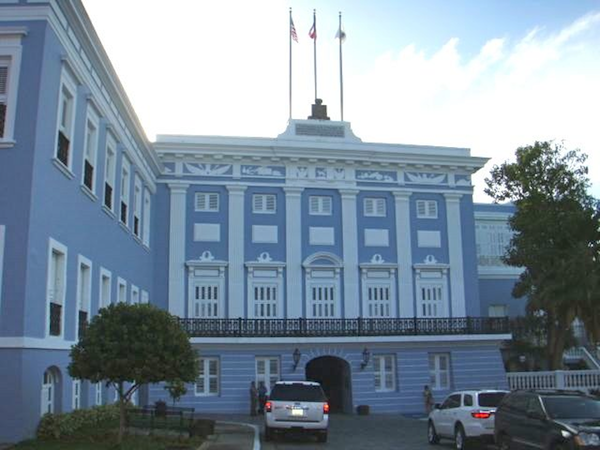 Governor's mansion
We got back to Judy's cabin at 5:35 PM and Judy and Pat decided to eat with Mom and Dad in the dining room. They quickly changed out of their shorts and headed back out while Snookums went to her cabin and changed shoes, washed up and took her time and then went to Lido for a "Flavors of the World" special dinner buffet. She started with a fruit cup (from the Caribbean section) and a pretzel (from the German section) and then had a knockwurst and sauerkraut. Then she had a pork enchilada and chips and salsa from the Mexican section. (She didn't eat from the American section with steak and baked potatoes.) Dessert was a delicious apple fritter-type fried thing from the German section. Snookums brought one back for Pat, and she loved it, too.
Mom spent most of the day on the verandah but wasn't too thrilled since it was on the shady side AND since Carnival was docked directly across from us and played its open-air movie, with loud sound, the entire day. But, it was warm and not raining so that made it bearable. Dad spent time in the library and then went to the back of the ship on deck 9 to get some sun.
During dinner in the dining room, our waiter, Putu, invited Pat to the Indonesian Crew show at 11 PM so she went and thoroughly enjoyed it. Snookums slept.