Contributed by: filbert Sunday, April 15 2012 @ 05:10 PM CST
The 2012 14-Day Eastern & Western Caribbean Cruise, Holland America ms Nieuw Amsterdam
Text and pictures by Snookums, webification by Filbert
Part Six
February 7 (Tuesday, Day 11, Grand Turk, Turks and Caicos) –
We woke up at 7:30 AM and waited for our pre-ordered room service breakfast. We had ordered it to be delivered from between 7:30 and 8 AM. The other time it was delivered at the beginning of the time period so we were kind of counting on that since we were going to meet Judy at 8:15 AM. Breakfast finally came at 7:55 AM and the server brought it in and looked at Snookums and said, "You need to write your room number on the order form." Snookums then pointed to Pat and said, "She filled it out." Mystery solved! When Pat filled out the room service breakfast form last night she neglected to fill in the room number. She did, however, write down the last name so the kitchen was able to look that up and find us. Whew!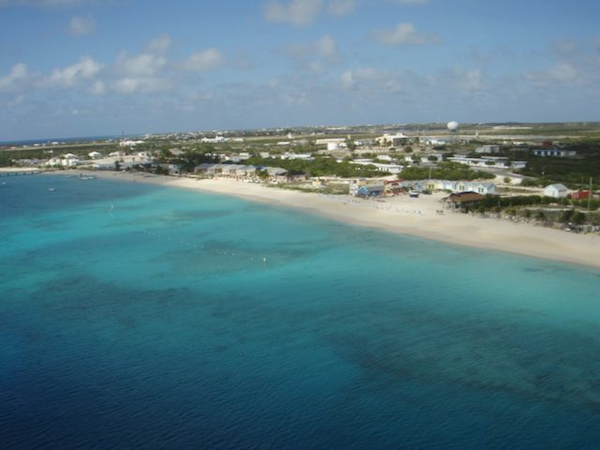 Grand Turk shoreline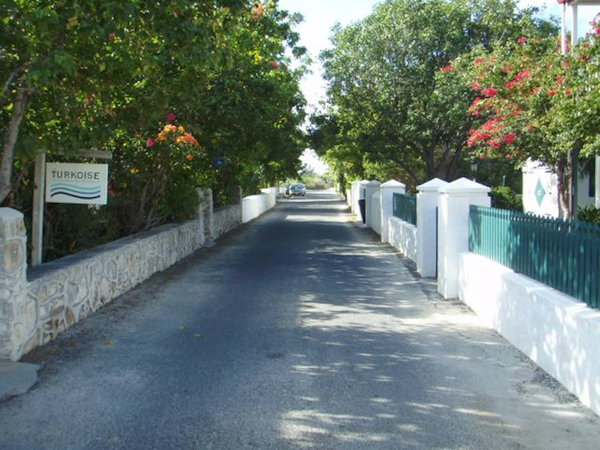 Grand Turk lane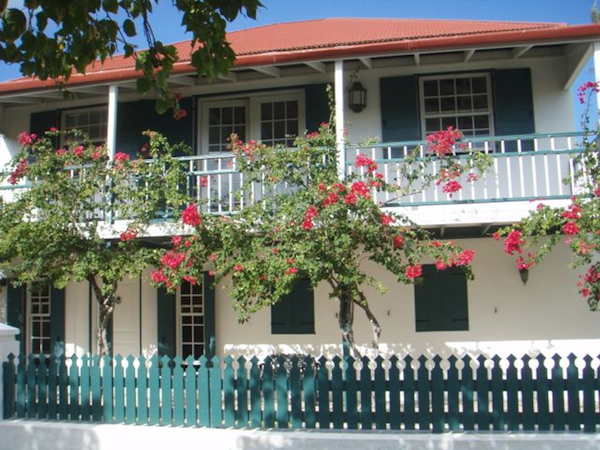 Grand Turk house
Judy came to our room at 8:15 AM and the three of us walked off the ship in order to find a taxi. It was mostly sunny. Grand Turk is an island that is around seven miles long by two miles wide – small! We paid $5 each to take a taxi three miles to Blue Water Divers for our 9 AM snorkel that cost $50 per person for a minimum of four people and a maximum of twelve people. We didn't end up getting on the snorkel boat until around 10:30 since two other people were supposed to join us from the Westerdam but that ship had a medical emergency and had to drop a woman off at San Salvador. (San Salvador doesn't have a hospital but it does have an airport which the woman was going to use.) We finally left with just the three of us and our Jamaican dive master.
The first site was in shallower water (depths of less than 10 feet) and we were able to see the reef and marine life up close. It was mostly cloudy by now but every now and then the sun would shine. Snookums saw a turquoise blue and brown spotted triangular fish that she had never seen before and that was neat. Snookums got cold the soonest and headed back to the boat with Pat at her heels. Judy saw those two and got back on the boat, too, but wasn't cold. Then we went to the second snorkel site which was along the famous Grand Turk "wall". The wall is actually a coral reef drop-off that begins in depths of 25-30 feet and plunges to depths of over 7,000 feet. It was interesting to see the nothingness when we were snorkeling over the deep water and it was neat to see fish swimming in the middle of the nothingness about eight or ten feet from the surface of the water with nothing else around them. We all got back on the boat after just a few minutes since Pat really couldn't see anything (she wears glasses) and Snookums was cold again. Our dive master wanted to make sure we were done since we still had 58 minutes of time left, but we assured him we were all good. Then he took us to a site that had a large number of bigger fish that have been trained to feed on sand thrown in the water. (Other dive shops actually throw food in the water but Blue Water Divers doesn't believe in doing that and the fish think the sand is food and still come towards it.) Snookums and Judy both got in again, minus fins, to just "be" with all the fish. Our dive master told us that sometimes the fish nip at people, but we didn't experience that.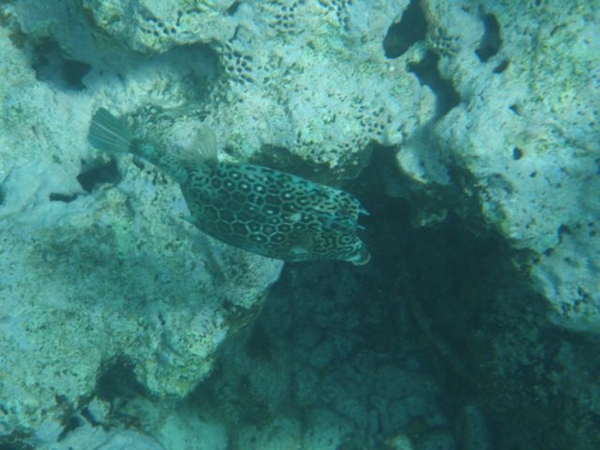 Turquoise and brown fish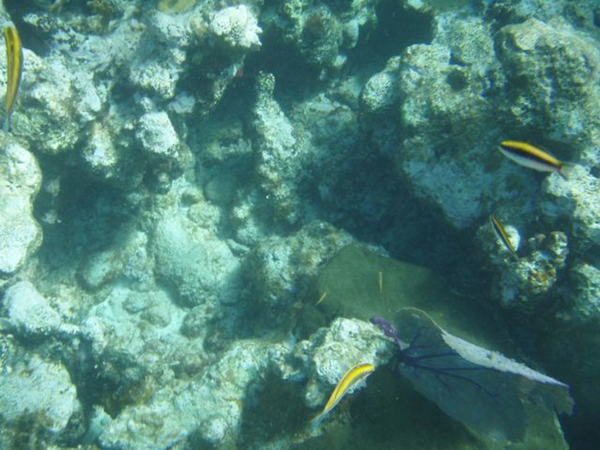 Fan coral and little yellow fish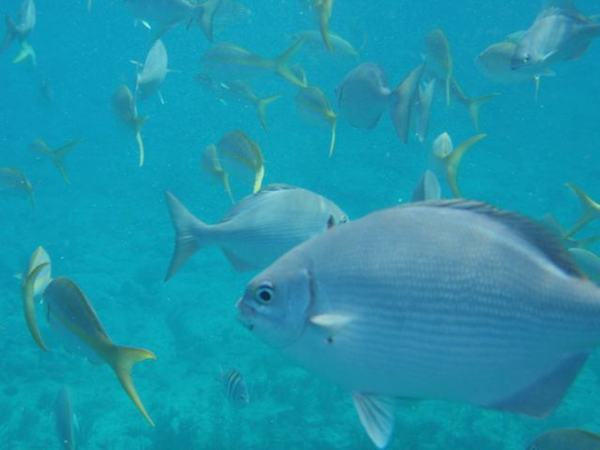 Among the fish "eating" sand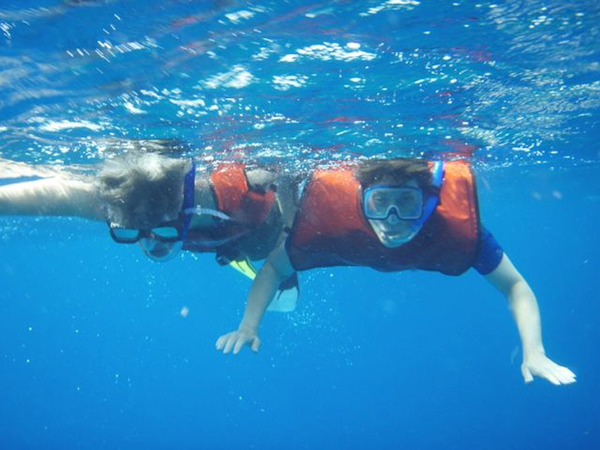 Pat and Judy snorkeling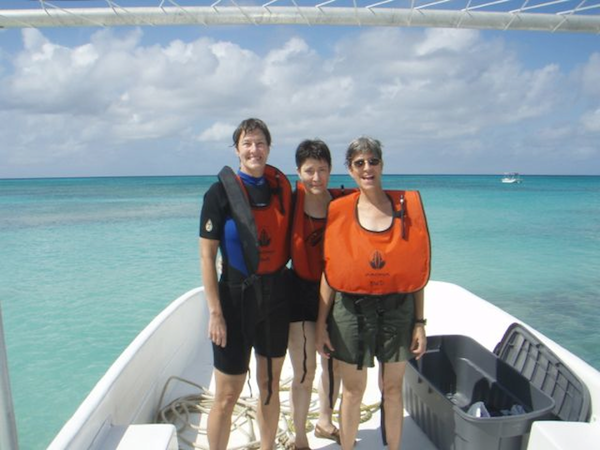 The three snorkelers
We took a taxi back to the port and stopped at Effy for the ½ carat topaz pendant and at Diamonds International for the sea horse charm. We dropped off our stuff and then went straight to Lido for a quick lunch.
Snookums returned to the port for the free WiFi outside of "Indigo" and Judy also returned to the port with Dad, in his scooter, joining her. Snookums got both pieces of free jewelry again while Judy only bothered to get the free Diamonds International seahorse charm. We looked at the John Glenn display since he splashed down near Grand Turk and spent a few days at Grand Turk after his mission was completed.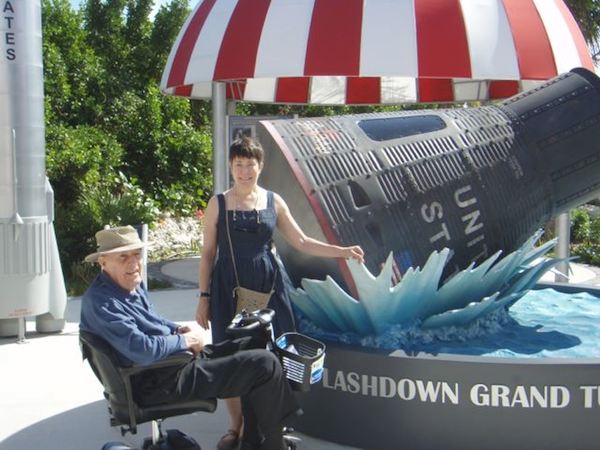 Dad and Judy at the John Glenn exhibit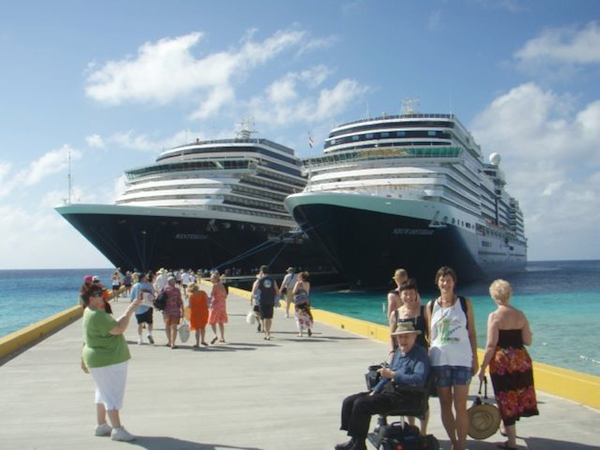 Judy, Dad and Snookums in front of the two HAL ships
After Snookums returned to the ship she rinsed out all of the snorkel gear and then enjoyed eating a large plate of watermelon. The ship left 30 minutes late but she didn't care since she was enjoying the sunny verandah since the clouds were no longer around.
Dinner was interesting since Pat's mahi mahi was "lost" and ended up being served at least ten minutes after everyone else's entrée. The waiter and his assistant kept apologizing for the lost order as did the assistant maître 'd. We didn't care, but couldn't figure out what happened and in Snookums's 224 days of cruising with Holland America, she had never seen this before.
After dinner Snookums had a voice mail and letter about the comment card she filled out at the end of the first seven-day cruise. She had commented about the lack of hard ice cream flavors with "things" in them since Lido seems to just serve chocolate, vanilla and strawberry. She also lamented over the fact that other HAL ships have pineapple and mixed berry compotes to put on ice cream but this ship only had runny sauces. The letter from the Hotel Manager said, "… I am also aware that the availability of different ice cream choices has impacted the serenity of your vacation…". Snookums thought that was pretty funny but was happy to see that mixed berry, raspberry and peach compotes are now being offered in Lido for ice cream toppings. There aren't always additional hard ice cream flavors, but at least the fruity sauces are there to help with her serenity!
We moved our clocks forward one hour and went to sleep.