The 2012 Caribbean Cruise, part 5 of 9
Contributed by: filbert Friday, April 13 2012 @ 05:07 PM CST
The 2012 14-Day Eastern & Western Caribbean Cruise, Holland America ms Nieuw Amsterdam
Text and pictures by Snookums, webification by Filbert
Part Five
(Remember to click "read more" if you're looking at this from the main medary.com page to get the whole article!)
February 6 (Monday, Day 10, At sea) –
Pat and Snookums had their normal breakfasts of muesli (Pat) and oatmeal with raisins and cinnamon (Snookums) but ate it outside since it was finally a bit sunny. Snookums took pictures around the ship before returning to the room to read on the verandah. Mom, Judy and Pat went to the 11 AM shopping lecture to get the coupons for the upcoming ports.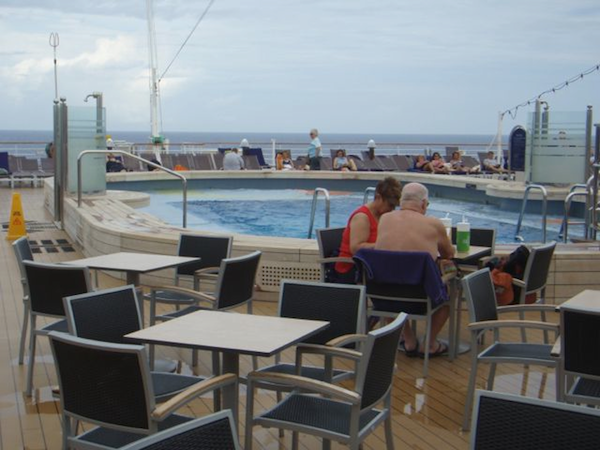 Seaview (aft) pool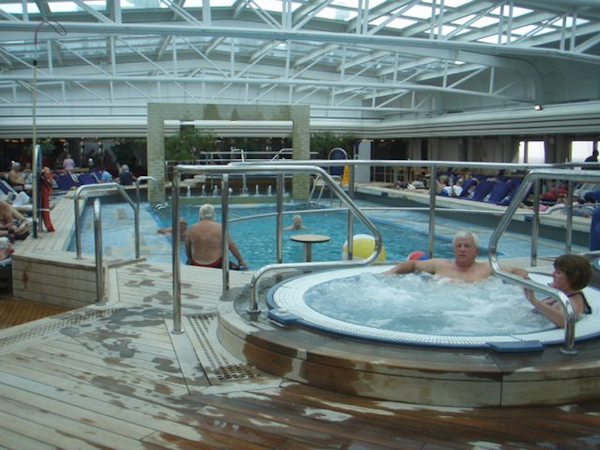 Lido pool with retractable cover closed due to rain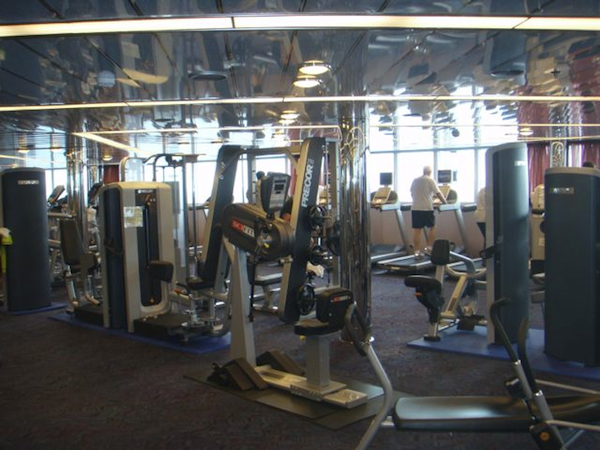 The gym – the only time Snookums saw it!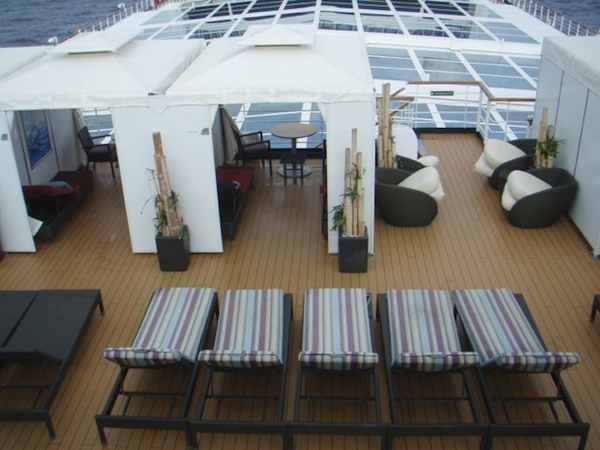 The private cabana area on Deck 10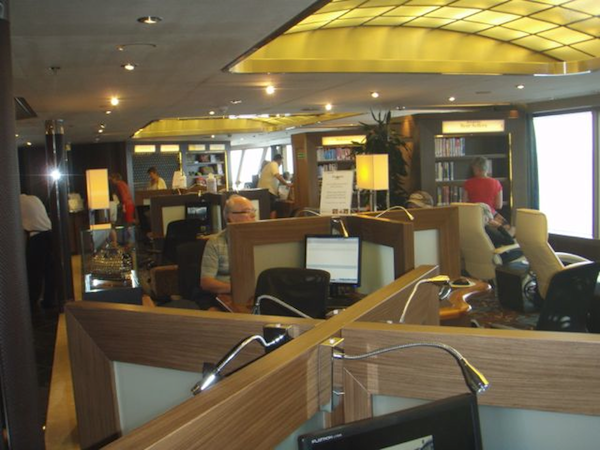 The library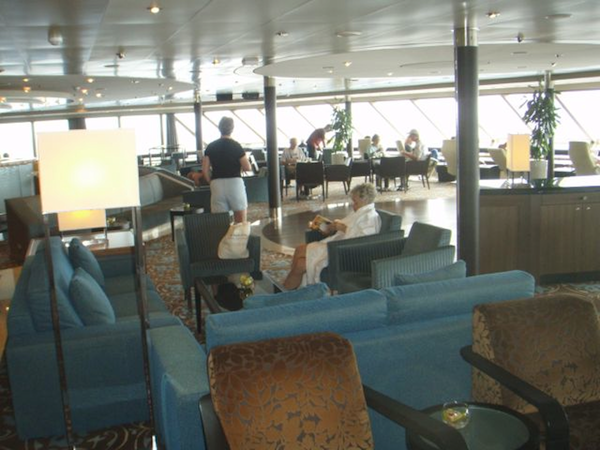 Crow's Nest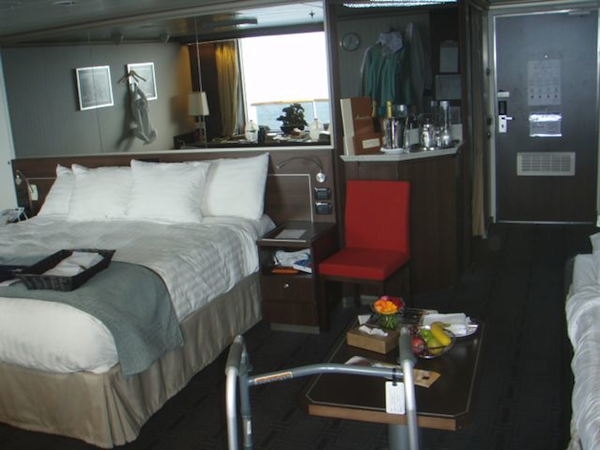 Deluxe Verandah Suite 7057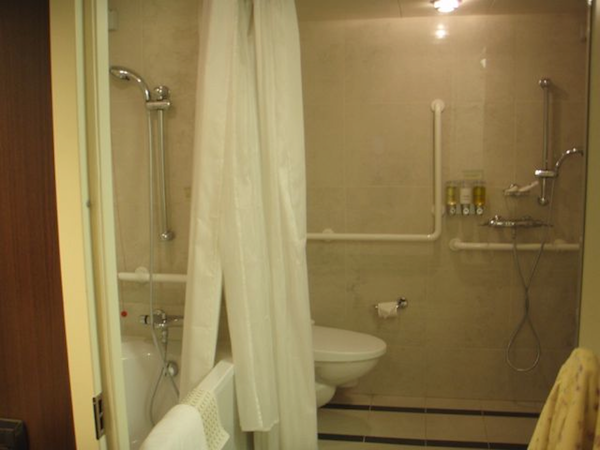 Deluxe Verandah Suite 7057 handicap bathroom
Snookums was in Mom's room when they returned and Judy and Pat immediately went upstairs to get Mom a hot dog since Mom wanted to watch the "Ides of March" movie with George Clooney on TV at noon. Judy got a hamburger for herself and Pat got a hotdog. However, Mom was on the verandah in her bathing suit when they returned and opted to stay out in the sun rather than watch the movie. Instead Judy kind of watched it.
Dad actually went to the movie "The Help" at 10 AM but it got a late start due to technical difficulties and was a 2-hour movie anyway so he didn't get back to the room until 12:30 or so and decided to go to Lido for soup so that's what he did, on his own.
Snookums was enjoying the sun on the verandah and ordered a club sandwich from room service. She had to reorder it since the first version wasn't on toast and didn't contain any bacon. The second version was what she ordered and she happily ate it while reading on the verandah. Later on Snookums went to Neptune Lounge and got a plate of cookies and chocolates for her and Pat. Pat took one chocolate and Snookums ate the rest (three cookies and six chocolates and the cookies weren't even that good!).
Before our formal night dinner we took another photo in Neptune Lounge and then went to the dining room and everyone enjoyed dinner.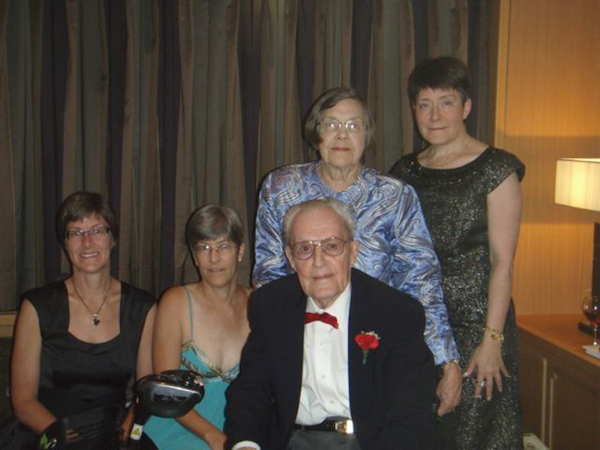 Formal family photo