Contributed by: filbert Wednesday, April 11 2012 @ 05:05 PM CST
The 2012 14-Day Eastern & Western Caribbean Cruise, Holland America ms Nieuw Amsterdam
Text and pictures by Snookums, webification by Filbert
Part Four
(February 3 (Friday, Day 7, Costa Maya Mexico) –
Pat woke Snookums up by saying, "Wake up. It is 8:17 AM and we are meeting Judy at 8:30." However, Snookums could tell that the ship hadn't docked yet and since it was scheduled to dock at 8 AM, she told Pat to re-check the time. Sure enough, Pat had looked at the wrong time on her watch that shows dual times. It didn't matter since room service breakfast had been ordered for 7:30 AM which would have woken Snookums up anyway. And, it was pouring rain.
The plan was for Snookums, Pat and Judy to leave the ship at 8:30 AM to catch a taxi to Maya Palms Resort in order to do a snorkel/beach day for $65 each (plus $40 total for the round-trip taxi). Since it was raining we weren't in too much of a hurry to get to the cabs so instead we hit the jade store for its free gift (a worry doll from Guatemala), the silver store for its nice free silver charm of the Mayan calendar and Diamonds International for its tacky free charm. We finally waded through the puddles and found the taxi stand. We had been given explicit instructions to take a yellow taxi for $40 total and to pay when we were dropped off back at the ship in the afternoon. We told that to the driver and he was fine with it. We got in the little cab which had almost zero visibility due to the condensation on the inside of the windows and were in for an interesting ride.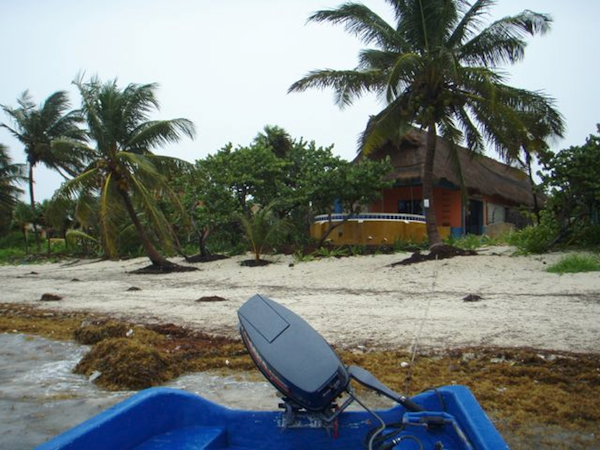 A view of the sea grapes and trash at the shoreline of Maya Palms
Costa Maya was created as a port in the early 1990s and really just contains a bunch of souvenir stores and some bars. The real village, Majahual, was about a ten-minute ride away. The resort was six miles from Majahual. However, the dirt road was full of potholes and very flooded in many places from the torrential downpour so it took about 20 minutes to drive those six miles. Snookums thought that the water was going to enter the car at some of the really flooded areas, but it never did. And, we passed lots of shacks and concrete "bunkers" that were for sale. However, when we entered the gates of Maya Palms Resort, we were in for a pleasant surprise. It was still raining so we really just wanted to get inside, but what little we saw of the resort grounds, including the freshwater pool, looked very nice. Snookums and Judy booted up their laptops to use the free WiFi and Snookums also called her husband in South Dakota for free using the magicJack WiFi application on her iPhone.
Judy and Snookums decided to go snorkeling and Ken, the dive master, provided Judy with a wetsuit. (Pat decided to stay inside where it was dry.) The three of us (Snookums, Judy, Ken) got in the outboard boat and he took us to the reef just off the beach. It was still raining. We snorkeled for around 40 minutes and really didn't see many fish. However, there were tons of sea grapes on the surface of the water and they formed large patches of "weeds" that would "attack" you. They were kind of like plastic holly stems all stuck together. They didn't hurt, but when a patch of them was all around you, it was kind of weird. There also seemed to be a lot of trash, mostly remnants of plastic items, about two feet under the water as well as mixed up in the patches of sea grapes. After the first snorkel spot we climbed back into the boat and Ken took us to another part of the reef. This was only about 8 feet deep and actually had more fish. However, Snookums was cold so she cut this snorkel short and Ken took us back to the shore.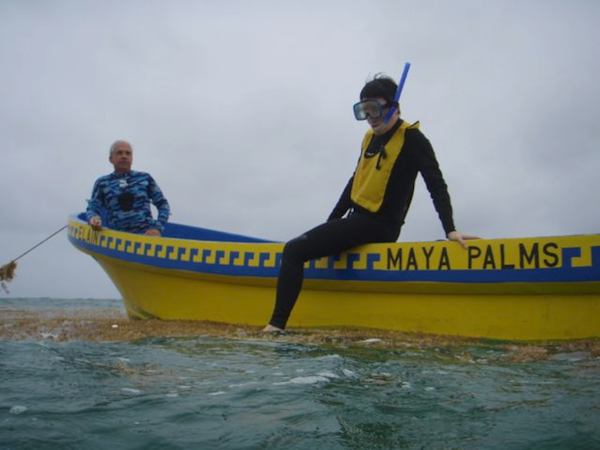 Judy entering the sea grape-covered ocean
Snorkel photo from Maya Palms – few fish and ugly coral
We got out of our wetsuits (Snookums owns a shorty) and it was time for lunch. Mark, the other resort employee, made quesadillas, enchiladas, black beans and rice and we ate inside rather than under the cabana since it was still cloudy and windy. We also had chips, salsa and guacamole. All three of us were hungry and cleaned our plates. The taxi arrived at 1 PM, as ordered, and the rain had finally stopped. There were still plenty of puddles, though, but we got back to the ship much faster since some of the water had drained away and since the cab driver could see out of his windshield.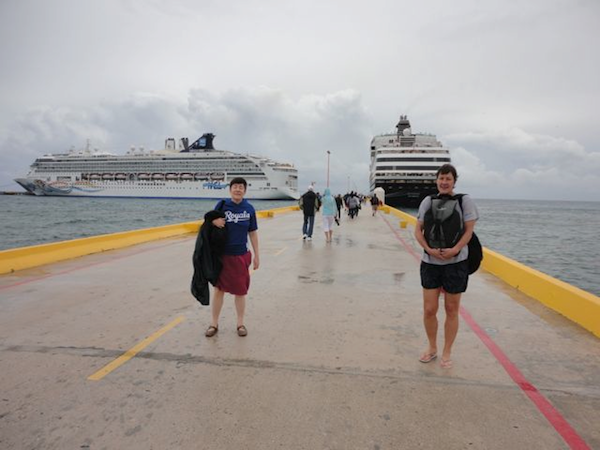 Judy and Snookums in front of two ships (ms Nieuw Amsterdam is even farther away and not shown!)
After we got dropped off, we walked about a mile back to the ship (the shopping area of the port was kind of spread out and the piers were very long) and it was very windy, cold and a little rainy. Once we got on the ship, though, we went to Lido for ice cream. That seemed to make everything better! It would have been a much better day if it was sunny, but we made the best of it. The Maya Palms Resort only has around ten rooms and while we were there we learned that only two people had been staying there for a ten-day dive trip. Otherwise, it was empty (except for Ken, Mark and two dogs). Talk about private!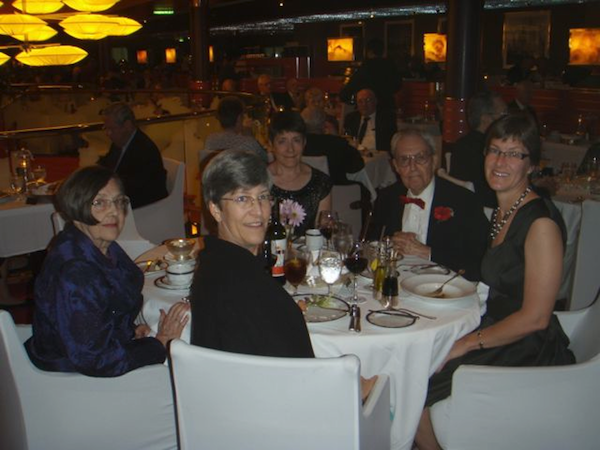 Formal night in the Manhattan Dining Room
February 4 (Saturday, Day 8, At sea) –
Pat and Snookums woke up pretty much after breakfast hours. Snookums showered and ran errands (mail postcards, swap paperbacks, get change, deal with "to dos" at the Front Desk, etc.) and then went to the Mariner Reception. The "Building of the ms Nieuw Amsterdam" video was shown and this ship is Carnival Group's 50th ship. One gentleman has cruised around 950 days with Holland America and his partner has cruised around 600. They met seven years ago on the ms Amsterdam in the Ocean Bar and came on this cruise for their anniversary and celebrated it in the Ocean Bar! Snookums enjoyed her free Caffeine Free Diet Coke.
After the Mariner Reception, Snookums went to Lido (and skipped the Mariner Lunch in the dining room) and thoroughly enjoyed the Indonesian foods from the "Around the World" area of the buffet while reading her book. The food on this cruise has been outstanding and when a food is labeled spicy, it really is. That is very nice since on so many cruises the chefs seem to be leery of using any kind of spice and make most foods bland. Snookums's lips have tingled several times on the cruise from the spicy foods, in a good way. Snookums sat by the pool, in the warm, humid air, and read her book. It was rainy, cloudy, windy and around 75º outside so the retractable roof was closed which made the inside pool area nice and warm.
Pat ate a salad in Lido and then hurried back to the room to watch the movie "Moneyball" on TV. "Moneyball" was just about over by the time Snookums returned to the cabin and Snookums and Pat then watched "Soul Surfer" which was the movie about Bethany Hamilton and how she lost her left arm to a shark but continued on to become a professional surfer. Snookums fell asleep for a brief nap after the movie and Pat went to mass.
Dinner was the "Master Chef's Dinner" but on some HAL ships the crew dances and the menu is very limited. This menu was larger but the parade of baked Alaska still occurred at 7 PM. Mom wasn't feeling quite like herself so she enjoyed her dinner of lobster bisque, oxtail soup and lamb chops in the cabin.
Snookums has been looking forward to watching #4 University of Missouri vs. #8 University of Kansas basketball on ESPN at 9 PM but isn't sure if the ship's ESPN channels will cooperate or not. It's always a crapshoot as to whether you'll get US ESPN or whether you will end up having to watch European soccer, Indian cricket or rugby instead. She's hoping for NCAA basketball but who knows. Good news. The MU/KU game was shown and both Snookums and Pat stayed up until 11 PM to watch the entire game. KU missed a last-second shot to tie the game and MU won. It was a great game and the last time in the 104 year-old rivalry that the two would play in Columbia, MO due to MU moving to the SEC next season.
February 5 (Sunday, Day 9, Ft. Lauderdale) –
Snookums and Pat woke up when the announcement was made about the priority disembarkation group. After a breakfast of oatmeal with raisins and cinnamon (for Snookums) and muesli with added fruit (for Pat) outside by the Seaview pool it was time to leave the ship to go through Customs. 1,000 passengers (of the ~2,100) were staying on for the next seven days which meant that all of them had to show passports to Customs before we were all allowed to return to the ship. We didn't know how long it would take or what the seating situation would be so we made Mom use Dad's wheelchair and Dad used his rented scooter. It only took about thirty minutes total and Snookums ended up staying in the port building to use the free WiFi.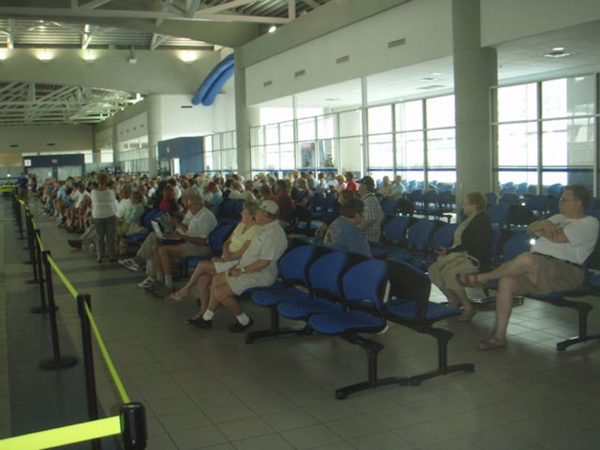 Back-to-back cruisers waiting to be let back on the ship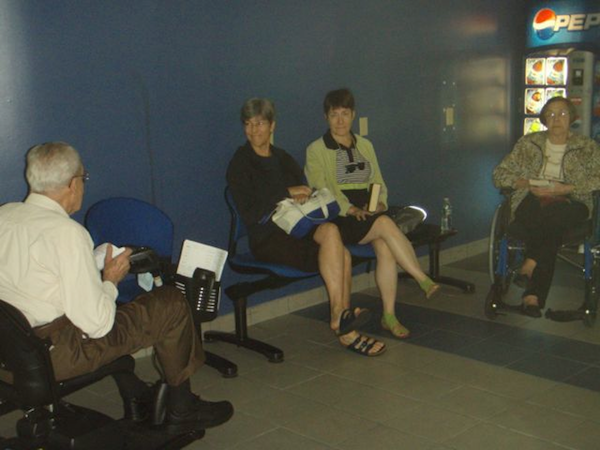 Waiting in Port Everglades to return to the ship
Mom, Dad, Judy and Pat ate in Lido as soon as they returned to the ship and Snookums did, too, but didn't see anyone. Snookums really enjoyed today's "Flavors of the World – Thai" and its spiciness. Snookums even managed to catch some sun for about 45 minutes before the clouds returned. It has been cloudy and cool (and some rain!) since mid-Wednesday. We want sun!!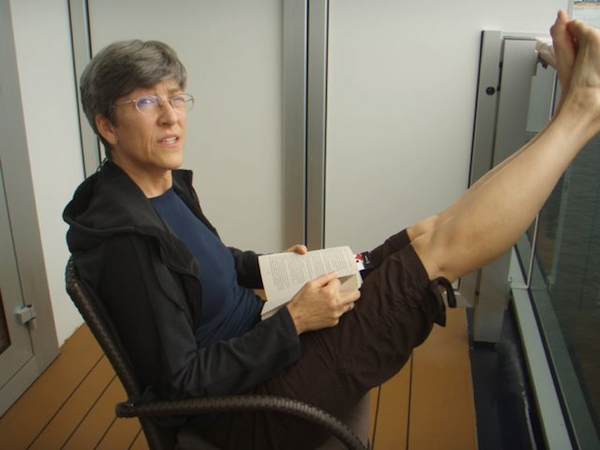 Pat being surprised on the verandah
Mom, Dad and Judy received another bottle of champagne and another bottle of Voss water since they are in a deluxe verandah suite and a "new" cruise is starting.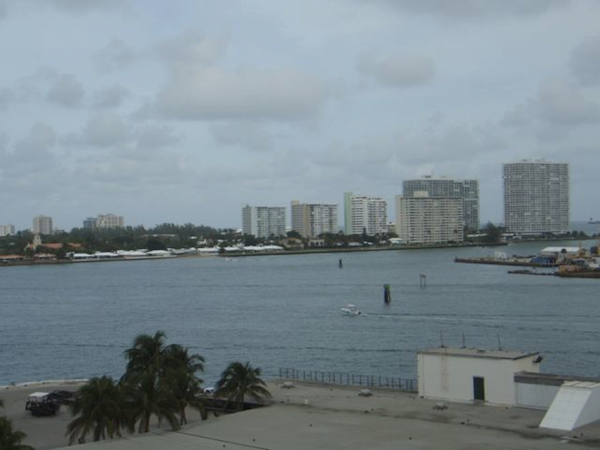 View of Ft. Lauderdale from our cabin – still cloudy
The Super Bowl was being shown in the Showroom at Sea (with spinach dip and hot dogs) and 36 people had the opportunity to pay $100 to watch it in the Screening Room while eating and drinking all they wanted. We were under the impression that it would NOT be on the cabin TVs, but it was so Pat and Snookums watched it and enjoyed Madonna's half-time show. And, just like last night's MU victory over KU, tonight we got to see the New England Patriots try to win in the last second and fail so that the New York Giants won.