Contributed by: filbert Monday, April 09 2012 @ 05:03 PM CST
The 2012 14-Day Eastern & Western Caribbean Cruise, Holland America ms Nieuw Amsterdam
Text and pictures by Snookums, webification by Filbert
Part Three
February 2 (Thursday, Day 6, Mahogany Bay, Honduras) –
It was pouring rain when we woke up at 8 AM. The ship was scheduled to dock at 10 AM but was delayed 15 minutes due to a squall and heavy winds. Pat and Snookums ate breakfast inside by the pool and watched the docking process and then got ready for the private guided tour that Snookums arranged with Theris Dixon for $25 per person for the day.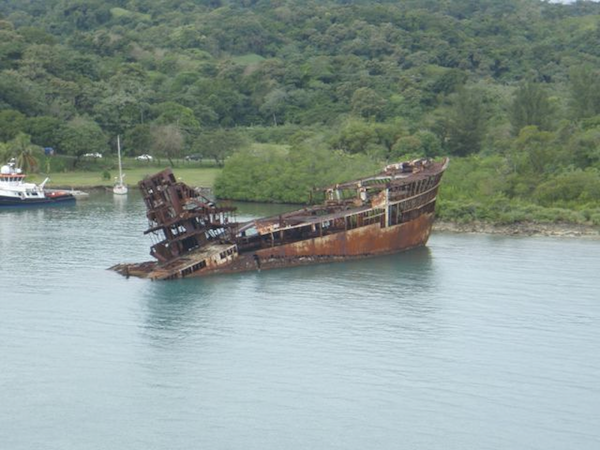 Shipwreck at Mahogany Bay
The five of us left the ship and walked through Mahogany Bay which is a man-made port and very touristy. (The older port is called Coxen Hole and both ports are located on the island of Roatán.) There are tons of stores like Diamonds International, a few bars, lots of landscaping, huge concrete walkways and a man-made beach. We finally got "out" of the port and headed for our van. Snookums and Mom took a taxi for $2 per person since there was a large hill to walk up and then down before getting to the tour vehicles. Judy and Pat pushed Dad in his wheelchair. Well, Pat pushed Dad up the hill and then was contemplating how to safely get Dad down the steep hill when a landscaper offered to take over and she gladly let him.
The five of us piled into a large van that other than the driver and passenger seats, had three rows of seats. We had plenty of room! We had a list of things that we thought might be good to do, but with the rain we let our driver (Ken) figure out the plan. We really wanted to go to the iguana farm, but iguanas like sun and if it is shady (or rainy) they hide. So, that was off the list. Ken started by taking us on a driving tour all over Roatán and we saw the former mayor's house (and Ken liked this mayor that was in office for three years). We saw a shrimp boat that Ken goes out to sea in for 90 days at a time when he tires of dealing with tourists. We also drove by the clothing store Carrion that his wife was just promoted to manage. We stopped at Eldon's Supermarket in French Harbour to get several things but ended up only buying two gallons of purified water for Mom at $0.98 each. When Pat and Snookums left the store, it was pouring rain! They ran across the parking lot and managed not to get too wet.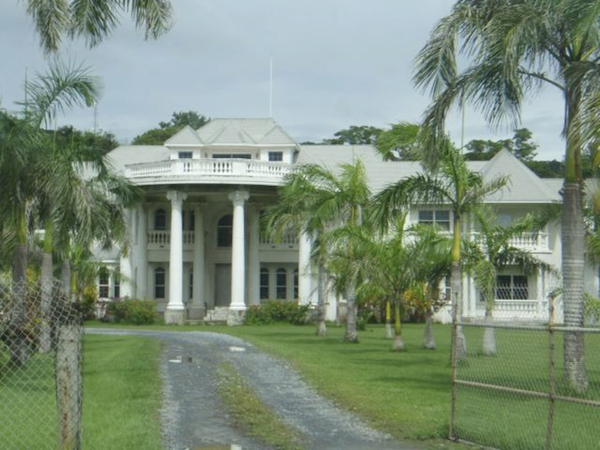 House of the former mayor
Ken then continued the driving tour in the pouring rain. We drove by a 17,000-square foot house, with only seven bedrooms, that is on the market for $5.7 million and Ken's sister happened to be working in it as a maid. He was surprised to see her in it. It seemed like he knew everyone on the island and was related to most of them, too!!! We wanted to buy postcards so he took us to Tiki HOT Island Shop since Snookums had read good reviews about it but it was closed and for sale. He stopped at another souvenir shop and Snookums and Pat ran in and only bought two postcards since they were $0.50 each and the ship sold them for $0.40!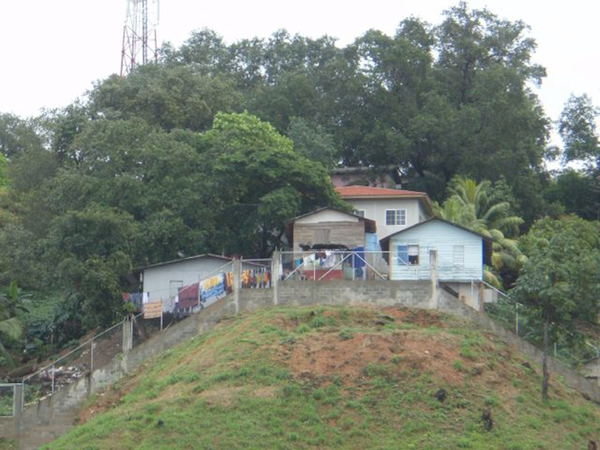 Roatán houses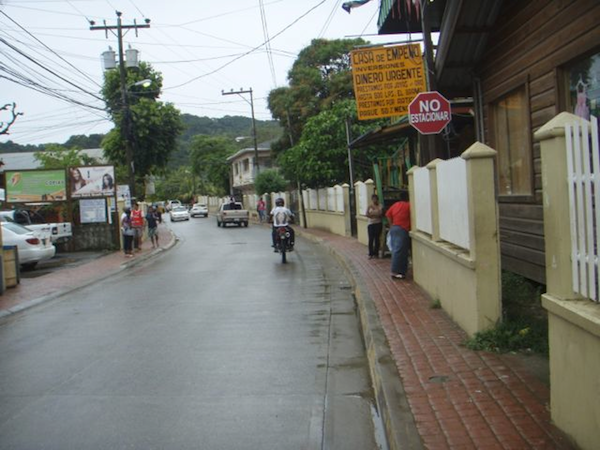 Roatán street
By now it was time for lunch so Ken drove us to a local restaurant that was kind of handicap accessible. This meant that next to the three concrete steps was a muddy path that Dad's wheelchair could kind of use with a lot of manhandling. But, we made it. We asked Ken to join us for lunch and the six of us enjoyed the $20 per person local buffet of oxtail, fish, conch stew, chicken, pork, beef ribs, beans and rice and a mixture of plantains, carrots and potato-like things. Snookums drank the Caffeine Free Diet Coke that she brought while Mom, Dad, Judy and Pat each enjoyed a different kind of Honduras beer. It was a nice stop and pretty good food, too, even though some of the main dishes were coarsely chopped — bones, gristle, fat and all – and stewed. Pat really enjoyed the oxtail while Snookums liked the pork.
Buffet lunch (Ken, Mom, Judy, Pat)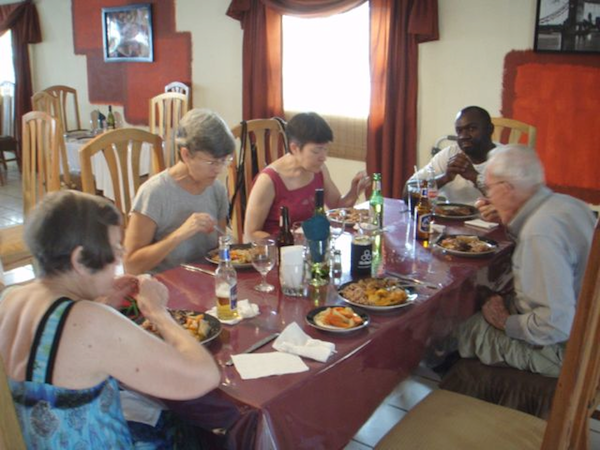 Enjoying lunch
After lunch we decided that since the rain had stopped we should try to get to Half Moon Bay for some snorkeling while Mom and Dad watched. Ken drove us to West End (ocean front) but couldn't get us to Half Moon Bay since the dirt road was so full of potholes, ruts and standing water. Mom was nervous during parts of the dirt road ride since passing vehicles got within a whisker of our van.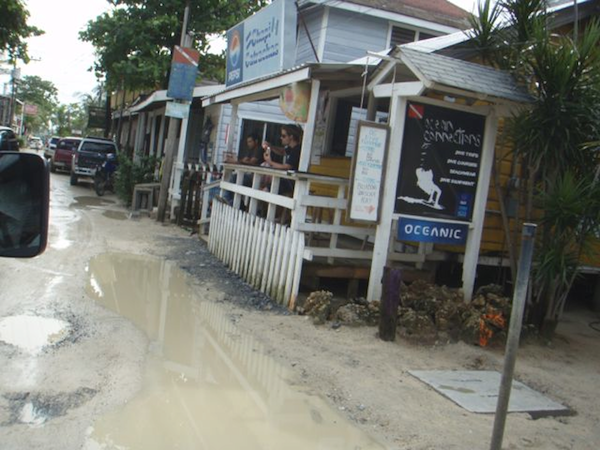 West End dirt road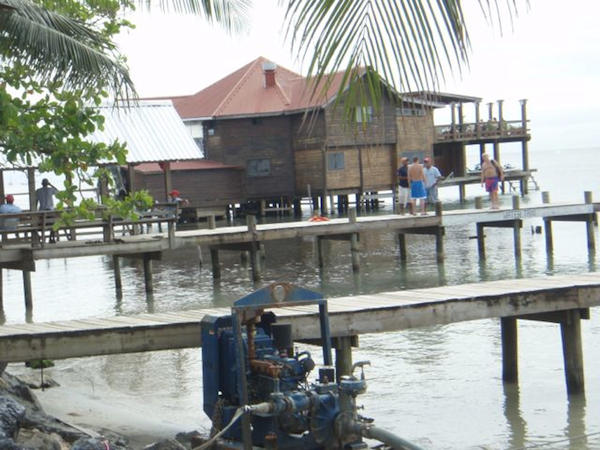 Building on the ocean
We decided to go to the Stone Castle Cameo Factory where they carve cameos on shells. It was neat but we didn't buy anything. Dad stayed in the van. Then we drove through Coxen Hole, the capitol, and saw the street market that catered to the tourists. On the way, we stopped at Coxen Hole Port so that Snookums, Judy and Pat could run into Diamonds International and get the tacky free charm. By now everyone was tired at it was around 3 PM so we told Ken to take us back to the port.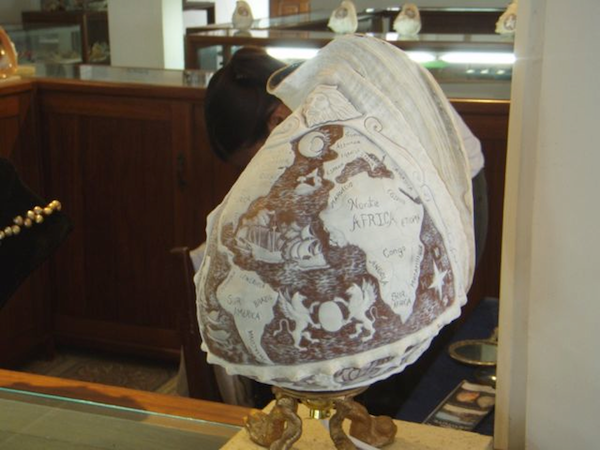 Carved conch shell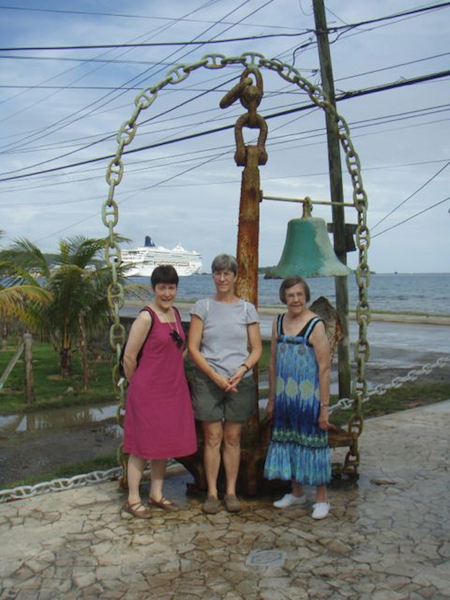 Judy, Pat and Mom outside Stone Castle Cameo Factory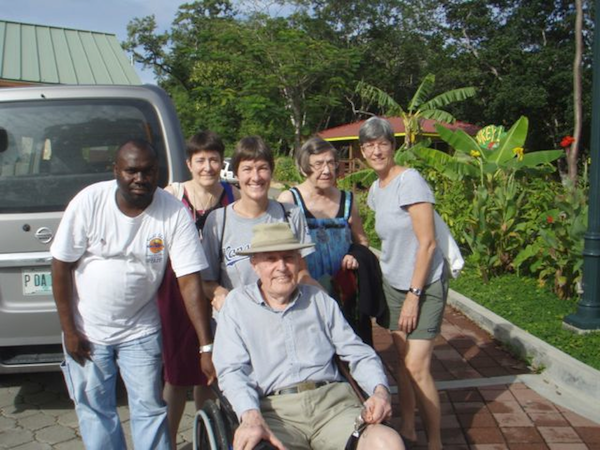 The intrepid travelers with our driver, Ken
Mom and Dad got settled back on the ship and Snookums, Judy and Pat dropped off various things and then went back out to Mahogany Bay to do some shopping. We went to Del Sol so that Pat could buy more hair clips. And, for every $10 spent at this Del Sol, you could get a free tote bag with the coupon. Pat managed to get two free color-changing tote bags. We also went to Effy to get our free ½ carat blue topaz pendants and went to the Mahogany Bay Diamonds International to get more free tacky charms just like we got at Coxen Hole. (Judy plans on keeping one complete charm bracelet and then donating the other jewelry to "Prom Boutique" that provides free prom dresses and accessories to high school girls.) Then we "hiked" the 750-foot nature trail over to the beach. By now it was just about all-aboard time so we went back to the ship after our full day of fun.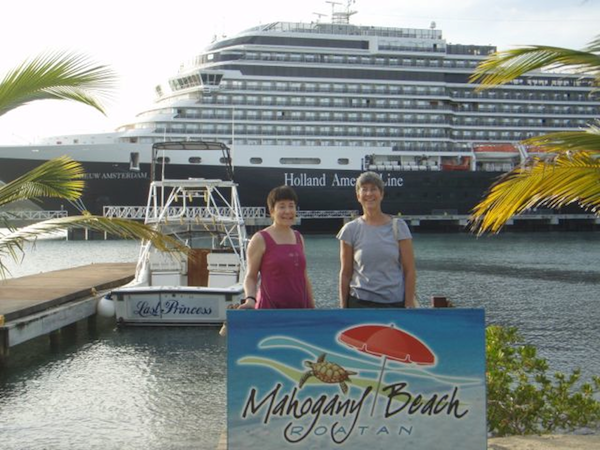 Judy and Pat at Mahogany Beach, Roatán