Contributed by: filbert Saturday, April 07 2012 @ 04:50 PM CST
The 2012 14-Day Eastern & Western Caribbean Cruise, Holland America ms Nieuw Amsterdam
Text and pictures by Snookums, webification by Filbert
Part Two
(Remember to click "read more" if you're looking at this from the main medary.com page to get the whole article!)
January 31 (Tuesday, Day 4, At sea) –
Pat and Snookums slept in and ordered room service breakfast. While cruising within 14 nautical miles of Guantanamo Bay, Pat ate her oatmeal and Snookums had her bowl of mixed berries and a sunshine parfait (berries, plain yogurt, granola). It was around 80º, slightly cloudy and kind of windy but pretty nice on the verandah.
Then it was time for the 11 AM Caribbean Shopping Ashore Presentation. Judy is bound and determined to collect all five free Diamond International charms and now that we know the password ("I love crown of light"), we should be able to make that happen. During the 45-minute sales pitch there were various raffles as well as audience participation giveaways. At one point Gary, the shopping guide, asked if people wanted to win a Del Sol t-shirt. Snookums yelled and jumped up and was the winner. It is the size that Pat's husband wears so he will get a Del Sol souvenir Cayman Islands t-shirt that changes to a colorful picture on the front when it is exposed to sun. Otherwise, we didn't win any of the other raffles.
Snookums getting her free t-shirt as shown on the cabin TV
After that the three of us went to lunch and enjoyed our salad bar salads while sitting by the Seaview Pool (aft) in the shade/sun. The guitarist, Brad Brock, was playing nice music, too. While we were doing all of this, Mom was attending the 10 AM movie, "Crazy, Stupid, Love" (2 hours in length) and Dad attended the 1 PM "Meet Your Fellow Veterans".
Snookums, Pat and Judy also attended the 3 PM Diamonds & Exotic Gemstones Seminar in order to actually get the free ship's charm. A blind woman won the pretty (and not gaudy) $500 Tanzanite International necklace door prize.
It was formal night and the dining room looked very elegant with its candles and white covered chairs. We all skipped Captain Edward van Zaane's welcome toast but really enjoyed dinner. Mom, Dad and Pat had the rack of lamb and Snookums had pheasant with walnut sage cream on a bed of braised cabbage. It was absolutely delicious and she had never had pheasant before. Pat had a bite and thought it was really good, too. A towel elephant was on Pat's bed when we returned to our cabin. A different towel animal is created during every evening's cleaning by Putu or Herman (our room stewards) for our enjoyment.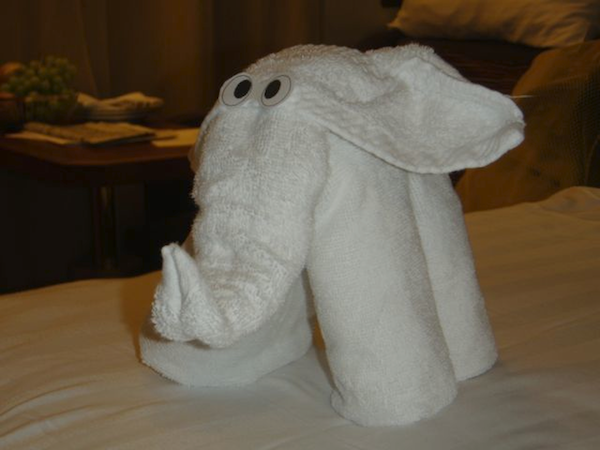 Towel elephant
For those of you wondering what there is to do during a day at sea, the following activities happened between 11:00 and 1:30 today:
11:00 – Three Chefs Demo, Culinary Arts Center, 2
11:00 – Plan Your Day Ashore with Ian, Atrium, 1
11:00 – Acupuncture: A Life Changing Introduction, Explorer's Lounge, 2
11:00 – Caribbean Shopping shore Presentation, Showroom at Sea, 2
11:00 – Spa Seminar: Detox for Health & Weight Loss, Greenhouse Spa, 9
11:00 – Gem Quiz, Merabella Luxury Boutique, 3
11:30 – Basketball Free Throw Shootout, Sports Court, 11 aft
11:30 – Gaming Lessons, Casino, 2
11:30 – Introductory Photo Editing, Digital Workshop, 2 aft
12:00 – Brad Brock on Guitar, Seaview Pool, 9 aft
1:00 – Back Deck Beats, Seaview Pool, 9 aft
1:00 – Caribbean Heat Jerk Pork and Sofrito Mashed Potatoes, Culinary Arts Center, 2
1:00 – Slot Tournament Qualifying Rounds, Casino, 2
1:00 – Meet Your Fellow Veterans, Piano Bar, 2
1:00 – International Beer Tasting $15, Silk Den, 11 midship
1:00 – Team Trivia Challenge, Crow's Nest, 11
1:30 – Name That Tune, Seaview Pool, 9 aft
1:30 – Live Champagne Art Auction, Ocean Bar, 3
1:30 – Texas Hold'em Tournament, Casino, 2
1:30 – Creative Photo Editing, Digital Workshop, 2 aft
1:30 – Dance Class: Learn to Waltz, Northern Lights, 2
February 1 (Wednesday, Day 5, George Town, Cayman Islands) –
Snookums woke up when room service was delivered at 7:30 AM. Pat woke up around 7 AM. We enjoyed our oatmeal, mixed berries, sunshine parfait and muesli on the verandah. Then it was time to get ready for our port day. Judy wanted to get all of the free Diamond International charms and free Effy pendants and had our shopping spots identified. Snookums had the Eden Rock snorkeling spot identified. We took advantage of our status (4-star Mariner for Snookums/Pat and Deluxe Verandah Suite for Judy) and jumped to the front of the tender line without waiting for numbered tickets.
Grand Cayman shoreline
Grand Cayman street scene
We got to shore around 9:30 AM and hit the shops. It was partly cloudy and 80º or so – very pleasant. We got our free charms, went to the Tortuga rum cake store before 11 AM in order to save 11% and also went to Del Sol so Pat could buy nail polish that changes color in the sun for presents for her teenage daughters. Snookums also found out that the t-shirt she won was worth $25 (which was way overpriced in her opinion!). Then we finally made it to the Eden Rock snorkel spot. We rented a locker for $5 and used the ladders to access the water. We saw some fish and a 2-foot stingray. After twenty minutes, Pat's mask started to leak and she headed back to the rocky shore. Snookums and Judy continued to snorkel until they both got chilled.
Snorkel photos from Grand Cayman:
We kept our stuff in the locker and continued our shopping for more free charms. Snookums also managed to steal a free WiFi signal and checked email and called Filbert using the free magicJack application. She could hear him just fine but he said that she was cutting out. Snookums is interested in how it will work on Friday at the resort that has free WiFi. Filbert said it was sunny and 62º at home in Kansas City which is unheard of in February! At least it was nicer in George Town!!
Gecko
The three of us headed back on the 1:30 tender and immediately ate lunch since we were ravenous. After catching up with Mom and Dad, Snookums and Pat returned to their cabin for showers and their own "sail away". There were a total of five ships anchored at Grand Cayman today which made for a bit of a ship traffic jam. After a little bit of relaxation, it was time for showering and dinner.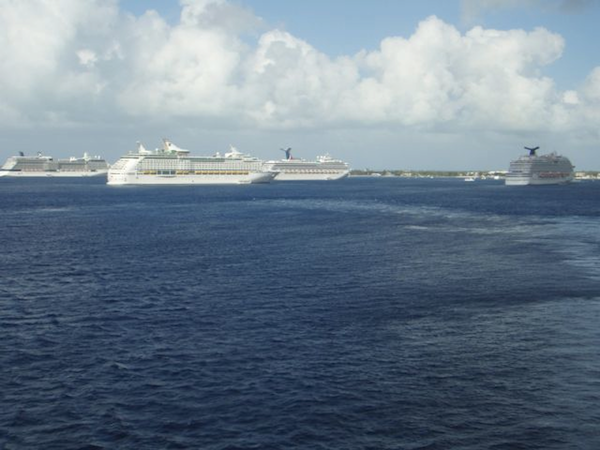 Ship traffic at Grand Cayman
Dinner was at Tamarind which is HAL's $15 per person Asian-inspired restaurant (but only $7.50 for 4-star Mariners which Snookums is). Snookums really enjoyed it on the ms Eurodam in August/September 2011 and wanted to share that experience on this cruise. Everyone really enjoyed the soups, appetizers, entrees, side dishes and desserts that they chose and are looking forward to returning on February 9 when HAL is giving it to us for free since we booked a back-to-back cruise (two 7-day cruises as one 14-day cruise).
After dinner Snookums and Pat were invited to the Captain's cocktail party and for 45 minutes enjoyed free drinks after going through the receiving line. Snookums realized that Captain van Zaane was the captain on the ms Eurodam in August/September 2011 for the Baltic/Greenland cruise. Snookums ordered a sugar free raspberry lime fizz and was shocked when it came with rum in it since it was on the non-alcoholic menu. After Pat finished her red wine that the waiters were passing around, she enjoyed Snookums's alcoholic fizz. Snookums then was given a non-alcoholic one and wasn't too impressed with it, but drank it. It was sweet and had a lot of ice cubes in it. Then Snookums ordered a choco-mint drink from the non-alcoholic menu and that one was much better – almost like a chocolate shake! It doesn't take much for HAL to keep Snookums happy – just a free $3.95 drink.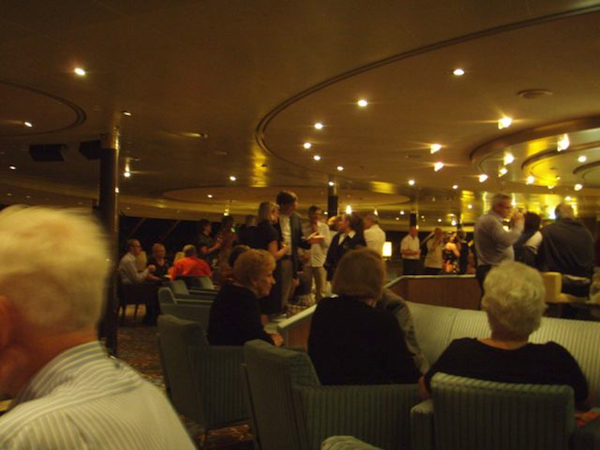 4-star Mariner reception
After the cocktail party Snookums and Pat stopped in to see Mom, Dad and Judy. Judy was just finishing mending Snookums's wetsuit and snorkel bag and Mom and Dad were already in bed. We turned all the clocks back one hour and enjoyed talking a bit before finally saying good night at 8 PM! Tomorrow is a big day – a private tour for the five of us of Roatán, Honduras.