Contributed by: filbert Thursday, February 23 2012 @ 03:22 PM CST
The 24-Day Amazon Explorer Cruise 2011, November 26–December 21, 2011, Holland America Prinsendam
Text by Snookums, Pictures by Filbert
Part Six
December 9 (Friday, Day 14, Manaus, Brazil) –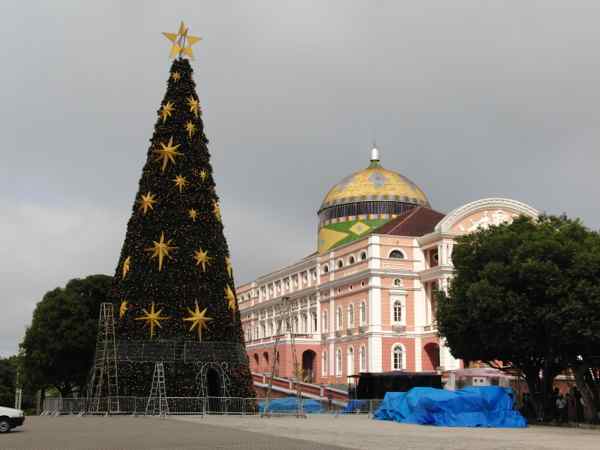 Manaus Opera House
We woke up, showered to get ready for a hot and humid day, had a quick breakfast and then headed out for a quick walk around Manaus. We walked to the Catedral da Matriz and continued along Avda Eduardo Ribeiro to the Palace of Justice and the Opera House. It was inaugurated in 1896 and took 15 years to build. The rubber barons were very, very wealthy and almost all of the materials were imported from Europe. The wood used for the chairs and floor were local but even it was shipped to Europe where it was carefully molded before being sent back to the jungle for installation. We had to make this a quick walk since our big event of the day was to go to the Regent Seven Seas Navigator cruise ship after it docked to meet our friend, Bill. We returned to our ship to get our laptops and then left again at 9:45 AM to go to Regent.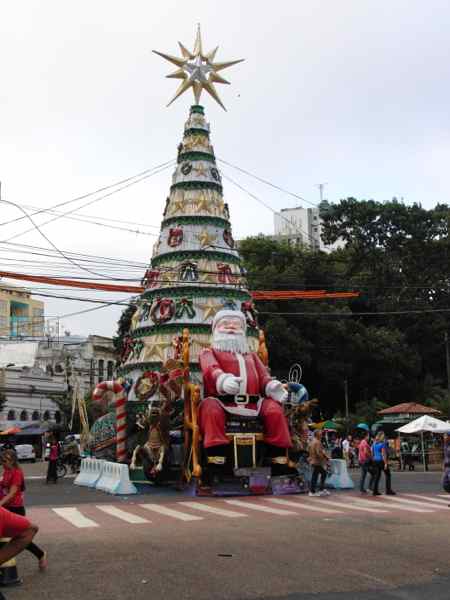 Santa on Manaus street
Our visitors' paperwork was in order, we were given are personalized visitor badges and our admittance onto the Regent ship was easy. Bill and Matt, his partner, came to meet us and we enjoyed spending the morning with them in their suite. Their Amazon cruise is almost identical to ours (round-trip from Ft. Lauderdale) but is one day behind us. Snookums has been sending emails to Bill letting him know about the "must do" things at each port, like bringing bananas to Devil's Island to feed the monkeys and using the little used path near the bar at Boca da Valeria. Filbert and Snookums have cruised on the Navigator before and remembered its layout. We even recognized the dining room manager at lunch.
Bill and Matt had to leave at 1:15 for their shore excursion but allowed us to stay in their suite to use the free internet on the ship as well as to drink the free beverages. They also gave us their bottle of champagne, white wine, 4 beers and bottled water – basically the beverages in their free minibar that they didn't drink. Filbert took advantage of the free internet to post the journal that he just finished editing from our HAL ms Eurodam cruise that we took in August/September (http://www.medary.com/article.php/dover2011).
We got back to our ship around 3 PM and noticed that preparations had already begun to cast off. When we got on the ship, Snookums noticed that the "all aboard" sign said 2:30. As we were walking to our cabin we were worried that we were actually late. However, when we got to the cabin we saw that all of the paperwork clearly said 3:30. There was an announcement right then about two passengers and we were able to watch out our balcony to see that there were some ship's officers nervously pacing around the gangway. The two passengers came back to the ship around 3:20 and then the captain immediately came on and made an announcement about now that everyone was on board, we would leave. The printed disembarkation time was 4:00. At dinner we found out that a noon announcement had been made on the ship that the all aboard time was moved up an hour to 2:30 since the captain hoped to disembark by 3:00. We don't know why it was moved up but we are confident that HAL wouldn't have left anyone since the computer that scans people on an off the ship knows the time that people left. We left before the all aboard time was changed so we should have been safe! Even though we were ON the ship, as we were walking to our room we were kind of worried that we were late and we didn't like that feeling. (Even if the ship was still here, we wouldn't want to cause HAL to wait for us if we came back later than the printed all aboard time. We try to be good passengers.) Once we found out that we were right, we felt much better!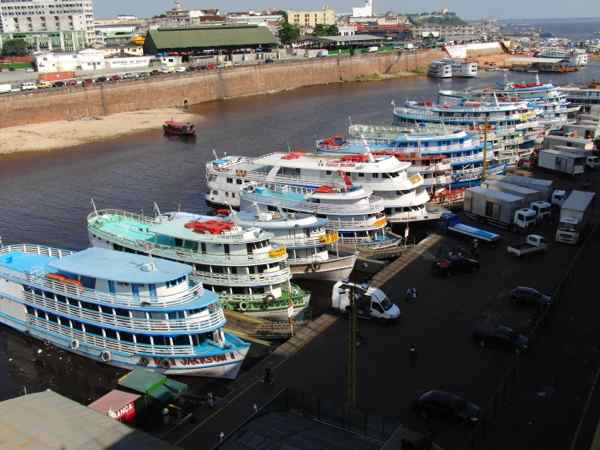 Amazon river boats at Manaus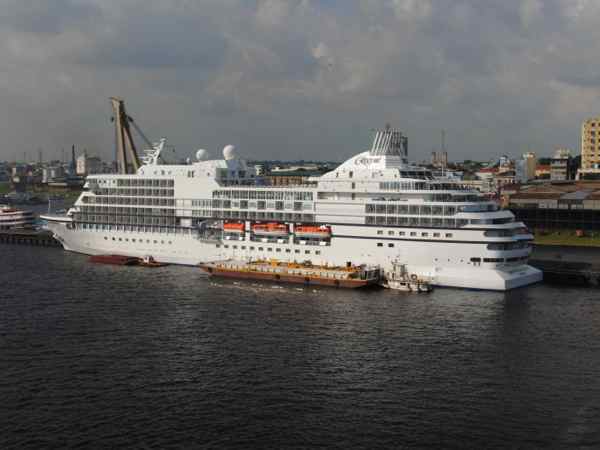 Regent Seven Seas Navigator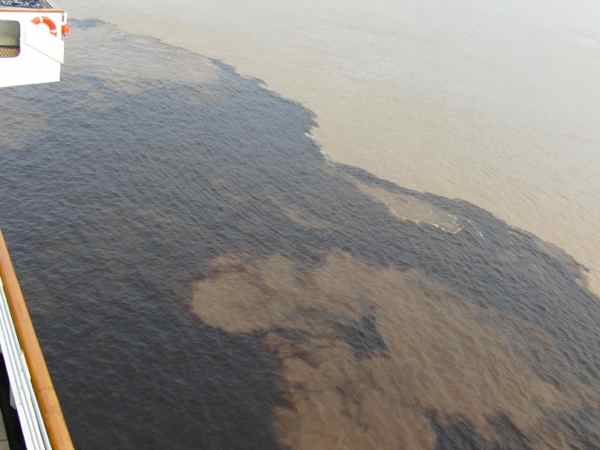 Waters, meeting, again
December 10 (Saturday, Day 15, Parintins, Brazil) –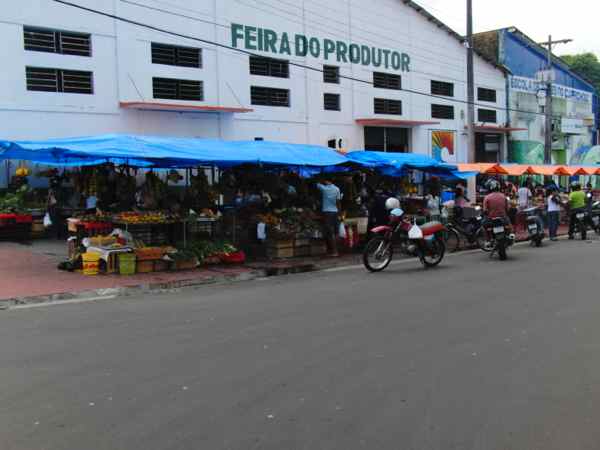 Fruit market, Parintins
We woke up, Snookums showered and then we went to breakfast in Neptune Lounge. Snookums' normal breakfast is a sunshine parfait (minced cantaloupe and honeydew topped with plain yogurt and then sprinkled with raisin granola) dumped on mixed fruit and a raisin bun. Filbert ate his two packages of high protein instant oatmeal and a plate of meats and cheeses. Filbert decided not to shower after breakfast since the trip to Parintins was destined to be hot and sweaty. He put on sunscreen and bug spray, though. Snookums opted to not use any sunscreen and hasn't used any bug spray on this cruise. Her skin is no darker than before the cruise and she wants some color!
We rode the tender to Parintins which is a town of around 100,000. It is famous for its Boi Bumba festival that is always held the last three days of June. During the festival, second only to Carnaval in Rio, people sing and dance all day long and then flock to the Bumbódromo for the performance of the red vs. blue team (or performers). The Bumbódromo seats 30,000 and is only used during these three days a year.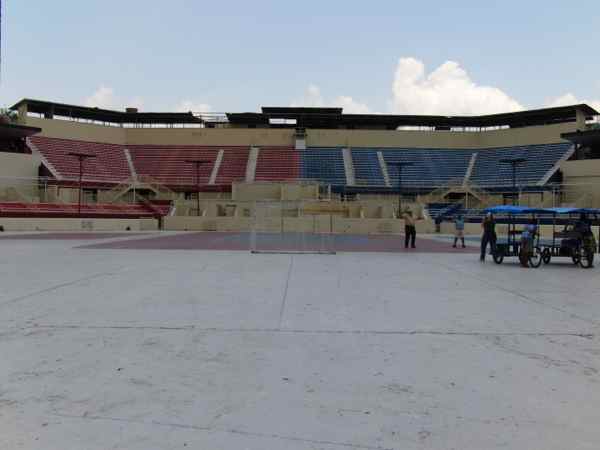 Red. Blue.
We immediately hired a pedicab for 20 reals to take us on an hour tour of Parintins. The driver didn't speak English, and we knew he wouldn't, but it was a lot of fun and much cooler than walking. At the end of the tour Snookums tried to give him 20 reals and he wanted 30. Before we got in his pedicab he said "$10 US" and Snookums said "20 reals" and put up two fingers and a zero and said "reals" and he nodded so we thought we were good. Well, 30 reals is around $15 so we gave him $10 instead. We were hoping to use our Brazilian reals since we got a few too many from the ATM in Macapá, but oh well. We'll take the better deal any day and keep any leftover Brazilian reals for a future trip. After our restful, and cool, pedicab ride we decided to walk around. We basically retraced some of our pedicab tour but saw a super mercado right before it closed at noon. Filbert bought a can of Coke Zero ($0.90) and Snookums bought a lime popsicle ($0.40) that was made in Parintins. We also went in the local mercado and saw sides of beef hanging in the 92 degree heat. One vendor tried to sell Filbert a bag of powder that was labeled "Viagra" but Filbert passed on that opportunity.
On the way back to the tender we looked at the temporary kiosks selling souvenirs but didn't find anything. We always like to buy a small painting as a souvenir and in the Amazon we've only seen stuffed piranhas, wood carvings, and jewelry made of wood, seeds or feathers. We haven't even seen any t-shirts!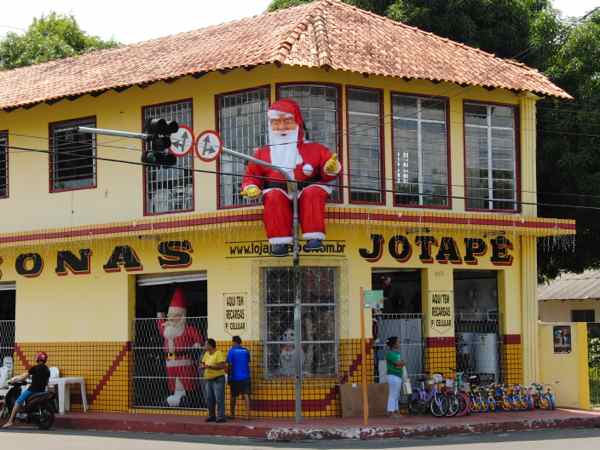 In Parintins, Santa rides traffic lights
We rode the tender back to the ship and decided to sit in the top level where the driver sits. Unfortunately there is no airflow there and we both sweat more on the tender back to the ship than we did during our time in Parintins. The day was mostly cloudy which helped a lot. It is almost bearable when in the shade or when it is cloudy. When the sun is out, combined with the humidity, it is miserable!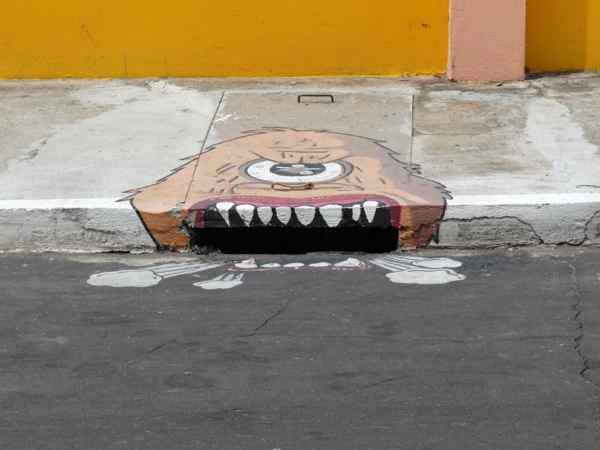 If we had been in Japan, this would probably have been a squid.
After quick showers we went to Lido for a leisurely lunch. While eating we were entertained by several pink dolphins. They don't jump or spin, but it is kind of neat seeing a pink "blob" every now and then in the muddy water. After lunch Snookums started reading her book but immediately fell asleep for almost 1.5 hours while Filbert went to the library to write.
That night we smelled burning wood. We smelled it several times at night when we were cruising the Amazon. We don't know if it was cooking fires or what and we could only see jungle on either side of us, but the burning wood smell happened more than once at night on the Amazon.