Contributed by: filbert Wednesday, February 22 2012 @ 03:19 PM CST
The 24-Day Amazon Explorer Cruise 2011, November 26–December 21, 2011, Holland America Prinsendam
Text by Snookums, Pictures by Filbert
Part Five
December 8 (Thursday, Day 13, Manaus, Brazil) –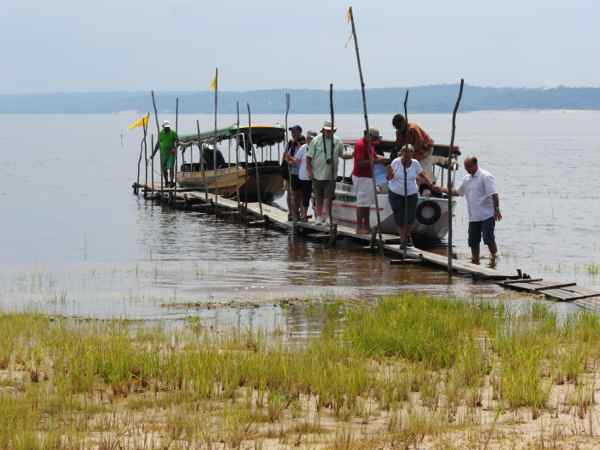 "A Three-Hour Tour . . ."
We woke up around 7 AM and saw that the water was the color of iced coffee, almost a dark black-gold compared to the cafe au lait "muddy" color that it sometimes is. This is because Manaus is on the Rio Negro and the muddy Amazon meets the Rio Negro to the southeast of Manaus. We passed the "Meeting of the Waters" about an hour before docking in Manaus but since we also saw it at Santarém (involving the muddy Amazon and the Rio Tapajós), we didn't wake up special for it. We got ready for our shore excursion that we booked with others through some posts on cruisecritic.com for 250 reals per person (or $160 per person). Rodolpho Emanuel A. Leite was the tour guide (http://amazondestinations.blogspot.com/2010/01/full-day-tour-negro-river.html). We left the ship at 10 AM and got on a covered speedboat with 10 other HAL passengers. There was another speedboat, too, in our tour. The boats took us 20 miles to Tupé where an indigenous Indian tribe with about 14 or 15 families in it relocated to the Amazon from an area between Peru and Columbia.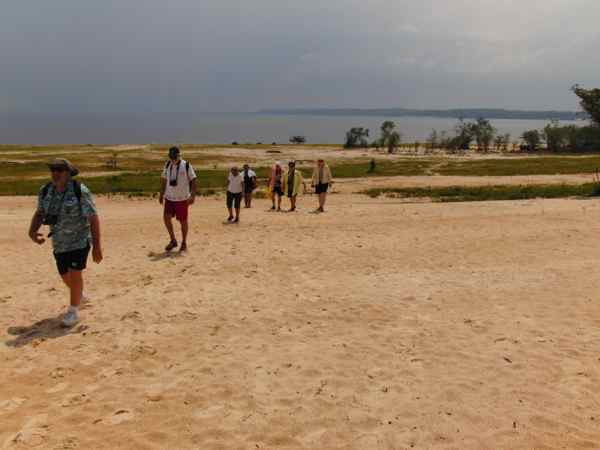 "The weather started getting rough"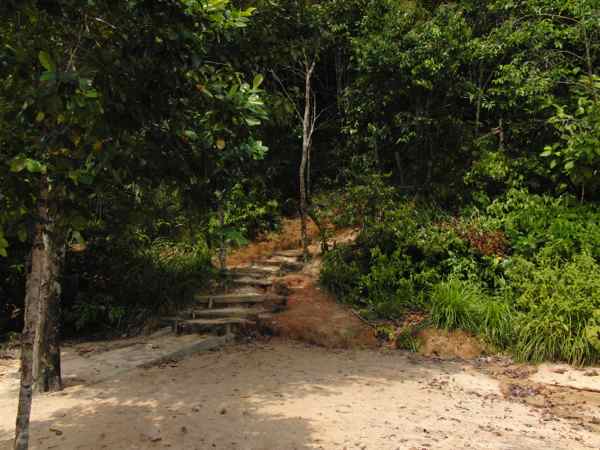 Into the jungle
We were treated to 45-minutes of native dancing and it seemed very authentic, including the females being topless (and having no tan lines). There was a little boy that looked about 3 years old and he was running around naked and at some point he was hungry and went to his mother and did some breast feeding when she wasn't dancing. Snookums figured we should give these people some money so she bought a bracelet for 10 reals. They didn't have any change for her 20 real note so she bought a second one. It was a good use of $10 or so.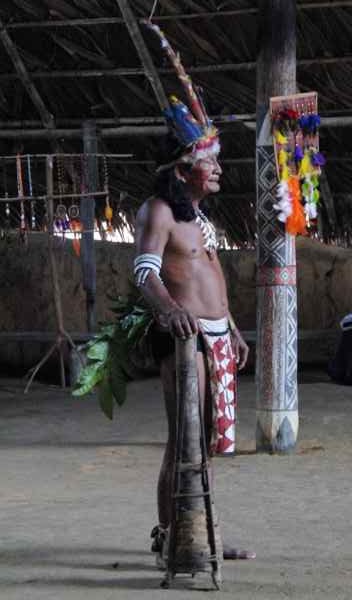 The shaman
Song and dance:
Right as we were leaving the Indians, it started pouring rain and lightning. Unfortunately the covered speedboats only had clear plastic sides that could come down but they weren't that good. Filbert got soaked during the almost 2-hour ride to the next stop, swimming with pink river dolphins in a tributary of the Rio Negro called Ariau. The speedboats couldn't go their normal speed due to the rain and that made the trip even longer.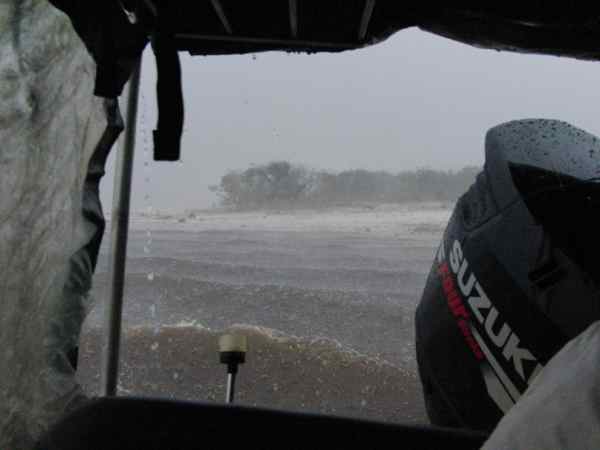 "The tiny ship was tossed"
We finally got to the dolphin place and it was still raining. Luckily the Rio Negro is pretty warm and even Snookums was more comfortable IN the water as compared to being out of it. Pink river dolphins can grow to around 9-feet long and they have very strong jaws and sharp teeth. The workers were the ones that fed the fish to the dolphins since we could have gotten bit. After seeing the mouth, that made perfect sense. The dolphins at this location are truly in the wild and there aren't any nets or fences or anything. At some point there was a research station here and the dolphins just stuck around. There are around a dozen at any given time and there are both pink and grey river dolphins. The pink freshwater dolphin, also known as boto, is endangered and is one of five known freshwater species. It is considered to be the most intelligent and their brains average 40% larger than human brains.
This location also had a pen with pirarucu fish in it that we got to see thrash around. These are the largest freshwater fish in the world and can grow to almost 10-feet long.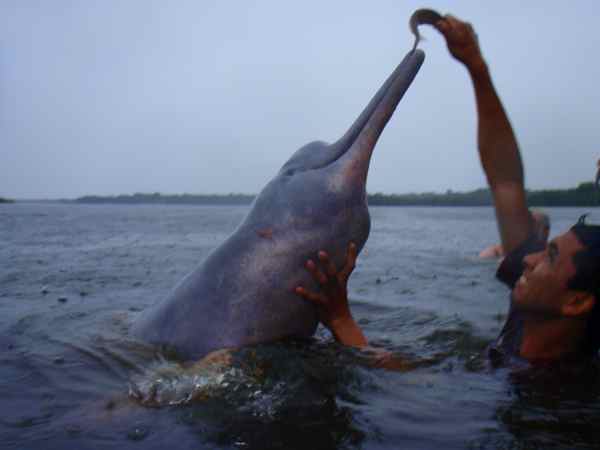 Pink dolphin (although this one might be one of the grey ones!)
Now that we were in our wet bathing suits we all got back in the speedboats and headed for lunch. Unfortunately we didn't get to the floating restaurant until around 4:30. Snookums was in the very front solo seat of the speedboat and her face was pelted with rain. Filbert gave her his hat and she wore it on her face almost like a muzzle and just closed her eyes (which were covered by the hat). The captain also gave her a flannel-backed plastic tablecloth to help keep her dry. It wasn't a pleasant boat ride at all. Even Filbert was cold and he never gets cold. Oh yeah, the boat conked out, too, but the captain was able to get it going after about 10 minutes or so.
The restaurant, located in Lake January, had a very good buffet ready for us and it included fried pieces of pirarucu that almost looked liked fried ribs. Filbert had one and liked it and the fish bones were huge. No one had ever seen fish bones as thick as these. Pirarucu are huge fish, that's for sure. After we ate we walked along a bridge through the jungle and saw monkeys in the trees. We also saw a caiman near the giant lily pads.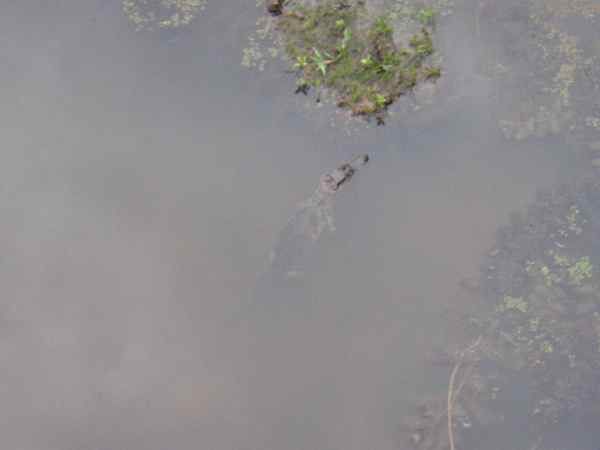 Caiman (yeah, it's there . . . )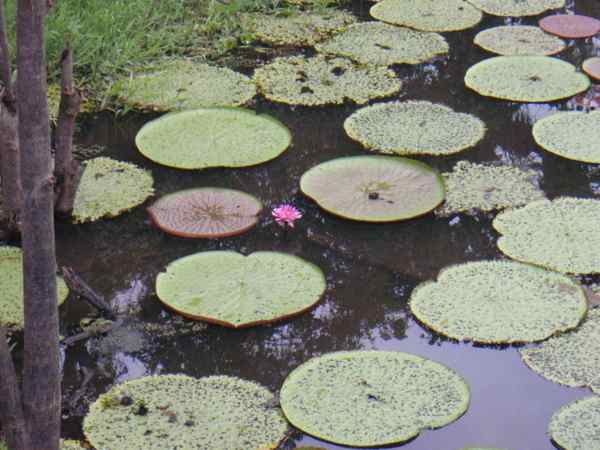 Lily pads
The tour was supposed to then go to the "meeting of the waters" where the Rio Negro (black water) meets the Amazon (muddy water), but one of the boats opted to head back to the ship. Filbert and Snookums took that boat. An interesting note about the Rio Negro is that its pH level is around 3.5. Because it is so acidic, there are very few insects. (We didn't notice the acidity when we were actually IN the Rio Negro with the dolphins, but we have noticed a definite lack of insects on this entire trip, black water or muddy water. We brought bug spray and we are taking anti-malaria prescription pills, but really don't need either preventative measure.) We got back to our cabin around 6:30 PM and Snookums took a quick shower in order to head back outside to see Manaus and the festival of the Immaculate Conception.
Before she could even leave the cabin there was a huge fireworks display over the cathedral that she watched from the cabin. Then she went out and walked the three blocks to the Catedral da Matriz. A stage was set up outside and there were tons of tables and chairs, all filled, as well as a row of church volunteers selling fish dinners, beverages and desserts. Snookums bought a 2 real ticket and exchanged it for a piece of cake with yellow stuff on it. It ended up being lemon cake and she was happy. On the way back to the ship she wandered around a very busy street market and half of the vendors were already closed for the night. People were everywhere, though, and she doesn't think it had anything to do with the church festival. She stopped at an air conditioned "normal" store and bought a $4 bottle of Brazil wine for Filbert. (Filbert was tired from the day of speedboating and stayed in the suite.)