Contributed by: filbert Friday, February 24 2012 @ 03:25 PM CST
The 24-Day Amazon Explorer Cruise 2011, November 26–December 21, 2011, Holland America Prinsendam
Text by Snookums, Pictures by Filbert
Part Seven
December 11 (Sunday, Day 16, Alter do Chão, Brazil) –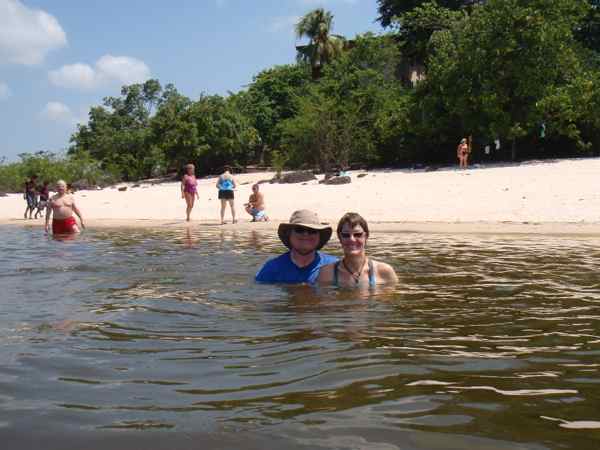 A dip in the Amazon
We woke up and didn't bother to shower. We enjoyed our Sunday brunch in Lido rather than in Neptune. Snookums made an egg McMuffin and Filbert enjoyed eggs benedict. We took the tender to Alter do Chão which is 12 miles from Santarém and has a population of around 1,400. Alter do Chão is actually considered the "Caribbean of the Amazon" since it has nice white beaches and the people of Santarém flock to it on weekends. We didn't see any packed beaches and decided that the locals come in the afternoon. We went shopping at the various temporary tables since we still needed to buy the souvenir painting for our travel wall. We haven't seen any paintings other than very large paintings of parrots and bright tropical flowers and we didn't want anything like that. We ended up buying a magnet that is made out of half of some kind of seed or pod and it has a painting of the "hill" (the alter, hence the name) that is very visible on the beach on it. The woman wanted 7 real for it and Snookums gave her a 20 real. The woman didn't have change and saw that Snookums had a 5 real note and took that instead. After the experience with the pedicab driver, we are starting to think that Brazilians don't seem to really understand the concept of money! We still had 70 real burning a hole in our pockets and also bought two t-shirts that show the map of the Amazon on them and then they are also hand painted on top of the printed map. They were a total of 35 real ($18).
After we shopped we went to the beach and waded into the Rio Tapajós which is the clear water. Well, clear as compared to the Amazon River. When we were submerged up to our shoulders, we could only see our mid-thighs. The water was pretty warm but not as warm as the Rio Negro when we were with the dolphins. We got out and took the tender back to the ship.
When we got back in our suite, Snookums realized that we hadn't read the information that we brought with us about Alter do Chão so she read it and realized we didn't even go INTO the town! We shopped at the tables near the dock and went swimming and never bothered to continue walking past the dock to the town. Boy do we feel silly. Now granted, most of the other HAL passengers only looked at the tourist stuff near the dock and then went back on the tender, but we like to think we're not like most HAL passengers! We dropped the ball on this port, though, that's for sure. According to the information there isn't that much to see, but still, we could have walked a little bit more and seen some houses or something. Oh well, maybe we'll have to come back. On that note, it is interesting to know that Amazon cruises only stop at the ports that we are stopping at and then maybe one more (Belem, a port at the Atlantic Ocean entrance to the Amazon). So, once you've done one Amazon cruise, you've seen what there is to see.
Today's port was much less humid than the previous two (Manaus and Parintins). In fact, all of the ports (except for Manaus and Parintins) have been relatively comfortable. Hot, yes, but bearable, especially in the shade or when it is cloudy. Manaus and Parintins, though, were very "thick" which made them more uncomfortable. It was so nice that after lunch we sat on the verandah and watched the world go by. It was so nice that even Filbert didn't complain about the heat.
Tonight was formal night and Snookums decided last night that she didn't want to dress up so she told the tablemates that we wouldn't be there. At least three of the four weren't going to be there, either. We ordered room service and enjoyed our casual dinner.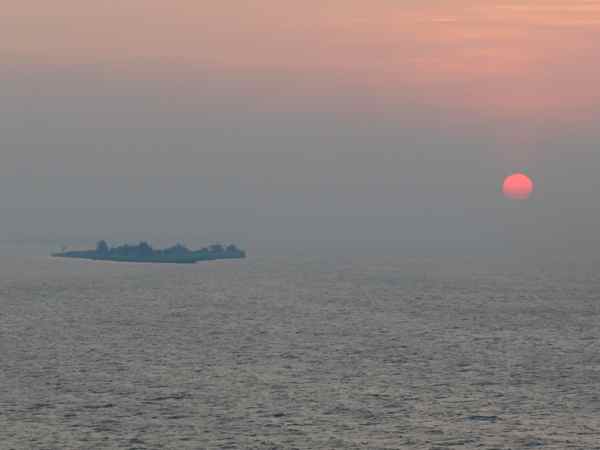 Sunset Dec. 11
There was a beautiful full moon over the muddy Amazon River water and Filbert spent 20 minutes on the verandah trying to get a good picture. Although the ship is very steady in the river, there is still some movement which made a lot of the shots blurry. He thinks he got a decent one, though. (And he didn't get bit by any bugs, either, and we had been told that they come out at night.)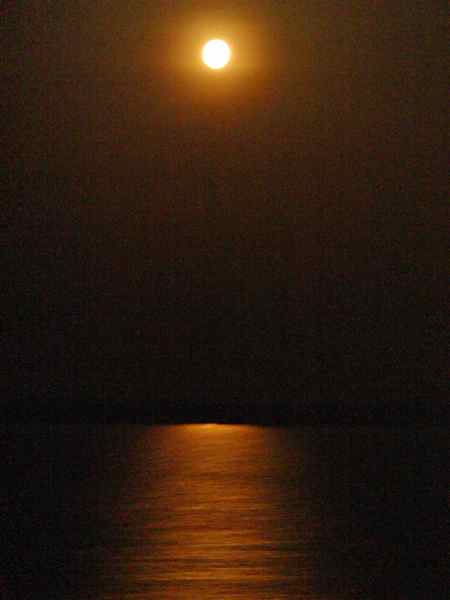 Amazon moonrise
December 12 (Monday, Day 17, Cruising the Amazon River, Crossing the Equator)
A sea day! We spent the entire morning on the Neptune Lounge verandah. After our normal breakfast, we watched Macapá from the port side as we cruised by around 10:30. That was our first port stop one week ago and we wanted to see it on the way out of the Amazon. The ship's horn sounded three times as the pilot boated away. (We had two Amazon pilots on the ship during the last seven days to assist the captain with the river navigation.) At 12:05, the ship blew its horn one time to indicate that we were crossing the equator. The captain came on the PA system and informed us that we would be in the Amazon until 10 PM or so.
Snookums read the two reviews written by HAL passengers about the Barbados rum tour and had Filbert read them. They were both very bad reviews and Filbert decided to cancel his tour. In the meantime, Snookums read the "Barbados Travel" book in the ship's library and it said that Barbados had excellent snorkeling so Snookums used some internet time to find an excursion. If HAL won't offer one, we'll find our own and we did!
We headed for lunch and then back to the suite for a leisurely day. Filbert spent all of it on the verandah listening to BBC on his shortwave radio and Snookums read a paperback inside. Snookums met with the shore excursion manager at 3 PM regarding the piranha fishing tour and the shore excursion manager offered 20% back on the tour tickets since no cooked piranha was offered. It was more of an ordeal than Snookums expected (1 phone call with an employee, 1 voice mail from the manager and then the meeting with the manager), but she thinks it was finally understood that when tour documentation says "crew will offer you cooked piranha" and that doesn't happen, it's a problem!
Snookums went to the gym around 6 PM and then it was time for dinner. The purser and his wife, Jan-Volkert Leeuwenberg and Tammy Lee Fortier, joined our table. They are friends of friends we cruise with (Gary and Charlotte) so we had wanted to meet them. Brazil requires a lot of paperwork so the purser was very busy up until now. Jan called us Sunday to figure out when we could meet and we decided on tonight. Dinner was very enjoyable.
We went on the verandah after dinner to check on the color of the water and it was still muddy. However, around 10:30 PM the ship started rolling a bit from ocean swells so we made it to the Atlantic safe and sound and survived our eight days in the Amazon!
Here are some Amazon facts:
– Source – Lake Lauricocha in Peru
– Length – 4,195 miles (from Peru's Ucayali River which joins the Maranon [Amazon])
– Tributaries – 15,000 known tributaries and sub-tributaries (4 are over 1,000 miles long)
– Area – The 2,722,00 square-mile Amazon rain forest represents 40% of Brazil
– Volume – 46,000 gallons per second at the river's mouth (6,000% of the Nile's volume)
– Width – Varies 1 to 35 miles (excluding flood). Mouth is more than 250 miles wide.
– Depth – Most of the Brazilian section is more than 150 feet deep. Near the mouth depths of 300 feet have been recorded.
– Temperature – 79°F (daytime)
– Geological Age – The rainforest is estimated to be 100,000,000 years old to be the world's oldest rainforest.
December 13 (Tuesday, Day 18, At sea) –
Snookums woke up and read on the verandah in order to get some sun and to enjoy the green ocean. (Our verandah will be sunny in the mornings from now on.) Then she went to Neptune Lounge for breakfast and Filbert came awhile later. It was back to the room around 11 AM for more book reading. Then Snookums took a 3-hour nap followed by a very late lunch. After that it was a DVD (The Money Train) and time for dinner. Filbert read/write most of the day. Sea days are hard and tiring…..
After dinner we got to watch the last ¾ of the game between the #6 Tennessee LadyVols and #11 Rutgers. The LadyVols got their first road win of the young basketball season. We were hoping that we would get to see it on ESPN2, but on the ship you can never be sure what ESPN feed you'll get. We end up seeing lots of soccer in Spanish and other sports that don't come on ESPN2 at home. It was a good day!
December 14 (Wednesday, Day 19, At sea) –
This morning we awoke to a blue ocean. After a full day on the verandah (shady Neptune's in the morning and then shady 001's in the afternoon), we reshowered for the pre-dinner show of "Moments to Remember" by the Prinsendam Singers and Dancers. The show was okay and when we showed up for dinner, we saw that our table was set for 8. Our waiter told us that the Chief Engineer and Shore Excursion Manager were joining us. Free wine for the table!
The Chief Engineer, Jaap Wisse, has worked for Holland America for 41 years and when his contract is up in March, 2012, he is going to retire. He said that he's been to around 450 ports and on this particular contract (November, 2011 – March, 2012) he will add seven new ports to his list. It's hard to believe that someone that has been cruising for 41 years is STILL going to new ports!
The Shore Excursion Manager, Judy Hu, used to work dockside in Vancouver for HAL and our tablemate, Anne, asked her if she knew someone that used to work in the same place and she did. It is the mother-in-law of Anne's son! So, Anne was able to tell Judy what Brigitte has been up to for the last two years. Talk about a small world.
Formal night dinner was fun and when we returned to our room we were happy to see that we got to gain an hour, too.
December 15 (Thursday, Day 20, Bridgetown, Barbados; 1 BBD = $0.50; $1 = 2.00 BBD) –
We woke up, had breakfast in Neptune and got ready for our snorkel trip. HAL didn't offer any snorkeling trips but Snookums found one online that looked good. It even included transportation. For $90 per person, we had a 5.5-hour catamaran snorkel trip on Cool Runnings with two snorkeling stops. Our first stop was with the sea turtles and there were around 8-10 turtles that seemed to be four feet long. The crew member fed the turtles and there was a ray lurking around, too. The turtles were everywhere and were very easy to pet. Snookums' mask was fogging up so she swam a little bit away from the group and while treading water (without fins on), she defogged her mask. Well, she inadvertently kicked a turtle, too, and her foot hurt. Those shells are tough!!!
After the snorkeling with the turtles it was time to get back on the catamaran to sail to the next stop. Unfortunately, Snookums managed to step on a bee while walking on the catamaran. A crew member used a credit card to scrape the stinger off her foot and she survived. It didn't actually hurt that much, but was an odd sensation and certainly unexpected!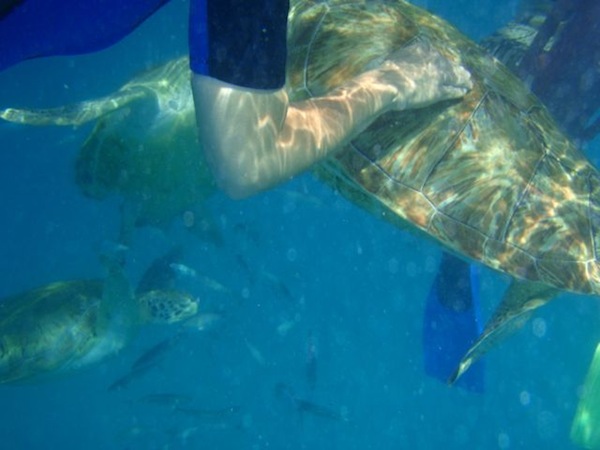 Petting a turtle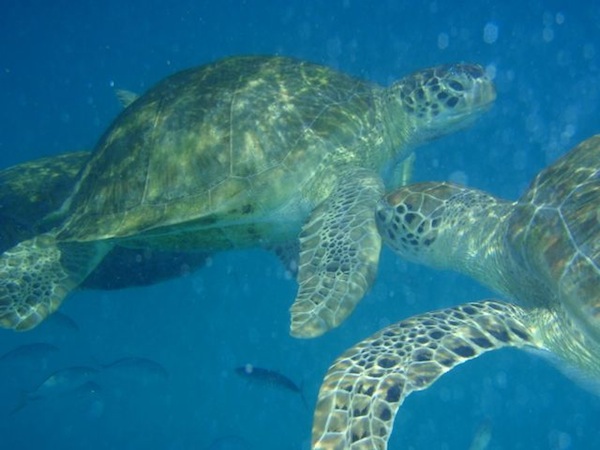 Turtles everywhere
Turtle closeup
The next snorkel stop was at a shipwreck and a reef. The water was kind of murky and there were a lot of fish, but not that many pretty ones. But, there is no such thing as s bad snorkel.
Back on the catamaran to the third and final stop for swimming in front of "Shady Lane" which is the $1,500/night resort where Tiger Woods got married. A typical Bajan lunch was served on the catamaran, too. It consisted of tossed salad, potato salad with raisins (?), ramen noodles with collard greens, green beans, cabbage and corn, rice pilaf with red beans, chicken in a flavorful tomato sauce and filets of king fish. It was very tasty and Filbert enjoyed lots of the incredibly hot pepper sauce on his fish and washed it all down with a glass of draft Banks beer. Dessert was carrot coconut cake with cream cheese frosting. Filbert enjoyed several glasses of rum punch, too, and Snookums enjoyed her Coke Light.
Snookums found a Barbados penny on the ground while walking to the van. She seems to find foreign currency in every country. We got back to the ship around 2:45 and took quick showers and then headed to the cruise ship terminal for the free internet.
Dinner was a Caribbean BBQ outside on the Lido deck and the cooks manning the paella skillet and jerk chicken grills were having a great time. The food was okay, too, and it was nice to eat dinner outside. Our verandah doesn't have a light on it or else we would probably eat some of our dinners outside on our verandah. Other HAL ships have lights on the verandahs, but the ms Prinsendam does not. Oh well.
The BBQ
After dinner we chose four of Filbert's photographs and three of Snookums' to enter in the ship's photo contest. The four categories are landscape, wildlife, portrait and miscellaneous. Snookums didn't even realize that she took photos, but she did and her piranha one is her favorite. (See Dec. 6, Day 11 to see it.)
When we got back to the cabin ESPN was showing NCAA Division I Women's Volleyball Semi-Finals so we enjoyed watching some great volleyball. The finals (UCLA vs. Illinois) are on Saturday and we probably won't see them since we never really know what "channel" of ESPN we'll get. We seem to get a mix of ESPN, ESPN2, ESPN South America and ESPN Europe. We get a lot of soccer….
Snookums also looked at an old journal entry since she knew that Barbados had been a cruise port before. Sure enough, on December 13, 2009 we were here and snorkeled with the turtles! The amazing thing about it is that when we were doing it today, neither of us remembered ever being this close to turtles and touching them and everything. However, the journal for the prior cruise visit is almost identical to today's write-up, including Shady Lane and everything. It was still a great day, even if we had done it before!
December 16 (Friday, Day 21, Bequia, St. Vincent and the Grenadines; 1 XCD = $0.37; $1 = 2.70 XCD) –
We woke up and had our normal quick breakfast in Neptune Lounge and got ready for our HAL snorkeling trip. We took the tender to Bequia which is one of the islands of the Grenadines. Its population is 5,000 ha s 30% unemployment. It is a sleepy little island and is 8 miles away from St. Vincent which is the largest island.
On the tender ride to Bequia we saw a passenger we hadn't noticed before. He looked to be our age and was very overweight (as was his wife). He wore a safari-type hat, a knee brace and carried a cane. And he was obnoxious and couldn't keep still. Filbert nicknamed him "ADD Guy". His wife slid into the bench seat in front of us and this man then proceeded to take up the rest of the room on the seat (and he wasn't that big). He was using his cane to bang the seat and the floor and he was just loud. Another passenger boarded the tender and the obnoxious one gave him about 8" of the seat. Then he gave the passenger a bear hug when he sat down and it didn't appear that they knew each other! When the tender got to Bequia, he kissed his wife for a really long time and said things like "Hot, hot, hot", "Sexy babe", etc., etc. His wife was just sitting there during the entire tender ride and looked like she wanted to just disappear.
We boarded the catamaran along with around 40 other HAL passengers which made it much more crowded than our 19-passenger trip in Barbados! One of the crew talked to us about Bequia, but ADD Guy kept using his hands like drumsticks and his beating on the catamaran's railing was louder than the crew. When he quit his drumming, he started talking/yelling. We sailed for around an hour and passed some rather unusual homes set in amazing natural rock formations and arches in an area known as Moon Hole. One of the buildings was a hotel built in the 1950s that has gone to ruin. It's too bad since the area is spectacular. We snorkeled for about 45 minutes and the reef had a lot of sea fans and sponges as well as a large variety of fish. We saw a 5-foot (at least) beige and black diamond backed sea snake on the ocean floor, too, which was neat. Filbert's camera wasn't working too well.
After snorkeling the mango rum punch started flowing and Filbert enjoyed it. Snookums enjoyed her water. Then we were dropped off at Princess Margaret Beach. It is called that since the royal patron dipped in at the beach during her island honeymoon. It was a fabulous beach and had lots of shade and sun if you wanted it and the sand was great, too. The waves were very gentle so it was ideal for swimming and just treading water and that kind of stuff. We saw our tablemates at the beach, Anne and Jim, as well as Jan. Gord isn't a beachcomber and he stayed on the cruise ship. Anne and Jim vacationed at Bequia at least two different times many years ago and they enjoyed seeing the changes. They used to be able to hike a path from the harbor to Princess Margaret Beach but when they tried that today, they found that it was blocked off. They had to take a water taxi instead for $3/per person each way. So much for progress.
Then it was time to get back on the catamaran and the shore excursion was officially over. A woman on the catamaran volunteered to take our snorkel bag back to the ship with her so that we could walk around without lugging that around. She was a lifesaver.
We wandered around the 3-block long main street and saw two different vegetable markets and went in two or three grocery stores. Snookums found a Eastern Caribbean penny on the ground! Filbert purchased three bottles of hot pepper sauce (two reds and one green) made on St. Vincent's to use when we get home. He also bought two bottles of local rum punch for gifts and two cans of local beer. There were some t-shirt and crafts stands, too. It was very laid back and the people were very friendly.
We took the tender back to the ship, washed our hands and went to lunch. We were hungry. ADD Guy and his wife were at lunch, too, and it took him about 20 minutes to get his food since he had to speak to everyone and anyone. His wife was just quietly sitting at a table eating her lunch the entire time that he kept walking around getting his food. He finally sat down after he got his bowl of ice cream (and his lunch was sitting on his table waiting for him to eat it). We finally left Lido after he sat down since the show was over. Then it was time to sit on the verandah and watch Port Elizabeth. There were a lot of live-in small sailboats moored in the harbor and it looks like a lot of people rent boats for a week or a month or so and live in them. It was very picturesque. We listened to St. Vincent's radio (107.5 FM) and laughed at the 2:30 news update that came on at 2:50. That's island time for you!!
We set sail around 5 PM and that meant it was time to shower. Dinner was in Pinnacle Grill (our second free dinner there) and we had reservations to eat with Anne and Henry, the couple we met during our very first lunch on the ship. We had a wonderful dinner and learned that Henry was born in Vienna, Austria (he still has the accent). He had a visa for the US, but the Germans invaded before he could get out. He was in a German-run labor camp from the age of 18 to 21. He lost his parents and at least one sibling to the concentration camps. He said that when the train pulled up to the labor camp, the Germans counted out 300 men and he was number 298. The rest of the men that weren't in the 300 were then sent to Auschwitz where their destiny was the gas chamber. He also thinks he was the only one of those 300 that lived to be liberated. He had an older brother that went to the US prior to all of this and his brother served in the US Army during WWII. After Henry was liberated (and he says that he has two birthdays – the day he was born and the day he was liberated), he went to Belgium and ultimately the US and now lives in Miami. He and Anne met on a cruise around ten years ago and have been a couple ever since. They are definitely young at heart and live every day to the fullest. They are also the most fashionably dressed passengers on the ship! Hopefully we look and act as young as they do when we are in our mid-80s.
December 17 (Saturday, Day 22, At sea) –
We did our normal thing – shower and eat a light breakfast outside on the Neptune Lounge verandah. Then we went to the 10:45 Mariner Society Pre-Lunch Reception and sat with Anne and Henry. We enjoyed our free drinks while watching various passengers get their 100-day and 300-day medallions. One couple on this cruise has the 700-day medallions and two couples have the 500-day medallions. After this cruise, Filbert will have 190 days and Snookums will have 210 days. (Snookums cruised on HAL prior to marrying Filbert.) Medallions are awarded at the 100, 300, 500 and 700 days levels. After the reception we were supposed to attend the Mariner Lunch in order to get our tile. However, we had Pinnacle Grill scheduled and we never really like the two menu choices offered for the Mariner Lunch so we didn't go. (Our tiles were delivered yesterday.)
We enjoyed our Pinnacle Grill lunch immensely. We think lunch is actually better than dinner. Our last two Pinnacle Grill lunches (on two different ships) were great whereas the dinners were spotty with service issues and lukewarm food. Lunches are never packed, either, whereas dinner reservations tend to fill up. Our hamburgers and French fries were top notch and Filbert's antipasto starter was great and Snookums' grilled shrimp bruschetta with corn relish was fantastic. Dessert was a chocolate brownie decadence that was like a loose vanilla custard with a little bit of chocolate taste with a chocolate cake-like topping. It was different, but very good. We were stuffed.
Snookums took a 3-hour nap after lunch and Filbert listened to BBC on the verandah before some sprinkles sent him inside. It was cloudy and warm most of the day but there really wasn't much rain. After Snookums woke up she started updating the journal and Filbert decided to take a 1-hour nap prior to dinner.
For those of you wondering what there is to do during a day at sea, the following activities happened between 11:00 and 3:00 today:
11:00 – Fresh From the Sea, Culinary Arts Center
11:00 – Bridge Instruction, Half Moon Room
11:30 – Cruise Classics: Paper Tower Challenge, Crow's Nest
1:00 – Foodie Fight: Culinary Trivia, Explorer's Lounge
1:30 – Boi Bumba DVD Screening, Showroom at Sea
1:30 – Learn to Dance: Line Dance, Ocean Bar
1:30 – Texas Hold'em Tournament, Casino
1:30 – Duplicate and Party Bridge, Half Moon Room
2:00 – Spa Secrets: Phyto for Healthy, Shiny Hair, Explorer's Lounge
2:00 – Blue Diamonds Jewelry Raffle with complimentary champagne, Signature Shops
2:30 – Cruise Classics: Triple Wicket Croquet Shoot, Sports Deck
2:30 – On Coronations and Corgis with Travel Guide Frank, Showroom at Sea
3:00 – Afternoon Tea with the Rosario Strings, La Fontaine Dining Room
Around 7 PM we decided that we were still stuffed from lunch and instead went to Neptune Lounge to put together a vegetable tray for dinner. Snookums also went next door to Crow's Nest to see if Jan and Gord were there enjoying their pre-dinner cocktails. They were so she told them that dinner was being skipped. She chatted with them awhile and also took the two kinds of nuts from their cocktail table for the night's in-room "dinner".
December 18 (Sunday, Day 23, Oranjestad, Aruba; 1 AWG = $0.56; $1 = 1.79 AWG) –
We booked our own snorkel excursion so we made sure we were the first people off the ship at 8 AM. (Filbert's underwater camera was still malfunctioning.) The $1.20 public buses weren't yet running so we took a $14 taxi to the snorkel office on Malmok Beach. We were then told that the trip was canceled due to the bad weather yesterday. We decided to walk along the beach, in the direction of the ship, and see if we could find any other snorkel trips. We found two more but ultimately decided not to go snorkeling since it was very overcast and if the rain was bad yesterday, the water was probably going to be murky. So, we continued to walk along the beach, in the surf in our bare feet, until we got back to the ship! The beaches were beautiful and were not busy at all, maybe due to the closeness of the Christmas holiday. We walked on Palm Beach which is considered to be one of the top 12 beaches in the world. An area of the beaches between the high rise hotel district and the low rise hotel district was actually dead coral (or volcanic rock?) and looked like what you would find on the moon. It was very sharp (we put our flip flops back on) and had many blow holes that would spurt water when the waves were just right. It took around three hours to get back to the ship and we probably walked five miles. Along the way we stopped at an ice cream shop and Snookums bought a Diet Coke and Filbert bought a 7.5 ounce bottle of Balashi beer.
We decided to order room service for lunch and ate on the verandah. Our side of the ship looked out to the Caribbean Sea and there was a sandbar with a tree on it kind of in the middle of the sea. It was very picturesque and added to our lunch ambiance!
We also had a message from Anne saying that she and Henry wanted to join us for dinner tonight at our table so Snookums called Cahren (Neptune Lounge concierge) and asked her to notify the dining room about setting our table for eight people.
We set sail from Aruba and Filbert decided to use up some of his internet minutes to listen to the last three minutes of the SDSU at Washington men's basketball game. He was thrilled to hear them beat this PAC-12 school 92-73 and had to continue to listen to the post-game radio show.
Dinner was a fun event with Anne and Henry joining our table. At 9:45 PM the fun broke up and we headed back to our cabin and went to bed.
December 19 (Monday, Day 24, At sea) –
We enjoyed our normal breakfast on the Neptune Lounge verandah and have noticed that it seems like only one other couple (Diane, grew up in St. Louis and a graduate of University of Missouri, and George) really come to Neptune Lounge for breakfast. They eat inside, though, and we have never had anyone else out on the verandah when we've been out there. Cahren said that most suite guests eat breakfast in Pinnacle Grill since that is one of the suite perks. Snookums did a few errands, including mailing a bunch of Christmas cards, and also found out that none of our photographs were voted as winners.
The passengers in all 19 suites were invited to an exclusive Indonesian luncheon honoring Holland America's Indonesian heritage with a special "Rijsttafel" (rice table). We met in Pinnacle Grill at 11:30 but the actual lunch was IN the galley. It was really neat since they made a really long table and we were seated on either side of it (and there were place cards so we had assigned seats). One side of the table looked at a wall and the other side of the table looked at the working galley. We got the "good" side and got to watch the cooks at work. The galley was even decorated for the occasion with Indonesian regalia and the stewards wore their own Indonesian shirts. Filbert was seated directly in the middle of the long table and sat across from Linda Minnikin, the Cruise Director. Snookums sat next to him and was across from Diane, the woman that frequently eats breakfast in Neptune Lounge. Her husband, George, was getting over being seasick (the night was a bit rough) and didn't come.
The starters that we received were:
– Kerupuk (prawn crackers)
– Bumbu Gado-Gado (steamed assorted vegetables with peanut sauce)
– Soto Ayam (chicken consommé with coconut garnished with vegetables and quail eggs)
Then we were served a plate containing all of the following entrees:
– Nasi Goreng (Javanese fried rice)
– Sambal Udang (shrimp in spicy chili sauce)
– Daging Rendang Sumatra (stewed beef Sumatra style)
– Pisang Goreng (banana fritter)
– Sambal Goreng Buncis (chile spiced green beans)
None of the dishes were spicy (really, they weren't) and the condiments included Serundeng (roasted peanuts with toasted coconut), Ketjap Manis (sweet soy sauce) and Sambal (spicy chili sauce). We used a lot of the sambal! The maitre 'd apologized to us for not having any fresh sambal but the ship ran out of fresh chili peppers. The jarred stuff had to do.
Dessert was Pudeng Nasi (rice pudding with brown sugar sauce) and it was an awesome rice pudding with HAL's huge raisins in it and it was served in a martini glass and the runny brown sugar sauce had been placed on top of it much earlier so that it soaked into the rice pudding. It was absolutely delicious (and rich).
Red and white wines were also free flowing and Snookums ordered a Caffeine Free Diet Coke. Filbert and some of the other guests were sweating during most of the lunch since the galley was hot (and we could see the steam coming from the stoves and steamers as the cooks were working) but it was a lot of fun and a really neat experience. Since the Prinsendam is small and only has 19 Deluxe Verandah Suites, it can offer these more intimate experiences to its suite guests. When we were on the Amsterdam, with its 52 Deluxe Verandah Suites, the suite lunches were in the Crow's Nest and you had to juggle your plate on your lap. Even Pinnacle Grill isn't big enough to hold the passengers from 52 suites.
After lunch Snookums met with Tina, the future cruise consultant, to book three more cabins for the ms Amsterdam's 14-day Alaskan Explorer cruise in 2012. When Hotel Manager Craig Oakes upgraded us to Suite 001 on this cruise he created a suite monster in Filbert and as a result, Filbert requested that Snookums book a Deluxe Verandah Suite for the Alaska cruise! Snookums' parents will also be in a Deluxe Verandah Suite. Two of her sisters will be in an inside cabin very close to her parents' Deluxe Verandah Suite and her brother and sister will share a verandah suite (but not a Deluxe one so they won't have Neptune Lounge access) somewhere on the ship. It should be a fun trip with eight of us going.
ESPN was showing Saturday's replay of UCLA vs. Illinois Division I Women's National Championship and Snookums enjoyed watching UCLA win while Filbert was on the verandah.
Later on in the afternoon Snookums went to an "invitation only" event. The invitation stated "As a travel agent, group escort, valued Mariner or business partner, you are invited to this cruise's question and answer session" and since Snookums had never seen this kind of invitation before, she went. She found out that it was a focus group-type meeting and the Hotel Manager, Cruise Director and Shore Excursion Manager were there to listen to the kudos and complaints from a small group of passengers. There were around ten passengers there. Free sodas were passed out, too!
Snookums' only comments were that it would have been nice if HAL would have notified the passengers in advance about the possibility of having to conserve water while on the Amazon (and therefore shutting down the public laundry facilities for eight days) since this seems to happen on EVERY Amazon cruise. She also suggested that the Captain's 1 PM daily announcement either be taped and replayed on TV like the lectures are or even typed up and posted at the Front Desk. If you are eating lunch in Lido and the Captain comes over the PA, you can't hear him since not everyone shuts up. She also requested that there either be a larger internet package sold or even an unlimited one sold. Right now the largest internet package is 250 minutes for $100. Filbert used two packages on this cruise and Snookums used one. Unlimited internet would be awesome!
Tonight was the sixth and final formal night and we decided yesterday not to attend. We enjoyed room service instead. The steward brought our appetizers (escargot, seafood bisque and salad for Filbert and shrimp cocktail and penne pasta with pancetta for Snookums) and then said he would come back in around 15 minutes with our entrees so that they would be hot. That was a first and much appreciated. He brought Filbert's surf and turf (lobster and filet mignon) and Snookums' parmesan crusted veal. Filbert enjoyed his white wine and Snookums ate chocolate decadence cake for dessert. It was a nice evening.
Our stewards (Yekti and Amin) came in and serviced our suite for the second time (they come every morning and evening). When they left we noticed that they left a certificate on the bed that proclaimed that Snookums and Filbert cruised the Amazon while in Cook's Suite 001 and a picture of Captain James Cook and a little of his bio was on the certificate, too. We assume that only 19 of these were handed out (one per Deluxe Verandah Suite since each Deluxe Verandah Suite is named after someone which is not the case on the ms Amsterdam where they just are numbered). This is just another example of how the Deluxe Verandah Suite passengers on the Prinsendam are treated. It's nothing big, but it is kind of neat. We'll post it on our basement wall along with the equator crossing certificates we were given earlier in the cruise.
We turned on TV and saw that Monday Night Football (Steelers at San Francisco) was delayed due to a power outage. That doesn't happen too often! We also moved our clocks back one hour.
We both woke up around 12:30 AM due to the motion of the ocean. We didn't feel sick, but the ship was rocking and rolling and listing a lot. We turned TV on in case the football game was still on, but it wasn't. We listened to the post-game show, though, and found out that San Francisco won.
December 20 (Tuesday, Day 25, At sea) –
We woke up around 7 AM and were tired from the bouncy night. We showered and went to Neptune Lounge for our normal breakfast. Maybe tomorrow we'll eat in Pinnacle Grill for our last breakfast. When we returned to our clean suite Snookums updated the journal and Filbert wrote his Christmas cards.
We went to lunch and Snookums ate her dessert with Anne and Henry and talked for a couple of hours. Snookums learned that Henry gets a pension from both Austria and Germany and also might get some reparations from France since he was captured in France. It's the least that these countries could do.
Then it was time to pack. It's always much easier to pack at the end of a cruise than it is at home. At the end of the trip you just have to empty out all of the drawers and closets in the cabin. Easy.
Snookums went next door to Bill and Marykaye's room and asked if they could email a photo of yesterday's Indonesian lunch in the galley since Snookums didn't want to buy one from the ship's photographer. She was told "Yes"! That photo will go in this journal, with the proper credit given to Marykaye.
December 21 (Wednesday, Day 26, Ft. Lauderdale, FL) –
We woke up and enjoyed a leisurely breakfast in Pinnacle Grill. It was nice being served a hot meal for breakfast. We saw two ambulances pull up and waited to see what was going on, but after thirty minutes we decided to call it quits. We did see some passenger luggage being put in one of the ambulances so we know that a passenger was sick, but we gave up and went back to our cabin.
We left the ship at 8:30 AM and got to our airport gate at 9:20AM. That had to be a record of some kind. Snookums also found $1.36 as she was going through airport security. The flight from Ft. Lauderdale to Chicago wasn't too full and we managed to have an empty seat between us. After a quick bite at O'Hare, we boarded the flight for Kansas City and arrived 20 minutes early. By the time we got our luggage, Snookums' brother was at the curb ready to pick us up. Nothing like ending the cruise with a no-hassle day of travel!!
We traveled about 1,000 miles of the Amazon (Macapá to Manaus) and that was enough to get a taste of this 4,200-mile long river. It was a great cruise, but from what we can tell, there are only seven ports of call in the Amazon and we traveled to six of them. I don't think we need to go on another Amazon cruise just to visit the other port, Belém!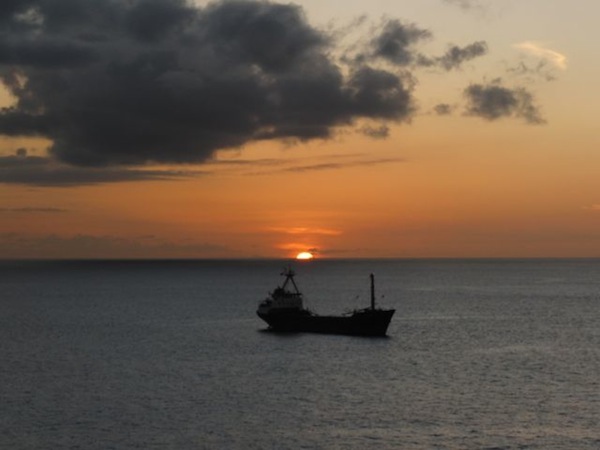 Another cruise's end, another sunset
Co