Contributed by: filbert Tuesday, February 21 2012 @ 03:17 PM CST
The 24-Day Amazon Explorer Cruise 2011, November 26–December 21, 2011, Holland America Prinsendam
Text by Snookums, Pictures by Filbert
Part Four
December 6 (Tuesday, Day 11, Santarém, Brazil)-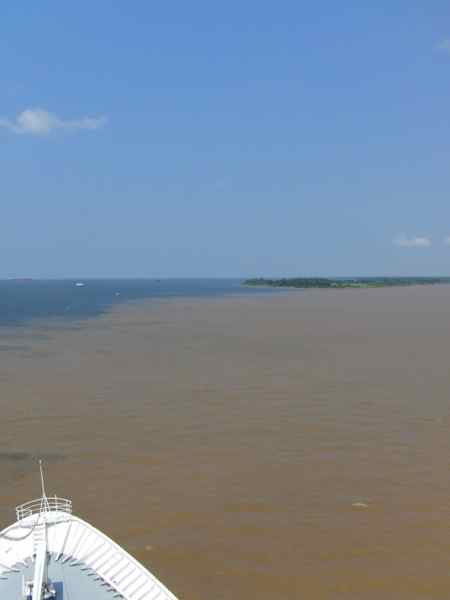 Meeting of the Waters, Santarém
We woke up and went to the gym for a 45-minute workout. Then we had a light breakfast at Neptune Lounge. We had been told that we would be able to see the "meeting of the waters" starting about one hour before we docked at Santarém so we went to the Crow's Nest to see it. It is quite impressive to see the muddy water of the Rio Amazonas (Amazon River) flow side by side with the reddish-black water of the Rio Tapajós. The two rivers flow side by side for a few miles before their waters mingle and this phenomenon can be easily seen from Santarém, a city of 200,000. After a quick lunch it was time to meet for our piranha fishing excursion. For our $79 piranha fishing expedition, we got on a covered boat with about 35 other HAL passengers. Before we got on the boat, we walked by two larger boats that contained a bunch of hammocks and people in them and luggage on the floor. We learned that these boats would either take the passengers to Belem (near the Atlantic Ocean) or to Manaus (farther upstream on the Amazon). For $50, a person can book a hammock for the 48-hour trip. For $100 a person can get a cabin. This 48-hour boat journey would only take 45 minutes by air and but would cost around $300.
Our boat took us to Maica Lake which is a natural tributary outlet of the Amazon. Along the way we passed the meeting of the waters. We saw a pink river dolphin and several black river dolphins. Both species are pretty elusive and don't really seem to travel in pods. A dolphin surfaces and then it goes away. And since the water is so muddy, you can't see it under the water. You either see it during its short time on the surface, or you don't.
When we got to Maica Lake, we were given long lengths of fishing line with a hook that had raw beef on it. To fish for piranha you just throw it overboard. Snookums got bored rapidly and quit trying but Filbert kept on fishing. His bait was eaten one time but he didn't get a fish and had to re-bait. Our boatload of people caught seven or eight apple piranhas and one catfish. The largest piranha was probably six inches long. They weren't that big, but their jaws seemed very strong and their teeth even stronger. The crew on the boat made sure to take the piranhas off the hooks a certain way so that they didn't get chewed up. The crew definitely respected the piranhas.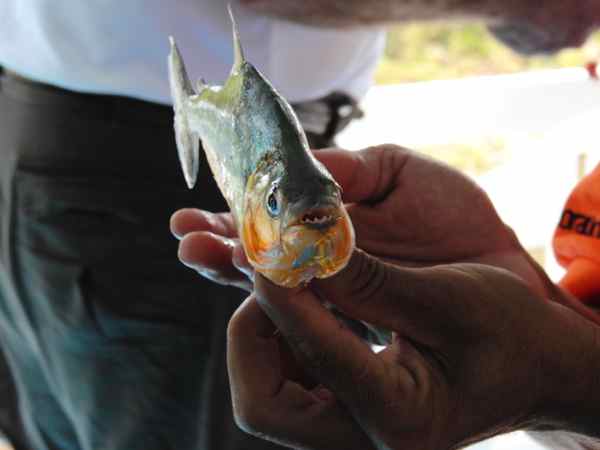 Piranha
We thought we were going to get to eat cooked piranha, too, but that didn't happen so Snookums will have to go to the Tour Desk and find out why the tour wasn't as advertised. During our trip to and from Maica Lake we saw several "shacks" along the banks. We also saw some "ranches" and cattle but they were also just little shacks and some barbed wire fences. It is definitely rustic living!
We got back to the dock at 5:05 PM and a free shuttle was running to town until 6 PM. Snookums hopped on and went to town and walked around. She found three tourist stores but they each wanted $1 or so for a postcard! Santarém was a little bit more of a tourist town as compared to Macapá, but not much. Lots of people were out and about and it was quite pleasant with a breeze and the setting sun. When Snookums returned to the dock she shopped at the tourist stands and found out that postcards were $.50 there. It's the first time Snookums can remember seeing things cheaper on the dock as compared to town. She didn't buy any on dock, either.
The daily program stated that the self-service laundry facilities will be closed from today until December 13 in order to save water. We are thankful that we have HAL to do our laundry for free (and, yes, the laundry service will continue to operate). With it being so hot and humid, we are changing clothes at least once a day.
December 7 (Wednesday, Day 12, Boca da Valeria, Brazil) –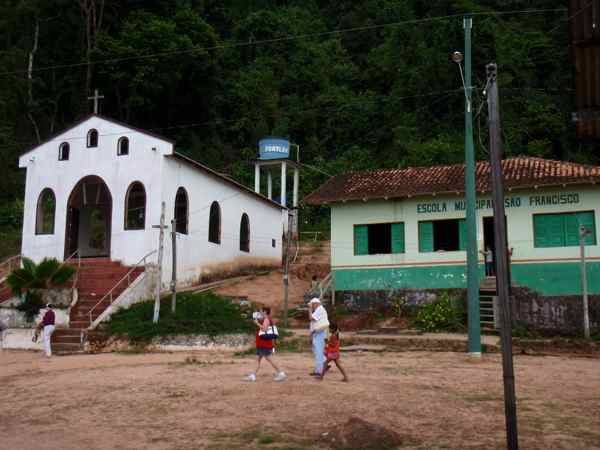 Boca de Valeria
Today we anchored and tenders went back and forth to Boca da Valeria. Rio da Valeria is one of the thousands of tributaries that feed into the greater Amazon River and the village of Boca da Valeria (mouth of the Valeria) is at the meeting point with the Amazon. It is a typical Amazon village with around 75 permanent residents. Filbert decided to stay on board but Snookums was up for the adventure. Before she left we saw a couple of pink river dolphins from our verandah.
She got on the tender and a little boy with his sloth was hanging out of a canoe leaning in the other door of the tender. You could take his photo and give him money. The tender got to shore and children immediately rushed up and grabbed for hands since the kids wanted to be tour guides (and earn money). They didn't speak any English. Snookums kept her hands clasped together and walked along the path that went through the "village". She saw several huts on stilts, a church, a school, a restaurant (it looked out of business) and a bar. The bar was basically a gazebo and it was at the end of the path and was full of HAL passengers drinking cold beer and sodas. Along the way there were lots of children holding parrots and monkeys and sloths and some of them were dressed in "Indian" garb (feathered headdresses and such). If you took a photo, it was expected that money be given. Snookums only took photos of the overall atmosphere. There were also six or seven kiosks selling various handicrafts (mostly wood carvings) but Snookums didn't find anything of interest. If you buy any wood object at any of the ports, it will be put in the ship's freezer for at least 48 hours to kill any bugs in it!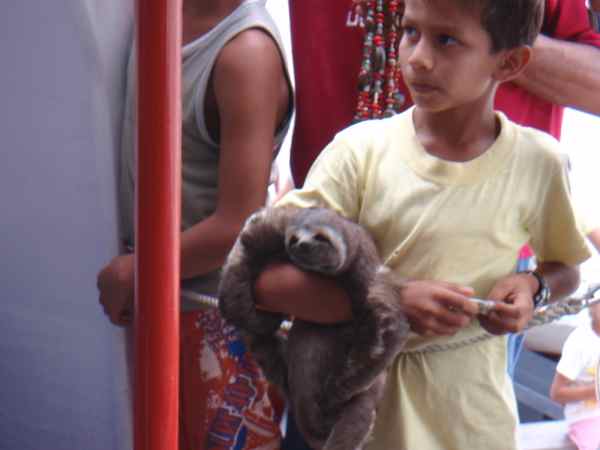 Sloth boy
There was a path to the left of the bar and Snookums walked along that. It went into the forest and she enjoyed the huge trees and tropical flowers. There were three huts at the end of the path and she turned around and retraced her steps to the main street (path) of the village. She was surprised to see a TV satellite dish. While Snookums was at Boca da Valeria, it was cloudy and therefore very pleasant. Villagers were also offering 30-minute canoe rides on the Valeria River for $5 (US) per person, but Snookums only had large Brazilian reals with her and didn't want to hassle with getting change back so she didn't participate but would have liked to. If she ever returns here, she will take fresh fruit (but not bananas since they grow wild in the jungle) from the ship and hand it out at the end of her time on shore (so as not to get a hoard of people following her during her time on shore).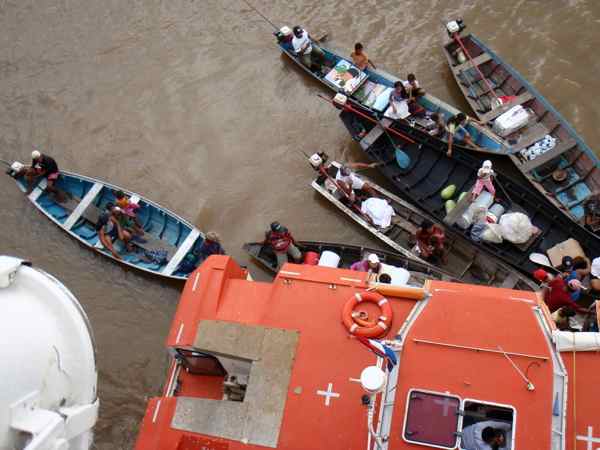 Traffic jam
While Snookums was on shore, Filbert stayed on the ship and finished the journal from our August-September Baltic/Northern Explorer HAL ms Eurodam cruise. In Manaus we plan on meeting with our friend, Bill, on his ship, Regent Seven Seas Navigator. He is also on an Amazon cruise and is a day behind us but since we overnight in Manaus, we'll overlap. Not only do we plan on visiting with him, but now we'll use his free internet access to post the past-due trip journal to www.medary.com/article.php/dover2011.
Snookums went to the gym before dinner and was the only one there for her 45-minute workout. After that it was time for our third formal night dinner. After dinner we noticed a lot of insects on the outside of the windows by the dining room. We could only see the undersides (and had no interest in going outside to see the tops of them), but one of them had a red head, a yellow middle and a blue end and its underbelly was light green. Very pretty! It was bigger than a lightning bug but wasn't huge or anything like that. These were the first insects we noticed since arriving in the Amazon other than wasps on our piranha fishing trip.