Contributed by: filbert Monday, February 20 2012 @ 03:13 PM CST
The 24-Day Amazon Explorer Cruise 2011, November 26–December 21, 2011, Holland America Prinsendam
Text by Snookums, Pictures by Filbert
Part Three
December 3 (Saturday, Day 8, Devil's Island, French Guiana; €1 = $1.32; $1 = €0.76) –
Snookums woke up at 9:55 and decided to run to Neptune Lounge for a sunshine parfait (minced, and NOT diced, cantaloupe topped with yogurt and granola) mixed with fresh berries (strawberries, raspberries, blueberries and blackberries). She thought the breakfast items were taken away at 10 AM in Neptune, but she found out it's served until 10:30. She ate her yogurt mixture on the verandah and read her book. Filbert woke up and visited Neptune Lounge, too, but didn't know Snookums was on the verandah and he ate his oatmeal inside and then returned to the cabin.
Filbert saw a hammerhead shark from the cabin and another fish that he managed to photograph.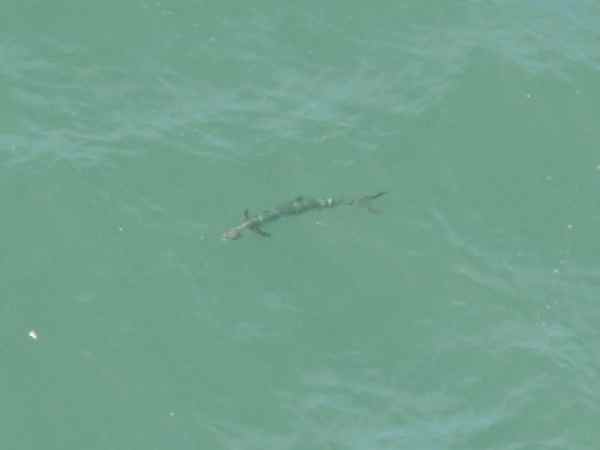 Fish
Snookums came back to the cabin around 11 and both Snookums and Filbert saw some foot-long fish (at least they looked around 12 inches from up on deck 12) that might have been baby sharks. The ship slowly passed the three islands of French Guiana on the starboard side which is the side our suite is on. One of the three islands, Île du Diable (Devil's Island), was considered escapeproof because of the strong currents and sharks. They look like tropical paradise and one would never know that of the 80,000 prisoners that were sent here, only 30,000 lived to tell about it. The ship tendered to 70-acre Île Royale which was also part of the prison and up to 2,000 criminals were interred here at one time.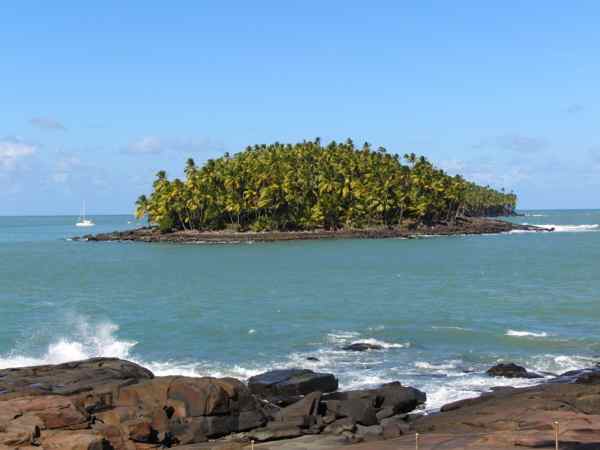 Devil's Island
On Île Royale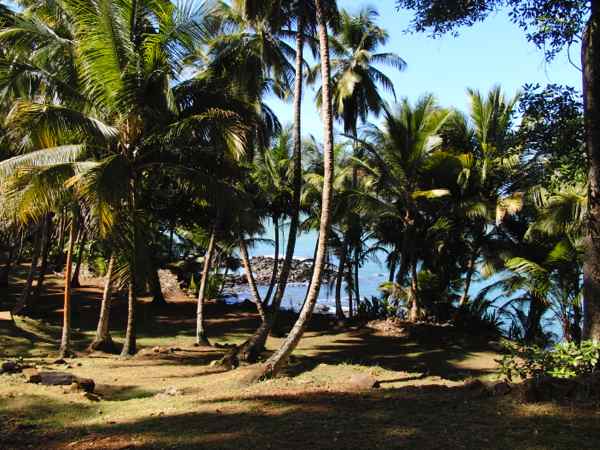 Tropical paradise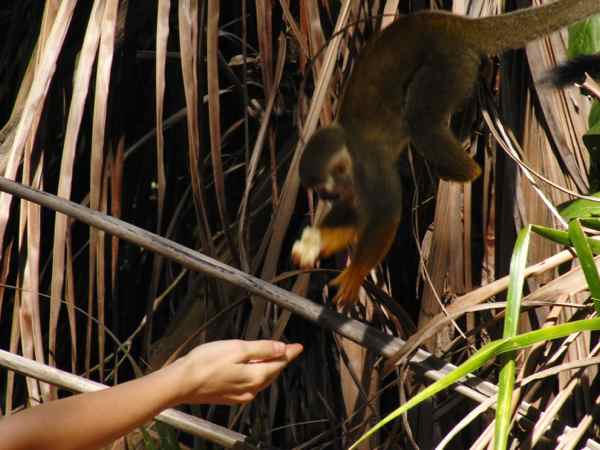 Monkey see, monkey eat
We walked around the island for about 2-1/2 hours and were very happy that there was a stiff breeze to help with the humidity and sunshine. There were no bugs. Along with the ruins of the old barracks, chapel, lighthouse and the former guards' mess hall that has been restored to a not exactly luxurious hotel with a gift shop (but the postcards were bad), we saw red-rumped agoutis (large tailless, long-legged guinea pig-like rodents), monkeys, chickens, a pheasant (!) and sea turtles. We even managed to see an agouti steal an egg from a chicken and eat the insides. It was a great, albeit sweaty, day. If we manage to come back here, we will wear our swimming suits since there is one place on the island (Anse Legoff) where you can swim and it looked very inviting.
Agouti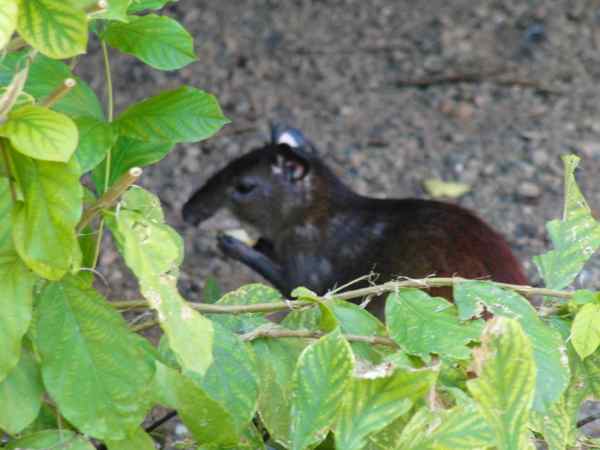 Agouti eating an egg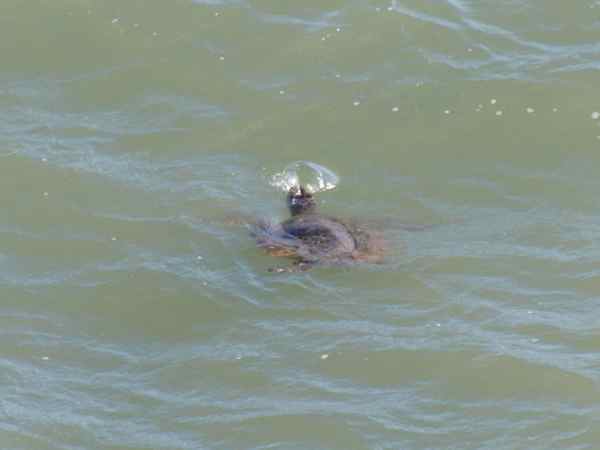 Sea turtle, eating a jellyfish?
Upon arriving back to the cabin, Filbert immediately took a shower while Snookums went to Neptune Lounge and enjoyed some fresh vegetables while reading her book on the verandah. Filbert joined her. Around 5:30 PM, Snookums left since she was getting chilly. After a nice shower, we enjoyed watching Baylor vs. Texas football on ESPN until it was time for dinner.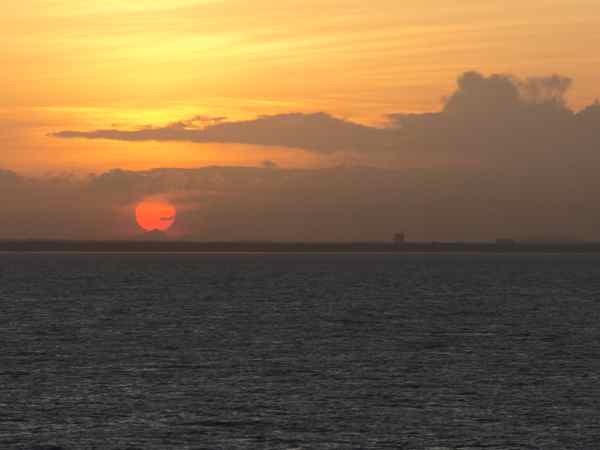 Sunset over French Guiana
December 4 (Sunday, Day 9, At sea) –
We woke up around 9:30 AM when the phone rang. No one was there. We enjoyed a leisurely breakfast on the Neptune Lounge verandah and Snookums saw a large fish, possibly a shark. She saw a smaller fish, too, that seemed to be about a foot long. After breakfast we read while lounging on our verandah. Then it got sunny and we went back to Neptune and its port-side verandah for a late, light lunch. During all of this verandah-sitting, we noticed that the water went from green to muddy. We aren't supposed to reach the Amazon until 4 AM, but we are already starting to reach water from it.
When our suite was cleaned, an invoice was left under a new bottle of water for the bottle of water that Filbert drank yesterday. When the Hotel Manager showed us suite 001 on Tuesday, he made a point of noting that the mini-bar had been emptied (since that was one of our minor issues the first two days) and when we moved to 001 we saw that there were two bottles of water and we assumed they were free. Guess not. Snookums wrote a little note to the Hotel Manager and included the $1.91 invoice and requested that someone come and pick up the ship's two bottles of water since we brought a case of water onboard and had no intention of buying any from HAL.
Since we're in a Deluxe Verandah Suite, we were invited to a 7:15 PM pre-dinner cocktail party in the Crow's Nest. We met a couple from Australia who is doing this cruise and then a 7 or 14-day Christmas cruise and then they are doing Holland America's world cruise and will get off in Sydney since that's home. That's a lot of cruising!
December 5 (Monday, Day 10, Macapá, Brazil, Crossing the Equator; 1 real = $0.56; $1 = 1.78 real) –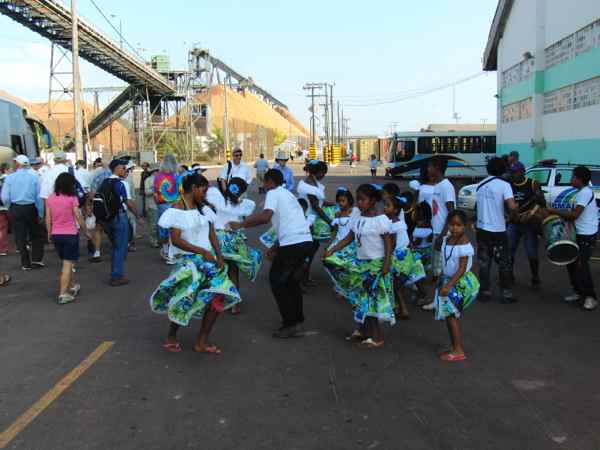 Welcome to Macapá
We woke up early to get ready for our bus transfer to Macapá. We actually docked at Porto Santana and this is the first port in the Amazon and is where all ships must be cleared by Brazilian officials. Macapá is a 45-minute bus ride away, in a bus without air conditioning! It's a town of around 300,000 and is split by the equator. It is not a tourist town.
We bought the $24 per person bus transfer to Macapá and walked around the town for 2.5 hours. If we didn't buy the bus transfer we weren't going to be able to walk around Porto Santana since it's an industrial port and therefore we would have had to stay on the ship. When we got to Macapá we stood in line at two different banks to try to use the ATM but our debit cards didn't work at either bank. We finally found HSBC, which is an international bank, and our card worked and we got our Brazilian reals. For some reason every bank that we passed had lines in it and we remembered seeing this in Rio de Janeiro, too, when we were there last year. And, it was taking some of the people a very long time at the ATM to do their banking so we don't know what they were doing.
Another goal we had for today was for Snookums to buy Havaianas which are Brazilian flip-flops. When we were in Rio they were everywhere and all of the Filipino and Indonesian crew were buying them for their families for gifts. When Snookums returned back to the U.S., she noticed ads in various magazines for Havaianas and that is when she decided she had to have a pair of these cheapy rubber flip-flops. 23 reals later (or $11.50) and she has a cute pair.
Then we went searching for a store that was mentioned in all of the guidebooks and finally was told that it was "finito". (We don't speak Portuguese, but when we showed the name of the store to the construction guy that was at the store's address, he said "finito" and we realized it was out of business.) After that, we went to the large grocery store and bought 8 cans of Coke Zero ($.70 per can which was cheaper than the price of Classic Coke), a 12-pack of Bohemia beer ($1.10 per can) and a 12-pack of Guaraná Antarctica ($.80 per can) which is a Brazilian soft drink that we were told we needed to try when we visited Rio but never had the chance. Well, we bought a 12-pack of the diet variety and it tastes like a sweet version of ginger ale so it isn't too bad. Guaraná is the soap nut. (??)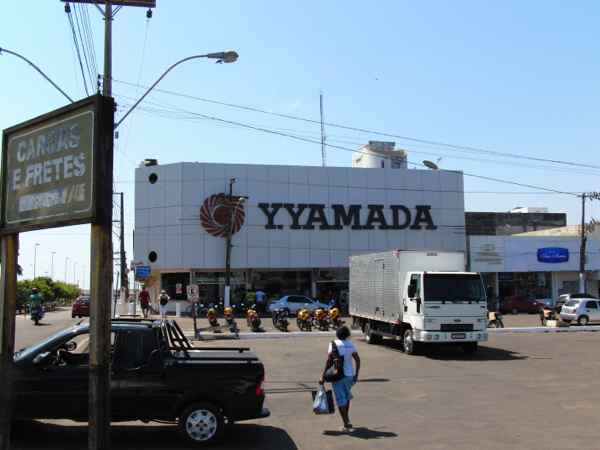 Y. Yamada grocery store (supermercado)
On the way back to the shuttle stop we passed by the grand Fortaleza de São José de Macapá which was built in the mid 18th century. By then it was time for the hourly shuttle back to the ship so we took it. We never even got to a tourist store!! A teenage boy got on the bus to sell postcards and since Snookums didn't have a chance to see any souvenirs, she managed to get 10 of them for $2 (but used Brazilian money) after he asked for $1 US for two of them. She felt like she got a great deal and even gave one of them to a lady that didn't have a chance to buy a post card of the fort. On the ride back to the ship we knew we were going to pass the Monumento Marco Zero which straddles the equator and Filbert was ready with his camera and got a great shot from the moving bus.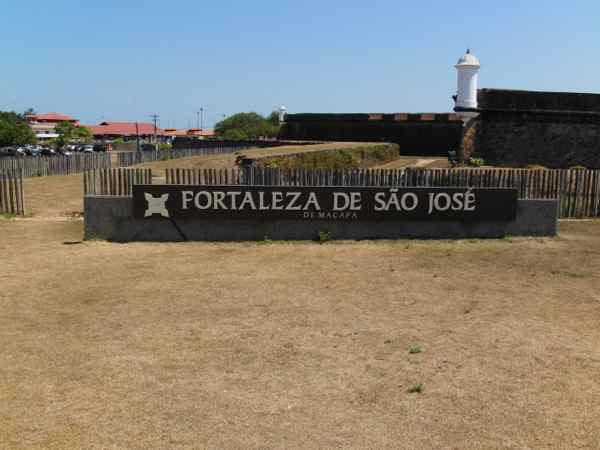 Fortaleza de São José de Macapá (or the sign thereof, anyway)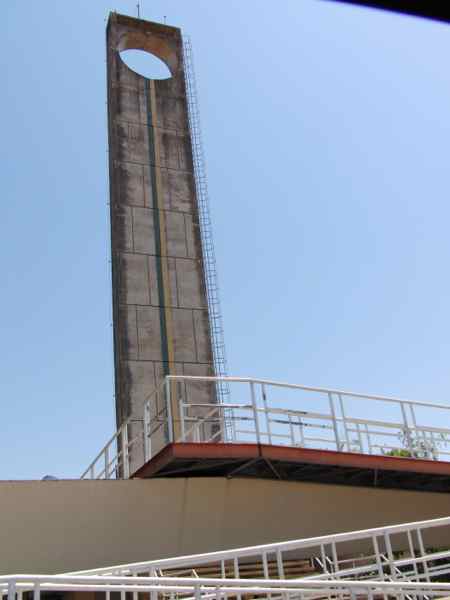 The Monumento Marco Zero
Dinner was excellent and we enjoyed choosing from things like vegetable and smoked duck rice paper roll and seafood and artichoke en bouchée for appetizers and soups included famous Italian wedding soup and cream of five onions soup. Entrees included spaghetti carbonara, blackened snapper Oaxaca-style and roast turkey with giblet gravy and cranberries. Snookums and Filbert ordered the turkey and enjoyed it. Desserts included torrone (chocolate nougat studded with candied fruit and pistachios and drizzled with chocolate sauce), Tom Pouce (sweet vanilla pastry cream between layers of puff pastry) and strawberry Romanoff. Snookums ordered the Tom Pouce with fond memories of Bruges, Belgium where there is a restaurant called "Tom Pouce" on the historic city square.