Contributed by: filbert Tuesday, November 23 2010 @ 07:54 AM CST
The 21-Day Mediterranean & Atlantic Explorer Cruise (And more!), October 26-December 1, 2010, Holland America Prinsendam
Text by Snookums, Pictures by Filbert
Part Five
November 7 (Sunday, Day 13, Athens, Greece) –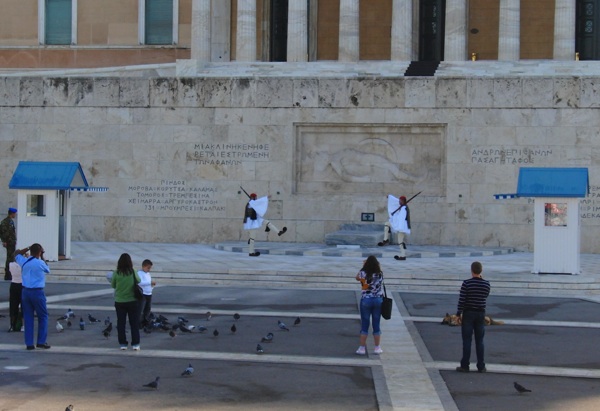 Guards–evzones–at the Greek Tomb of the Unknown Soldier
We met for breakfast at 7 AM and Charlotte's knee was bothering her a lot so our plan of doing the "hop-on/hop-off" was a good one. (Charlotte will have her knee scoped in December to fix her problem so she should be as good as new for our 2011 cruise.) We took the Metro to the start of the bus tour and enjoyed sitting in the open top of the double-decker bus for the next 90 minutes while hearing about Athens. Most stores were closed since it was Sunday and the museums were closed due to the election so it was very quiet other than some of the street vendors selling shoes, socks and other assorted new items displayed on blankets laid on the sidewalks.
More after the jump . . .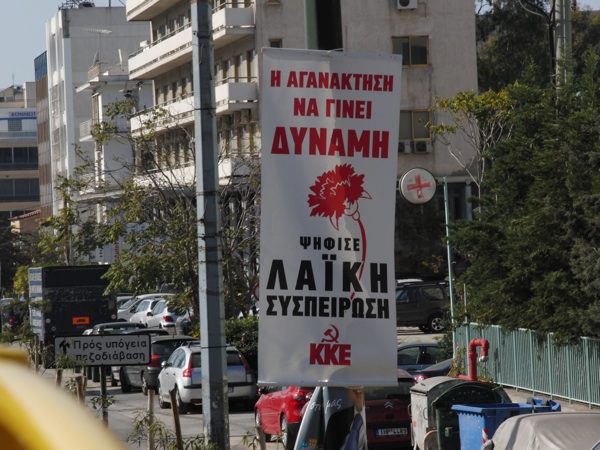 Commies!
It was another sunny day and the forecast was for 74 so it was perfect. Then we transferred to another "hop-on/hop-off" bus for the route to Piraeus, which is the port where the ms Prinsendam will sail from tomorrow.
Piraeus is a 25-minute metro ride from the Hilton and the hop-on/hop-off bus took about that long. We drove by the beach volleyball complex and the basketball arena used in Athens Olympics. Other than that, the trip to and from Piraeus was not very exciting other than we got to see the port where we'll get on the ship tomorrow.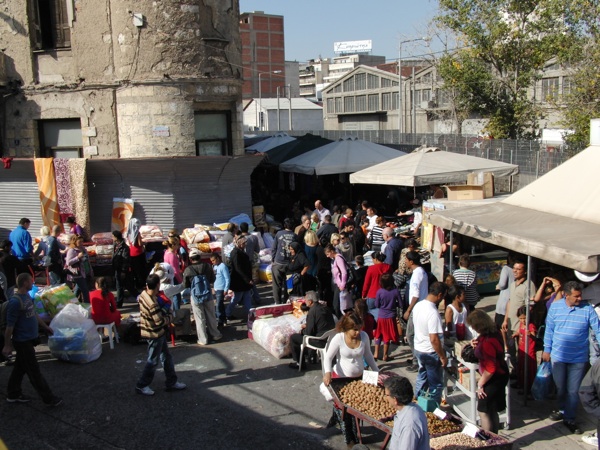 Busy street market
After our long and lazy tour, it was time for lunch. The final bus stop was in Syntagma Square which is considered the center of modern Athens. The Parliament building is the focal point and standing sentry outside are the evzones. The evzones are soldiers marching solemnly back and forth in traditional short skirts (with 400 pleats that they have to iron in themselves) and pompommed shoes. The soldiers march strangely, too, with very awkward leg movements that require exceptional balance.
We decided to eat a light lunch at one of the many outdoor cafes in Syntagma Square. Filbert and Snookums ordered a $4.50 cheese pie and $4.50 spinach pie and shared them while Gary ordered a $13.80 excellent spinach salad and Charlotte ordered the $4.50 spinach pie. After lunch we took the metro back to the Hilton. Gary and Charlotte took 3-hour naps since they still fought jet lag. Filbert and Snookums worked on this journal and posted it to www.medary.com.
We met again for dinner in the lounge and enjoyed looking at the lit up Acropolis one final time.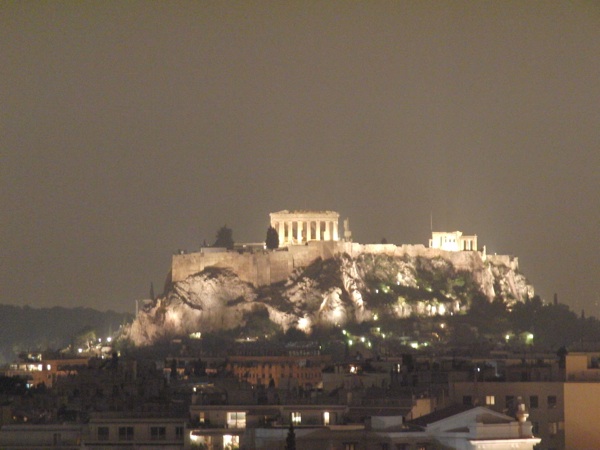 Acropolis at night
November 8 (Monday, Day 14, Boarding ms Prinsendam) –
We met for breakfast in the lounge, but without Gary. Charlotte said that he wasn't feeling well. That meant that the plan to put Charlotte in a cab with all of the luggage and then having Snookums, Filbert and Gary taking the $1.40 per person metro to the ship would have to change. We easily decided to take two cabs to the ship. Each metered cab cost $25 and we were very surprised at how cheap it was.
We got to the port around noon and we were told that the ship would start embarkation around 12:30. Filbert, Gary and Charlotte sat down at a little café and enjoyed Coke Lights and coffee while Snookums bought three more postcards of Athens and mailed them.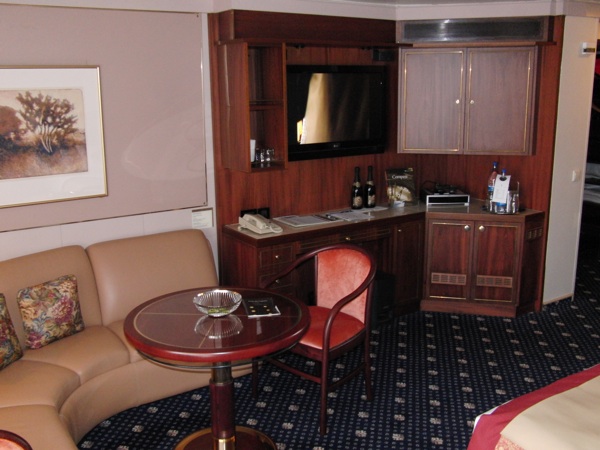 Our Prinsendam stateroom
Filbert and Snookums enjoyed lunch in the dining room and then wandered around the ship to do some tasks. We made our dinner reservation at Pinnacle Grill and signed up for the all-inclusive laundry package. Then we decided to go to Cabin 60 prior to the announcement that the cabins were ready. The cabin door was closed which meant it was ready so we went in and unpacked our roll-aboard. (Our two big suitcases hadn't been delivered yet.) We ended up getting all the suitcases totally unpacked and everything in its final position around 4 PM. The lifeboat drill was at 4:15.
We booked a Superior Verandah Suite and although we didn't get upgraded, we were pleased with the cabin class we booked. It has a king bed, walk-in closet, bath with tub and shower, two sinks, sitting area, verandah, refrigerator and floor-to-ceiling windows. It is approximately 362 square feet with verandah. The only downfall is that the large plasma television can only be seen from either the bed or the desk. The curved sofa in the sitting area corner is blocked from viewing the television since the bar shelves stick out two feet from the wall and the television only sticks out about two inches. The Bose sound system also sticks out too far under the desk. When they did the renovation the architect obviously didn't think through the footprint of the high-tech electronics.
Like all other embarkation days, we had a lot of "mail" waiting for us in the cabin. Both Snookums and Filbert received letters from the Hotel Manager, Francois Birarda, saying that he knew that we had identified areas of improvement on a prior cruise and that he would offer any assistance we needed on this cruise. Uh oh – it looks like we're on some kind of list!!! (We sent the CEO of HAL a letter after our wonderful Alaska cruise saying what a great time we had an offered two critiques about the room layout and the internet packages. The letter was meant to be very positive since we all thought the Alaska cruise was awesome but it seems like we might have ruffled feathers.)
Prior to our 7:30 Pinnacle Grill dinner Snookums fell asleep while reading her book. She was definitely in cruise mode!
Dinner at Pinnacle Grill should have been uneventful but ended up not. Snookums decided to order a filet mignon, which she never does since she's not a huge steak lover. She ordered it medium and when it was delivered with its exterior totally charred she took a bite but didn't like the taste. She decided to have two desserts instead and that was fine with her. However, the wait staff was not happy about the situation and repeatedly came to the table to find out how things were. The chef even came out of the kitchen to apologize for the exterior charring and said that the steaks are grilled on such high heat that if they are left on for one second too long, this is what happens. (Filbert's filet mignon was the same way but he ate it. It was medium on the inside, but totally charred on the outside.) After the chef apologized the maitre d came over and told us that we could come back for a free lunch. We thought it was pretty funny since Snookums didn't even make a fuss. It must be that list that we're on…
After our Pinnacle Grill dinner, we went to our dining room table (#19 – round table for six by a window) to meet our two tablemates. Charlotte was there but not Gary since he was still sick. Fran and MaryEllen, retired nurses that met in college, appeared to be having a great time. They've already been on the ship for 14 days and stopped in Cairo and Turkey, among other ports. It looks like we'll have nice dinners.
November 9 (Tuesday, Day 15, At sea) –
We woke up around 8 AM and decided to order room service. Snookums fell back asleep at 10 AM until 1 PM. Filbert wasn't feeling that well due to the 12-foot waves and alternated between bed and taking showers. He never threw up or anything like that but didn't feel too well. Snookums, on the other hand, was fine. Snookums left the cabin around 3 PM and had some tomato soup and chocolate ice cream and when she came back, Filbert was putting on his shoes and wanted to get some ice cream, too.
We sent word to our tablemates that we weren't going to dinner and ate in Lido (the buffet) instead. Tonight was the first of five formal nights so we didn't dress up, either. Gary was still sick and had actually gone to the medical office and was given some medicine and Gatorade and confined to his cabin until Wednesday morning.
We got back to our cabin around 8 PM and got to turn our clocks back one hour. Snookums watched the movie "Next" with Nicolas Cage. The ms Prinsendam has free DVDs.
November 10 (Wednesday, Day 16, Naples, Italy; Oops! – This port was canceled.) –
We woke up around 7:30 AM and Filbert felt 100%. We ate breakfast and Captain Albert J. Schoonderbeek made an announcement that instead of docking at 9 AM we would dock at 10:30 AM. (The captain posts a daily blog at www.captainalbert.com[*1] .)
We were in the cabin hanging out until it was time to dock when another announcement was made. This time the captain said he decided to cancel this port due to the high waves and the wait to get the pilot in order to dock. (There were ferries and other ships hanging around waiting in line.) And, it was raining which makes things in Naples that much trickier. He said that we would head on to Civitavecchia and hopefully we would be there tonight around 9 PM which would allow everyone to have a good night's rest. (It's been very rocky since we cruised out of Piraeus on Monday at 5 PM.) The cruise director then made an announcement saying that a new Daily Program was being printed with lots of shipboard activities. We were planning on walking around Naples on our own in the morning and then going on a ship's tour of Herculaneum this afternoon. Plan B.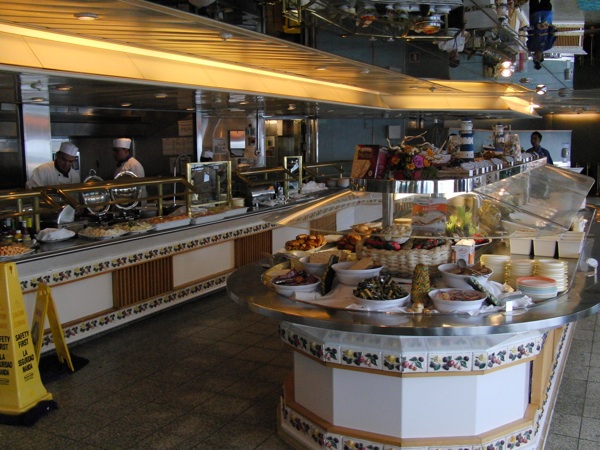 The Lido Restaurant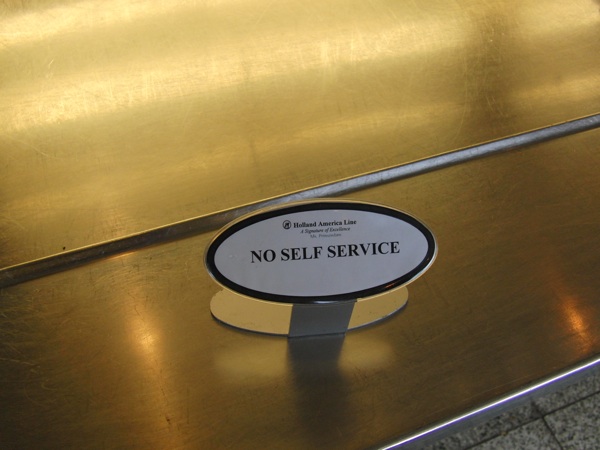 Not a buffet, for the first couple of days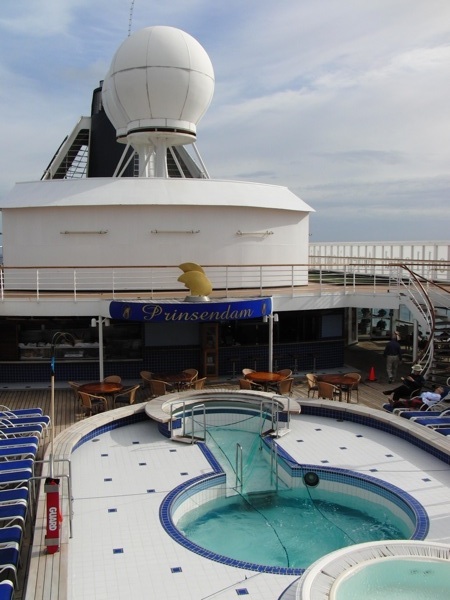 The pool deck
Dinner was nice since all six of us were there for the first time. After dinner the wine steward came around and started pouring champagne for everyone due to the missed port. Snookums requested a can of Caffeine Free Diet Coke instead and got it. She was happy with her $2.25 freebie. We were planning on attending the 10 PM show that the singers and dancers were putting on, but we had such a good time at our table that we didn't leave until at 10 PM. Filbert and Gary decided to watch an Italian soccer match in the sports bar and Snookums went back to the cabin and read her book.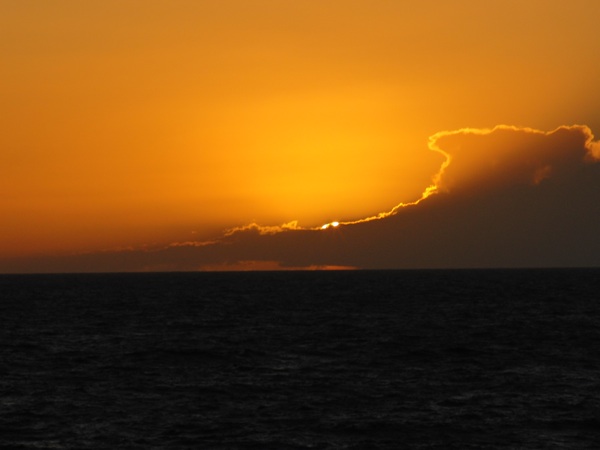 Sunset of a bonus sea day
November 11 (Thursday, Day 17, Civitavecchia (Rome), Italy) –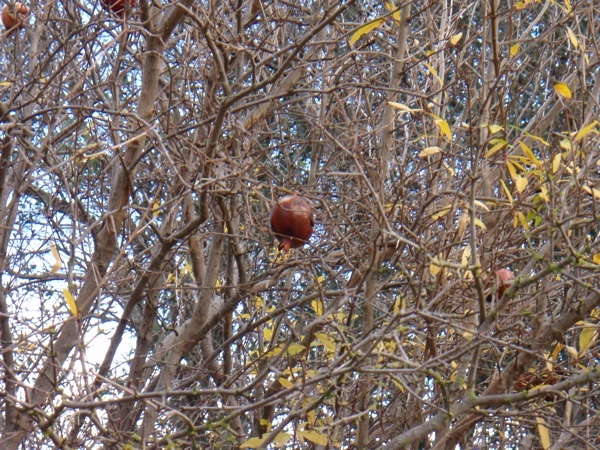 Pomegranates in the tree
We've been to Rome before and read that the port city of Civitavecchia wasn't very exciting so we paid for a ship's shore excursion to Tarquinia and Tuscania. Tarquinia was founded in the 7th century BC and was a magnificent Etruscan burial ground. We went into three tombs and saw the paintings on the walls. Then the tour went to the Archeological Museum.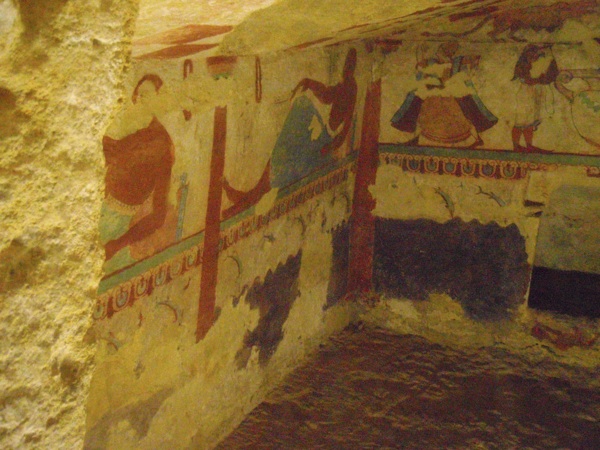 Etruscan tomb paintings
We were given about one hour to walk around and after ten minutes we decided to just walk around the old town. We went in the first grocery store we found and it was literally one room with the middle section storing the meat and cheese refrigerated cases. Along the outer walls were the produce, milk and groceries. It was the tiniest full-selection store we've ever seen. It had everything a person would need but not a large selection and it was tiny. And, a lot of locals were doing their normal shopping there. We kept walking around and managed to find the chain grocery store, Conad, about two blocks outside of the ancient city wall perimeter. We were amazed at the smallness of its aisles. If you forgot butter or something, you did NOT dare go back for it. You would just get it on your next trip to the store! We bought a couple of 1.5 liter bottles of Coke Zero for $2.35 each and several bottles of red wine for $2.80 each. (Yep, wine is basically as cheap as soda.) Filbert also bought 22 oz. bottles of Italian beer for $1.20 each.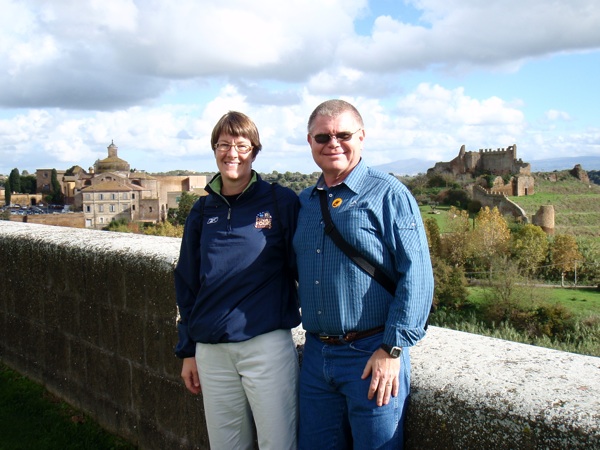 In Europe, with old stuff all around us
Our next stop was Tuscania which is one of the oldest towns of Italy – a cradle of the Etruscan civilization from 900-700 BC. We walked in the medieval city center on cobblestone streets surrounded by the ancient walls. We still had a few minutes left before we had to get back to the bus and found another tiny grocery and bought two more bottles of Coke Zero and another bottle of wine. We figured that since our bus would ultimately take us all the way to the ship it made sense to buy as much as we could carry since it beat carrying it around on our own at another port.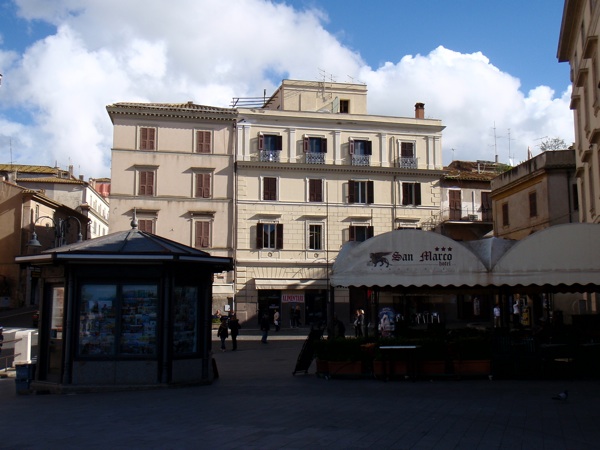 A square in Tuscania
Lunch was at a working farm and consisted of individual salads, lasagna and tiramisu. There was also hard, crusty, tasteless bread. Everyone commented on the bread's bland taste. It definitely needed salt. The red table wine was free flowing so that seemed to make up for it. Filbert had espresso at the end of the meal. It was a charming place and a nice lunch. Filbert even bought a bottle of their wine for $9.86.
Our next stop was at the small town of Marta, next to Lake Marta. Lake Marta is the 5th largest lake in Italy. It was around 3 PM and since it was a Thursday, everything was closed. We were told that in Italy everything closes on Thursday afternoons! It's true. We ended up getting back to the ship around 5 PM after a delightful day.
Next: The trains run on time!