Contributed by: filbert Sunday, November 21 2010 @ 08:01 AM CST
The 21-Day Mediterranean & Atlantic Explorer Cruise (And more!), October 26-December 1, 2010, Holland America Prinsendam
Text by Snookums, Pictures by Filbert
Part Four
November 5 (Friday, Day 11, Flying to Athens, Greece) –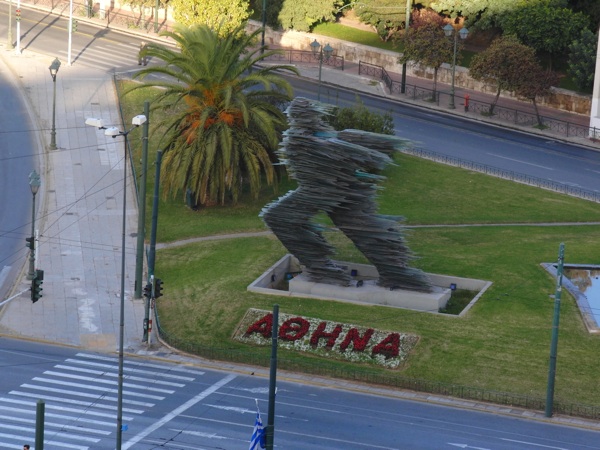 Athena, the statue
We woke up and Pat took us to the Stuttgart airport. We got to the gate in record time and our flight to Zurich boarded on time. We landed in Zurich for our 1-hour layover but had to go through security again since that was how the Swiss Airlines gates were laid out. We forgot that the free bottles of water that we stowed in our backpacks from the Stuttgart to Zurich flight were in there and, of course, they were confiscated. By the time we got to the gate we had about 25 minutes.
More after the jump . . . It was lunchtime and the only after-security eating establishment was a little coffee bar that sold three kinds of pre-made sandwiches. Snookums took the last $9.20 one that was on an 8-inch baguette filled with a piece of ham, a piece of cheese, one pickle slice, one lettuce leaf and one tomato slice for us to share on the flight. She also bought Filbert a $2.50 Coke Zero since there was a special of "buy a sandwich and get 50% off a soda or beer). We boarded our 2 hour and 40 minute Swiss Airlines flight to Athens and were pleasantly surprised to find out that the snack was a hot serving of pasta casserole (pasta, sauce, and cheese) and a small piece of cake. (We also ate the baguette sandwich.) All beverages were free, too, and we managed to walk off with two single-serve bottles of red wine for future consumption.
Our flight landed in Athens on time, we got our luggage and found the $4.50 (per person) public bus that stopped near the Athens Hilton (versus the $70 cab option). We knew how many stops we had to go until we got to the one that was "in front of" the Hilton but we lost count. And, the signs were in Greek and we only had the English versions. To make a long story short, we got off one stop too early and Filbert was not very happy while rolling two large suitcases down the street on broken sidewalks. Snookums was in charge of the roll-aboard and Filbert's heavy backpack that contained two computers and other electronic devices.
At 5 PM we got to the hotel, checked in to our free room due to using Hilton points and were upgraded to the Executive floor. This meant we had free access to the lounge that served continental breakfast, snacks throughout the day and hot appetizers and cold salads during dinner hours. There was free alcohol, too. (Filbert thought the beer from Macedonia tasted like the beer from Greece – there were two kinds of beer and he sampled them both.) And, our Internet usage was free.
Snookums used the free internet in order to sign up her volunteer team of seven people for their four shifts at the Women's Final Four in Indianapolis in April, 2011. She was dismayed to see that the two luncheons that they had always volunteered at were no longer being held, obviously due to budget cuts. That meant that not only would they have to buy their own lunches, but they would actually have to "work" at two other volunteer shifts since nothing is easier than standing at the doors of a banquet hall directing people to tables. Oh well, the good life of volunteering at Women's Final Fours had to end sooner or later.
After enjoying a nice free meal while looking at the lit Acropolis, we ventured out to get distilled water for Filbert's sleep apnea machine. The front desk clerk told us where a grocery store was about two blocks away so we went. We were surprised that it was the size of a convenience store in the U.S. but had meat and produce. It also had distilled water (per the label with the iron on it!). We stocked up on Coke Zero and bottled water, too, for our daily excursions. Coke Zero was $1.25 per 16.9 oz bottle and water was $0.28 per 16.9 oz bottle. A gallon of distilled water was $1.50. Cans of beer were $1.25. We also noticed that a Big Mac value meal was $7.30. Prices seemed cheaper as compared to Zurich and Stuttgart.
November 6 (Saturday, Day 12, Athens, Greece) –
Morning from our hotel room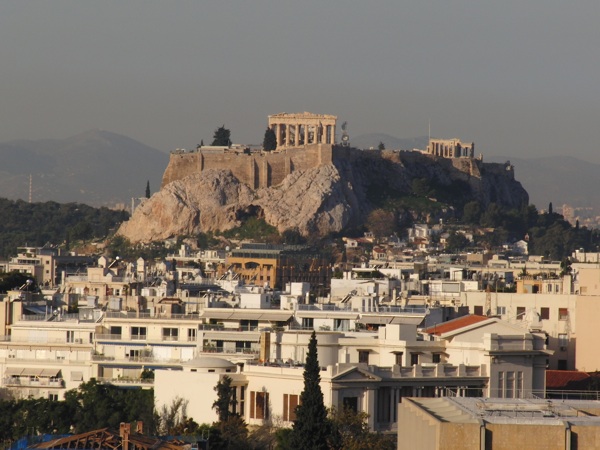 Acropolis from the Hilton
We woke up early since we wanted to get to the Acropolis when it opened at 8:30 AM to beat the crowds. We took the metro to the closest stop and walked up the hill. It was a beautiful day (like all of our days to-date) and was forecast to get to 76 degrees. We paid our $17 each and wandered around the Acropolis for about 2 hours. The Acropolis is the highest part of the city and has a lot of temples on it that were built in 5th century BC.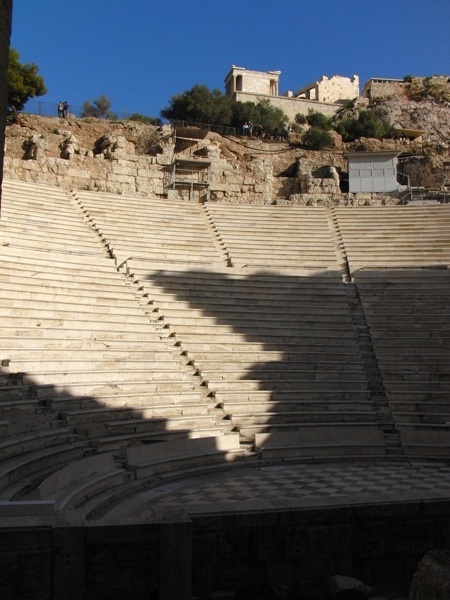 Ampitheater at the Acropolis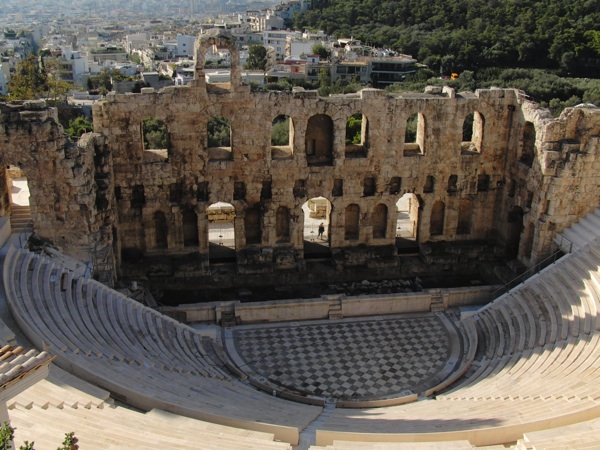 Another view of the Ampitheater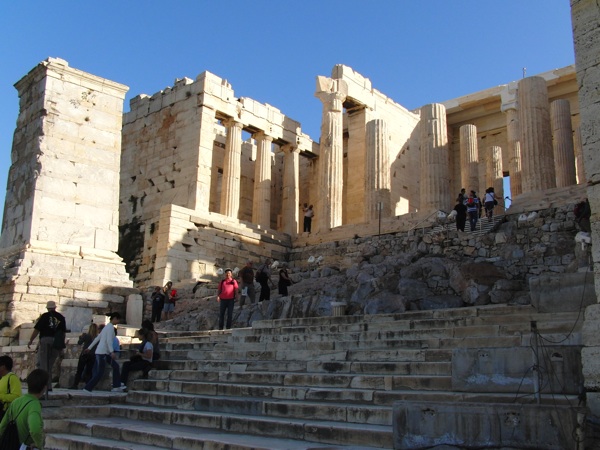 Steps up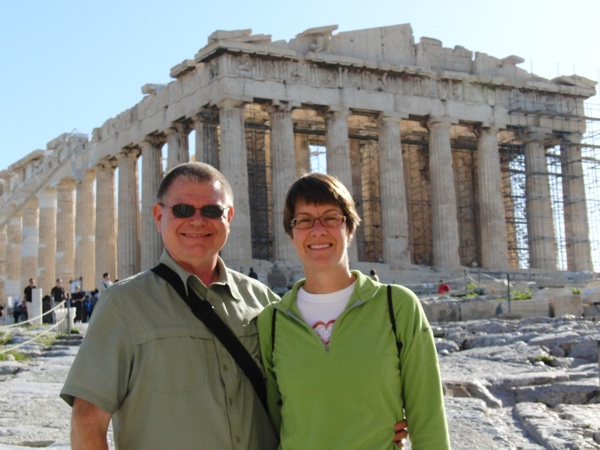 At the Acropolis
These temples are considered the most important monuments in the Western world since they have exerted more influence on our architecture than anything since. There is also a theatre that was built in 161. It was interesting seeing how the various temples have been reconstructed. You can't tell that they've been reconstructed until you read the signs and see the huge "rock inventory" still laying around waiting for further reconstruction.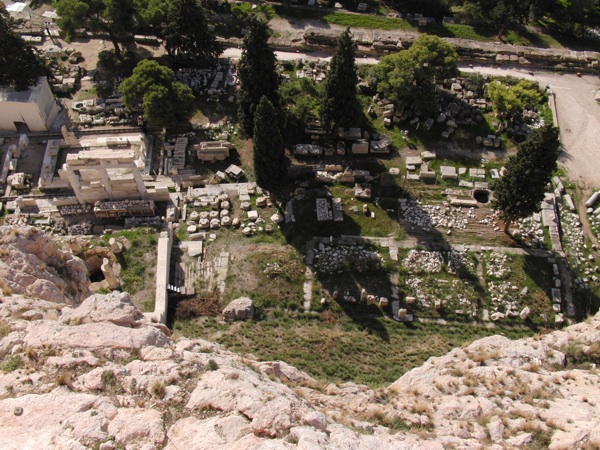 The "rock inventory"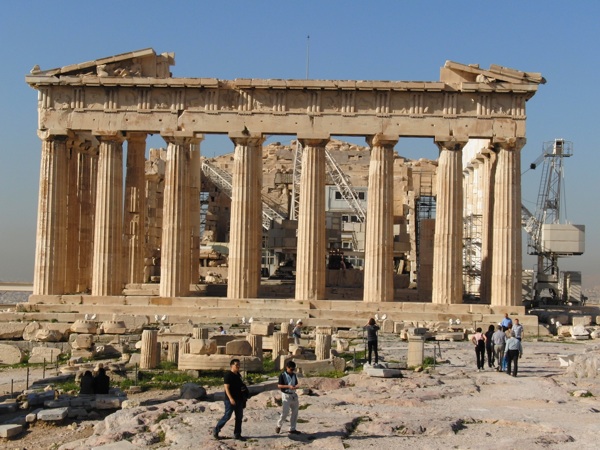 The Parthenon
After climbing all over the Acropolis and seeing the Parthenon, which is the epitome of ancient Greek Classical art, we continued to hike up the Areopagos which is the rock above the Agora. This gave a good view of the Acropolis and the Agora which we decided to visit next. The Agora is Athens' ancient marketplace that was founded in 6th century BC and was the heart of the city for 1,200 years. This is where Socrates addressed his public, where democracy was born and where St. Paul preached. It was not as well-preserved as the Acropolis, but we could definitely see where and how ancient Athenians conducted their daily business.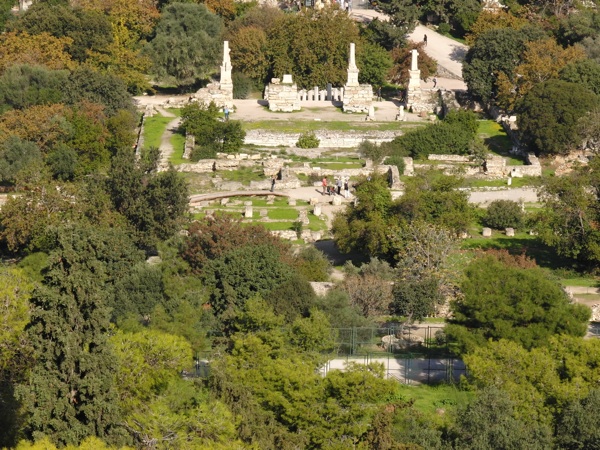 Part of the Agora, seen from the Acropolis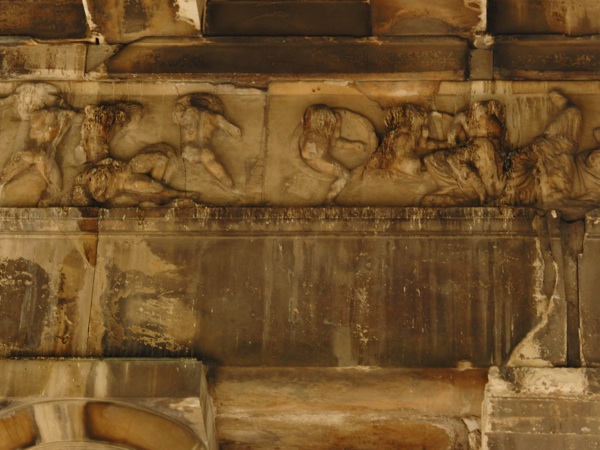 Detailed stonework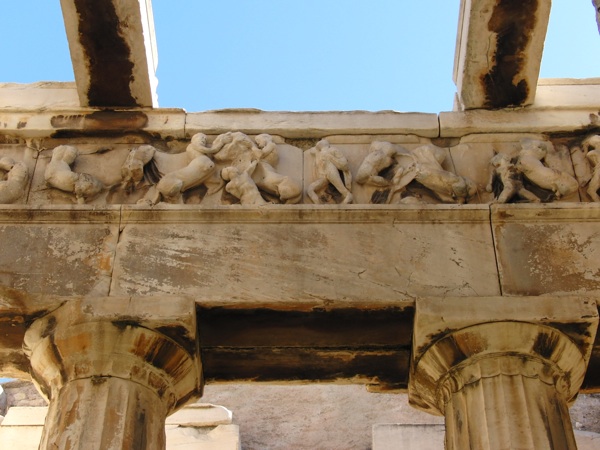 More detailed stonework
We were hungry by now and wandered around for another 30 minutes looking for a restaurant mentioned in Fodor's. We never found it but found the flea market near Monastiraki and could have bought lots of old coins, photos, chairs and other assorted junk. We did find an art gallery and bought a small $14 painting of the Parthenon for our travel wall at home. We kept wandering and ended up on a street full of souvlaki restaurants with lots of outside seating. One proprietor approached us and we said "yes". We were going to each order a $12.50 dinner of four kebabs but when we saw the lady's next to us, we amended our order to one dinner and asked for an extra piece of pita bread. We also decided to order a $4.25 order of "spicy cheese salad". The waiter brought us our food and we were each served a plate that had pita bread on the bottom with two skewers of meat, raw onions and two roasted tomatoes. The spicy cheese salad was the consistency of canned chocolate frosting and we think it was made from Greek yogurt, feta cheese and spicy peppers all blended together to smooth it out. It was delicious and we would order it again but next time would order the $4.25 tzatziki salad (Greek yogurt, cucumbers, onions) to be more traditional.
Snookums encountered one more water dilemma with this meal. She refuses to pay for water and had to buy bottled water the first night in Zurich and then thought she could get free tap water the second night and was charged for it. So today she looked at the menu and decided she was thirsty so pointed to the description in English that said "1 L Water". The waiter brought out a large bottle of gassed water. She then said that she wanted still water (no bubbles) and he said "But, I already punched it in." and walked away in a huff. Snookums wasn't sure what that meant until he brought a pitcher of tap water to the table. It would have been free, but since the receipt had already been "punched in" and printed, we ended up having to pay $1.50 for a pitcher of tap water! Snookums just assumed that since water was on the menu, like in the rest of Europe, she would have to pay for it so she pointed to it and ordered it. Now she knows that in Athens a person can ask for tap water and get it for free. We decided at that point that our feet and legs were tired so we headed to the Hilton. On the way back we walked through the National Gardens that were originally planted in 1839 as the Royal Garden of Queen Amalia. Given the state of Greece's current economy, it was very surprising to see it so well maintained. It even had a very small free zoo with pens for oryx, a mule, bighorn sheep, rabbits, ducks, geese, and chickens.
During our walk around Athens Snookums found two .01 Euro coins (worth about $.01 each) to go along with the two Swiss .10 pieces that she found in Zurich. That makes $0.23 she has already found on this trip. In all of our trips, there have only been two countries where she has not found money on the ground. One was Tanzania and she doesn't remember the other one. Since she collects the cheapest coin from each country as a souvenir, these finds are usually pretty meaningful to her. (She's weird that way!)
We got back to the Hilton around 3:00 and were thrilled to see a note in our room from our Arizona friends, Gary and Charlotte. We decided to run up to the lounge prior to contacting them since we didn't know what goodies would be served during the day and Filbert knew he wanted some beer. We thought we would need to go to the store, but then found out that the lounge had free alcohol all day long. And, Gary and Charlotte were there! (Snookums left them a key with access to the lounge and our room since they weren't sure that their room would be ready due to their early arrival. It was ready and they decided to try the lounge out on their own.) They told us that they arrived from the U.S. at 10 AM and since their room was ready they had already showered and taken a nap and now were trying to fight jetlag while enjoying the lounge. We talked awhile before agreeing to meet again in a few hours for dinner in the lounge.
Dinner wasn't too long since their jetlag started hitting them hard at 8 PM. We knew that we would be tired tomorrow and so would they so we decided to do the "hop-on/hop-off" bus tour on Sunday. And, since the municipal elections were scheduled for Sunday all of the archeological sites and museums were going to be closed. It was a good thing we saw the Acropolis today.
Next: More Athens! Commies! And Out to sea!