Contributed by: filbert Wednesday, November 10 2010 @ 09:07 AM CST
The 21-Day Mediterranean & Atlantic Explorer Cruise (And more!), October 26-December 1, 2010, Holland America Prinsendam
Text by Snookums, Pictures by Filbert
Part Three
November 1 (Monday, Day 7, Stuttgart, Germany) –
We went to the gym with Pat and while she had her personal training session, we completed our own hard workouts. Pat had a 1:00 meeting that ended up lasting until 3:15. While she was gone Snookums made 7-layer bars for Jane's health class (?!?), changed a light bulb in the wall sconce, did laundry and helped Filbert prep for his green curry stir-fry dinner. Both Jane and Grace had their end of season soccer parties at 5:00 but at different locations (naturally). Grace walked to hers but Pat had to drive Jane to hers. Everyone finally got home by 6:15 and loved Filbert's dinner, especially Pat who didn't have to cook.
Lenny came home from work around 7:30 and after he ate he broke out the various alcohol treats. Filbert, Pat and Lenny really liked the Edradour Cream Liqueur from Scotland's smallest distillery that Pat and Lenny just visited. Then there was a drink made from black vodka and two fruit juices, one red and one yellow, that when poured in a shot glass looked like the German flag.
Did the two-day Stuttgart photo blackout end with pictures of Pat? Of Lenny? Of the very colorful and rapidly changing German fall foliage? Of any of their cute-as-a-button kids in mid-argument with each other? Heck no! It ended with a picture of alcohol, of course!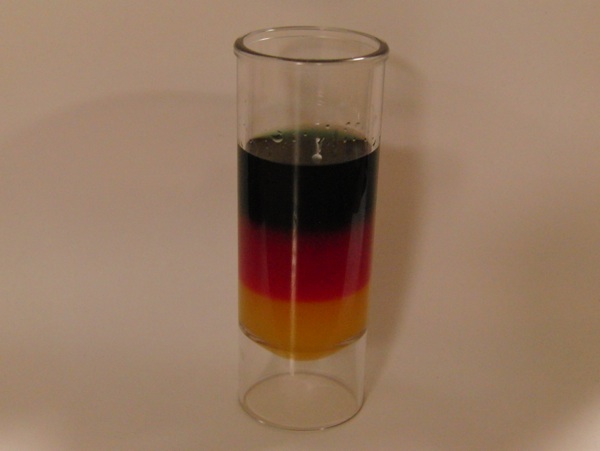 Deutschlandershot
More after the jump . . . Pat liked this drink a lot but Filbert wasn't too thrilled with it. Then Lenny brought out the two single malt Edradour whiskeys and Filbert and Lenny really enjoyed both of them. Then it was on to the pear and peach Nannerl Schnapps from Salzburg. They both thought it was kind of blah. In the midst of all of this, Pat spilled her German flag shot…
Pat and Lenny really enjoy German beers and have a refrigerator full of different varieties in the dining room. Filbert frequently tried different ones and enjoyed them all.
We stayed up late but for different reasons. Tonight was when the 2011 Indianapolis Women's Final Four volunteer shifts were to be posted to the internet and Snookums wanted to make sure to be able to grab the four best shifts for her group of eight volunteers. She ended up going to bed at midnight since the website still hadn't been updated. She woke up at 2 AM, 4 AM and 6 AM to check to see if it had been updated but it never had. Filbert stayed up late to see about the election results. Germany is currently six hours ahead of Kansas City until daylight savings time in the U.S. on Sunday, and he went to bed around 2 AM, after the Republicans safely restored sanity to the American political system. (That jibe is for the Mother-In-Law, who still seems to think that Democrats believe in, you know, democracy and stuff. Oops, he did it again . . .)
November 3 (Wednesday, Day 9, Stuttgart, Germany) –
Snookums woke up around 7 and Filbert was already awake to check on the election results. Snookums went with Pat to her friend's house for an hour-long walk through the orchards by her friend's off-base house. The trees were spectacular in their fall colors. Snookums bought a piece of plum kuchen at the friend's local bakery and really enjoyed it. Pat, who isn't fond of German "sweets", also thought it was excellent.
Pat, Snookums and Filbert drove to a little town about 5 minutes from the post for gyros for lunch. They were fabulous. Pat doesn't enjoy German food since most of it is meat based and very heavy. She had a vegetarian gyro, made with feta cheese instead of gyro meat, while Snookums and Filbert had the traditional ones. In Germany, though, pickled red cabbage is put on them along with a generous sprinkle of chili powder.
After lunch we went to a German grocery store and Filbert bought currywurst and chili sausage for his dinner tonight and tomorrow. Then Pat drove us to the Ritter Sport chocolate factory. Alas, the diorama that shows the factory at work was broken so we didn't get a free sample from it. We bought three peppermint chocolate bars for Pat's kids but nothing for us.
(A new photo blackout began after the Deutschlandshot debacle of the previous evening. Filbert was reportedly too distracted [again] with German food and beer to attempt photography.)
November 4 (Thursday, Day 10, Stuttgart, Germany) –
Pat dropped off Filbert and Snookums at the train station about 10 minutes from the post and we took the 25-minute train ride to Stuttgart for the day. The Stuttgart region has a population of 2.7 million and is the third biggest urban area in Germany.
We got off the train at the 1920s built Hauptbahnhof (German for main railway station) and went to the tourist info store and ended up having to buy a map for $.70. Don't assume basic tourist maps are free! We wandered around the main shopping street leading to the train station and stopped in most of the bakeries for a quick peak. We then went to the Galeria department store since Snookums had to use the bathroom. By U.S. standards, it was a normal bathroom except the paper towels had advertisements on them! We checked out the basement and it was a gourmet grocery. The basements of most department stores have food halls in them, just like Japanese department stores do. We went into another department store and checked out its basement but it didn't have any food in it. We did buy a German wedding card for Pat, though, since the son of one of her friends in the U.S. just got married.
Filbert, now safely away from the no-photograph security area around his sister-in-law's family, began snapping pictures like there's no tomorrow in central Stuttgart . . . (*)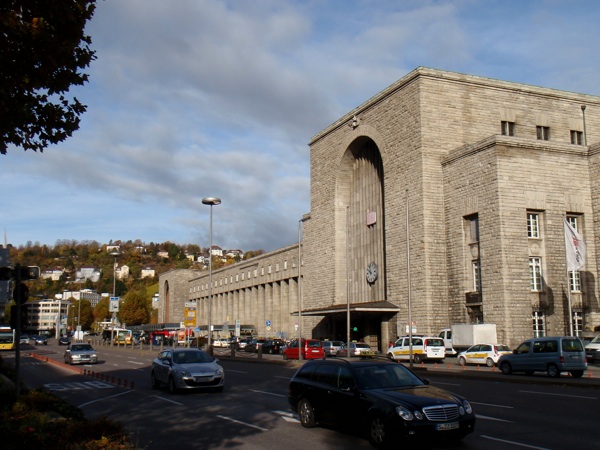 Hauptbahnhof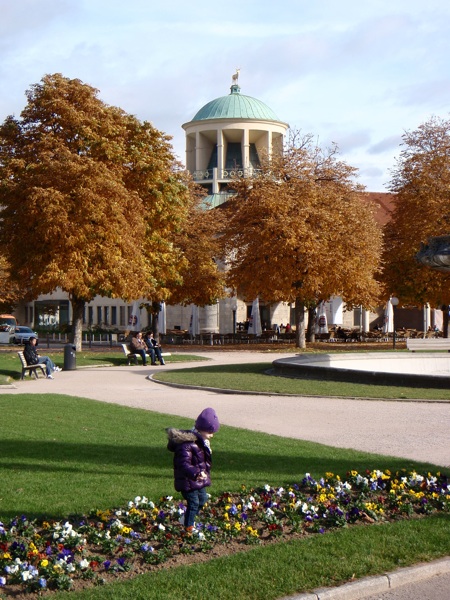 Kid in the flowers
We finally left the modern shopping street and headed for Schlossplatz which is the heart of the city and has an obelisk in the middle of it from 1841. From here we could also see the golden stag on top of the 1912 art gallery's dome. Although most of Stuttgart was heavily bombed during the war, it was reconstructed and the old buildings and architecture certainly looked old. We also saw the building that houses the State Museum and it used to be a moated castle built in the 13th century. We continued our walk to the Market Hall which was built in 1914 and still houses various vendors selling baked items, meat, cheese, produce, and spices. For our mid-morning snack, we shared a cheese pretzel like the one Snookums had in Zurich, but better. There is nothing better than melted, crispy, browned cheese on a chewy pretzel. And, at $1.50, it's a steal.
We continued to walk around and saw more old buildings and churches, including the Collegiate Church which dates back to the 12th century. Then we found ourselves in Market Square with its fountain dating from 1714. A farmer's market was taking place and we enjoyed looking at the different items for sale. We later found out that it happens three times a week.
Stuttgart farmer's market:
We were ready for a break and decided it was time for lunch. We ate at a restaurant in the Market Hall and ordered maultaschen in cream sauce with mushrooms for $12.50 and maultaschen in roasted onion gravy for $12.50. Maultaschen seem to be like large meat-stuff ravioli and are a Swabian specialty food. (Stuttgart is in the Swabian area of Germany.) Both kinds were very good. One of them came with a side salad which was a pile of lettuce leaves, a spoonful of German potato salad and a blob of salted/pickled white strips, possibly radish. The other entrée came with a large bowl of German potato salad that Snookums enjoyed. Filbert also ordered two steins (1/2 liter) of local beer at $5 each.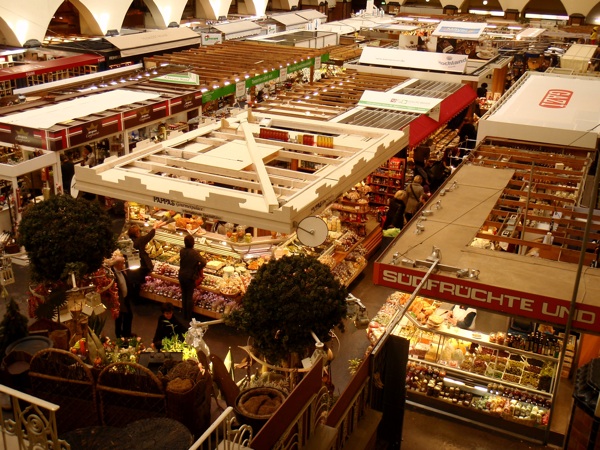 Market Hall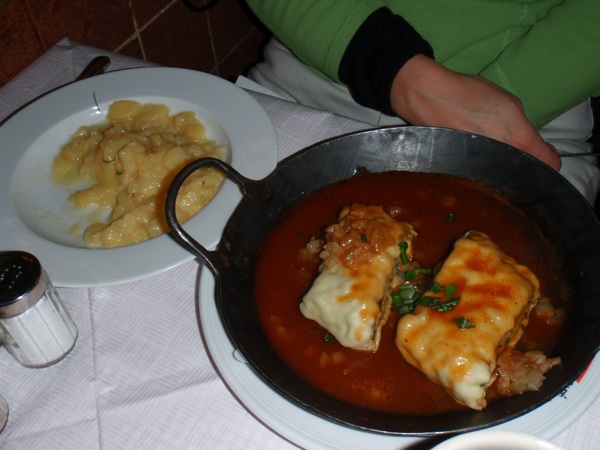 Maultaschen, onion (and potato salad)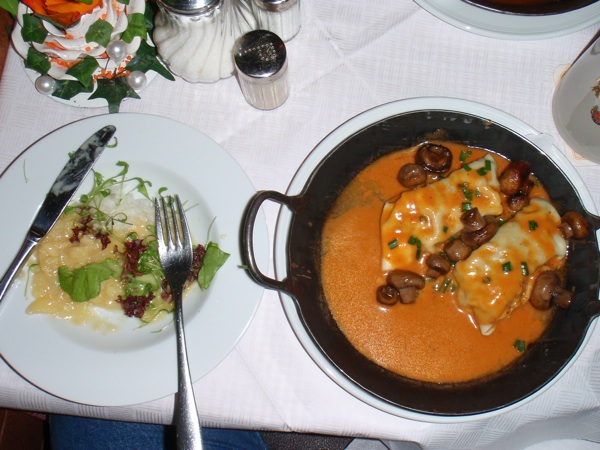 Maultaschen, mushroom (and mixed salad)
After lunch we continued walking around and found another department store in order to use its bathroom. Then it was more walking and soon we decided we needed dessert. We went into another branch of Galeria and went to its basement and found the bakery. We ordered two different items – one was a cherry kuchen and one was a fresh raspberry cake-like thing that consisted of yellow cake, a layer of thickened whipped cream, a solid layer of fresh raspberries on top of the whipped cream and then a tart gelatin poured over the raspberries. They were both very good.
After that we walked back to the train station and bought a beautiful European bouquet of flowers for Pat. A couple of things that we noticed were that the Germans are less sophisticated in their dress as compared to the Swiss. We saw a lot of backpacks and tennis shoes in Stuttgart and really saw neither in Zurich. And, a Big Mac value meal cost $7.90 at Stuttgart's train station which was considerably cheaper compared to Zurich. Like the rest of the trip so far, the weather in Stuttgart was great. It was sunny and in the mid-50s and just made for walking around to sightsee.
Next: Athens! Cradle of Civilization! Or of Democracy! Or of Poisoning troublesome Philosophers!
(*) He's kidding about that security area thing. Mostly.
Comment (0)