Contributed by: filbert Monday, November 08 2010 @ 06:03 PM CST
The 21-Day Mediterranean & Atlantic Explorer Cruise (And more!), October 26-December 1, 2010, Holland America Prinsendam
Text by Snookums, Pictures by Filbert
Part Two
October 29 (Friday, Day 4, Zurich, Switzerland) –
We woke up at 7 AM for our free hot beverages and after a very leisurely morning, we ventured outside around 10:15 AM. We decided to do the walking tour of Zurich as described in the city map. We visited Fraumünster (Church of our Lady) with its Marc Chagall stained-glass windows added in 1970. Then we headed to the lake in order to find out when our free boat tour was going to leave and stumbled on a farmer's market that promptly shut down at 11 AM. There were many flower vendors, produce vendors, cheese vendors, bakers and a few other assorted vendors (fresh pasta, fish, spices).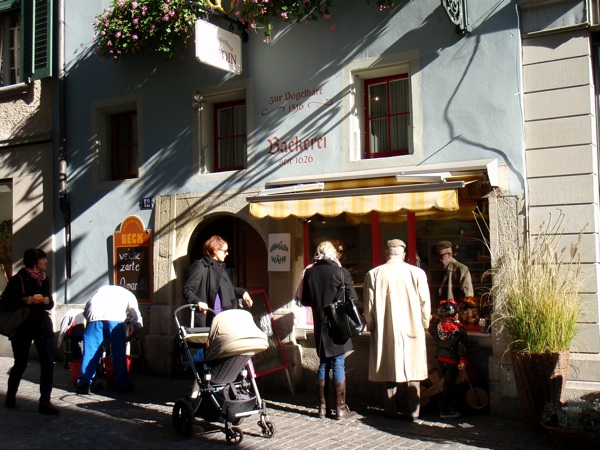 Backerei (Bakery)
More after the jump . . . It was fun looking around and most of the items were what we're used to seeing. Around lunchtime we found ourselves back at Sternen Grill so we decided to eat. (Okay, so we were kind of hoping to be in that vicinity around noon!)
Filbert ordered a bratwurst and it was handed to him wrapped in wax paper and then he helped himself (using bare hands) to his bürli from the big basket of them. Snookums ordered cervelat which is a pork-based sausage that is thicker and shorter than the 8" or 9" inch brat. It was saltier than the bratwurst and also had more spices in it and was more coarsely ground. Snookums thought it was like a mild Polish sausage and she liked it a lot. She really wanted to grab a container of the potato salad but wasn't that hungry. She tore into her bürli and created lots of crumbs on the table from the hard crust. Then she noticed the impeccably dressed, 70-year old woman sitting next to her tearing into her roll while holding it over the floor so that the crumbs would fall on the floor! Filbert ordered a Sternen beer to wash down his lunch. We also saw several people get their sausages and rolls and get on their bicycles and manage to have a sausage in one hand and the roll in the other which is the two-fisted way that the Swiss eat their sausages and rolls.
After our very authentic lunch we continued our walk and wandered through the medieval cobblestone alleys of the Altstadt (Old Town). We saw the 12th century Grossmünster (Great Church) with its twin towers (circa 1781) as well as St. Peters Kirche whose tower has the largest clock face in Europe. We saw lots of clock towers and they all showed the correct time. Switzerland is known for its accurate time-keeping instruments after all!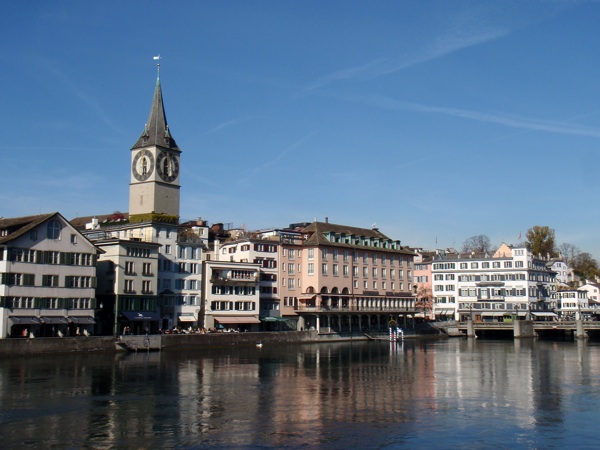 St. Peters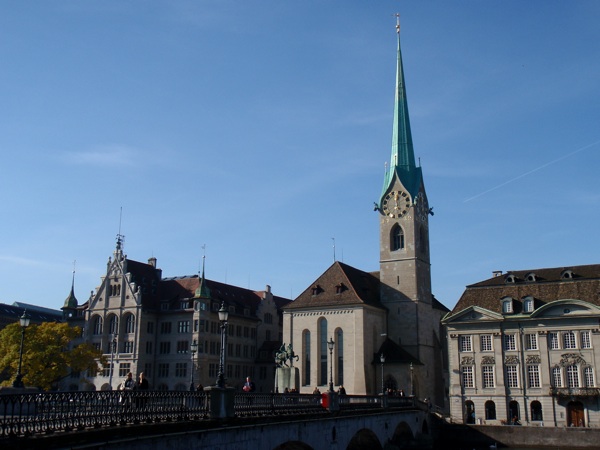 Another church, another clock tower
Then it was time to catch our free boat ride. We made it with 5 seconds to spare but then found out that they actually oversold the boat and there weren't any seats left. About 30 people had to stand for the 1½-hour ride. After about 30 minutes we found some room on a bench next to some Brits visiting an ex-pat living in Zurich and enjoyed the conversation. The fall colors surrounding Lake Zurich were just gorgeous and we decided to get off the boat before the final stop and find our way back using our free transportation tickets since we like to explore. We went to another grocery store and bought three rolls, some little sausages, a little hunk of cheese and two 16-oz cans of beer ($1.50 each) to take back to the hotel for an afternoon snack with the olives and cheese-stuffed peppers that the Hyatt provided for our anniversary.
Views from the boat ride:
We made it back to the Hyatt and ate our delicious snack and then it was time for a nap. Snookums was still feeling the effects from yesterday's zoo walking and from jet lag and really needed it. When we both woke up we decided to just eat dinner at the Hyatt. Filbert ordered bratwurst (for the 4th time in a row!) and Snookums had the cheese pizokel (basically cheese spaetzle) that was very similar to macaroni and cheese. It was so rich she could only eat half of it. Filbert also ordered an iced herb green tea which was served with two slices of lemon in it and a 6" sprig of rosemary and a few other strands of herbs that Snookums didn't recognize. The bottom of the straw was crimped shut so that he wouldn't suck up any of the leaves. Much to Snookums's surprise, Filbert really enjoyed it.
Back in the room Snookums watched a DVD of Will Smith's "Seven Pounds" which she picked from the Hyatt's free selection since she hadn't heard of it. It was released to U.S. theatres in 2008 but didn't do well but did very well internationally. Snookums thought it was a really good movie and didn't even fall asleep during it.
October 30 (Saturday, Day 5, Flying to Stuttgart, Germany; $1.00 = €0.71) –
Our flight to Stuttgart left at 12:35 PM and we were ready to check out at 9:30 so we went ahead and headed to the airport. We ended up taking the tram the entire way which took 40 minutes longer than the train but was much prettier. After we checked our luggage and went through security (and you can leave your shoes on and Filbert's sleep apnea machine was not swabbed for explosives like it is at every U.S. airport) we bought sandwiches and ate our lunch while waiting for the plane. The 45-minute flight was uneventful and we were even given a little milk chocolate candy bar ("Thanks for flying Swiss Airlines") and a bottle of water.
As soon as we got to Stuttgart's luggage carousel we saw Pat, Snookums's sister, waiting for us. We got our bags and headed off to two of Jane's (Pat's 8th-grade daughter) soccer games. At the soccer field we also saw Lenny (Pat's husband) and Grace (her youngest daughter, 6th-grade). Jane's team lost both games and that ended her season but it was a beautiful, sunny, mid-50s day so that was nice. Then it was on to their house on Panzer Army post near Stuttgart.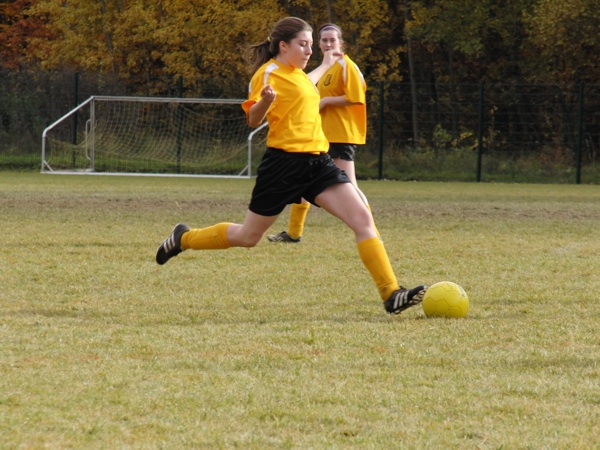 Jane takes aim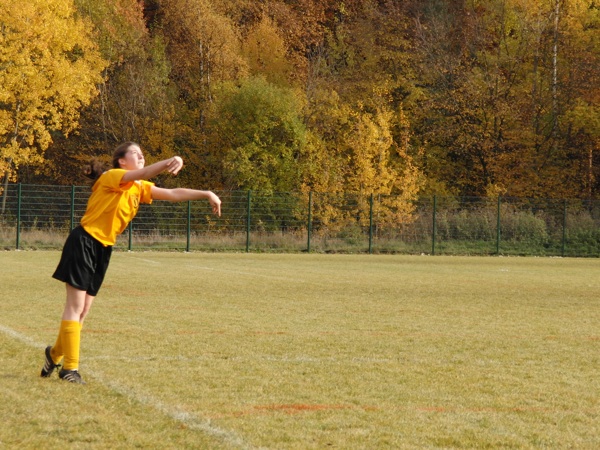 Throw-in specialist follows through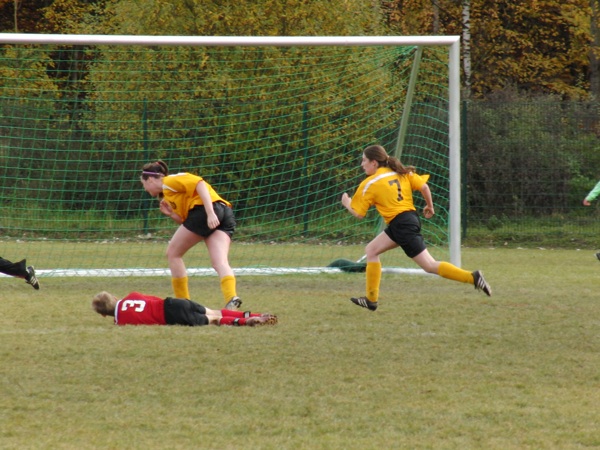 Full gallop
We had just enough time to unpack and say "hi" to Hannah, Pat's 23-year old daughter, before we went downstairs to the building's potluck dinner. Even though it was October 30, the base was celebrating Halloween. Pat's building of eight officer's apartments had a potluck out front to let the kids come to the potluck to get the candy rather than going to eight doors. Kids came and got a handful of candy at a time while we ate potluck food of chili, vegetable tray, cheese cubes, noodle casserole, macaroni and cheese, many varieties of German beer (many varieties) and gluhwein (German hot mulled wine).
October 31 (Sunday, Day 6, Stuttgart, Germany) –
Today was a day of rest and we did. Everyone enjoyed the fact that it was daylight savings time in Germany and welcomed the extra hour. Sophie, Pat's 10th-grade daughter, came home this morning from a sleepover after she played her last volleyball game of the season yesterday in Heidelberg. We had a nice family dinner of Lenny's delicious smoked brisket.
November 1 (Monday, Day 7, Stuttgart, Germany) –
Snookums, Filbert and Pat walked to the post exchange for lunch and enjoyed pretzel sandwiches, apple strudel and berry danish from the German bakery. Filbert made the better dessert choice with the delicious apple strudel. Pat also managed to find several Christmas gifts at the exchange. Filbert's inexplicable photographic blackout reached its second day.
Next: