Contributed by: filbert Sunday, November 07 2010 @ 10:48 AM CST
The 21-Day Mediterranean & Atlantic Explorer Cruise (And more!), October 26-December 1, 2010, Holland America Prinsendam
Text by Snookums, Pictures by Filbert
Part One
October 26 (Tuesday, Day 1, Flying to Zurich, Switzerland; $1.00 = 0.98 CHF) –
This journal should start on Monday, October 25. That's when we got called at 8 PM with a recorded message from American Airlines saying that our first of three flights was cancelled. High winds in Chicago prevented the plane from getting to Kansas City which meant we didn't have a plane to use. Snookums was put on hold and while waiting for 20 minutes, she found other flight options that would work. The customer service representative booked our first option which meant we had to leave an hour earlier than originally planned. Snookums called the shuttle service and re-scheduled our pickup for 6 AM.
That's why we have no introductory photo. Oh, wait . . . we HAVE to have an introductory photo. Unfortunately, I (Filbert) left all my old photos at home after cleaning off my laptop's hard drive. (Not to worry, there are multiple backups, back at the Palatial Abode.) So, here's a random picture I've downloaded from the Internet on the very day (morning, afternoon, night, whatever) that I posted this first travelogue post:
More after the jump . . . After Monday's drama, Tuesday was blissfully uneventful. We got to the airport, got on the flight to DFW, bought a quick lunch at DFW and boarded the flight for JFK. We were supposed to land 30 minutes early, but ended up landing 20 minutes late. We enjoyed our 1½-hour layover in the Admirals Club lounge. The 7-hour flight to Zurich was okay but we decided it was the worst international flight we had been on. The only TV monitors were the ones that were suspended from the ceiling so each seat didn't have its own TV. That meant that you couldn't pick your own video selections. Snookums did get to watch George Clooney's "Up in the Air" movie so that was good. The flight was only 7 hours so it wasn't that big of a deal, but non-American airlines certainly treat economy class passengers much better than American airlines do.
The only excitement we had all day was when Filbert put the roll-aboard in the rack above the seat and somehow managed to break the zipper on his right pants leg of his zip-on/zip-off pants. Luckily the flight attendant had a sewing kit and Filbert stitched it shut. Snookums's mom will "get" to replace the zipper when we get home in December. (Note – Our roll-aboard now contains a sewing kit, compliments of Park Hyatt Zurich.)
October 27 (Wednesday, Day 2, Zurich, Switzerland) –
We landed in Zurich around 7 AM which was 30 minutes early. We bought 3-day travel passes and boarded the train for our 10-minute ride to Zurich. Then we stumbled around until we found the tram that took us three blocks from the Park Hyatt Zurich. We had to ask for directions to the hotel and we blamed it on jetlag. There are signs at the tram stop pointing the correct direction, but we didn't see them.
Our room wasn't ready so we walked around for about 1 hour. It was sunny and in the low-50s so it was very pleasant. We found a grocery store and stocked up on some Coke Zero for the room and two bottles of water for our excursions. We knew that Zurich was expensive, but it still shocked us to see that teriyaki marinated raw chicken breasts were $17/pound and hamburger was $9/pound. A Big Mac value meal was $11.50! (By the way, we used points at the Park Hyatt so our room was free but should have cost $830/night.) We also bought an early lunch at a pretzel stand. Snookums bought a large pretzel that had cheese baked on it and Filbert bought a pretzel sandwich that had ham and butter in it.
We got back to the Park Hyatt around 10 AM and went to our room. We were surprised to see a very nice anniversary celebration in it that consisted of a bottle of wine, a jar of olives and a jar of cheese stuffed red peppers in olive oil. There was also a 3-foot heart on the bed made out of rose petals. The bathtub rim had rose petals on it, too.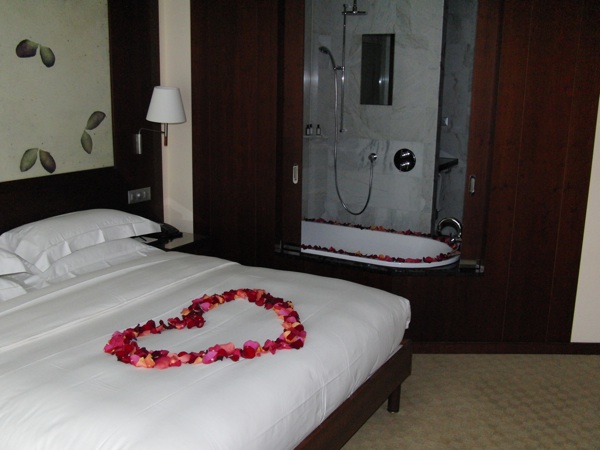 Heart and flowers
We showered and napped until 3:30. Then we walked to the Zeughauskeller Restaurant which is in the historic, ancient arsenal for Zurich built in 1487. We had Zürcher Geschnetzeltes – thin strips of veal with mushrooms in a cream sauce served with Rösti (Swiss style hash browns). We got two glasses of white wine for free since we had 3-day travel passes. We also shared a bowl of pumpkin soup that was very good. Snookums ordered still water and ended up paying $5.50 for a ½ liter of it (or 16.9 oz.). That infuriated her, but what can a person do? Dinner was $83 for the two of us and we enjoyed it very much.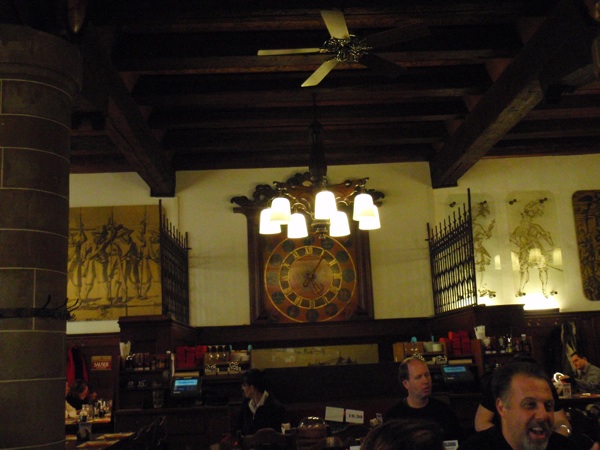 Zeughauskeller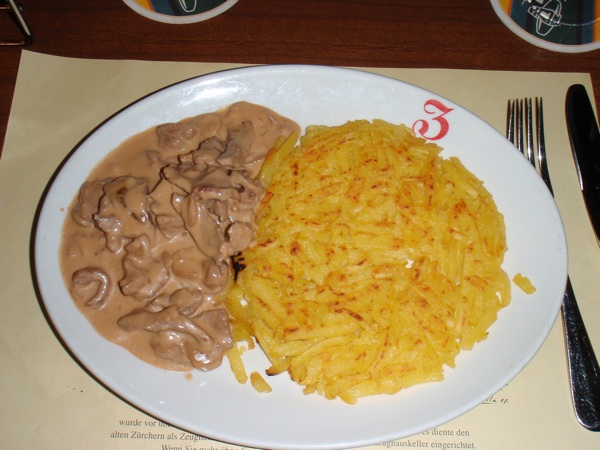 Zürcher Geschnetzeltes
After dinner we walked around and found a department store, Jemoli, that was having a 3-day sales event. Waiters were walking around handing out champagne, wine, and appetizers but we were full. We decided to check out the basement food hall and were surprised to see how similar it was to the ones in Japan. There was a full grocery store as well as all sorts of prepared food kiosks. We still were very full so we just wandered and only had one sample.
We then walked to the train station to check out the stores in it. Filbert used the $1 bathroom that was fully automated (the door would open after 15 minutes if you weren't out before then). We went upstairs and found the farmer's market that is there every Wednesday. It had a lot of vendors selling cheese, sausages, some produce and lots of ready to eat foods. Snookums got to see raclette. This is a traditional Swiss dish where the Raclette cheese round is heated and then scraped onto diners' plates. It was accompanied by small firm potatoes, gherkins, pickled onions, and baby corn. Unfortunately we still were full! We were starting to wear down so we walked to the nearest tram station and took the tram back to the Hyatt at 7:30 PM. Unlike in Prague where we could buy a wurst on every block, the only street vendors we saw were selling roasted chestnuts.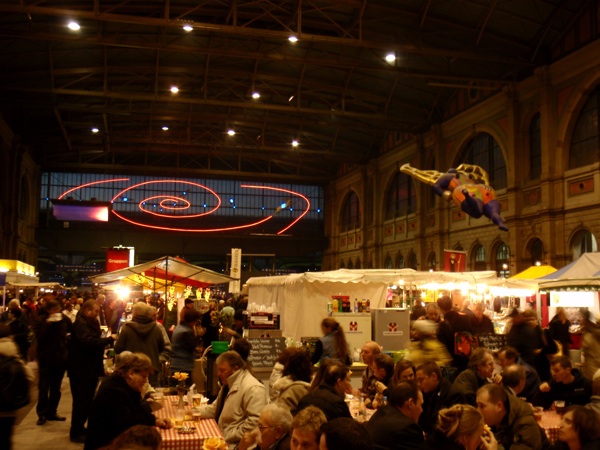 Farmers Market, Zurich style
We hit the sack after a long day. Snookums woke up around 3 AM and read for a couple of hours and Filbert managed to sleep almost the whole night.
October 28 (Thursday, Day 3, Zurich, Switzerland) –
The Park Hyatt delivered complimentary morning hot beverages so Filbert enjoyed his coffee and Snookums enjoyed her hot chocolate. Snookums was disappointed that the hot chocolate wasn't the thick and syrupy kind she had in Paris and Barcelona. Zurich's hot chocolate was runny but was obviously made with dark chocolate since it was kind of bitter. Snookums drank it since it was ten times better than Nestle's instant. Filbert ordered a pot of hot water for his high protein instant oatmeal that he brought with him while Snookums ate her breakfast from the room's fruit bowl.
We took the tram to the zoo and walked around for 5 ½ hours. The Zurich zoo was great. There were animals everywhere and in very natural environments. We never saw animals exhibit "zoo behavior" where they just walk in circles or scratch themselves on the fences. A couple of animals of note included the geese vs. the penguins and the pack of wolves. There were two geese in the Emperor penguin exhibit and the brown goose would continually approach the 17 penguins and flap its wings.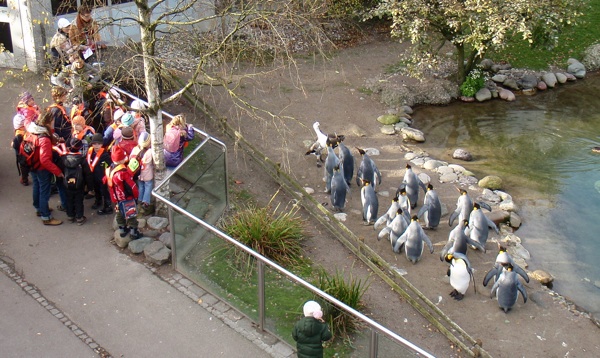 Two geese, seventeen penguins, and a flock of Swiss schoolkids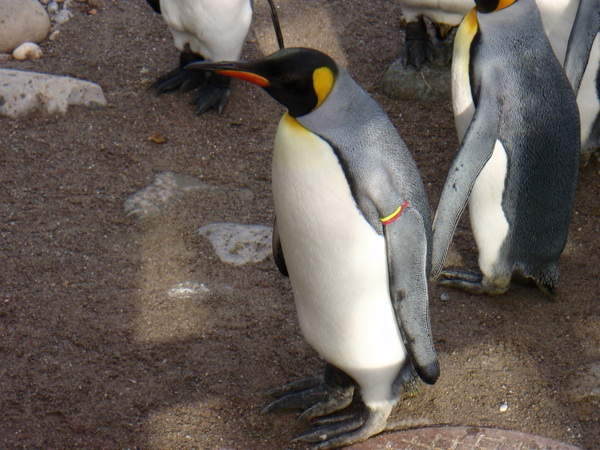 Penguin on alert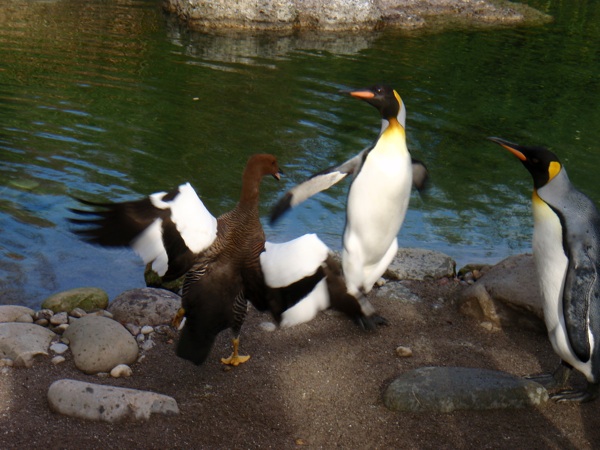 Goose attack
Well, the penguins would flap their wings and get their 4-inch long very sharp beaks close to the goose and it would scamper off for a few minutes until it took another run at the penguins. It was very funny to watch and that must be where the phrase "silly as a goose" comes from since that goose had no chance against those penguins.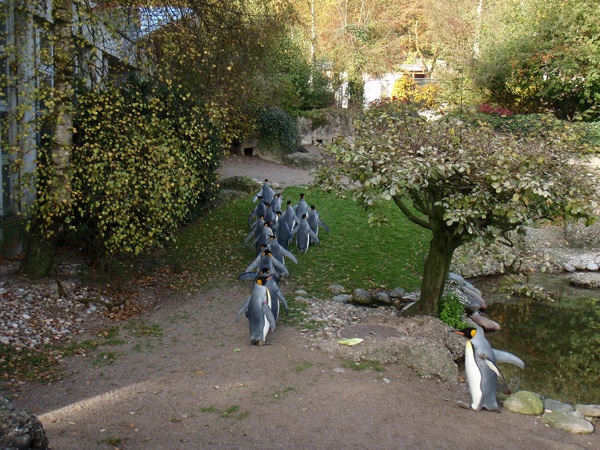 Penguin march . . .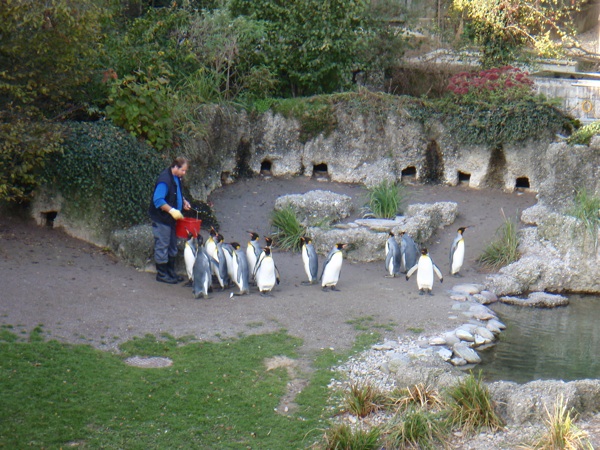 . . .To lunch
We also saw a pack of six or seven wolves howling for a couple of minutes. It was kind of eery. Other impressive exhibits included the chimpanzee, gorilla, and orangutan exhibits and the lion enclosure.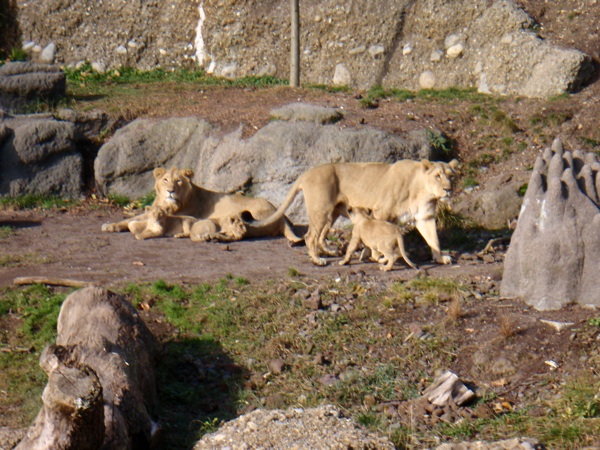 Lions
We bought lunch at the zoo and each had a bratwurst and split a hard roll and an order of fries. The little packets of mustard and ketchup were $0.50 each so we definitely only took the ones we needed! We drank the refilled bottles of water that we brought with us rather than paying $4 per. The bratwurst were very mild since they are made with veal. They are not like Johnsonville brats at all since they are much less spiced and are not coarsely ground.
We got back to our room around 3:30 and took naps. All of that walking really wore us out. We ventured out to dinner to find the city's best sausage. We intended to eat at the Sternen Grill where you sit outside or stand up at tables or simply walk away with your sausage in one hand and your roll in another. However, the seats were all taken so we went next door to the tonier Voderer Sternen which had tablecloths and everything. We each ordered bratwurst and bürli (a crunchy roll). Filbert had Rösti with his and Snookums ordered the potato salad. The bratwurst was very similar to what we had at the zoo for lunch and the potato salad was outstanding. It was vinegar based and had lots of parsley in it and some other flavors that Snookums couldn't pick out. She even thought it was better than Mom's and she loves her mom's German potato salad. Snookums ordered tap water and the waiter brought a pitcher of water. She was shocked to see that it cost $3 and it definitely wasn't bottled water which other tables ordered! Filbert's beer cost $4.50.
After dinner we continued to walk around to see what Zurich was like at night. One thing we noticed during our first walk yesterday was that everyone in Zurich wears dark, fashionable clothes, dark low-heeled shoes or boots and scarves with their nice winter coats (we didn't see any ski jackets). Messenger bags are the preferred bag of choice compared to backpacks – even at the University of Zurich. The only tennis shoes we saw were on Americans (and we didn't see too many Americans). Blue jeans were dark-washed and stylish. We brought "European" shoes with us since we didn't want to wear tennis shoes and look American but even those weren't right since they were tan. And, our khaki pants stuck out, too. Oh well, we tried! We went to a grocery store to buy dessert (a slice of apple tart to split – delicious), and yogurt and a slice of cherry tart for Snookums's next two breakfasts. Then it was back on the tram around 8:30 PM to get to the hotel. It was a great day in Zurich and we were thoroughly exhausted.
Next: Zurich! Boatride! Fussball!