Contributed by: filbert Thursday, November 25 2010 @ 08:03 AM CST
The 21-Day Mediterranean & Atlantic Explorer Cruise (And more!), October 26-December 1, 2010, Holland America Prinsendam
Text by Snookums, Pictures by Filbert
Part Six
November 12 (Friday, Day 18, Livorno, Italy) –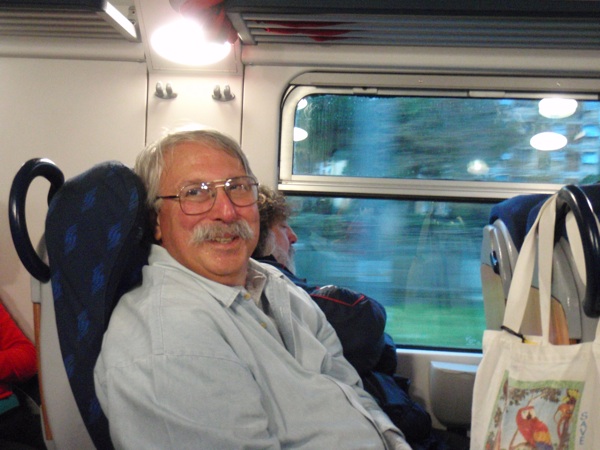 Gary on a train
Gary, Snookums and Filbert were the first off the ship and took a cab to the train station with four other people on this misty, drizzly, windy day. The driver wanted €20 for the ride and Snookums tried to get it down to €15. He immediately responded, "Take the bus". Needless to say, we paid the €20 and took the cab to the train station. (Snookums had done the Internet research and read that people paid €8-€10 for the trip to the station so she thought that we were being swindled, but the price must have gone up since the driver was adamant about it.) We got there around 8 AM and the train left at 8:10AM. We bought and validated our tickets and settled in for our 1:23 ride to Florence. We decided to take the $19 per person roundtrip train rather than the $99 Holland America bus transfer to Florence for the adventure of it.
More after the jump . . . The main tourist cities near Livorno are Pisa and Florence. We went to Pisa the last time we docked at Livorno so we decided we should do Florence this time. And, Gary had a reason to go and we decided to accompany him. (Charlotte's knee prevented her from coming with us and she stayed on the ship.) His mother bought a marble statue when his family visited Florence in the early 1960s on vacation. He wanted to learn more about it and wanted to speak to the owner of the gallery about it. We had a mission.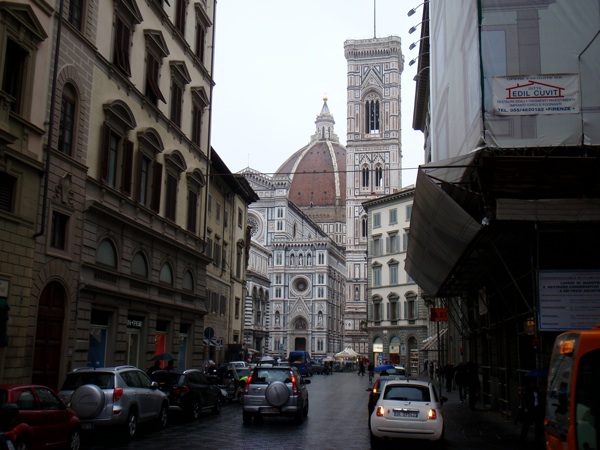 Some famous Florence church, I guess (The Duomo, I suppose)
When we got to the Florence train station we went to the tourist information booth and the guy marked the gallery location on the map we bought for €1. Filbert was our navigator and we walked by some of the tourist sites in Florence on our way there, including the Duomo (the cathedral), the Piazza della Signoria (the plaza in front of the Pallazo Vecchio, or palace) and Ponte Vecchio (Florence's famous bridge). We took pictures in front of a statue on the Ponte Vecchio and found out later that this statue was one of the ones sculpted by Pasquale Romanelli, the man that sculpted Gary's statue.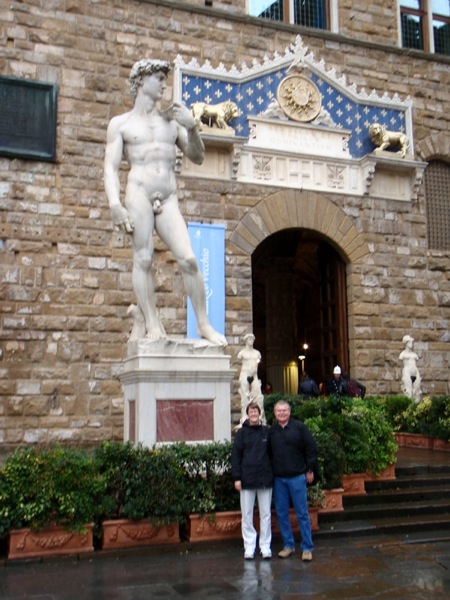 At the Piazza della Signoria, next to a really big naked guy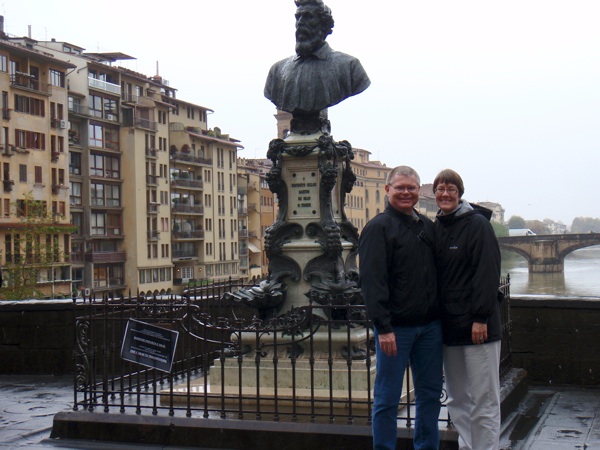 At the Ponte Vecchio
We found the gallery and found out that the statue was made in the late 1800s by Pasquale Romanelli. His sculptures and monuments are displayed around Florence (like the one we saw on Ponte Vecchio). We met his great-great-great-great granddaughter in the original gallery space that had been in business since 1851. Europe is full of old things! Her brother is the current Romanelli sculptor and the business has been handed down from generation to generation. We saw lots of sculptures for sale ranging in price from $200 to $80,000.
After our immersion in art history we decided to head back to the train station after stopping for lunch. We wandered into a square that was having a farmer's market and bought some garlic cheese for a Christmas gift. We were assured it didn't have to be refrigerated and that it would last until Christmas but we plan on storing it in our cabin's refrigerator. While at the market a vendor wanted us to try his prosciutto sausage. He squeezed out some wet, clammy, fatty, slimy goo from the sausage casing and Snookums and Filbert tried it. Its texture was not good at all. Snookums expected it to be salty, but it was just kind of tasteless. After that we continued our trek to the train station while looking for somewhere to eat lunch.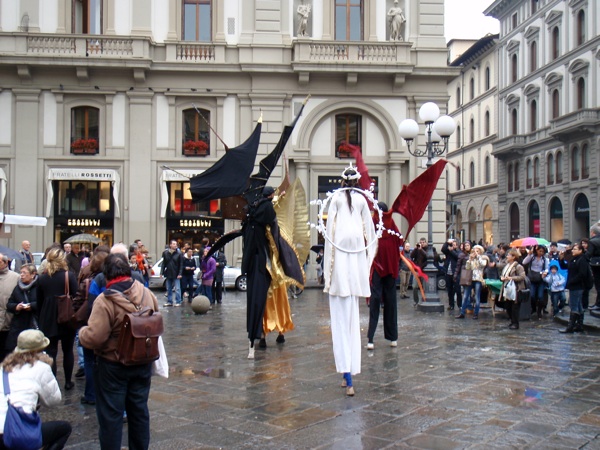 The usual weirdness
We came upon a diner (La Sosta de' Golosi) with inside and outside seating that seemed to be off the tourist track and looked at the choices displayed in the glass counter. The ravioli looked very good, but when Snookums was told it was filled with fish, she passed. There was also another dish that looked like ground up brownish-red rice and we were told it was fish and bread. We passed on that, too and also didn't order the potatoes and octopus. We were in Italy and wanted pizza… Filbert settled on a square piece of margharite pizza and a square piece of ham pizza and a draft beer. Snookums had the margharite pizza and the truffle pasta (corkscrew pasta with a light sauce made of oil and ground up mushrooms [maybe truffles, but there were an awful lot of brown specks for them all to be truffles] and some large Parmesan cheese shavings). Gary had the fried chicken sandwich and a can of Coke Light. (Gary was still having some gastro-intestinal issues and had been told to stay away from dairy so pizza was out for him.)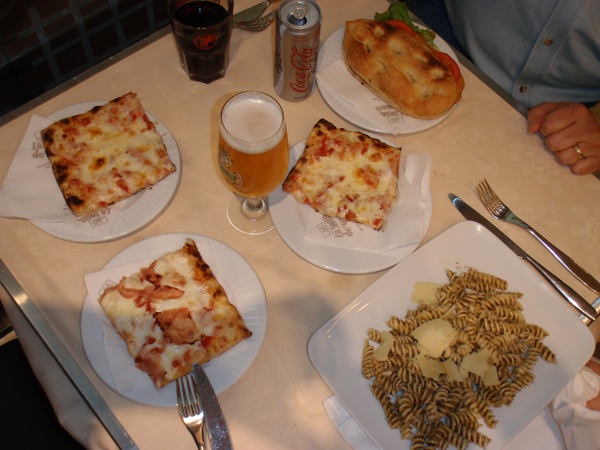 Lunch
There was gelato, too, so Snookums went up to the counter to get some after she was done with her meal. The counter woman explained that to eat the gelato at the table would be €7 compared to €2 for a takeaway portion. Needless to say, Snookums waited until leaving to get her gelato! We got the bill and were shocked to see that each item that we bought was €2 more than the price listed in the case. This must be a "table service" surcharge. Filbert's beer was $9.86 (€7) and Gary's Coke Light was $6.34 (€4.50)!! Our bill, excluding the gelato, was $52.82 (€37.50). But Snookums thoroughly enjoyed her huge serving of chocolate gelato for $2.82 (€2) while we walked to the train station. We priced a Big Mac value meal at the train station and it was $9.75. Florence is NOT cheap!
The train ride back to Livorno was uneventful and we hired a cab to take us back to the ship with an intermediate stop at "Pam Superstore" on the way back. The meter ran while we ran into the store to purchase beer, Coke Zero and Coke Light. The driver spoke great English and he and his wife own Harley Davidson motorcycles and want to take them to the U.S. to ride Route 66 for their next holiday. Our metered fare was €26, which included the running meter while we were in the store, so that made Snookums feel that the €20 flat fare charged in the morning was okay. We got back on the ship around 3:30 after having a great adventure.
Snookums started feeling kind of sick around 5:30 PM and decided not to go to dinner. She figured it must have been the prosciutto sausage. Filbert figured he felt okay since he drank beer soon after he ate it. Beer is his answer for everything! She wasn't bad, but just felt a bit off and had a headache.
November 13 (Saturday, Day 19, Calvi, Corsica, France) –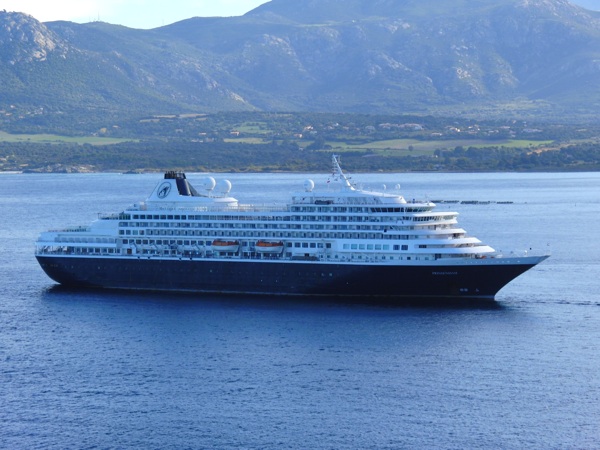 Prinsendam at Calvi
We were anchored off Calvi all day. Filbert and Snookums were wakened at 8 AM by the announcement starting the tender operation. After a leisurely breakfast, we left the ship around 10 AM. It was sunny, windy and in the low-60s. We walked up to the 15th-century Genoese citadel and enjoyed the magnificent views. Calvi claims to be the real birthplace of Christopher Columbus and we saw little handpainted directional signs indicating the house "that way", but never found it. There weren't many houses or doors in the citadel so we probably did pass by it, but it wasn't signed in any big way. Other people from the ship kept asking us if we saw it, too, so we don't think the sign for it was in place.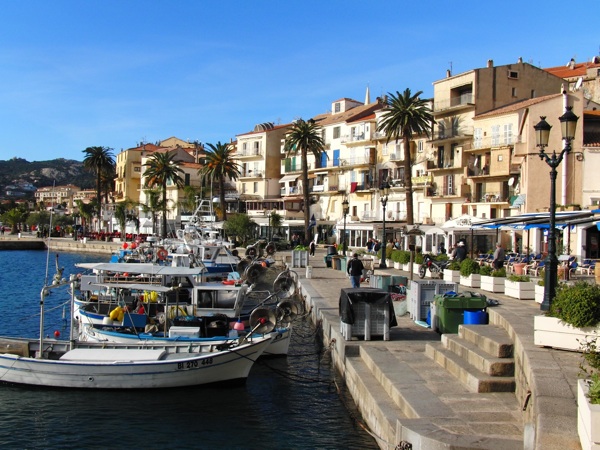 Calvi waterfront
After we climbed down from the citadel we saw a billboard for a chain supermarket, Casino, with an arrow pointing "that way". We started walking but Snookums wasn't sure which way to go and asked an elderly woman using her high school French ("Ou est Casino supermarchet?"). The woman had no idea what Snookums was saying but finally realized we wanted a super market and actually backtracked two blocks to show us the main shopping street with its little one-room grocery stores, bakeries and cafes. We thanked her profusely and just kept walking. We went in one of the little grocery stores and Snookums purchased pork mustard for a Christmas gift. (It had pigs on the label and looked like grainy brown mustard.) The cashier, who spoke no English, told Snookums it was pate made from pork. So much for thinking it was mustard!! Everyone spoke French and we didn't hear any shopkeepers speak any English.
We kept walking and found Super U which was a chain supermarket. We actually found it on the map that we had been given and noticed that Casino was also on the map and was about another mile farther away. We bought potato chips for Gary since he likes to try kettle chips from various places and bought eggplant tapenade, made in Corsica, for another Christmas gift.
The evening show was a juggler, Luke Burrage, and the show was before dinner since our Sunday port was so early. The juggler was very funny and Filbert thought it was the best cruise show he had ever seen. The Prinsendam is a small ship and the stage's ceiling is very low. The juggler couldn't do very many fancy tricks, but his monologue made up for the absence of high-flying juggling tricks. Snookums really enjoys the pre-dinner shows since the 10 PM shows are hard for her to stay awake for.
November 14 (Sunday, Day 20, Alghero, Sardinia, Italy; Oops! – This port was canceled.) –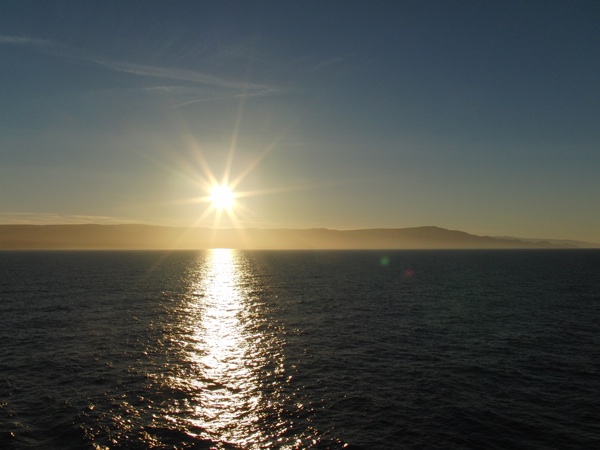 Sardinia: as close as we got, at sunrise
Today we were supposed to be anchored from 7 AM until 2 PM. We didn't have any shore excursions and just planned on sleeping in. That changed when the captain's announcement at 7 AM was piped into the cabin. The captain informed everyone that the five-foot swells were too large for safe tendering and so this port was cancelled and our cruising would continue on to Barcelona. We weren't too upset since it was Sunday and Europe pretty much shuts down on Sundays and no stores are open. We had just planned on walking around Naples. Now we had an extra sea day!
Snookums slept, read and went to the gym and Filbert listened to China on his short-wave radio and went to the gym. It was formal night and we, along with Gary and Charlotte, wore our Holland America 100-day medals. It was Gary's idea. When we showed up at the table, Fran said that she would have worn hers, too, if we would have told her. (MaryEllen hadn't cruised enough yet to have one.) We figured since it was formal night we would wear all the "bling" we had. Lots of people commented on them and we looked silly but it was fun.
A funny thing happened during dinner. Snookums, Filbert and MaryEllen ordered the butternut squash soup. Filbert and MaryEllen were ready for their soup before Snookums was and they were served Holland America's famous split pea soup. That was on last night's menu and was NOT on tonight's menu. They thought it was weird that they didn't get the butternut squash soup but since they really loved the split sea soup that they had last night, they didn't say anything. Snookums was served her soup after she ate her starter and was pleased to see that it was butternut squash soup. When the maitre d' stopped by to check on how our dinner was, we assured him that it was great but asked why two people were served the split sea soup that was on last night's menu. He looked puzzled and stated, "Split pea soup isn't on tonight's menu." We concurred and he went off to find out what happened. He came back and told us that the table next to us placed a special order for split pea soup and two of their bowls were inadvertently served to our table. Filbert and MaryEllen were very happy with the mistake and we all thought it was pretty funny.
November 15 (Monday, Day 21, Barcelona, Spain) –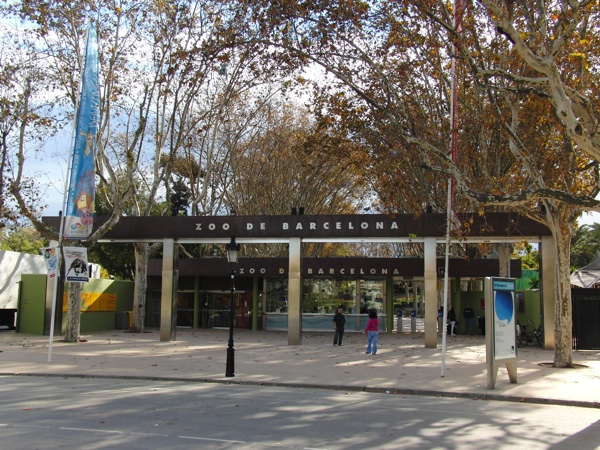 Zoo de Barcelona
We left the ship around 10:30 AM and decided to see the zoo. The shuttle dropped us off at the Monument Colom which is the tall old column with a statue of Columbus on the top at the end of Las Ramblas. (Las Ramblas is the main street through the historic part of Barcelona that is kind of "tourist-central" and full of outdoor cafes, buskers, vendors, police and supposedly pickpockets.) We walked for about 25 minutes from the shuttle stop to the zoo which is located in Barcelona's oldest park, the Ciutadella. The zoo was founded in the late 1800s and was very impressive. It had at least two tigers, two black panthers, two elephants, three leopards, two cheetahs and a bunch of other animals. It is known for having a large number of species and it didn't disappoint. We saw the dolphin show, too, which was interesting since the emcee spoke in Spanish. It was sunny and in the low 60s and was perfect for an outdoor day. We saw a bunch of wild green parrots in the trees, too. Barcelona is known for its green parrots.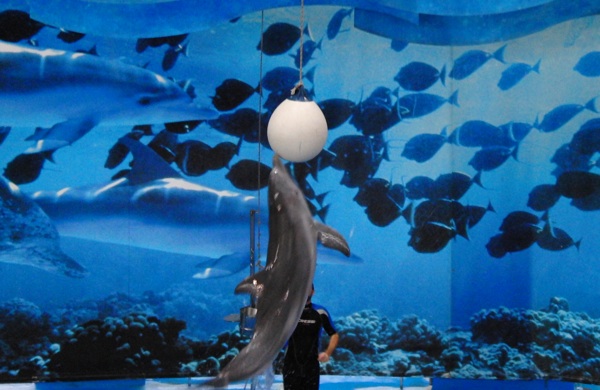 Dolphin show
After we saw the zoo we decided to find distilled water for Filbert's sleep apnea machine. It costs $4 a gallon from Holland America but we liked the mission of having to find it on the local economy. We used Google to find out that it is called "aqua destilada" in Spanish so we knew we could ask someone for it if all else failed. We looked at a couple of very small one room groceries and didn't find it. We finally went to Carrefour, a French supermarket chain, and the clerk took us to it only to find it out of stock! Then we went to a pharmacy and the clerk indicated that they had it but when she (and her boss) went to look for it in the back room, it was also out of stock. The next pharmacy had it, although it was a 5-liter bottle that had been sitting under the desk for so long it was completely dusty. We bought it for $1.75 and felt like we had achieved something.
Around 4 PM we realized we were starving so we bought sandwiches, beer and gelato and enjoyed a quick snack prior to walking to the shuttle point.
Everyone showed up at dinner and shared stories from the day. Fran and MaryEllen had planned on going to Monserrat but when they got to the train station, they were told that a strike was happening at 1 PM so they couldn't go since they wouldn't be able to return. A strike is also planned for November 17. Strikes are a common occurrence in Europe. Charlotte and Gary rode the two hop-on/hop-off bus routes for four hours. We did that the last time we were in Barcelona.
Next: Ham hocks in Cartagena!