Contributed by: filbert Monday, January 04 2016 @ 04:00 AM CST
The 19-Day Holland America Line Alaska CruiseTour, Holland America ms Statendam
Text and pictures by Snookums, webification by Filbert
Part Eight
August 9 (Friday, Day 21, Ketchikan, Alaska) –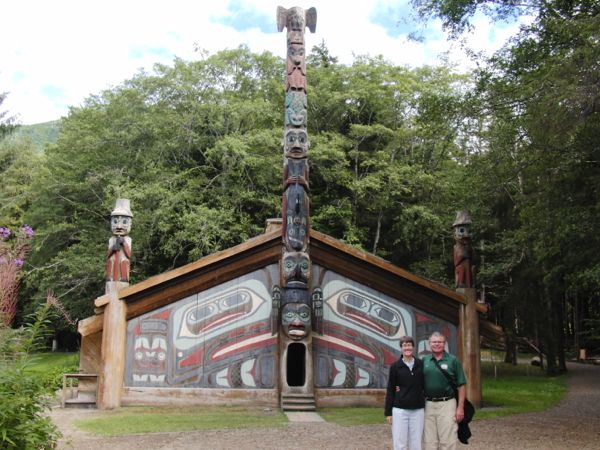 Totems
We woke up to a beautiful sunny day and saw the very nice Ketchikan Airport that has a daily Air Alaska flight. Snookums talked to her sister, Judy, about booking a 14-day 2014 Alaskan cruise for her parents and after several phone calls (cell phones are good!), was able to immediately see the Future Cruise Consultant in order to book three cabins.
After lunch Snookums and Filbert met the Sea Cycles Tour co-owner, Vicki, and we were driven in her personal car to Totem Bight Historical State park to start the tour. Totem Bight has a lot of totems in a beautiful park. There is also a clan house. Then Vicki drove us to the float house for our sea cycle tour.
A sea cycle costs $2,800 plus shipping and is two molded plastic seats attached to a frame that rests above two large pontoons. Each seat has a set of bicycle pedals in front of it and there is a rudder between the two seats. You turn the sea cycle by using the rudder or by pedaling backwards. It was easy to do and we started by pedaling to a wildlife estuary. We saw seals, ducks and an eagle.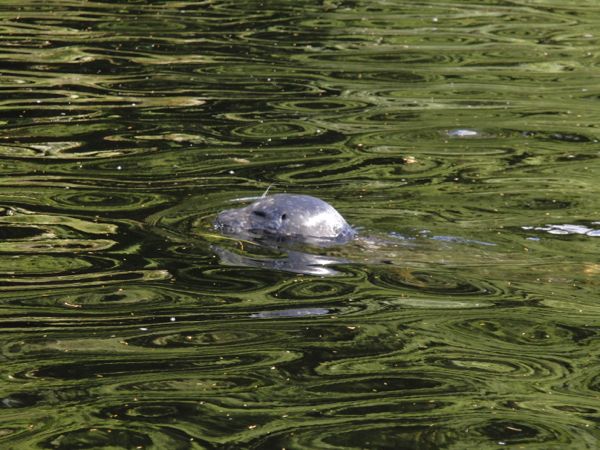 Seal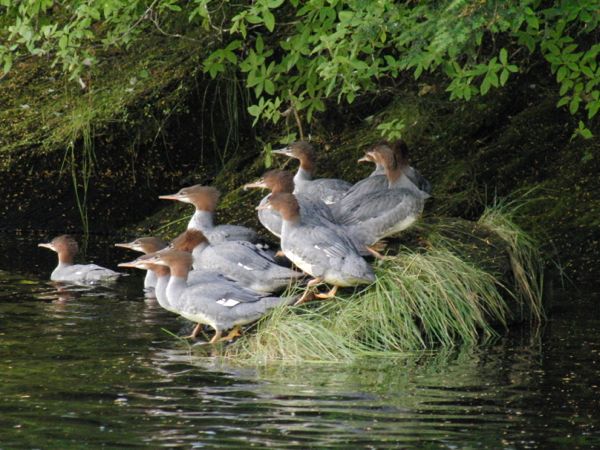 Ducks
Then we pedaled through Ward Cove and saw the working cove, including a barge that was moving and could have run us over if we would have timed it just right (or wrong)! We also got to pedal under a ship that was originally built by the Navy at 1/3rd scale as an ice breaker and now is owned by the State of Alaska as a ferry except none of the docks match it so it is just sitting in Ward Cove and running up docking fees! (The State is trying to sell it but hasn't gotten any legitimate offers for it yet.) We checked a crab pot which had two crabs and three starfish in it. Vicki pulled the starfish out and through them back in the water. Filbert's butt (he said were his hamstrings attach, but Snookums said butt) was really starting to hurt and we pedaled back to the float house where we enjoyed salmon dip, cheese, crackers, grapes and cookies while learning more about the owners (Amber is the other co-owner) and their lives in Ketchikan.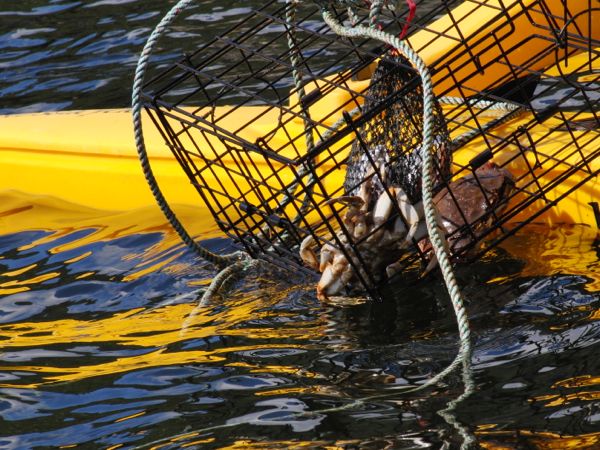 Crab pot
Salmon
We chose to be dropped off in downtown Ketchikan and Filbert navigated Snookums to the various free charm stores and patiently waited while Snookums ran in and got the jewelry. We walked to the salmon ladder and saw hundreds of salmon trying to swim upstream and saw many dead ones, too, that couldn't make it. Then we hustled back to the ship. It was a good day and the weather was great.
Prior to dinner, Snookums had time to go to the Front Desk to check the invoice. There was a credit balance of around $160 on it and Rommel told her it could be applied toward a future cruise. Her next stop was the Future Cruise Consultant to book another 14-day Alaska cabin and a 2014 re-positioning cruise. The Future Cruise Consultant didn't know anything about what Rommel had said and called him and told him that he shouldn't tell passengers something can be done if he doesn't know how to do it. Snookums had to speak to Rommel's supervisor which didn't help, either, but went ahead and booked the two cruises since she was confident there would be some resolution. Tonight was formal night so the four of us ate in Lido. Laura and Snookums left Lido in order to have dessert(s) in the main dining room while Filbert and John were still discussing the end of the world. Laura enjoyed her nightly after dinner cordial and baked Alaska and Snookums enjoyed her baked Alaska, rhubarb crisp (and it was crispy!) and a honey butter tart. When Snookums returned to the room at 10:15, Filbert was asleep.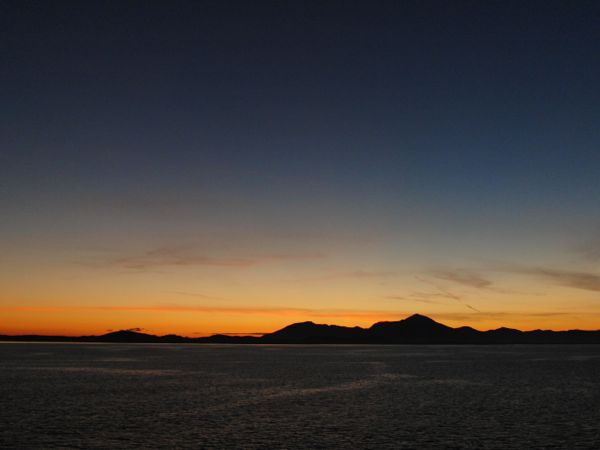 August 9th post-sunset
August 10 (Saturday, Day 22, Cruise the Inside Passage) –
No wake-up alarms were set and after turning our clocks forward last night, we woke up around 9 AM. Filbert ate his high protein oatmeal in the room and Snookums waited for lunch. Liesbeth, the Guest Relations Manager, called to tell Snookums that the remaining shipboard credit would be transferred to the next booked cruise since Rommel had misinformed Snookums about being able to apply it to a future cruise.
While Snookums was showering there was an announcement from Captain Jochem Bakker that the water would be turned off for about 30 minutes due to a leak but she was able to finish her shower without incident. Then she went to the Front Desk to get a copy of the invoice and was happy to see that it was correct. She and Laura played "Blackout Bingo" with the winner getting a free cruise for two, but didn't win. The woman behind us won and we saw that the certificate was good for a 7-day Caribbean or Mexican Riviera cruise in a "minimal interior cabin". Talk about being stingy!!
After lunch, Filbert went to the Crow's Nest to look for sea life. He saw dolphins, humpback whales and seals before returning to the cabin to continue his watch from the balcony around 3 PM. He put on sunscreen since the fog and low clouds were starting to burn off. Snookums enjoyed lounging in bed while getting caught up on writing the journal. She also watched a creepy thriller of a movie called "Gone" which she enjoyed.
Yep. Whale.
The four of us ate at Pinnacle Grill for our going away dinner. Our reservation was for 6:30 and we were on time. Unfortunately, we didn't get out of there until almost 10 PM! Pinnacle Grill is always a very leisurely (i.e. slow) dining experience, but this was ridiculous. John ordered his dessert and finally had to leave for his poker game at the casino. When it finally came, Filbert took it to him! This experience will definitely be noted on the survey. We had all been there before and knew what to order so it's not like we took forever looking at the menu. It just took forever and there were two different times when we had no food in front of us for at least 30 minutes each time.
After dinner we packed which was very easy to do since we didn't bring that much stuff on this cruisetour. And, our cabin was not a suite so there weren't a lot of drawers and other cubbyholes to store things so after emptying out the closets, we were done.
August 11 (Sunday, Day 23, Vancouver, Canada) –
We used the free transfer that was included in our cruisetour to get to the airport which meant one more bus ride. Well, it was free and since we weren't in a hurry it worked okay. But no one should ever buy a ship's transfer to or from an airport. A taxi is always cheaper than what the ship charges for a transfer (unless the transfer is free like ours was) and you always have to stand in line to get on the big bus and then it seems like your airline is always the final stop!
While walking to the gate we decided to check out the duty free shop and saw that local beer was being sold. We bought two 6-packs for an upcoming pool party so that was neat. When we got to the gate, we saw John and Laura. They also had the free transfer but after standing in line for a few minutes decided to just take a cab. (After the land part of this trip, John was completely through with taking busses!) They beat us to the airport by 30 or 45 minutes, but still had to wait since their flight wasn't that early. Their flight ended up being delayed by 15 minutes so we actually took off before them.
Our flight to Dallas was easy and since we cleared US Immigration and US Customs in Vancouver (which was a nice touch), we were able to spend our entire layover (about 3 hours) in the American Airlines lounge. We landed in Kansas City around midnight and were sound asleep by 1:30 AM. It was far from our best vacation, but we really enjoyed traveling with John and Laura and hope to do it again. Don't ever take a HAL cruisetour that stops in multiple places or you'll have to put your luggage out at 6 AM too often. Just go to Denali on your own and then take an Alaskan cruise!