Contributed by: filbert Saturday, February 18 2012 @ 02:50 PM CST
The 24-Day Amazon Explorer Cruise 2011, November 26–December 21, 2011, Holland America Prinsendam
Text by Snookums, Pictures by Filbert
Part One
November 26 (Saturday, Day 1, Flying to Ft. Lauderdale) –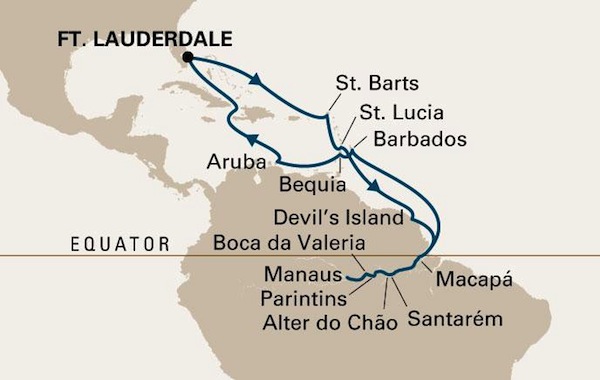 The cruise itinerary
We left home around 8 AM and it was raining but around 55 degrees which is just about unheard of for Kansas City in late November. We've flown out in ice storms before during this time of year. We ended up in Ft. Lauderdale without any hassles. Our Southwest flight was mostly full, but we managed to keep an empty middle seat between us. And, a Southwest pilot and flight attendant and 14 of their family and friends were passengers on the flight in order to go to the wedding of the pilot and flight attendant. It was a happy flight! We stayed at Sleep Inn & Suites Ft. Lauderdale International Airport (our preferred hotel when cruising out of Port Everglades) and bought four 12-packs and four 2-liter bottles of Coke Zero and a case of water at the Walgreen's next door. (We brought an empty rolling duffle that Holland America gave us on our 2008 65-day Grand Asia and Australia cruise to haul the beverages.) We enjoyed dinner at Pancho's Backyard, the Spanish and Mexican restaurant across the street. Snookums had the shredded beef and Filbert had the spiced pork, both from the Spanish side of the menu. The restaurant is really good and gives hotel guests a 15% discount.
We turned in early.
November 27 (Sunday, Day 2, Boarding ms Prinsendam) –
We left the hotel at 10 AM and got to the ship quite early. We waited for the US Coast Guard to finish the inspection since the ship had just come to the US from the Mediterranean and had an enjoyable talk with a couple, Bill and Marykaye who have Suite 003. We were literally the first people on the ship and immediately went to the front desk and asked about any upgrade opportunities. We were told that someone would get back to us. (We received an email from Holland America about one month prior to sailing informing us that for $1598 total, we could upgrade to a Verandah Suite. We decided to just wait and see what cabin we were given. One week prior to sailing we found out that we were given a Deluxe Verandah Ocean which is what we paid for. Snookums called Holland America and found out that Verandah Suites were still available so we decided to just wait and see when we got onboard.)
We went to the dining room for our lunch and while sitting at a table for two, the elderly couple next to us started talking and before we knew it, we all decided to eat dinner together in Pinnacle Grill in mid-December. Okay!!!! We've only been on the ship for 30 minutes and we've already made friends, Anne and Henry.
We went to our cabin (153, midship on deck 9) and found out that a lifeboat was right beneath us. That means that when we look down, we see the lifeboat and not the side of the ship. Oh well. We can still see plenty of ocean, we just can't see the ocean as it is "splooshing" off the side of the ship. Our Deluxe Verandah Ocean has two lower beds converted to a king-size bed, walk-in closet, bath with tub & shower, sitting area, private verandah, refrigerator and floor-to-ceiling windows. It is approximately 250-sq. ft. including verandah. It is laid out very well for its size and Snookums is happy since the gym is down the hall. The dining room is two floors below us and the front desk/shore excursion desk/shop are one floor below. It is very well located!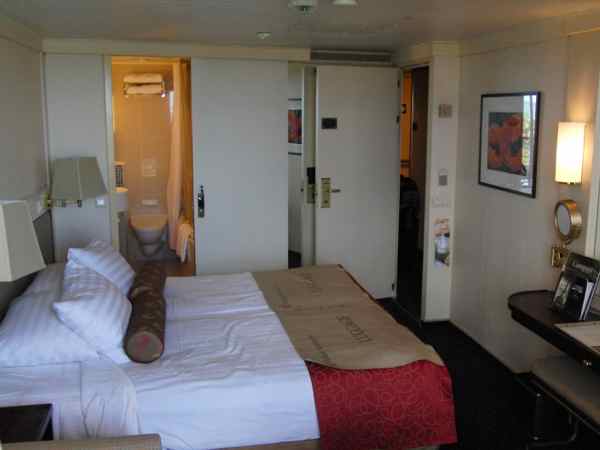 Stateroom 153
Snookums went to the shore excursion desk in order to buy our tours, including one that Filbert will go to on his own in Barbados of a rum distillery and a beer factory. Snookums might do a jungle tour while he's doing that since there aren't any snorkeling excursions.
In our cabin there were five bottles of champagne from the travel agent, Holland America and others. There was also a card saying chocolate covered strawberries were a gift from our travel agent. Filbert called and asked for those to be delivered right away since Snookums couldn't wait to eat them. We also had two identical floral arrangements delivered by Holland America. We sent one back and asked for it to be delivered later in the cruise. Our cabin isn't big enough to hold all of these items!!
The nice thing about a small cabin is that it doesn't take too long to unpack. We were unpacked by 4 PM when the lifeboat drill took place. After that we went to the 5 PM Sail Away Party by the pool. It was a nice evening in Ft. Lauderdale. When we got back to the cabin we still didn't have the strawberries so Snookums called and requested they be delivered on Monday around 4:30 PM. She was really looking forward to them, too.
Dinner was at Pinnacle Grill, the additional cost steakhouse. We got it for free if we went on the first night. So, we did. The Pinnacle Grill manager sent over two glasses of champagne, probably because he knew that we are getting another free dinner later in the cruise due to issues with a Pinnacle Grill dinner on a prior cruise (during our November, 2010 Prinsendam, in fact, and the manager is the same man). Snookums ordered the hamburger made out of filet mignon and Filbert ordered the beef skewer. Snookums' medium hamburger was very red and she sent it back. It was also made up of large pieces of filet and they didn't hold together well. It ended up looking more like a sloppy Joe without the sauce than a hamburger. Even after it was recooked to make it less red she didn't eat it but was fine with the various side dishes she ordered. However, the chef came out and explained that the fibers in filet mignon differ from hamburger and that's why the meat didn't stick together. Whatever. Snookums was happy with the side dishes so she didn't mind, but obviously the Pinnacle Grill Manager and other people did!
When we walked back to our room we noticed that the Christmas decorations were up. There is a Christmas tree at the top of the stairs on Deck 9 which is helpful to Snookums since it is on our side of the ship and now she knows what side the cabin is on.
When we returned to the room we realized that we didn't receive any new laundry bags and we didn't have any ice. Snookums called the Front Desk and was told that ice delivery needed to be scheduled for a certain time each day. Snookums kept asking why the ice bucket couldn't just be filled during the twice-daily servicing of the room and finally Snookums asked to speak to the supervisor. The supervisor came on the phone and assured Snookums that ice would be put in the ice bucket twice a day, just like on all Holland America ships. Laundry bags were delivered, too. We also asked, again, for the mini-bar to be emptied of the beverages that cost money since we brought our own. We set our clocks forward one hour and went to sleep.
November 28 (Monday, Day 3, At sea) –
We slept in and went to lunch around noon. It was great eating outside since we didn't have that opportunity on our last cruise since it was a colder weather cruise (the Baltic, Iceland and Greenland).
Snookums realized a wrong tour ticket had been delivered and called and got that straightened out. Filbert called for the fourth time about having the mini-bar items removed from the room. Snookums started putting away the clean laundry that had been delivered and saw that her newly cleaned polo shirt had been spilled on between the laundry and the cabin. She called and a crew member came to pick it up for re-do.
The chocolate covered strawberries were delivered around 4:30, but they were frozen solid! Snookums called the front desk and informed them of this and was told that the kitchen couldn't make any more today. Snookums was fine with that and scheduled them for Tuesday afternoon. However, 10 minutes later chocolate covered strawberries WERE delivered and they were yummy. Snookums' not sure why she was told they couldn't be delivered today and then they were, but whatever.
We were just sitting in our cabin reading our books around 5 PM when all of a sudden our door was opened a crack and a lady from the front desk stuck her face in. Since we had "privacy" on the door (in the key hole so it had to be removed in order to put in a master key!), we were completely mystified by this. Snookums jumped up and rudely yelled at the woman about our privacy sign and the woman said that she would report herself to the front desk. Well, Snookums did too. We had issues 2 ½ months ago while on Holland America's ms Eurodam when crew members were on our balcony twice, unannounced, and wrote to Holland America about privacy and was assured that the Prinsendam would be informed and things like this wouldn't happen. Well…. Needless to say, the Front Desk supervisor was apologetic.
We went to dinner and found out that the other four people that were assigned to our table for six didn't show up last night and they also didn't show up tonight. Snookums ordered the angel hair pasta with tomato sauce, spinach, pine nuts and goat cheese but sent it back when it ended up just being angel hair pasta with tomato sauce. Filbert ordered a medium steak and sent it back when it was leaving a large pool of blood on his plate. We were NOT trying to be difficult, we just wanted what we ordered!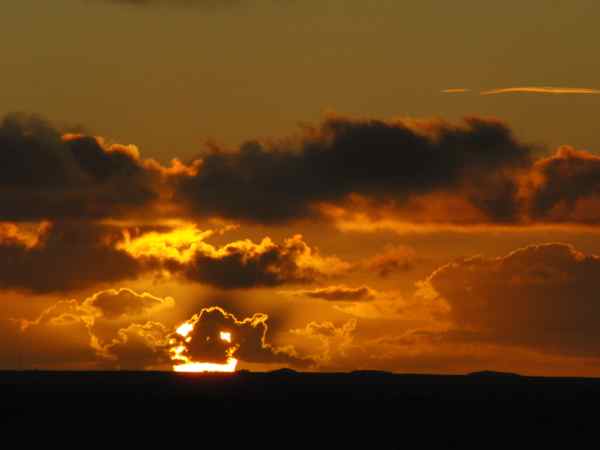 Sunset, Nov. 28
November 28 (Monday, Day 3, At sea) –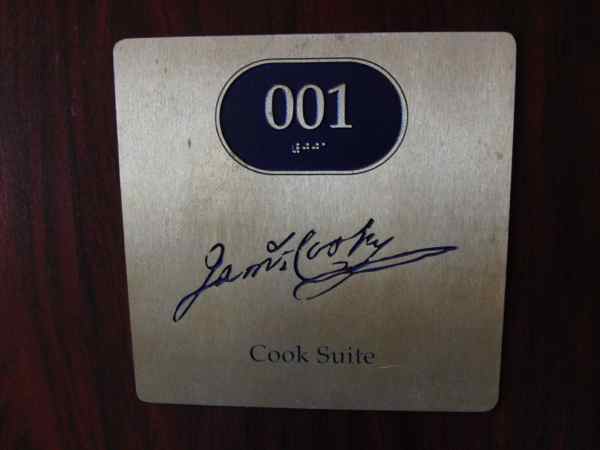 Cook Suite
Snookums woke up and went to the 7:30 Fitball class. It was held in the Ocean Bar rather than in the gym. In fact, all of the fitness classes are either held in the Ocean Bar (with a wooden dance floor) or in the 4th floor atrium. The last time we were on the Prinsendam all the fitness classes were in the gym, but the Ocean Bar does seem to be larger. Then she enjoyed her oatmeal with humongous raisins in it outside. Eating outside is soooo nice!
Filbert was showered and just coming to breakfast as Snookums was leaving so she sat with him. The Prinsendam has 750 passengers on it and we haven't run into any line or seating problems during the buffet breakfasts or lunches.
We went back to our room and there was a bottle of wine and a very large flower arrangement along with a note of apology from the Front Desk supervisor. We also had two voice mails from the Front Desk manager. Snookums called her and the manager also apologized. Snookums asked her when the upgrade request question from Sunday's embarkation would be answered and she promised to get back with an answer. We went to lunch and upon returning to our room we had two more messages from the Front Desk manager asking if we would be willing to meet with the Hotel Manager. Filbert called and said "yes".
The Front Desk manager came to our Verandah Cabin around 2 PM and took us to the Neptune Lounge (the lounge is only for Deluxe Verandah Suite guests) to meet with the Hotel Manager, Craig Oakes. He apologized for everything that had happened and said that the staff had been briefed about our Eurodam experiences 2 ½ months ago when crew members showed up unannounced two different times on our balcony. He even mentioned the issues at last night's dinner with the two items being not as ordered. That surprised us since we didn't make a big deal about dinner. He said that every time something is sent back to the kitchen it is noted and he gets the list every day. After a few minutes of asking us for the details of the various issues we had (the minibar, the strawberries, dirty laundry, etc.), he offered to give us a complimentary upgrade to a Deluxe Verandah Suite, Cook Suite #1, for the remaining 22 days. He took us to it and pointed out that the minibar had already been emptied for us. We also saw that our personalized stationery was there along with the standard welcome letter. The Hotel Manager obviously planned this as soon as he heard about the issues we had.
We said "yes" and immediately returned to our 250-square foot cabin and packed up our loose odds and ends and let the crew get the rest. Suite #1 is 522-square feet and has two televisions, two sinks, two desks and two sofas. Its verandah is larger, too, and has two comfy chairs with footstools, a side table, and a large table with two chairs. And, it comes with Neptune Lounge access, free laundry (which we already get due to our frequent cruising status), free dry cleaning and lots of parties, cocktail hours and other special events for the guests of the 19 Deluxe Verandah Suites. The answer to our question on Sunday about upgrade opportunities was a resounding "yes"! And, our neighbors are the couple in Suite 003 we met on embarkation day, Bill and Marykaye.
More of the Cook Suite
Dinner was still with just the two of us and the dining room manager told us that the other four guests had switched to the 5:30 seating. He asked if we wanted to join another table of six and we said "yes" so we'll see what happens tomorrow night. We were getting a lot of attention at dinner and after our first bite of every course, someone would come over to ask how it was. All of it was very delicious except for the brownie but Snookums feigned being full rather than ordering a different dessert. We decided we didn't need to ruffle any feathers. We feel like we are under a microscope as it is!
November 30 (Wednesday, Day 5, Gustavia, St. Barts, France; €1 = $1.32; $1 = €0.76) –
In Gustavia, at the top of the steep hill
We woke up when our phone rang at 7 AM. Neither of us knew where it was (it's on Filbert's nightstand) and never managed to answer it. Oh well, our day began an hour earlier than expected. We showered and then enjoyed a nice, leisurely, quiet breakfast in Neptune Lounge. Snookums had a yogurt parfait dumped on top of a bowl of fresh strawberries, blackberries and raspberries. She also had one of Holland America's world famous raisin buns. Filbert made his high protein, low cal instant oatmeal that he brought with him and made a coffee drink that consisted of serving of coffee, cappuccino and espresso. (The Neptune Lounge has a high-end single serving coffee maker that makes those types of coffee drinks and he put them all in his travel mug. He said it wasn't that good of a combination.) We ate outside on the Neptune Lounges verandah and had the place to ourselves.
We boarded a tender and started walking around St. Barts around 9:15. We decided to hike up the steep road leading to Fort Oscar. That road was the steepest one we had ever walked. We found out that Fort Oscar is now the police station and is closed to the public but that didn't stop us from going back downhill only to walk up a bunch of steps to Fort Karl. There were some old stones left, but that was it. But, it was a great overlook and Filbert took "THE" photo of the Prinsendam in the distance framed by tropical flowers in the foreground.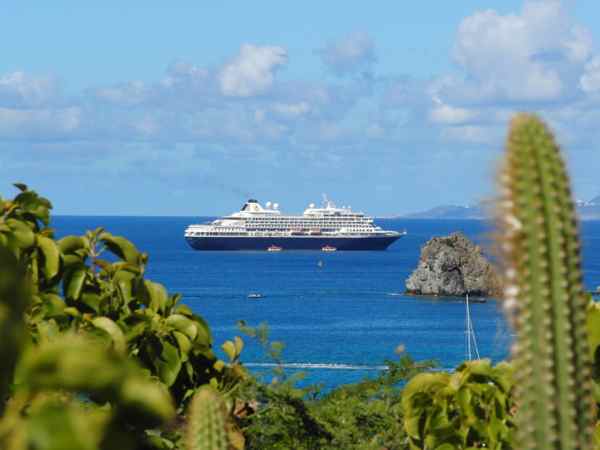 THE photo. Better in concept than in execution.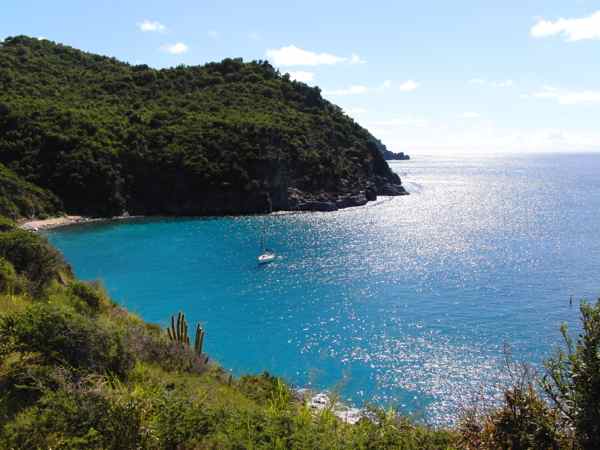 A secluded cove
St. Barts Critter
We were both drenched in sweat by then and decided we had seen enough (and we had basically seen all of Gustavia). We hit the supermarket on the way back to the tender and Filbert bought three kinds of beer ($16.50 for 12) and a 12-pack of Coke Zero ($11.85).
The nice thing about St. Barts is that there are NO chain stores or restaurants of any kind. We didn't see a McDonald's or a Diamonds International. There weren't any shanties or stray dogs, either, that are frequently seen on other Caribbean islands. It is supposed to be where the rich and famous come and we did see a couple of very large yachts.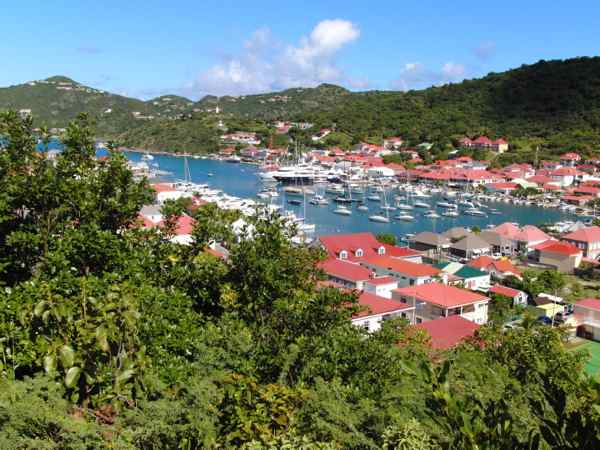 St. Barts harbor; big yachts in center
When we got back to the ship, Filbert immediately took a shower and then we went to lunch. After lunch, Filbert sat on the verandah while Snookums took a nap. Then when Snookums got up, Filbert decided to take a nap. The great thing about the suite is that the king size bed has a heavy curtain that can be drawn around it so naps can be very quiet, if needed! Filbert used the curtain but Snookums didn't since she can sleep through anything.
While Snookums was napping Filbert went to the sail away and had two glasses of Holland America's sangria. There is a little story about HAL's sangria. In early November while Filbert was surfing cruisecritic.com, he found a recipe for HAL's sangria. He wasn't even aware that HAL served sangria, but he sent the recipe to Snookums' sister with instructions for her to make the HAL version for our Thanksgiving get-together. She did and everyone really enjoyed it. Then when it was listed as a sail away drink, he knew he had to go try it. He said it was very tasty.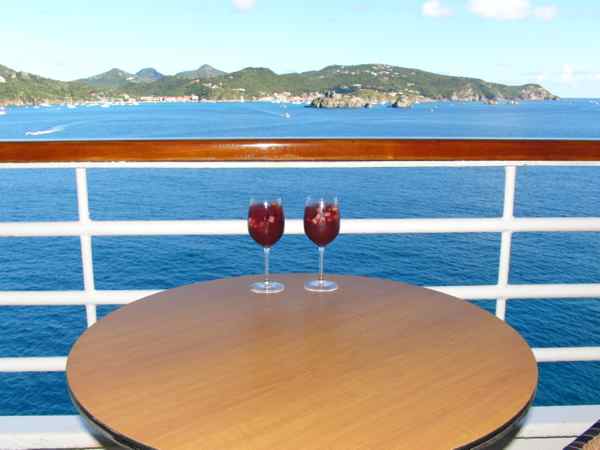 HAL sangria off St. Barts
While Filbert was napping Snookums logged on the internet. That normally wouldn't be a problem except that the night before Thanksgiving (and 3 nights before we left home) her PC died and so now she is using Filbert's Mac. She couldn't figure out if she had logged out or not and had to call the ship's internet manager. Snookums called the Neptune Lounge concierge and simply asked Cahren to tell the internet manager to make sure she was logged off and that no return call was needed. Problem solved.
We went to dinner and two other couples were also placed at our table. Snookums and Dave live in Wales and Pat and John live in Phoenix. We had an enjoyable dinner and we're not sure whether they are permanent table 19 seatmates or not.
Captain Halle Thon Gundersen and his officer on the flying bridge