Contributed by: filbert Sunday, February 19 2012 @ 03:09 PM CST
The 24-Day Amazon Explorer Cruise 2011, November 26–December 21, 2011, Holland America Prinsendam
Text by Snookums, Pictures by Filbert
Part Two
December 1 (Thursday, Day 6, Castries, St. Lucia; 1 XCD = $0.37; $1 = 2.70 XCD) –
Filbert set the alarm for 6 AM since we wanted to be off the ship as soon as it docked at 8 AM. Our plan was to snorkel on our own since the ship didn't offer any snorkeling shore excursions. Neptune Lounge opened at 7 AM and we were ready before that so were enjoying the view from our balcony at the very front of the ship when we saw dolphins. The pod of five or six dolphins finally left and then we went to breakfast.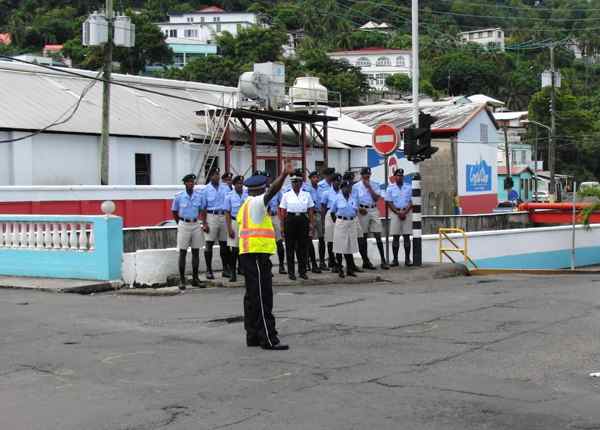 Police academy, St. Lucia
After waiting for the ship to clear customs, we finally got off around 8:30 AM and found out that a taxi ride to the one snorkeling place would take 90 minutes each way and cost $100 total. We found one boat company that was going to the same place and it was going to leave at 10:30 and return at 3:30 for $100 total (plus lunch on your own) but the boat looked like a little motor boat with very little shade so we decided to pass.
We returned to the ship to drop off all of our snorkel gear and then took the water taxi ($5 per person, round-trip) from our dock to the city directly across the harbor. It wasn't that far to walk, but since it was so hot and humid we decided to save our legs for the actual walk in the city rather than the walk to and from the city. We walked by lots of sidewalk vendors selling things to the locals (clothing, soap, sidewalk bars, sidewalk "cafes", etc.) and wandered in two grocery stores and Filbert bought the local Piton beer (3 bottles for $3.10 which was much cheaper than yesterday). We also found the central plaza/park named for one of the two Nobel prize winners from St. Lucia. We saw a class of police recruits learning how to be a traffic cop, too. In fact, we saw them two different times at two different intersections. Right as it started to pour rain, we went in the craft market which was nothing but rickety stall after stall of locals selling St. Lucia t shirts, spices, rum, paintings and straw items. We found the one fish store and it was selling snook so Filbert had to get a photo of that since he calls Snookums "Snookums". The women behind the counter laughed and got a whole snook from the freezer for the photo opportunity.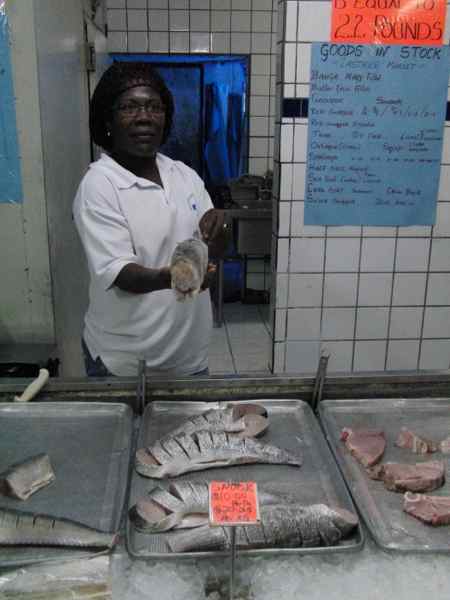 Snook for sale
During our walk Snookums found a 1 cent coin of an Eastern Caribbean dollar and in front of one of the vegetable vendors she found a dollar coin. She gave the dollar coin to the vendor and kept the 1 cent coin for her collection. Snookums still has a knack for finding currency in foreign countries.
The sidewalks in St. Lucia are almost non-existent and it was a tricky at times to dodge traffic while not falling in foot-deep gutters. We got back on the ship around 11:30 and Filbert took a quick shower since he was soaked from sweat and rain, but mostly sweat. Then we weighed ourselves in the gym and found that we are at, or below, the weight we recorded on embarkation day. So far, so good. After that we ate a leisurely lunch inside Lido. It was so humid outside (and still raining) that eating outside wasn't too appealing.
Snookums enjoyed another 2-hour nap and then decided to check email. She found that the internet manager credited her account with 15 free minutes yesterday. Filbert got them in his online account, too! We don't even try to get free stuff and we get it.
When we went to dinner, the restaurant manager asked us if we would like to permanently join a table for six so we moved from table 19 to table 300 and met Gordon and Jan and Jim and Ann. Both couples are from Vancouver, but didn't meet until this cruise. We had a nice dinner and they said we could stay with them the rest of the cruise. Whew, Snookums was worried that we wouldn't be permitted back at their table. We got back to our room and turned out clocks ahead one hour.
December 2 (Friday, Day 7, At sea) –
We slept in and Filbert had a leisurely light breakfast in Neptune. Snookums skipped breakfast. All suite guests were invited to a back of the house tour at 10:45 AM followed by a gourmet lunch in Pinnacle Grill. The back of the house tour mainly involved the galley and all of its various stations and rooms. When we got to Pinnacle Grill, we were shown to our assigned seats and we were seated at a table for five with two sisters who each have their own deluxe verandah suite and Craig Oakes, the Hotel Manager. The lunch was delicious and we learned from Craig that the Pinnacle Grill chef is a recent addition to Holland America from a 1-star Michelin restaurant in Hamburg, Germany. He recently served a 5-course meal for the officers in the captain's quarters and Craig said it was delicious.
Prinsendam "Back of the House" tour: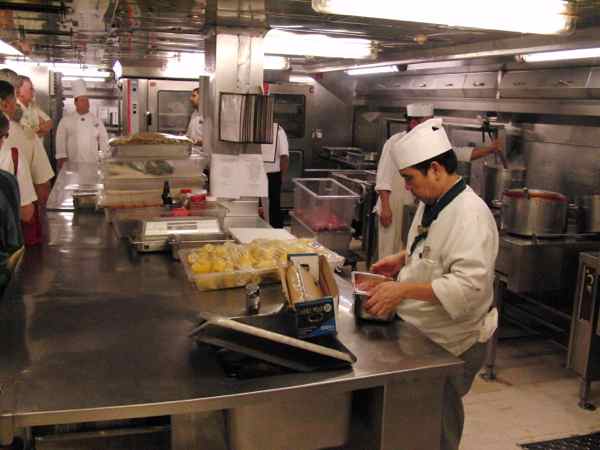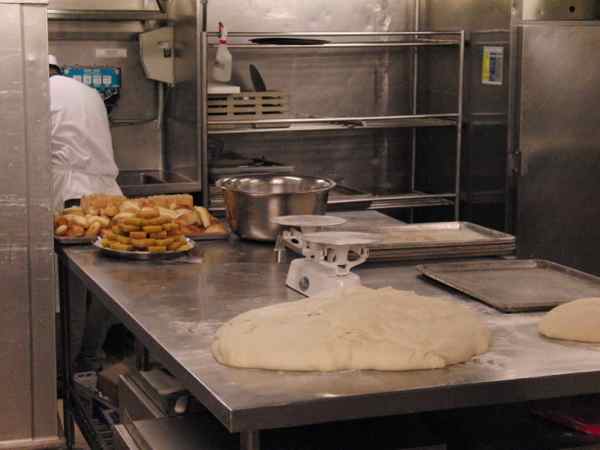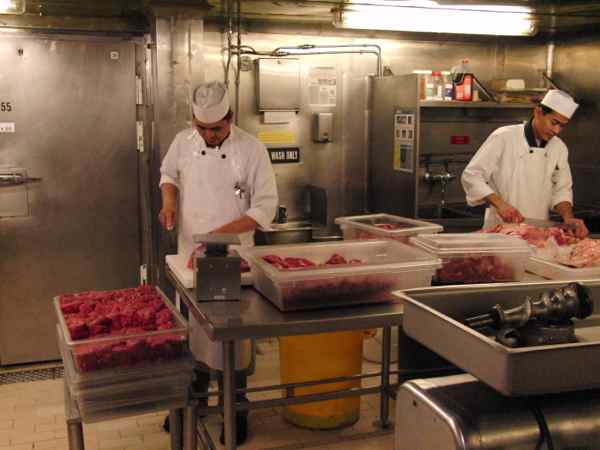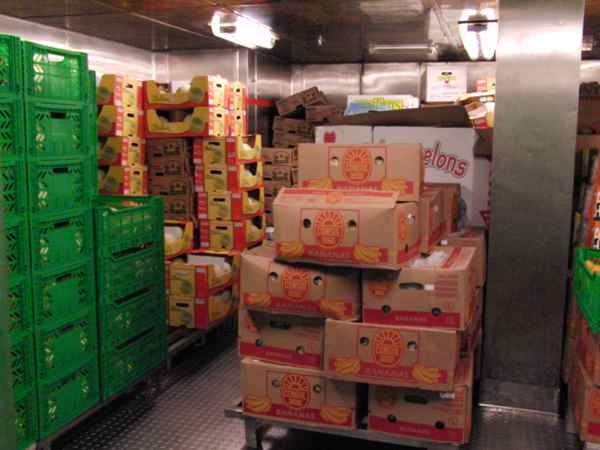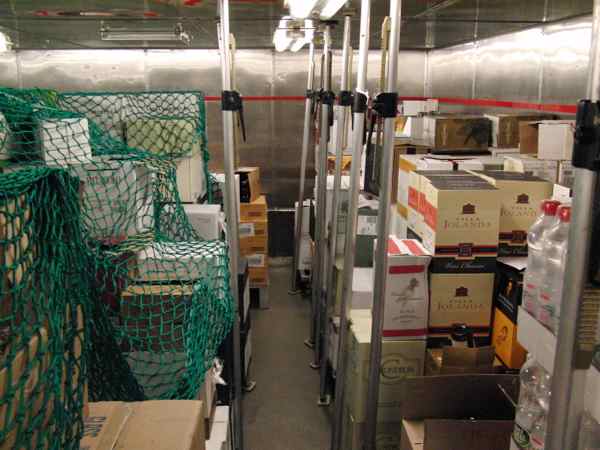 Our fabulous lunch consisted of an appetizer of duck breast on a lentil salad with orange vinaigrette and then a cream of snow pea soup flavored with curry and mint with a lobster fritter on top. The lunch entree was a choice of veal with foie gras on an onion, leek and potato puree or a filet of sea bass with herbs served on a cherry tomato ragout and olive tapenade. Filbert and Snookums both ordered the sea bass and when it was served, Filbert just wanted to sit there and smell it since it smelled so good. It tasted even better. Dessert wasn't that impressive but we ate the creamy homemade raspberry cheesecake anyway. After lunch the chef came to our table and Snookums told him that the snow pea soup was very good and she could taste the subtle hints of mint and curry and the chef said that he roasts his own curry powder and that he simmered the soup stock for four hours and then did other things to it. It definitely wasn't Campbell's soup out of a can! This "perk" for suite guests was a very nice highlight of a sea day.
In the afternoon Snookums decided to get some sun and managed to get a rosy glow after only one hour on the balcony. The balcony doesn't have chaise lounges so her rosy glow is only on her front side, but it's better than nothing.
Dinner was our second formal night and we went to Neptune Lounge beforehand and asked Cahren to take our picture.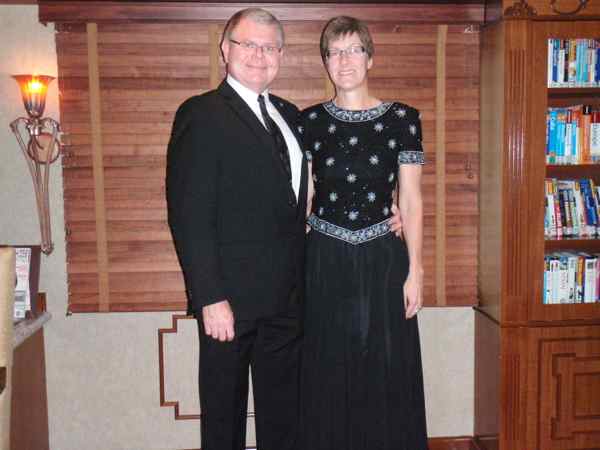 Formal night, Dec. 2