Contributed by: filbert Sunday, July 03 2011 @ 12:24 PM CST
The Legendary Danube, May 26-June 8, 2011, AMA Waterways Amadolce
Text by Snookums, Pictures by Filbert
Part Three
June 4 (Saturday, Day 10, Vienna, Austria) –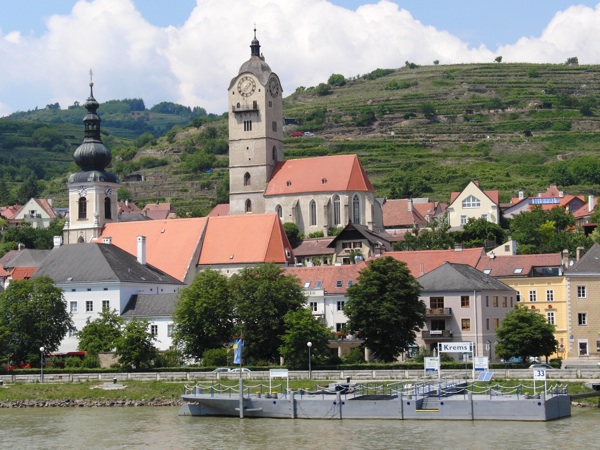 Krems, in passing
Before we jump into Vienna, one picture of a town along the way from Melk to Vienna–Krems.
More after the jump . . . Welcome to Vienna!
Vienna strikes up the band for us
The guided tour started with a bus ride around Ringstrasse (Ring Road) which is a grand boulevard constructed along the old city walls. We saw many beautiful buildings including the Rathaus [City Hall], the Austrian Parliament, the Hofburg Palace, the Natural History Museum, the Museum of Art History (Kunsthistorisches Museum), and the Vienna Opera House. Vienna is a stunningly beautiful city and has a population of around 1.7 million.
The bus let everyone off at St. Stephen's Cathedral and after listening to our monotone tour guide for about 10 minutes, we decided to just walk around ourselves. We did learn that St. Stephen's Cathedral is covered with 230,000 colorful glazed tiles.
St. Stephen's Cathedral roof tiles
Flower clock, Stadtpark
After that, we quit listening. We knew what tram to take to get back to the ship and had all day so we weren't concerned about getting lost. We enjoyed a stationary marching band that was made up of men and women that appeared to be in their 40s and 50s that for some reason was playing in front of St. Stephen's Cathedral.
We walked to the famous wiener schnitzel restaurant, Figlmüller, and each ordered a huge wiener schnitzel and a potato salad with field greens. Filbert also had a stein (yep, a mug) of some kind of wine that the waiter recommended would go well with the wiener schnitzel.
Figlmüller food
It was the best $57.16 we could have spent. We sat on the outside of the restaurant, but luckily for us, there was a wooden wall about chest high that prevented the numerous passersby from reaching over and grabbing our great food while still allowing us to people watch. It was funny, though, to watch people's reactions as they saw the bigger than plate-sized wiener schnitzel. For the record, the other 8 people eating in our section also ordered individual wiener schnitzels and side salads so we weren't the only pigs!
After lunch we continued our walk to nowhere and ended up at the Vienna Opera House. Hotel Sacher was just across the street and that is the hotel that created Sacher Torte. Of course we had to have a piece. So, we shared a piece of Sacher Torte and Filbert ordered a glass of apple spritzer (non-alcoholic, kind of like sparkling apple cider – it seemed to be THE non-alcoholic beverage of choice in Germany and Austria). Snookums tried to order a glass of tap water since she noticed that many people had little juice glasses of water in front of them but the waitress quickly informed her that those glasses of water only come with an order of coffee. Gee, you would think that they could have provided a little juice glass of water, but nope! And, Snookums will not spend money on water in Europe since it is often very minerally or else carbonated. Snookums just wants plain old tap water… The Sacher Torte was okay and that bill at the outdoor café was $12.25 – ouch!!
Sacher Torte–the original
Hotel Sacher
We continued our walk and saw Hofburg Palace and a brass band was playing in front of it, too. We also stumbled upon a country music festival that was just about to start in front of the Rathaus. The definition of country music probably meant traditional since many, many people were wearing lederhosen (men) or dirndls (women). By now it was very hot and Filbert was happy to buy a beer from the beer stand set up just for the festival.
We kept walking around and decided it was time to head back to the ship. We found the nearest D Tram stop only to read that it was closed for two hours due to the "country" music festival in the middle of the city! So that's why we kept seeing bands playing in various places. We finally figured out what metro to take to one of the open D Tram stations and made it back to the ship around 4 PM. We were hot and tired, but had a great day.
The ship left the dock and after about 30 minutes had to dock again at a different location since our passports needed to be checked. The World Economic Forum was being held in Vienna and that meant that the borders were closed. Normally you can travel from Austria to Hungary without any passport check, but the World Economic Forum nixed that. It didn't interfere with our trip, but was an interesting development.