Contributed by: filbert Saturday, July 02 2011 @ 12:34 PM CST
The Legendary Danube, May 26-June 8, 2011, AMA Waterways Amadolce
Text by Snookums, Pictures by Filbert
Part Two
(June 1 (Wednesday, Day 7, Regensburg, Germany) –
We woke up to rain and drizzle and mid-50 temps. We went on the 90-minute walking tour (tours are included in the cruise price). Pope Benedict XVI is from Regensburg and we saw the house that Oscar Schindler lived in for four years after World War II. We saw a bunch of other old stuff, too, including lots of towers since this town wasn't hurt by World War II and a lot of it dates back to the 1100s.
More after the jump . . . We woke up to rain and drizzle and mid-50 temps. We went on the 90-minute walking tour (tours are included in the cruise price). Pope Benedict XVI is from Regensburg and we saw the house that Oscar Schindler lived in for four years after World War II. We saw a bunch of other old stuff, too, including lots of towers since this town wasn't hurt by World War II and a lot of it dates back to the 1100s.
After the tour we ate lunch at the historic sausage kitchen (Historische Wurstkuchl). This restaurant claims to be the oldest sausage restaurant in the world (just like Nuremberg's) and it dates from 1135. That is older than Nuremberg's. Per our Regensburg guide, there was a legal battle between the two restaurants but Snookums doesn't know the outcome. Regensburg's sausage kitchen is next to the Stone Bridge which was built by the Romans in 1135 and this kitchen supposedly catered for the Romans workers. The Regensburg sausages look like the Nuremberg ones (short and skinny), but they taste different. The Nuremberg sausages are made up of a coarser grind and don't have as much spices. The rolls in Nuremberg are softer and don't have caraway seeds in them. The mustard in Nuremberg is just a tad spicy whereas Regensburg is famous for its sweet mustard and it is definitely sweet. (Too sweet for our tastes.) The sauerkraut in Nuremberg is a bit sweeter and that probably makes sense since the Regensburg sauerkraut is probably so sour to compensate for the very sweet mustard. The Regensburg German potato salad had slices of cucumber in it which gave a nice flavor. In Nuremberg, sausages on a roll purchased at a kiosk consisted of three sausages on a roll and a pump container full of mustard to help yourself. In Regensburg, you got two sausages and a choice of sauerkraut or not and a choice of mustard or not. Snookums liked the Nuremberg rolls, sausages and mustard better. Filbert liked the Regensburg rolls better but they were way too hard and crunchy for Snookums's mouth and they had caraway seeds in them and Snookums doesn't like caraway seeds.
We got back to the ship and Snookums tried to warm up. She went to the Bavarian lunch on the ship and tried the German potato salad. It was just okay. Filbert stayed in the cabin and worked on his book.
Soon it was time for dinner. Well, not quite. Before dinner every night the cruise director, Roland, spends 15 minutes explaining the next day's itinerary. Although we get a daily program delivered to our room every night for the next day, we make a point of going to Roland's speech. When he is done, dinner is served. We didn't feel social and sat at a table for two. Filbert ordered both the red fish and the German wheat dumpling with mushroom ragout and Snookums ordered the German wheat dumpling with mushroom ragout. The dumpling, which was the size of a cue ball, was not very tasty. However, the mushroom ragout was very good and made a nice gravy for the steamed brussels sprouts and broccoli. Dinners haven't been that impressive and the additional vegetables that they bring around each night have always included steamed turnips and steamed carrots with either steamed celery or steamed brussels sprouts. The vegetables are not very imaginative.
A famous Franconian singer was the post-dinner entertainment, but we didn't attend her performance in the lounge. A lot of people said that she really was very good and sang popular songs. We went back to the cabin and since no tv channels were coming in, we watched one of the movies. The movie choices left a lot to be desired so we chose one of the classic movies, "A Bridge Too Far". Unfortunately we didn't realize it was a 3-hour movie and we were pooped after two hours. (I suppose you could say it was "A Movie Too Far." — Filbert)
June 2 (Thursday, Day 8, Passau & Linz, Austria) –
We woke up and joined the walking tour of Passau. Passau has 50,000 inhabitants and its only industry is tourism. The Danube, Inn and Ilz Rivers form a junction in Passau and cause a lot of flooding. In addition to horrible floods, old town Passau has seen the Romans, Charlemagne's troops, the crusaders, the Turks, and Napoleon's legions. For 600 years, Passau was the largest sovereign bishopric, and the Bishops of Passau were very wealthy, powerful, and independent of the emperor.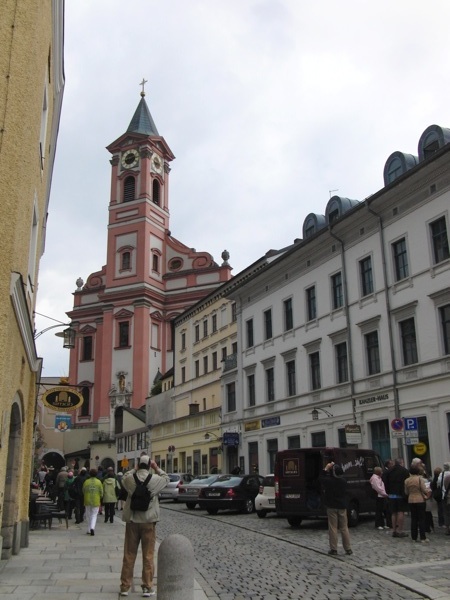 Passau
Since it was Ascension Thursday, nothing was open. All of the churches' bells seemed to ring at the same time and at one point as we were standing in the square in front of St. Stephan's Cathedral, which has Europe's largest church organ with 17,774 pipes and 233 registers, it was almost overwhelmingly loud.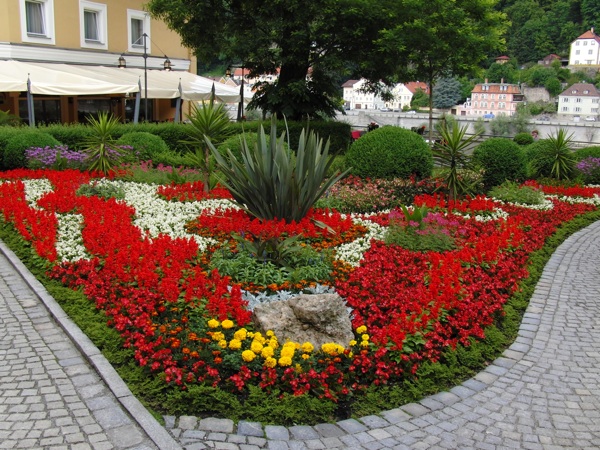 Flowers in Passau
St. Stephan's Cathedral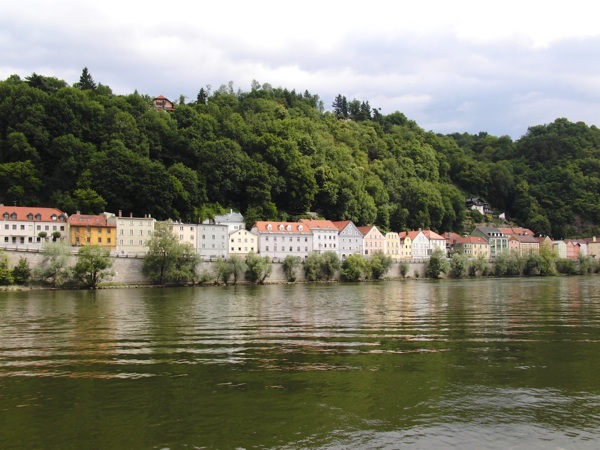 The opposite bank of the river from Passau
Leaving Passau
While we were eating lunch the ship left for Linz, Austria. We passed through several locks and there was a religious statue on the Danube's banks after one of the locks and it is superstition to throw a coin at the statue and if you hit it, you make a wish. Filbert and Snookums stood in their cabin and the French balcony and threw their coins, one person at a time, but neither hit the statue.
We left our cabin since the cruise director was talking about seeing castles from the left side of the ship and since it was cold and overcast outside, we went to the Aft Lounge. We consider it our private lounge since our cheap balcony cabin is the second one from the back so the Aft Lounge is very close to us. People that we had talked to while we were crossing the Continental Divide were in there so I talked to them while Filbert wrote his book. We all enjoyed the scenery.
An ice cream social was during tea time so we all left the Aft Lounge for our ice cream. Six flavors of hard ice cream and 10 toppings made Snookums very happy!
Filbert doled out his next seven days worth of pills and realized that he left his prescription meds at home. He sent an email to Snookums's sisters and Jean quickly got the prescriptions emailed to the ship. Roland, the cruise director, said he would try to fill them in Melk tomorrow. Filbert had enough through Saturday so if they don't get filled, he'll only be without his prescriptions for four days. We're keeping our fingers crossed that an emailed prescription from the US will work in Austria!
The ship docked in Linz, Austria during dinner. After dinner a trio came on the ship to play Mozart and other music but we opted to get off the ship and explore Linz, Austria. It was 8:30 PM or so and all the stores were closed. Linz is the third largest city in Austria and it seemed to have a mixture of old buildings and new buildings with no rhyme or reason. There were a lot of people just walking around window shopping. McDonald's and some restaurants/sidewalk cafes were open. We went in the McDonald's since we realized we never went in one in Nuremberg (and there were at least three of them in the Old Town). Since we were in Austria, the McCafe sold all sorts of coffee drinks as well as fancy pastries. The restrooms had a turnstile on the outside that required a €0.50 coin to even enter them! We didn't need to use them, but this is the first time we've seen a pay toilet in a McDonald's in any of our world travels.
We made it back to the ship just as it started to rain. We've had a lot of drizzle/rain and cold, cloudy weather on the trip so far.
June 3 (Friday, Day 9, Melk & Vienna, Austria) –
Our tour started at 8:30 AM so we had to get up early. The bus took us to the beautiful, huge 18th-century Melk Abbey on top of the hill. It currently has 30 monks and priests as well as a day school for 900 elementary students. The various buildings and grounds were as impressive as a palace and the actual church was beautiful, too. After the guided walking tour through the abbey, we walked back to the ship. The morning turned sunny and warm and no one needed the jackets that they started off wearing.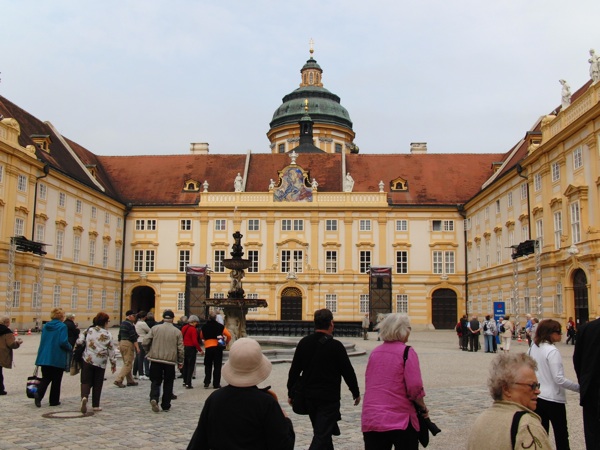 The Prelate's Courtyard of Melk Abbey
The four virtues depicted in the frescoes in the Melk Abbey Courtyard (don't quote me on which legend actually goes with each picture–I didn't take notes, OK?):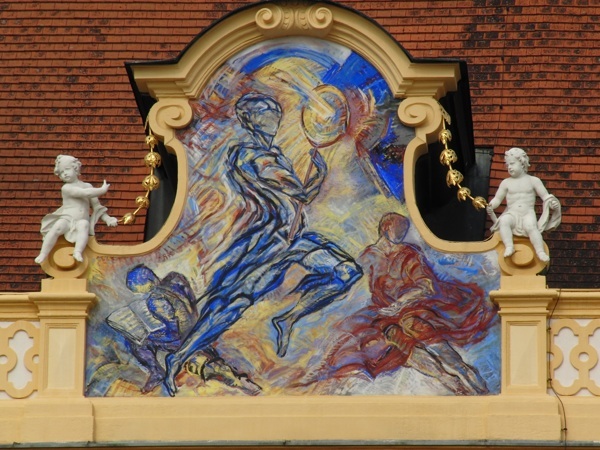 Wisdom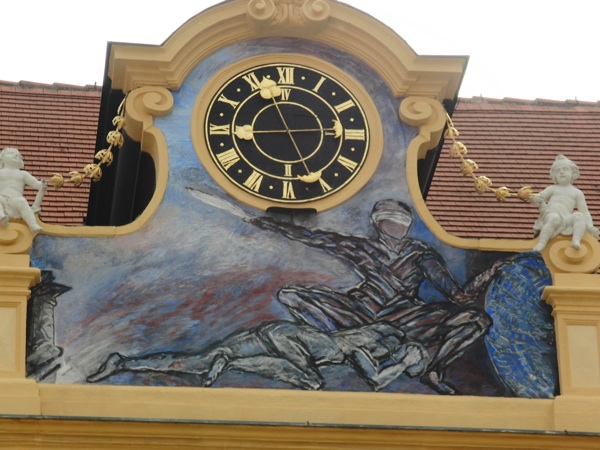 Justice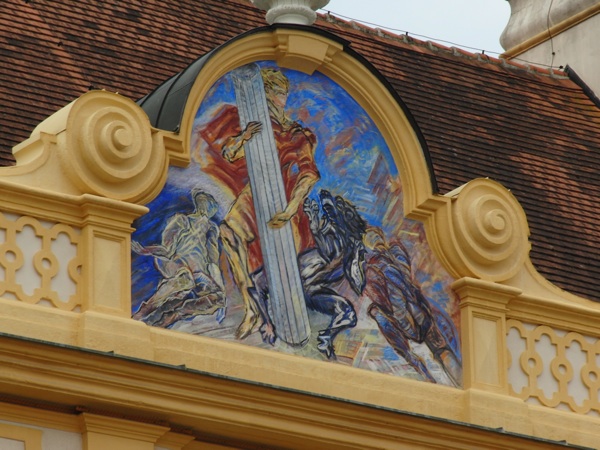 Fortitude
Temperance
Melk seemed to consist of one main street about three blocks long with two streets branching off of it for its population of 5,000. We walked it all. Snookums wanted to find a bakery and two of them were out of business. We never saw a bakery or a grocery store but we did pass a meat market and went in and Filbert bought two cold beers.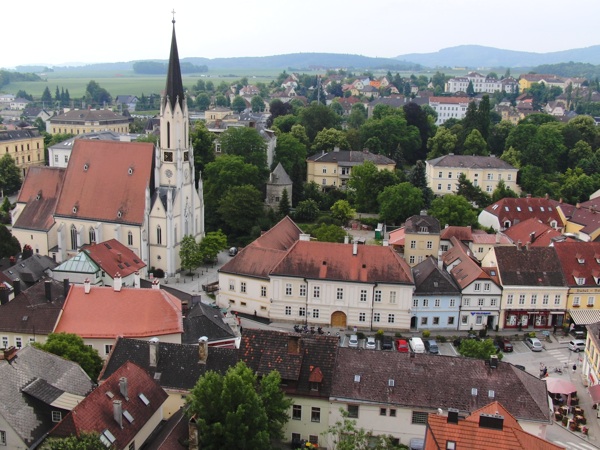 Melk, from the Abbey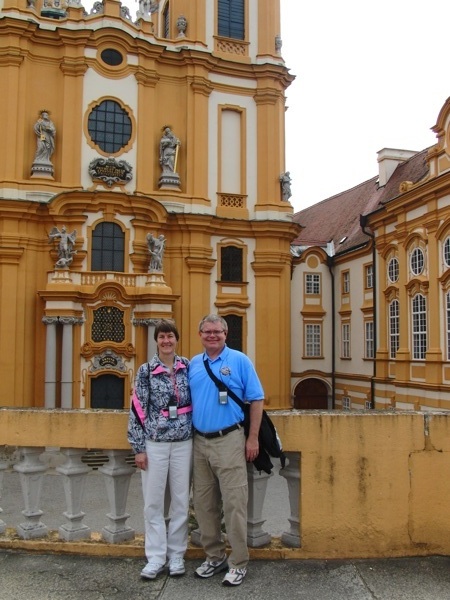 The Adventurers at the Abbey
Unlike in Germany where there is an €0.08 deposit on every glass bottle and a €0.25 deposit on every plastic bottle and can, Austria doesn't have any deposits. (We never managed to figure out how to get our deposits back in Germany and left our empty cans and bottles next to the hotel's trash can. Hopefully the maid turned them in and made some extra money!)
The ship departed Melk during lunch and after lunch everyone seemed to be on the skydeck enjoying the sunny, warm afternoon. (Filbert stayed in the room writing his book until he finally had to see the scenery and went outside for a few minutes of picture taking.) The ship passed vineyards, castles and ruins and we were on the 20-mile stretch of river along Austria's Wachau Valley. It is regarded as the most attractive part of the Danube.
Snookums read her paperback outside, under the canopy, for the entire afternoon. Every time the ship passed under a bridge the canopy had to be lowered so she had to move into the sun. The canopy isn't that tall, but the captain never knows the height of the river's water and to be on the safe side, everything is lowered and people are told to sit down. At some point in the afternoon, Kaiser Spritzers (elderberry juice and champagne) were passed around and Snookums took one to Filbert in the cabin. Around 4:30 it got very dark and cloudy and Snookums went inside. Then it started pouring rain!
We ate dinner with Claire and Andre from Montreal, Quebec and during dinner the head waiter made an announcement that it is standard practice on AMA Waterways to clean produce with a mixture containing 25ppm chlorine in order to kill any e coli. This announcement probably should have been made at the beginning of the cruise since the German cucumber/bean sprout/whatever contamination happened prior to us boarding the ship. Better yet, it could have been printed in the daily program every day.
During dinner the ship docked in Vienna but since the city center was a long tram ride away, we decided to just go to bed and be well rested for our tour in the morning.