Contributed by: filbert Friday, July 01 2011 @ 11:31 AM CST
The Legendary Danube, May 26-June 8, 2011, AMA Waterways Amadolce
Text by Snookums, Pictures by Filbert
Part One
(May 26 (Thursday, Day 1, Flying to Nuremberg, Germany) –
Over the top of the world
Our 1:30 PM flight to Chicago was on time and gave us just enough time to get to the Lufthansa gate while the flight was boarding. It was a completely full flight so we didn't have an empty seat between us in economy class. Oh well. Lufthansa was generous with its beverages and Filbert enjoyed red wine throughout the flight. Our dinner choices were either Indian vegetarian or chicken. We each chose the chicken. It wasn't too bad for airplane food and consisted of chicken and rice, a cold vegetable salad, a roll and a small brownie. The movies were the "Green Hornet" and "The Tourist" and since Snookums had no interest in either of them she tried to sleep.
More after the jump . . . Suprisingly, Filbert actually slept more than Snookums did. Towards the end of the 8-hour flight a snack was served. It was a roll, cheese, granola bar and fresh fruit cup.
May 27 (Friday, Day 2, Nuremberg, Germany – €0.70 to the dollar) –
We landed in Frankfurt 20 minutes early on Friday at 6:30 AM. That was a good thing since after passing through Customs, walking forever to our terminal and re-doing security, the bus was getting ready to leave to take people to the airplane to Nuremberg. Our 40-minute flight to Nuremberg was uneventful. It was almost 9 AM on Friday when we landed in Nuremberg. The weather looked a little cloudy but nice.
Nuremberg clock tower
We got our luggage and found an ATM to get Euros and went outside and downstairs to the metro. We couldn't find the ticket machine anywhere and the train was here so we got on and hoped for the best. No one checked for tickets and when we transferred at the main station we bought our tickets for the rest of the journey (just two more stations). We were happy to escape the 40 Euro fine for riding without a ticket.The metro station was 2 minutes from the Holiday Inn and Snookums even had a detailed map. We rolled our suitcases behind us on the cobblestone streets and sidewalks and got to the hotel after about a 5 or 10-minute walk. It was only 10 AM and our room wasn't ready so we stowed our luggage and went out exploring. We were hoping to get to our room, shower and take a short nap, but a traveler has to do what a traveler has to do! The Holiday Inn is located 2 minutes from the metro station if you go the straight route. Unfortunately, on our way to the hotel with all of our luggage we took the roundabout way. Oh well. We walked all over Old Town (Altstadt) with its surrounding walls, moats, gateways and watchtowers dating to 1452. It is very much a commercial hub now and the streets are filled with stores, fast food chains, bakeries and kiosks selling either Nuremberg bratwurst or pretzels (but no kiosks sold beer). Some of the streets are pedestrian only and all of them are cobblestone of some sort or another.After a couple of hours of wandering around, we decided it was time for lunch and with our jetlag and just feeling kind of crummy/scummy, finally decided that a Thai fast food chain in a food court sounded the best. It was actually made to order, very fresh and very good. Nothing like going to Germany to eat Thai food!On our way back to the Holiday Inn Filbert enjoyed a roll with three Nuremberg bratwursts in it for €2.50 ($3.60). There were many kiosks selling these small grilled bratwursts. Nuremberg bratwursts have to be able to fit through a medieval keyhole since that allowed pub owners to sell them during medieval times. Therefore, they are about the length of a cigarette and about as thick as three cigarettes. Snookums bought a huge piece of rhubarb strawberry küchen (€2.25 or $3.24) for later from a bakery in a grocery store in the basement of a department store. Filbert also bought two different .5 liter bottles of local beer to enjoy later (€0.89 each or $1.28). Snookums found €0.01 on the ground which means that she continues to find money in foreign countries. Tanzania, the Maldives and the Seychelles are probably the only countries she has been to where she hasn't found money!Our room was ready around 2:30 and we took showers and napped until 6:30 PM. Due to the gabled roof, the shower curtain could not close all the way so the shower leaked all over the floor but Housekeeping brought us a bunch of towels. About a minute from the hotel, we had a delightful dinner at Historische Bratwurst-Küche Zum Gulder Stern. This restaurant is THE oldest sausage restaurant in the world and was built in 1375! Filbert ordered the fewest number of Nuremberg bratwursts, 6, and Snookums had the "city" bratwurst. Filbert ordered the sauerkraut for his side dish and Snookums ordered the potato salad. Filbert's bratwursts were grilled over an open beech-wood fire that was almost the extent of the kitchen. Snookums's "city" bratwurst was a larger sausage – almost like ½ of a thick ring sausage. They were both good. Snookums's was a finer grind as compared to Filbert's. Snookums tried to order water from the tap but the plumbing is so old that it is not safe to drink! (The waitress couldn't speak a lot of English but we think she was saying that the pipes were lead.) Snookums choked down €2.50 bottled mineral water instead. Filbert enjoyed €3.50 beer, naturally. Filbert's sauerkraut had lots of caraway seeds in it along with bay leaves and a couple of juniper berries. Snookums's potato salad was pretty good, but not as good as her mom's German potato salad.On the way back to the Holiday Inn we decided to explore the "red light" district that started four establishments down from the hotel. We saw at least eight businesses where the scantily clad women were sitting in the windows trying to entice the men that walked by! Snookums thought this only happened in Amsterdam, but obviously Nuremberg participates, too. Taking a left from the Holiday Inn got you to Old Town. Taking a right got you …..We tried to stay up until midnight, but Snookums fell asleep at 11 PM. It was a long day.
May 28 (Saturday, Day 3, Nuremberg, Germany) –
Nuremberg riverside
Filbert woke up around 8 AM and finally woke Snookums up around 10 AM. We explored the town and ate lunch at another famous bratwurst restaurant near the rathaus (city hall). Filbert wanted to order the Nuremberg bratwursts again but decided on the Nuremberg goulash. It was the Nuremberg bratwursts cut up in a paprika/tomato/red pepper gravy and served with spaetzle. It was okay. Snookums ordered penne pasta with tomato sauce and fresh mozzarella balls.We continued walking around and enjoyed the Hauptmarkt (main market), a farmer's market. Lots of white asparagus, rhubarb and strawberries were for sale. Nearby was a church (Frauenkirche – Church of our Lady) and an elderly German man told us it was built in the 12th century. Then he launched into German and we said "English" and he would speak a few words of English before forgetting and lapsing into Germany again. Although we didn't understand what he was saying, we could tell he was very proud of his town and his church.We continued our walk around the Kaiserburg (Imperial Castle) and enjoyed its gardens with roses and flowers in full bloom. Most of the castle dates back from the 15th century. We started getting worn out and headed back to the hotel. Snookums took a 3-hour nap!At 7 PM we decided it was time for dinner and enjoyed pan-fried matjes fish filets with fried potatoes at the "fish festival". The "fish festival" was located at the part of Old Town closest to our hotel. There were several large banners that said "Fish Days" or something like that in German. 20 different temporary vendors were selling ready-to-eat fish items. Most of the vendors were selling a whole, cold fish (tail included!) with huge amounts of thinly sliced white onions on a roll or else they were selling various kinds of fish salad on a roll. A few vendors were selling fish and chips. We went to the vendor selling pan-fried fish and fried potatoes for our dinner. It was very good. There were also two carnival rides for children. Several of the booths had signs saying "Since 1953" or "Since 1951" so this must be an annual event. It closed at 10:30 PM on Saturday.The other unique thing occurring was "Blue Night". This was a one-night annual event and lots of activities were happening all over Old Town starting at 7 PM. Some required tickets. We could not read any of the schedules so we just walked around. We did see that a lot of large, blue lights were at the base of most of the old churches and the castle and things like that in order to illuminate them in blue. The streets were packed full of people but everyone was nice and there wasn't any rowdiness. The stores closed at 8 PM and most of the bratwurst and pretzel kiosks were closed, too. And, there were just a handful of places selling beer to people walking around. That's probably why it wasn't rowdy. Snookums found a bakery that was still open and bought a large Danish topped with what she thinks were currants. Filbert found a bratwurst vendor and had a grilled city bratwurst on a hard roll. Between the "Fish Days" festival and Blue Night, Nuremberg seems to be a city of festivals. In fact, we saw notices for the Africa Festival next week and the Beach Festival in mid-June. Germans know how to party!We got back to our room in time to see the last 10 minutes of the Champions League Final in London. Nothing like watching a sport you don't care for (soccer), in a language you don't understand (German) between British (Manchester United) and Spanish (Barcelona) teams. That's definitely being international! (Note – Our friend Gary that we have cruised with on three occasions flew to London for this soccer match so we felt that we had to watch it. We were in Barcelona with him when he got his picture taken with Messi, Barcelona's star player. His wife isn't a soccer fan and stayed home in Phoenix rather than going to London.)
May 29 (Sunday, Day 4, Nuremberg, Germany) –
We woke up a little before 9 and decided to eat the hotel's overpriced breakfast buffet (€15 or $21.35 per person). It is difficult to find an "American" breakfast in Europe. There are lots of bakeries and coffee shops but all they really sell are pastries and coffee. Pastries are fine for Snookums (and much appreciated!), but Filbert tries to stay away from carbohydrates in order to keep the pounds off. The breakfast was fine and had all the normal fixings, but wasn't worth $21.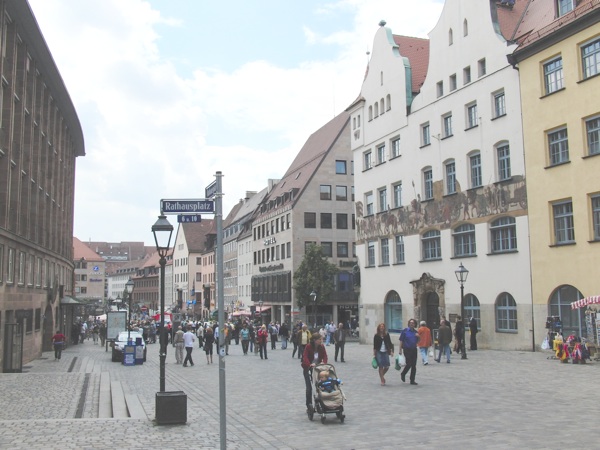 Rathausplatz
We tried to use the free wireless internet in the lobby but it was down and we were told it wouldn't be fixed until tomorrow since the company that supports it doesn't work on Sunday. We were also told that there was no manager on duty. Neither of these things went over well with Snookums.Snookums took a 3-hour nap and when she woke up, we went out and about for dinner. We walked to the main train station first in order to buy some beer (for Filbert) and a bakery treat (for Snookums) since all the stores on the street were closed since it was Sunday. Then we decided to eat at another famous bratwurst restaurant in Old Town but it was also closed. We started walking back to the hotel and looked at one restaurant that was open, but decided to eat dinner at Fish Days. We went to the sausage vendor and each bought a different kind of sausage on a roll (so much for fish!). Filbert also had fried calamari from one of the fish vendors since it was Fish Days. Filbert also had a radler which is a drink made up of ~1 inch of Sprite and the rest beer. He drank it but didn't order another one and instead had a "normal" German wheat beer. We asked the barmaid about Fish Days and she said, in perfect English with no accent (and she only studied English in high school), that it was a 10-day festival that used to be held in October but it was too cold so it was re-scheduled for the end of May and the beginning of June. The festival first started in Hamburg, Germany.
May 30 (Monday, Day 5, Boarding ms Amadolce) –
We woke up, packed and took our luggage to the front desk. Snookums set up a meeting with the manager at 2 PM. Then we walked to the Das Bratwursthäusle Nürnberg (the restaurant that we tried to eat at Sunday night) and each enjoyed 6 bratwurst. Snookums ordered the potato salad and Filbert ordered the sauerkraut and also ordered horseradish. The horseradish was just like the kind that Snookums's mom makes – ground up horseradish in vinegar and not cream. Filbert enjoyed it, along with his stein of doppelbock beer. We finished just as the Frauenkirche (church) bells tolled. Frauenkirche is a church built around 1350 and it has an ornate clock on its west façade. Every day at noon the figures of the Emperor Karl IV parade out of the Frauenkirche clock along with his seven counts. After seeing that "must see", we went back to the Holiday Inn.
The Frauenkirche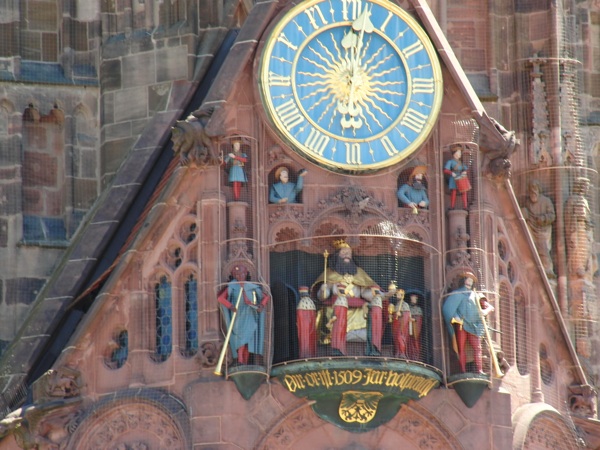 The Clock Parade
When we got to the Holiday Inn, the free internet still wasn't working and the front desk personnel seemed surprised to hear this. Snookums met with the manager and explained the problems with the internet and the shower and he discounted the room rate by 30% and gave the overpriced Sunday breakfast for free. We took a cab to the harbor around 1:30. When we were pulling up, Snookums was thinking that there must be a large dinner cruise business since there were three dinner cruise boats docked. Then she realized that one of these tiny ships was her river cruise ship for the next 7 nights! We boarded our ship (142 passengers, 74 cabins) and were the second couple to board. Embarkation wasn't supposed to start until 3 PM and we waited in the lounge for about 30 minutes until our cabin was ready. Snookums enjoyed throwing pieces of bread to the small fish in the Main-Danube Canal. (We won't reach the Danube River until Tuesday.)Our 170 sq. ft. room was ready and we unpacked in about 10 minutes. This is the smallest cabin we've ever had. There are four 210 sq. ft. cabins on this ship, but the cost for one of those didn't seem to be justified at all. Our cabin does have a French balcony, but it is only about 4 inches deep. Filbert calls it a sliding door to nowhere. AMA Waterways calls it a French balcony. The third cabin type on this ship is also 170 sq. ft. but is on the lowest deck and has two windows towards the top of the wall.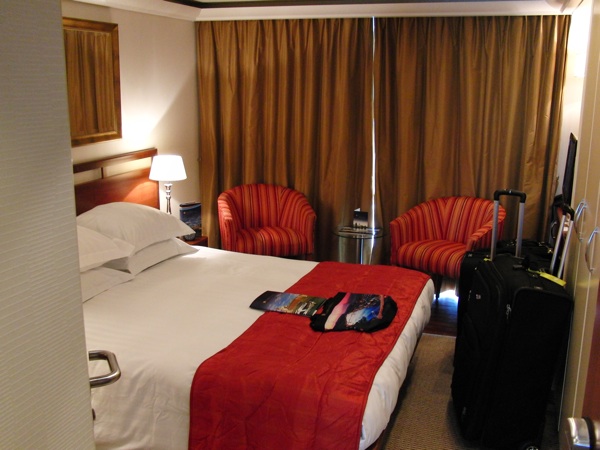 Amadolce cabin
We spent five minutes exploring the ship and saw the lounge, dining room, store, fitness room (two bikes, a treadmill, a set of free weights, sauna, shower, toilet), sun deck and game room. The beauty salon is by appointment only. The ship can only be so wide in order to fit through the river locks so space is at a premium. We used the free WiFi in the cabin until dinner. Oh yeah, there is no room service and the ice machine is down the hall. The cabin is serviced twice a day, but you have to get your own ice. The lounge has coffee and tea 24 hours a day and also has cookies but they aren't very impressive.Most of the other cruisers spent three nights in Prague, as part of the cruise package, and they arrived on the ship around 4:30. Prague was a 5-hour bus ride from Nuremberg so we felt we definitely made the right decision to fly directly to Nuremberg and explore on our own since we had already been to Prague. We saved a lot of money, too, compared to what AMA Waterways wanted to charge for those three nights in Prague. (AMA Waterways is considered one of the "luxury" river cruise companies.) We went to the Captain's cocktail reception (free champagne!) and then dinner and were seated with two couples from Australia who had just met earlier in Prague. None of them had been on ocean cruises before so Snookums explained that everything and anything from the menu could be ordered. We had a nice time talking about American politics and travel. We felt that the dinner service and food were below average as compared to our ocean cruises. There were no bread plates. The waitress messed up the table's order two different times. The food was so-so. There is free wine and/or beer with dinner and Filbert enjoyed the wine. Snookums ordered a large water with lemon and a straw…. It is open seating and everyone eats at 7 PM. It seemed like they started clearing the tables around 8:30. After dinner the only onboard musician (a piano player) played in the lounge. We opted to go to our room. We went to the 10:30 PM "late snacks" to see what it was. It was a chafing dish that contained a mixture of small meatballs, chicken nuggets and vegetarian patties. The meatballs were okay and the other two items weren't very good.
May 31 (Tuesday, Day 6, Nuremberg & Crossing the Continental Divide) –
Breakfast is a buffet of cereals, fruits, breads, yogurts, bacon, scrambled eggs and an omelet station. One hot item changes every day and today it was mini pancakes. Oatmeal can be ordered and that it what Snookums had. Filbert brought his high protein instant oatmeal and ate that.Our great weather continued with a warm and sunny day for our tour of World War II sites. Since we had spent three days on our own in Old Town, we didn't need to go back there. Instead, we saw Hitler's Party grounds, Congress Hall (based on the Coliseum in Rome but larger since Hitler wanted to be better than the Romans), Zeppelin Field. We drove by the Justice Palace where the War Crimes Tribunal sat in 1946.
Nuremberg Congress Hall
Zeppelinfeld–the big square structure is where the Nazi swastika was blown up–if you've seen that film footage
The tour then went to Old Town and we had an hour on our own. We decided to go into a souvenir shop for the first time. Somehow we hadn't gone into a single one during the prior three days. On our way out, we saw a nice little painting of the Beautiful Fountain with Frauenkirche in the background for our travel wall at home. What a nice way to end our time in Nuremberg.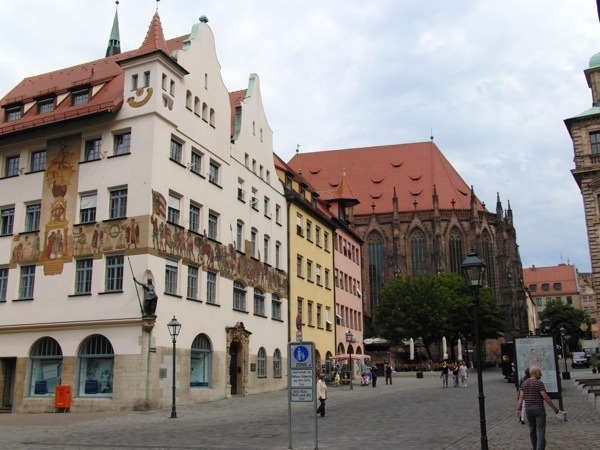 Rathausplatz, looking the other direction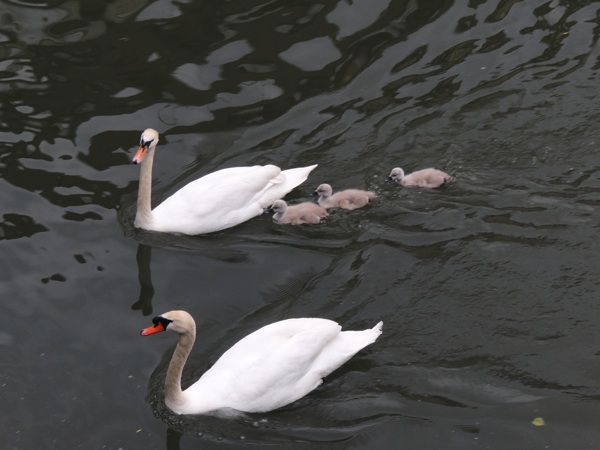 A pair of swans and their cygnets
We got back to the ship and everyone went to lunch at 12:30. Lunches are mostly buffet with the soup and one or two entrees ordered from the menu. Dessert was the highlight of the lunch since one of the three offerings was hand-scooped ice cream with eight different topping choices. Rather than going to the cruise director's lecture about locks, Snookums took a nap after lunch and Filbert wrote his book. Then we went to the skydeck to watch as the ship went through several of the locks. Most of the skydeck was actually closed since the railings around it are too high for some of the bridges that we go under. In fact, the wheelhouse lowers in order to clear bridges. It's funny seeing the captain's head pop out of the wheelhouse's sunroof when the wheelhouse has been lowered. When the ship was getting ready to go under one bridge, all of the passengers sitting on the open part of the skydeck were told to duck. We had also been told to keep our arms and heads inside ours rooms when going through the locks since there is about four inches of clearance on each side of the ship. The cement walls of the locks do look like they would hurt a lot if you got thwacked by one of them!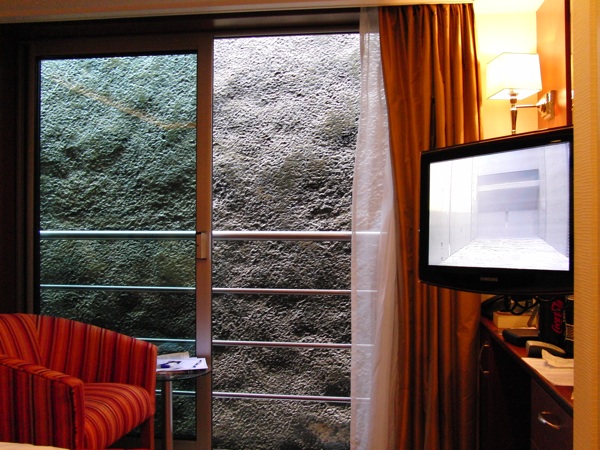 In a lock
During our cruise, the Amadolce has to transit a series of 16 locks over a distance of more than 100 miles to lift itself nearly 1,400 feet above sea level. At some point during the afternoon, we crossed the Continental Divide. It was represented by a concrete monument on the banks. The bar staff passed around glasses of blue champagne (blue curaçao was added to the champagne), too. We ate dinner with a couple that knows a mutual friend (Carl, a travel agent who owns www.findacruisedeal.com). (Carl organized this cruise and was supposed to come with us, but he had emergency back surgery one week prior to the cruise.) They are from Manhattan Beach, California and we had a nice dinner with them. After dinner the piano player played in the lounge, but we opted for our cabin and bed.