Contributed by: filbert Sunday, October 26 2008 @ 08:39 AM CST
The Grand Asia & Australia Voyage – Holland America Amsterdam, September 19-November 23, 2008
Text by Snookums, Pictures by Filbert
Part Fifteen
October 8 (Wednesday, Day 22, Shanghai, China) –
Shanghai skyline
We took the shuttle to downtown and today we had a plan. We decided to walk to Yu Garden. Filbert navigated and Snookums followed. We stopped at an electronics mart department store and Filbert found a 10-pack DVD-R for 80 yuan. He bargained down to 55 ($7.90) which he thought was a great deal.
More after the jump . . . We also managed to find Dongtai Lu flea market on the way and walked through stalls of various "antiques". Filbert was tempted to buy Mao's Little Red Book but didn't. We saw a woman washing her hair on the street in a bucket in front of her store. Across from the flea market area was a large area with a lot of Chinese in it. We figured we had to see what they were all excited about. We made our way across the street and found ourselves in China's version of a pet store. The main pets, though, were crickets and cicadas!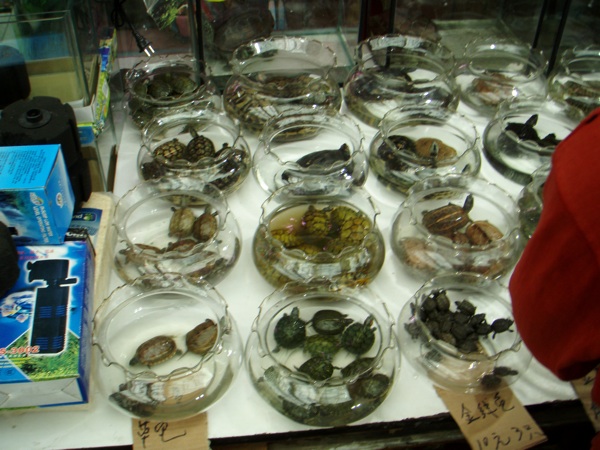 Chinese pets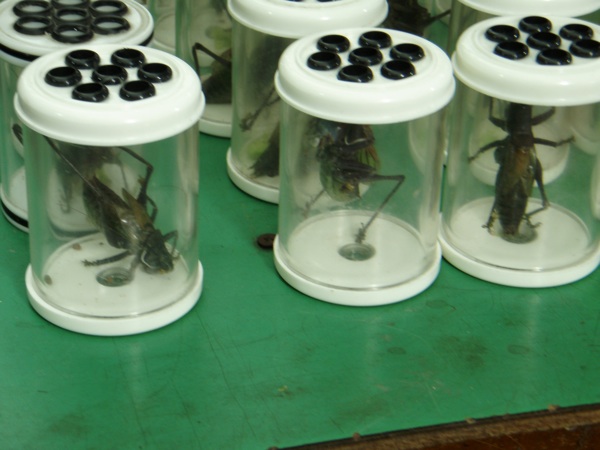 More Chinese pets
Each vendor had hundreds of homemade containers with an air hole, food and cricket in each one. Most of these crickets were tiny – about ½ inch long. The customers had a piece of straw and would "tickle" the cricket. We don't know how much these cost since the Chinese vendors didn't even look our way. This was the only time we were in Shanghai when vendors didn't come to us trying to sell us stuff!!! We also saw birds and turtles but mostly crickets and cicadas.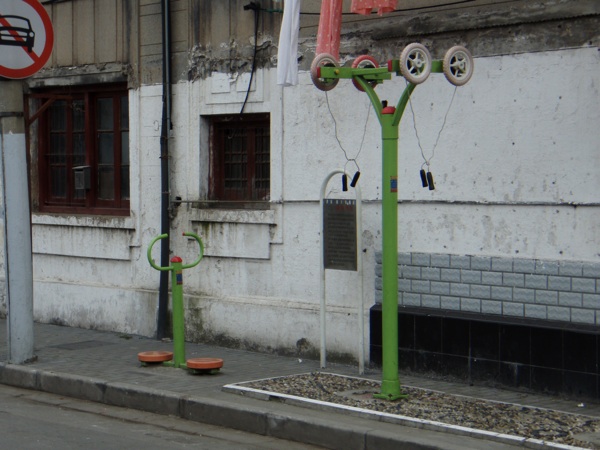 Chinese street exercise equipment
We continued walking towards Yu Garden and came upon the Ancient City Wall which was built in the 16th century to protect the city from Japanese pirates. Snookums also noticed that babies' pants and toddlers' pants have slits in them for them to go to the bathroom. They don't wear diapers or underwear but instead they just go through the slits in the pants (the crotch isn't sewn shut). No one on the ship knows, though, how babies manage this since babies aren't "diaper trained". If a parent is holding a baby, does the parent feel the urine on his/her arm and then put the kid on the ground so that it can do its business???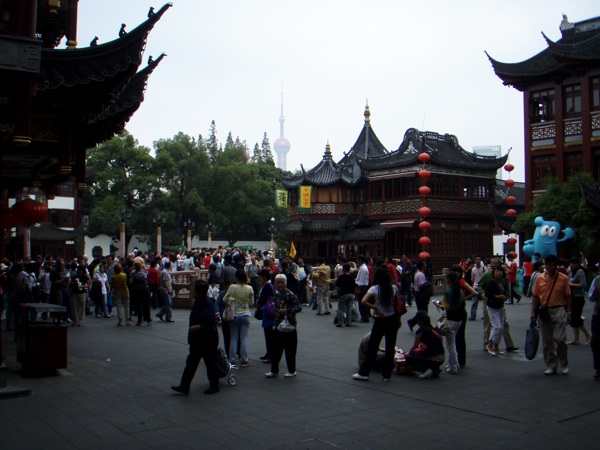 Tourist trap
We finally made it to Yu Garden. It was built in 1559 and is very pretty. Surrounding the garden were the normal tourist traps, including Starbucks and Haagen Dazs. There were LOTS of Chinese wandering around the outside of the garden but the inside was relatively empty. It cost 40 yuan ($5.71) to get in which is probably why a lot of Chinese were visiting just on the outside. We wandered around the garden for awhile but it was a maze of different rooms and buildings and lakes. We didn't see it all but decided we had seen enough. It was time to head back to the free shuttle bus.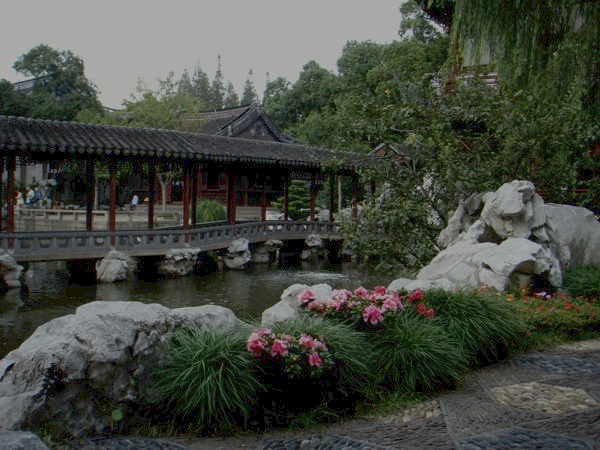 Yu Garden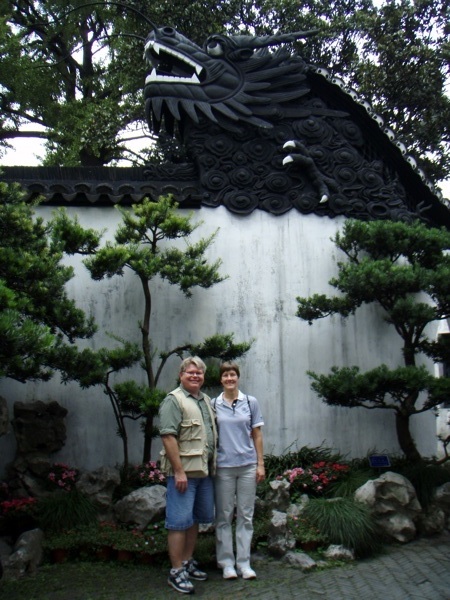 Under a dragon
While walking back to the bus, Snookums decided she was hungry and Filbert decided he needed a beer. We stopped in a nice Chinese restaurant and had one order of beef and broccoli (per the picture and the English), one order of rice for Snookums, one bottle of water for Snookums and two beers for Filbert. It cost $8.85 and wasn't anything special, but it worked for us since we needed some food and a break. As Filbert said "We came half way around the world to eat beef and broccoli." But, the other items on the menu, like boar's feet or fish stomach, just didn't appeal to us.
We continued our hike back to the shuttle and when we got close, we hit up two convenience stores for cases of beer. With prices this cheap, Snookums made Filbert buy beer for the room since he had ordered one on the ship and it cost $4.43! At the first store we were able to communicate that we wanted a case of beer and they had Suntory (24 12 oz. cans for $0.43 per can). Filbert carried the Suntory case. Then we came to a second store and bought a case of Tsingtao (12 ~20 oz. bottles for $0.69 per bottle). Snookums ended up carrying this one which was probably heavier due to the glass. Oh well. We boarded the shuttle and everyone wanted to know where we got the beer. (They must not explore grocery stores and convenience stores like we do!) We told them about a grocery store 1.5 blocks from the ship and half of the people on the shuttle got off and went there rather than getting on the ship right away.
We have noticed on this cruise that people don't really spend money on the ship. They have all cruised so much that they know that the ship is a rip-off. The casino is pretty empty, the bars don't do much business, the stores are pretty lame, and the art auction doesn't get much business. (We don't know about bingo since we've never been.) When people have sailed so much, they know what the ship has to offer and for the most part they buy their things when they are off the ship. Even people that spent $45,000 each to be on this cruise have commented that they don't buy many beverages on the ship since they're so expensive!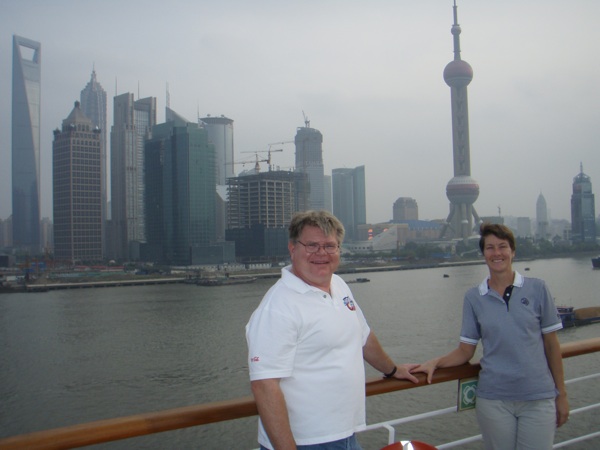 Filbert & Snookums in Shanghai
The day in Shanghai continues in the next post . . .