Contributed by: filbert Sunday, October 26 2008 @ 08:44 PM CST
The Grand Asia & Australia Voyage – Holland America Amsterdam, September 19-November 23, 2008
Text by Snookums, Pictures by Filbert
Part Sixteen
October 8 (Wednesday, Day 22, Shanghai, China) – Continued
We showered and got ready for our sailaway dinner that we were hosting on our verandah. The day before Snookums talked to the concierge about having all eight of us from our dinner table eat on our verandah at 8:00 since we were sailing at 9:00. She was told that was no problem so this morning each person came by our cabin and wrote their dinner choices on the menu. Then Snookums took them to the concierge. We started getting phone calls and knocks on the door from various staff around 5 PM. We knew that we needed another table and four chairs on the verandah and our steward brought them from another cabin's verandah. But we didn't expect another steward to come and set the tables with linens, glassware and all of the silverware, but that's what happened!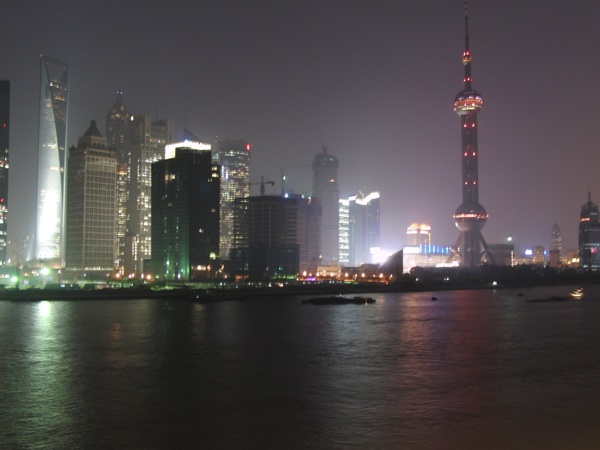 Pudong New District at night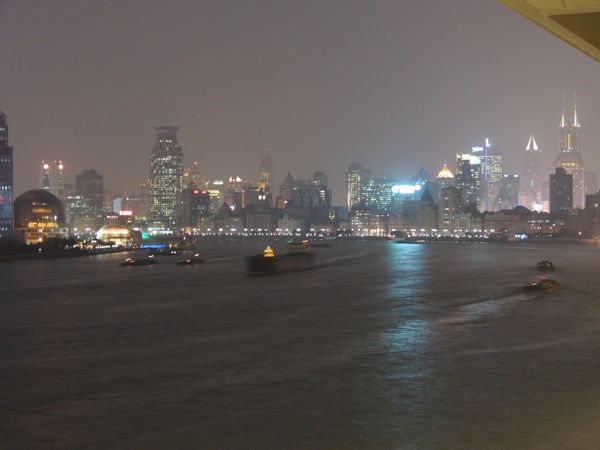 Shanghai at night
More after the jump . . . Our friends came around 7:30 and everyone oohed and aahed over the lights of Pudong New District. Shanghai has a beautiful skyline at night and our verandah was the perfect place to see it from. The river was also very busy with several colorful dinner party boats that we yelled at as well as floating billboard boats. We watched barges and huge container ships go by, too. We laughed and took pictures and drank wine that Yvan brought and champagne from us and Gary and Snookums managed to gesture wildly and knock Filbert's champagne glass out of his hand to the verandah floor so we even had broken glass to make it a real party! None of us could believe how nice it was and none of us expected to have tablecloths and full service. It was way over the top and we all reveled in it!!!!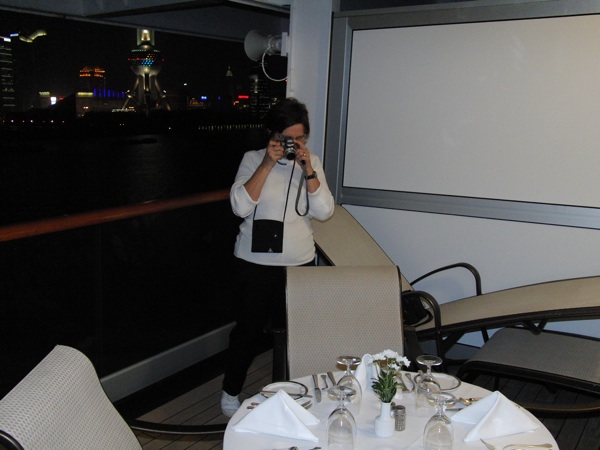 Alice takes a picture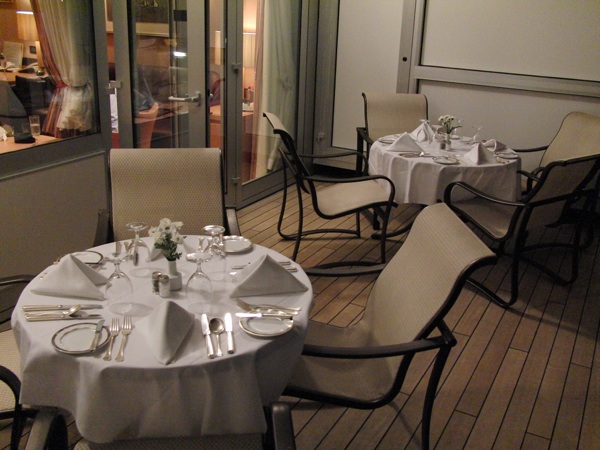 The tables are set
A dining room steward came around 8:15 to serve our appetizers so we each found a seat. When the entrees were delivered, that steward also stayed so now we had two that were serving us for the rest of the evening! (The stewards liked the view, too, and we told them to make themselves at home either on the verandah or by watching TV. Unfortunately, they were constantly working – serving, filling water glasses, taking dirty plates away, folding napkins when one of us got up to stand by the railing to see the sights, etc. – but they did enjoy the views and their tips.) The ship started moving around 9:15. Some people forgot about eating dessert by then and watched us back up several hundred yards before turning around in the middle of the river. Little by little the city lights faded and we found ourselves in a quiet river with barges and fishing boats tethered together in the middle of the river for the night. There was a little bit of river traffic, but by 10 PM or so most of the boats were tied down for the night. The party broke up around 11 and Filbert continued to watch until we left the Huangpu River at midnight and hit the Yangtze River. Snookums went to bed around 11. Yvan and Alice had been to Shanghai two other times and had wonderful memories but they said that this was their best memory yet of Shanghai. We all agreed to do it again and Filbert wants it to be on the next formal night so that he doesn't have to wear his tuxedo.
October 9 (Thursday, Day 23, Cruising South China Sea) –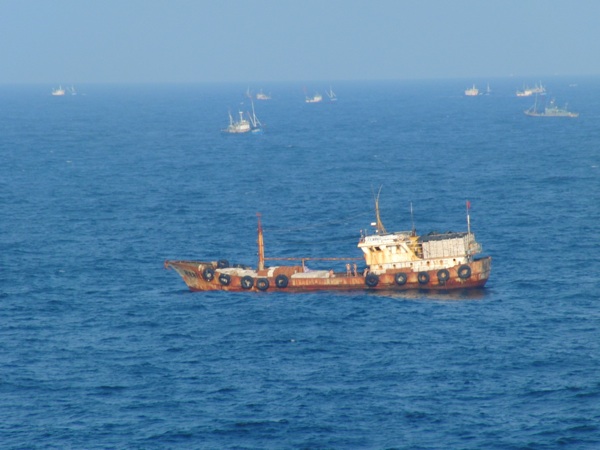 Chinese fishing fleet
Riding really high in the water
We deemed today a day of rest since we were so tired from our massive walks around Shanghai. We ate breakfast in the Lido (buffet) and wandered around outside since it was our first really nice day at sea. We finally made it back to our room where we promptly set up on the verandah. Snookums started and finished a paperback (spy drama) plus took a nap while Filbert took pictures of boats and ships, and did research for his book. While she was sleeping he went to the library and checked out a history book (The History of the World) and a language/linguistics book. We ordered room service at 3 PM. We also watched hundreds of fishing boats today. They were everywhere. We managed to see two different creatures in the water, but we don't know what they were. They were large round things (turtles) and we saw them about three hours apart. Other than that, we haven't seen any sea creatures since Day Two of the cruise.
Snookums went to the gym at 6 PM for a light cardio workout and the fitness instructor came over and asked her if she was crew or a guest. (Snookums is one of the youngest passengers on the ship.). Then the woman told her that she noticed her workouts and told her how fit she looked. This definitely means that more desserts are in Snookums' future!!
On the way to the formal dinner we stopped in the Neptune Lounge to hand the concierge a comment form praising the crew for the previous night's dinner. He said that we can do it any time and we said we would. We were glad to hear him say that since everyone had already decided we had to do it again. We got to dinner and our table was kind of quiet. Everyone agreed that they only came in order to see everyone else. People were tired from the activities in Shanghai as well as there was a little bit of a letdown of eating in the dining room after enjoying the fabulous verandah dining experience last night. Sleep couldn't come soon enough for all of us. Gary even came wearing his newly purchased black silk Chinese jacket from Shanghai. This from the man who said he wouldn't come to any formal nights since he didn't own a tux. He wore a Japanese yukata and bow tie on our last formal night and now a Chinese jacket for this formal night. What's next?
October 10 (Friday, Day 24, Cruising South China Sea) –
Everyone on the ship had to get their temperatures taken this morning to fulfill a Hong Kong government requirement. We were deemed healthy with our 33 degree C temperatures. We then had breakfast in the dining room. Filbert went to a lecture on Hong Kong while Snookums decided to take advantage of the 83 degree F temperature and laid out by the pool for two hours and then had lunch which consisted of delicious chocolate cake, mixed berry crumble and mint chocolate chip ice cream (you only live once!). Filbert worked out, went to a lecture about Chairman Mao and then ate a taco salad lunch. We saw each other again around 2:15 PM on our verandah. Snookums spent two hours writing three days' of happenings in the journal while Filbert read "The History of the World" and listened to his short-wave radio. We saw more fishing boats but not as many as yesterday.
Snookums worked out, mended her brown T-shirt (yes, with a needle and thread!) and then it was time for dinner and bed.
October 11 (Saturday, Day 25, Hong Kong – 7.75 HKD to the dollar) –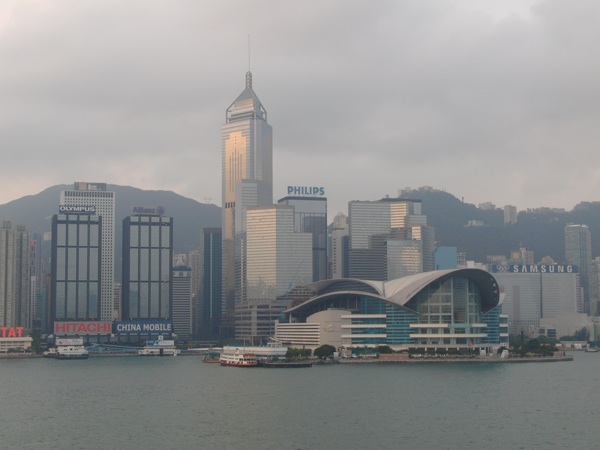 Reunification Hall, Hong Kong
We got off the ship as soon as it docked in order to sign up for the free Dukling junk (boat) ride offered twice a day on Thursdays and Saturdays to foreign visitors. We were able to get on the 1:00 tour (limit of 35, first come, first served) and found out that they now charge $6.50 per person. That was okay so we signed up. We then took the Star Ferry ($0.22) across the bay to catch the bus to the Peak Tram to go up Victoria Peak.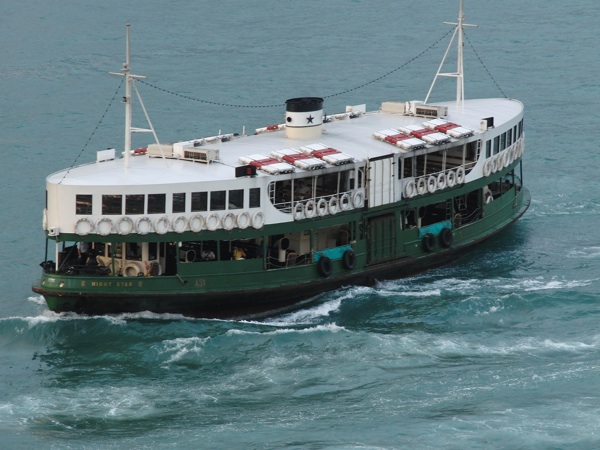 Star Ferry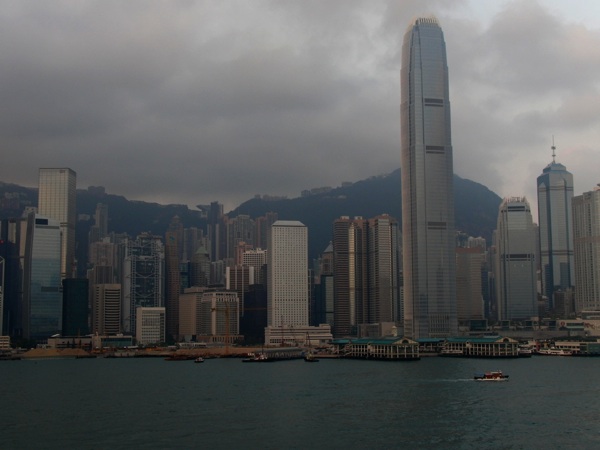 Hong Kong skyline
Our Hong Kong visit continues in the next post . . .