Contributed by: filbert Monday, September 29 2008 @ 05:22 PM CST
The Grand Asia & Australia Voyage – Holland America Amsterdam, September 19-November 23, 2008
Text by Snookums, Pictures by Filbert
Part Three
September 21 (Sunday, Day 6, At sea) –
Filbert's fancy watch was dead and needed a new battery so today we went to the store to see if they had a battery. When the guy returned the working watch and didn't ask for our cabin number, we asked "How much?" and the man said there was no charge since he took a battery out of a watch that was broken (probably one of the $10 watches). What service!!! We haven't had a single complaint so far and don't plan on having any.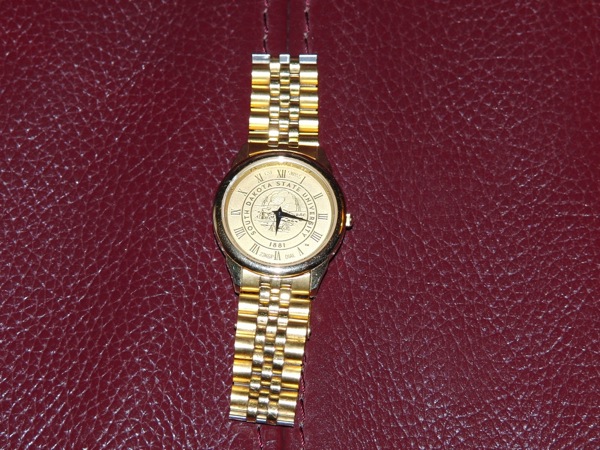 The Watch
We decided to try the taco bar for lunch since we had been eating at the Lido buffet (which was very good both times). The taco bar is near the grill (huge hot dogs, hamburgers, chicken sandwiches, etc.) which is also by the pool with the retractable cover (it was closed). We helped ourselves to chicken and beef fajita mix, spiced hamburger, refried beans and all the other fixings that you need for tacos. They even had soft flour tortillas, hard corn tortillas and excellent chips. Filbert had a taco salad with no shell or chips and Snookums had a soft flour tortilla that she overstuffed and had to eat with a fork.
Getting the watch battery replaced and trying out the taco bar was our excitement for the day. Snookums managed to finish two books and took several naps and Filbert posted Parts 2 and 3 of our journal to www.medary.com.
Snookums really enjoys the free laundry service. Before getting on the ship she was planning on letting the ship do most of the laundry (and had prepaid for the total laundry service) except she was going to wash her unmentionables but after the laundry soap leaked all over and after realizing that her unmentionables really don't cost that much, she is letting the ship launder everything and it's a real treat!
Snookums brought along two plants in ceramic eggs (Easter gifts from Walgreen's for $1.99 each) and she "planted" them. It says they will start growing in 7-10 days so we'll see if the pansy and impatiens grow or not.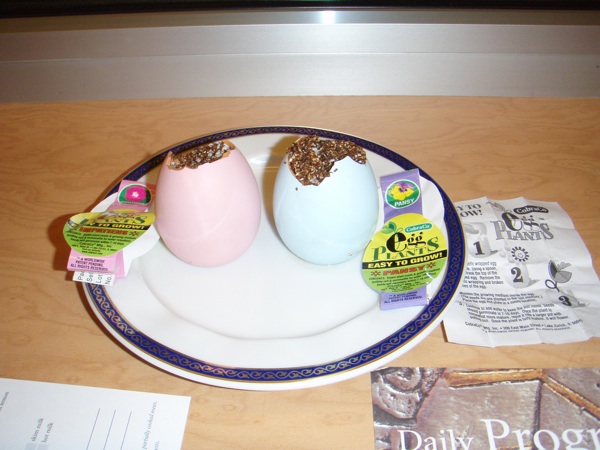 And Janet doesn't even like Eggplant . . .
We got dressed up for formal night and looked spiffy. We opted not to wear our corsages, though, which are a perk of being upgraded to the Deluxe Verandah. One of the couples at our table said that they wouldn't be at any formal nights since he doesn't want to get dressed up but the other couples were there. In fact, we lost one of our couples after the first dinner and they were replaced with another couple last night. No one knows why the original couple decided to change tables, but everyone was happy last night so we should continue to have fun with our tablemates.
Phil & Janet's formalwear
We got back to our room after dinner to find more gifts. (Oh yeah – we've received several gifts already. We got a canvas embroidered tote bag from the cruisecritic.com meet and greet that was given by an anonymous donor and then when we returned to our room on Saturday night we had one very nice red leather journal with an embossed cover with empty pages.) We each received an embossed grey tote bag with an expedition shoulder bag that included an umbrella, kleenex pack, toilet seat covers, hand sanitizer, a bottle of water and a NutriGrain bar. We'll have to ask our tablemates if they received these gifts or if they are only for suite guests.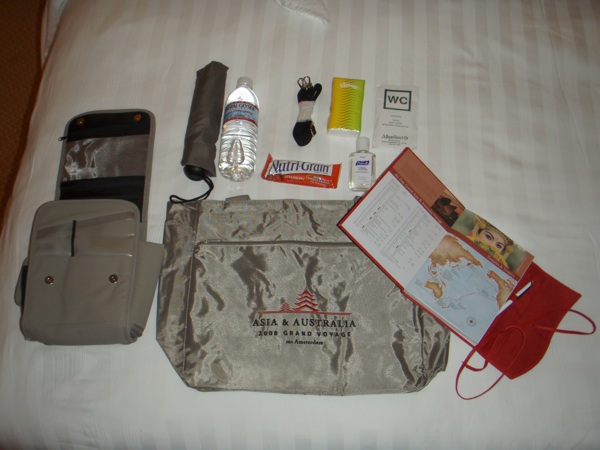 Our free-stuff haul so far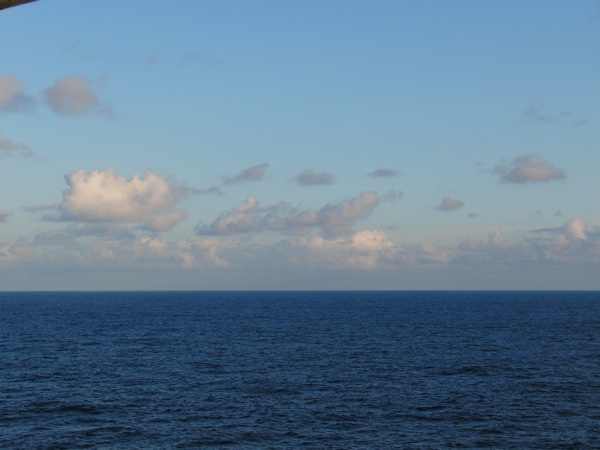 A nice but cool day at sea
September 22 (Monday, Day 7, At sea) –
We ate breakfast in the dining room. Suite guests get to eat on the starboard side. They asked for our room number and then put us on that side. The menu was the same but it was less crowded so we guess that's the perk. We also received USA Today International which is another perk of being in a suite. It can be purchased for $3.50, but we get it for free.
After a nice dining room breakfast (Snookums had granola crusted French toast, fresh squeezed orange juice and a bowl of mixed berries and Filbert had homemade corned beef hash and a ham, cheese and mushroom omelet) we decided to check out the Lido buffet for future reference. We were pleasantly surprised by its choices which included an Eggs Benedict bar that had at least six variations (crab meat, salmon, an Italian version with marinara sauce, some kind of Mexican version, etc.).
After breakfast we wandered to the Future Cruise Consultant desk to get information on the 2010 Grand Voyages. We also checked our onboard account to verify that our large amount of shipboard credit was correct (it was).
The day was overcast, windy and 55° and we were both kind of pooped so we did a lot of lounging around.
The dinner menu is always delivered to our suite by early afternoon. Tonight's appetizers included: Pineapple boat filled with berries, Salmon gravlax, Capocollo and bresaola, Shrimp and crab cocktail, Chicken tenders, Meat lasagna. Soups & Salads included: Tomato soup, Chicken consommé, Apple vichyssoise, Bibb lettuce with tuna, Pear and blue cheese salad. Entrées included: Chicken fajita salad, Roasted monkfish in pancetta, Beef sirloin, Turkey, Noisette of pork, Seafood Newburg, Baked salmon with dried cherry-thyme crust, Vegetarian cutlet with Thai green curry sauce. Desserts included: Butterscotch sundae, Vanilla or coffee ice cream, Passion fruit sorbet, Frozen strawberry yogurt, No sugar added fudge tracks ice cream, Chocolate pot au crème, Key lime pie, Pecan torte, No sugar added apricot crumble, Sliced fresh fruit, Bananas foster flambé, Full-flavored cheeses. The food (and service) has exceeded our expectations.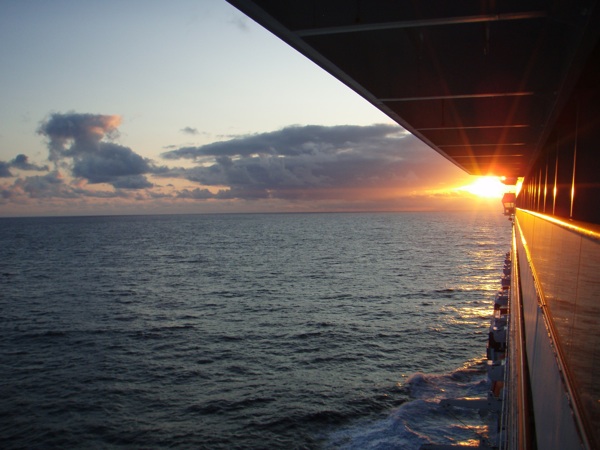 Sunset from our stateroom