Contributed by: filbert Wednesday, July 30 2008 @ 03:10 PM CST
Over The Water And Back Again—A Transatlantic Trip
By Snookums, edited by Filbert, photos by Filbert
Part 3
May 3 (Saturday, Day 7, At sea) –
Snookums read her book today while lounging beside the suite's picture window. Filbert worked out and burned 1067 calories in 55 minutes. While he was there he saw a guy in a "Teahen 24" Kansas City Royals t-shirt. The guy had to be from KC since nobody else (Filbert figured) would be wearing a Royals free giveaway t-shirt on a cruise ship in the middle of the Atlantic. Sure enough, the guy was an entertainer on board and will perform on Monday night. He said that he always references KC in his show, so we decided we would have to go to his performance.
It was formal night so we got all dressed up and went to the concierge lounge for drinks before dinner. We were stopped the other day from taking our drinks out with us so now Filbert brings his insulated coffee mug in with him and when he doesn't finish his red wine, he pours it in his mug and takes that to dinner. Snookums takes her backpack and puts a few cans of Diet Coke in it each time she goes to the lounge. Sneaky little cusses, aren't we? I suppose the cruise companies will read this online and shut down our little game. Oh, well.
Filbert ordered the prime rib which was very good. For the fourth dinner in a row, Snookums ordered the vegetarian Indian option. Tonight it was chickpea and cauliflower stew. Every night the Indian entrée came with rice, raita and papadams. Each night there had been different types of curry (or biryani) but pretty good.
Prime rib
May 4 (Sunday, Day 8, At sea) –
We woke up at 11:30 AM, just in time to move our clocks ahead one hour at noon. Filbert was looking out the window and saw a turtle—our first sea life spotting since seeing the shark. We showered, went to lunch, then went to the 14th floor lounge that overlooked the swimming pools. This was also one of the five areas on the ship that had WiFi access but the internet is down today. The view of the sea from the 14th floor lounge was pretty good, too, and it was very calm. It wasn't bad yesterday, either, and during his noon announcement today the captain said that we should have good weather from now on. It's been sunny and 68 every day we've been at sea and pretty smooth so no one is complaining. We did notice that the seasick bags were discreetly placed around the ship by Saturday morning, though.
Filbert at sea
Sunday is a day of rest so that's what we did.
Due to Royal Caribbean's many "service errors" aka screw-ups, we had a free dinner at Portofino which is the $20/person Italian restaurant. Filbert also got to enjoy a free bottle of Francis Coppola merlot. The restaurant was small and quiet and it had a great view of the ocean since it was on the 11th floor. The appetizers were very good and in fact were better than the entrees.
Portofino plate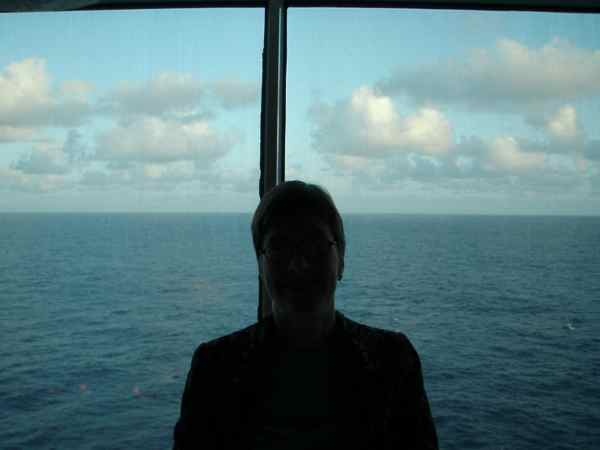 Why backlighting is bad
The Travelers at Portofino
For appetizers, Snookums had the mozzarella/tomato salad, shrimp on top of risotto and the fried calamari. Filbert had oxtail soup (with noodles in it?), fried calamari and carpaccio of beef. Snookums thought the fried calamari was great and Filbert liked the carpaccio of beef the best. Snookums tried two of the three pasta courses but found the pasta with beef ragu very salty and the mushrooms in mascarpone cheese sauce to be kind of bland. Snookums's entrée was veal saltimbocca on top of mushroom risotto and as much as she loves mushrooms, the risotto was just too mushroomy for her. Filbert had the filet mignon that he said was incredibly tasteless and he also had the seafood skewer. The skewer was brought tableside and the waitress took the piece of salmon, the two large scallops, the hunk of lobster and the two large shrimp off it and then served it. Filbert said it was very good and the white wine sauce was excellent. We shared the flourless chocolate cake that Filbert deemed to be the best one he's ever had but after one bite Snookums was done since she thought it had alcohol in it since it "burned" on the way down. The waitress answered, "No, not really" to the question about alcohol so it was a mystery! (Stay tuned for the thrilling and astonishing revelation, later in this series! – Ed.)
We had been told a few days ago that on Sunday there would be an envelope with our name on it in our room that contained the tip form to fill out if you wanted to put all the tips on your shipboard account. We returned to our room around 10:30 and low and behold – no envelope. We were, unfortunately, starting to get used to this kind of thing from Royal Caribbean. Snookums called Guest Services to explain that we had received a tip form on Thursday, but were then told via voice mail from the concierge on Friday that the Thursday version was wrong and we would receive the correct one on Sunday in an envelope with our name on it. OK, fine. So here it was, Sunday was almost over. We wanted to know where the correct tip form was. Guest Services told Snookums to call back at 8 AM on Monday to discuss this further and Snookums, not in the best mood, replied "no". Then the Guest Services rep said he would figure it out. 10 minutes later our phone rang and it was our state room attendant standing outside our door with the form. He said that the Thursday version WAS correct—he had told the concierge that he didn't want to leave another one since he didn't want people to think he was begging for tips. Snookums thanked him and told him to slide it under the door. Not a big deal, Customer Service 101 says that if you tell someone that they will get something on Sunday, make sure they do! The concierge will not get a tip from us (and the stateroom attendant will get an extra tip)…
May 5 (Monday, Day 9, At sea) –
Filbert set his alarm for 6 AM and was on the balcony listening to his shortwave radio before the mid-Atlantic dawn while drinking coffee and watching the ocean. He was able to tune in KMOX (St. Louis), Radio Australia and the BBC. Snookums woke up and worked out.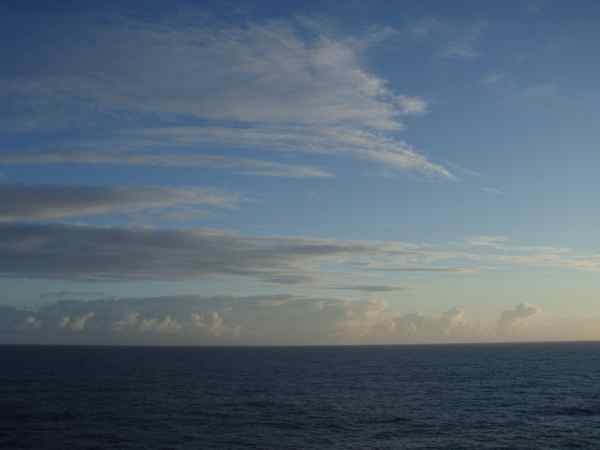 Mid-Atlantic clouds
We did 30 minutes of errands including exchanging a paperback at the library, turning in the tip form, buying postcards, picking up the daily newspaper, going outside to the very front of the ship on the heliport pad and looking down into the ocean and returning an Azamara cruise brochure. Azamara is Royal Caribbean's new, upscale cruise line but we didn't see anything too exciting about it in the 2008-2009 big brochure.
For people that haven't been on Royal Caribbean before, it is known for having tons of activities. Here are the scheduled events for part of today:
11:00 – Lose Inches Without Pain Seminar (Voyager Day Spa)
11:30 – Paella Cooking Demo (Poolside)
11:30 – Soduku Challenge (Schooner Bar)
11:30 – Drawing Class – Drawing in Depth and 3D (Conference Center)
11:30 – Secrets of Make Up Seminar (Voyager Day Spa)
12:45 – Celebrity Head Game Show (Cleopatra's Needle Lounge)
1:00 – Fox Trot Dance Class (Studio B)
1:15 – Ratatouille (Screening Room)
1:30 – Family Wii Tournament (Optix)
1:30 – Enhancement Lecture: "Inside Hollywood" (Cleopatra's Needle Lounge)
2:00 – Open Bridge Play (Magic Flute Dining Room)
2:00 – Afternoon Name that Tune (Schooner Bar)
2:00 – Acupuncture: Healing with Natural Remedies (Voyager Day Spa)
2:00 – Show Tender Demo (Poolside) (Note from Snookums – I have no idea what this is.)
We ate separate lunches since Snookums had been wanting to eat at Johnny Rockets. That was an American hamburger chain on the ship that costs $3.95 per person to order whatever entrees and desserts you want. Naturally, Snookums had a coupon, for "one person free." Filbert didn't want to eat there since onion rings aren't low carb. Snookums ran into Len, our dinner tablemate from London, and wound up eating lunch with him. She enjoyed onion rings, a burger with Tillamook cheddar cheese, bacon and an onion ring and an Oreo sundae. Yum, yum, yum. Filbert ate at the buffet restaurant and for the first time didn't have his normal "make it himself" taco salad. Instead he ate some hamburger patties and the topping off of some pizza slices. Up until today his daily buffet lunch had been a homemade taco salad: lots of lettuce, tomatoes, cut up hamburger patties or chili without beans, sour cream, jalapenos and salsa. He had been sticking to an ultra-low carb diet (other than last night when he ate the lightly breaded calamari and had half of the flourless chocolate cake).
Today was the our first day at sea where we do NOT lose an hour at noon so after spending a relaxing afternoon in the suite reading/sleeping (Snookums) and writing (Filbert), Filbert worked out prior to the 6:30 show. We lost a total of five hours so far and were to lose another two hours prior to docking in Barcelona on Saturday, May 10. We were looking forward to our 6-night Queen Mary 2 crossing if for no other reason than to gain back all that time!
Tonight's show was JC Fisher, the guy Filbert met in the gym who was wearing the Kansas City Royals t-shirt. He was a romantic tenor – "From Puccini to the Platters." It was okay (Filbert enjoyed it more than Snookums did) but he sang a lot of songs in Italian, German and Spanish.
Once again we had a great time at dinner. Everyone at our table agreed that the food wasn't anything to write home about, but no one went hungry and our table mates were just great. Filbert continued eating very low-carb so he typically ordered two entrees and ate just the protein. Tonight he ordered the featured tilapia with a buerre blanc sauce and the "always on the menu" grilled salmon with chef's vegetables. No one expected him to get two identical plates of the same sauce, same potatoes, same vegetables and just different fish, but that's exactly what arrived on the table. We had expected a bit more variety than that. They also had two soups at lunch and today's lunch soup was split pea. The soup on the dinner menu was also split pea. The cruise was only thirteen days—how difficult would it be to come up with different soups for lunch and for dinner every day? Oh well, we still had a good time every night with our table mates and in fact we usually sat in the dining room until 10:30—at least 30 minutes after we were finished with dessert, just talking and laughing.
We got back to our room and had a voice mail from Leslie, the Voyager Spa manager, saying "Please call me in the morning". We didn't know what is up with that since we had had no contact or issues with the spa. (The gym is different from the spa area.) Snookums hoped that they are going to give us a free service…