Contributed by: filbert Friday, October 16 2015 @ 06:35 AM CST
The 2012 Grand Asia & Australia Voyage, Holland America ms Amsterdam
Text and pictures by Snookums, webification by Filbert
Part Eight
October 31 (Wednesday, Day 41, Lembar, Indonesia; 10,000 Rp = $1.04, $1 = 9,610 Rp) –
We took the first tender at 7 AM to meet our guide, Eko. Sharie and John also came with us. We drove to a Sasak village of 300 households. Women weave ikat cloth or songket cloth and each sarong takes about one month to complete. The village seemed to be a cooperative village where money from the tours or purchases is shared. We saw the outside toilet and the freely roaming goats and chickens.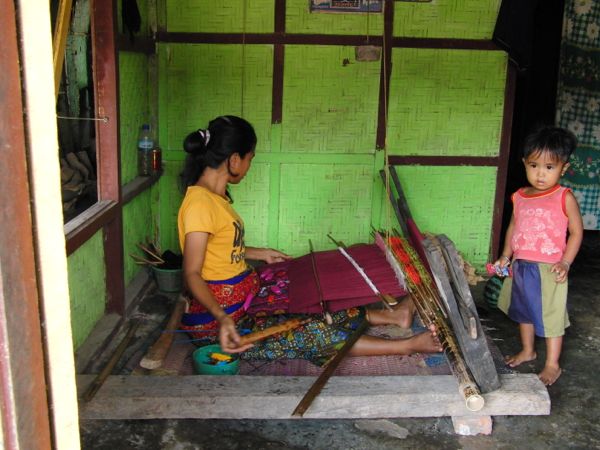 Weaver, with kid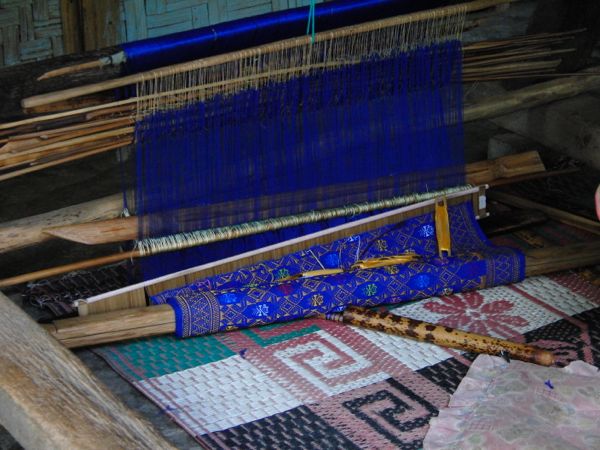 Cloth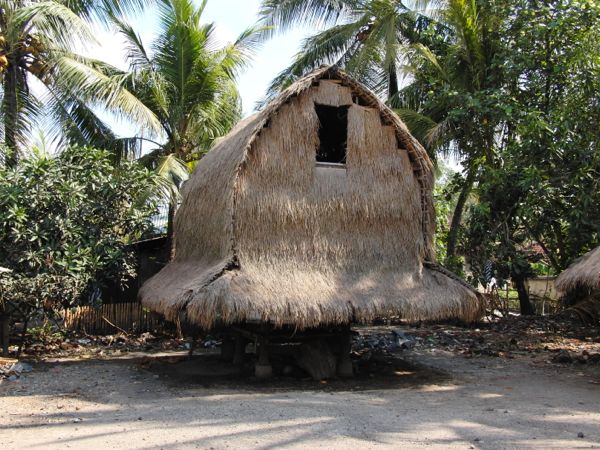 House on stilts
Then we drove to a couple of shops to try to find a batik shirt for Filbert. Unfortunately, the XL was too small. However, Snookums found one for herself for $4.85. By the time she was finished trying it on, she was sweating profusely since the dressing room was very small and had no airflow whatsoever.
Then it was time for lunch. Sharie and Snookums each ordered rice ($0.50 per person) and fried chicken with Lombok sauce ($4 each). Eko had explained to us that the chickens on Lombok are free range and are small with very little fat. They were definitely small, but the spice on the chicken was very hot. Filbert ordered the spicy fried chicken and his was even hotter but he ordered a can of Coke ($0.60) to help with the heat. John ordered shrimp with Lombok sauce for $3. We were also given little containers of brown pudding that tasted like flan. Lunch was small, but tasty.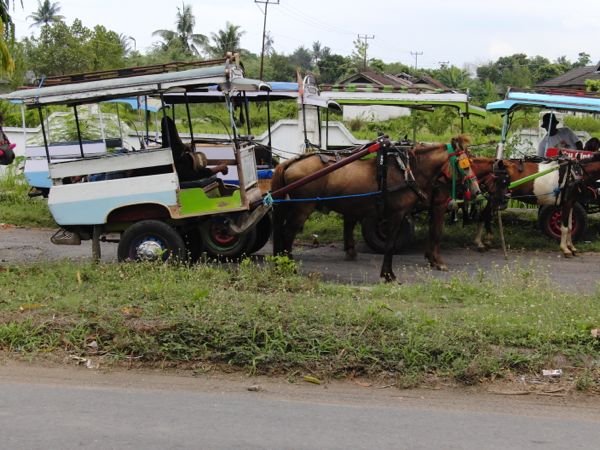 One horse-power
After lunch we went on a beer quest. Lombok is 85% Muslim and the first convenience store we stopped at didn't have any beer. However, Sharie was able to buy some basic school supplies for her trip to the Komodo Island village tomorrow. We got back in the minivan and the driver stopped at four other places for beer before being successful. Filbert and John each bought two big bottles ($5 each – not cheap!) of Bintang – one cold and one room temp to take back to the ship. On the way back to the ship we stopped at a pottery village. Lombok is known for its brown pottery. Filbert spotted our travel wall item. (We purchase one piece of "art" for our hallway walls that depicts something we have seen on each trip. Snookums was hoping to find a street artist in Borobudur, but there were no paintings there.) It is a small round flat piece of pottery (like a coaster) with twine poked through the edges for decoration and for hanging purposes. On the front is a painting of red chili peppers. "Lombok" means chili so that makes it significant. And, we ate plenty of chili at lunch and saw them being grown in the Sasak village, too. Snookums wasn't too impressed with Eko and the private tour, but it beat taking the free shuttle one hour each way to Mataram Mall and cost $88 for the four of us.
After a quick shower, Snookums took a bowl full of three bags of candy corn to Neptune Lounge for everyone's pleasure and gave two bags of it to Kate for the Front Desk staff. Happy Halloween!
Filbert and Snookums put on their Star Trek "The Original Series" costumes that were made by Snookums's sister, Judy, and went to dinner. Many people, including the sing-along pianist, commented on them. La Fontaine dining room was decorated for Halloween, too, with lots of party decorations hanging from the ceiling. And there were little plastic pumpkins with candy in them at each table. Snookums appreciated the Tootsie Rolls, Swedish Fish and Smarties a lot. No one else at the table minded her eating most of them, so she did! The waiters wore felt pumpkin hats, too, that looked very hot, but they were troopers.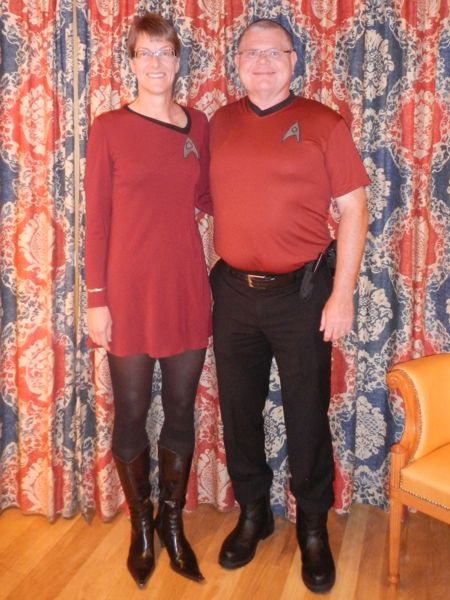 Redshirts
After dinner Snookums and Filbert went to The Monster Mash in Crow's Nest in order to participate in the costume contest. Although many people thought Snookums and Filbert should have won the "best couple" award, they did not. It was a great day though!
November 1 (Thursday, Day 42, Komodo Island, Indonesia; 10,000 Rp = $1.04, $1 = 9,610 Rp) –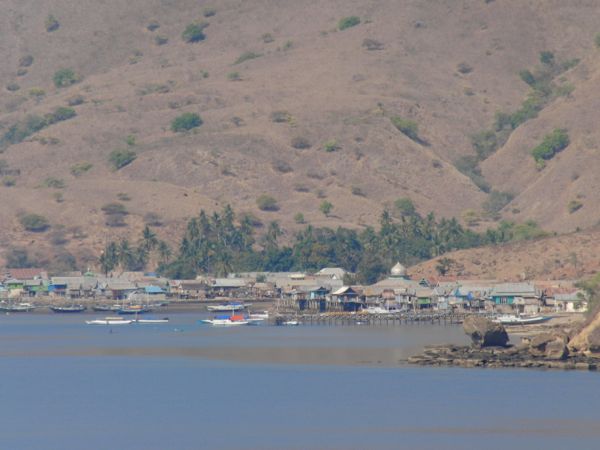 Kampung Komodo
Snookums organized a tour of Komodo Island with Komodo Mega Tours for $85 per person that included both a dragon trek and a snorkel. HAL only offered tours that included either a dragon trek or a snorkel/village tour and not both. (And HAL's cost $119 per person.) 34 people signed up for Snookums's tour and we met in Ocean Bar at 8:45 AM for our tender. (If you didn't have a pre-arranged tour, you were not allowed to tender to Komodo Island National Park since reservations with Park Rangers are required.)
After tendering to Komodo we went on an hour walk to try and find dragons in the wild (there are no fences). There were four of them lying very close to each other and we also saw a 1.5-year old dragon that was about two feet long skittering about. It didn't stay close to the four adults since the dragons have been known to eat each other. In fact, a mother is very protective of her eggs, but once they hatch, the mother dragon will eat the newborns. Around 30% of them survive. Dragons grow to around 10 feet long and weigh about 250 pounds and can live to be 50 or so years old. Besides the Komodo dragons, a type of monitor lizard, there were a lot of Timor deer roaming all over the place. The deer seemed to be more skittish of the humans than they were of the dragons and the dragons eat the deer! The island also had wild boar and buffalo on it, but we didn't see any. It was during the dry season and it was very brown and dusty (and HOT). Dragons eat every one to three months and can run up to 11 miles per hour for short distances. The two Park Rangers with our group carried long forked sticks to supposedly poke the dragons back. One of the members of our group put a green umbrella (used for shade) on the ground in order to take a picture. A dragon showed some interest in it and the Park Ranger immediately turned around, saw the green umbrella on the ground and got excited until someone picked it up.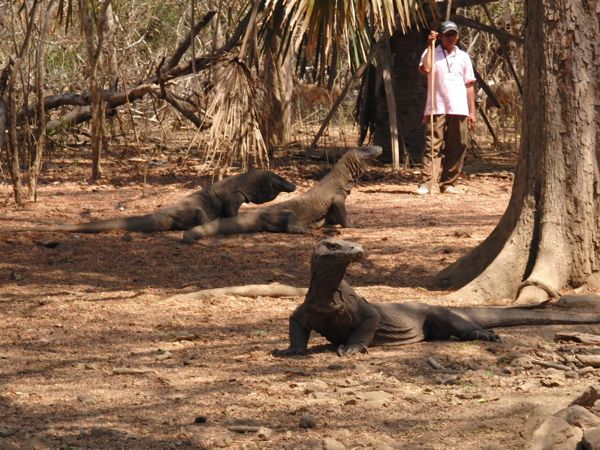 The Natives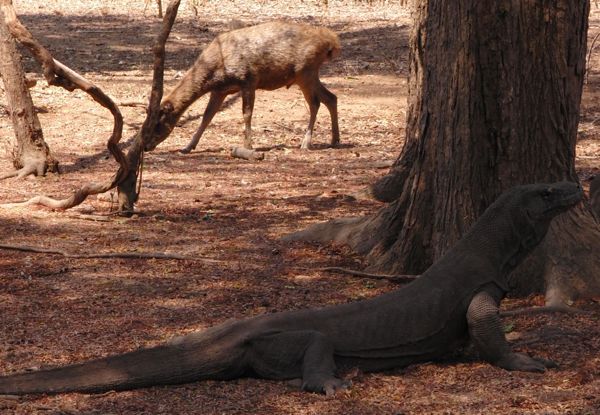 Dragon and deer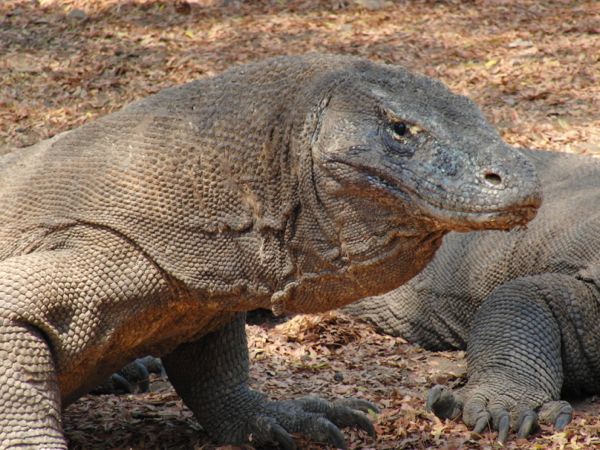 Close enough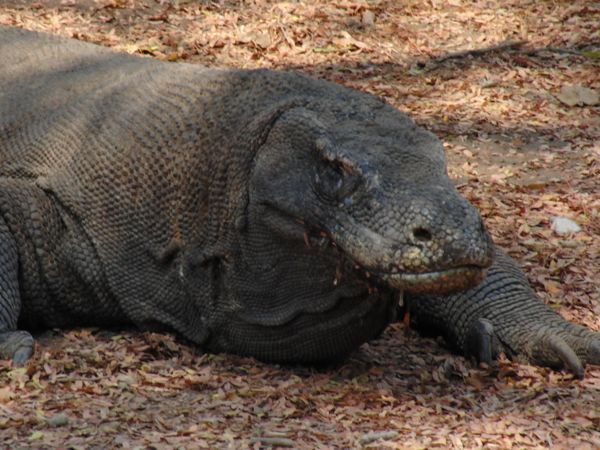 Drooling dragon
After our trek, as we were returning to the pier to get on our boats for the snorkel part, a dragon walked/slithered across the path we had just been on. Someone said something to the Park Ranger about this dragon and the Park Ranger didn't seem to care too much. There are 2,500 Komodo dragons on this island and we saw six of them. There are also 300 stilted houses, with goats and chickens, that make up the fishing village of Kampung Komodo. Two of our tablemates, John and Sharie, took the tour to this village and said that the goat smell was quite strong and that it was a rather depressing village. While they were there, the children yelled "dragon" and were throwing rocks and sure enough, there was a dragon. John and Sharie weren't supposed to see any dragons on their tour, but since it's an island with 2,500 dragons on it and no fences, the dragons can go where they want and one obviously wanted to visit the village, too.
Three local boats took 26 of us to Pink Beach (Pantai Merah). (8 people decided to return to the ship after the hot, dusty trek.) The boats tied up to a mooring and we all jumped in and snorkeled. (Normally we would have photos of this, but Filbert left the underwater camera's battery in the recharger in the cabin.) The fish were pretty, but the stars of the show were the beautiful soft coral reefs. The most vivid colors were bright green and purple. The current was strong and the water varied from very hot to very cold. Snookums didn't wear her wetsuit (stupid decision!) and decided to let the current take her to the beach to warm up. With the hot sun, that didn't take too long. And, the sand was pink from tiny pieces of coral.
After awhile everyone ended up back on the boats and we headed back to the pier, 30 minutes away. Lunch was served on the boats and included fried chunks of fish (like chicken nuggets) in a delicious tomato, red pepper and sweet chili sauce. There was also fried tofu (not a favorite of Snookums's) as well as a cooked cabbage and carrot mixture, rice, fried noodles and fresh pineapple. Everyone was happy with the food and several people told Snookums that the dragon trek and snorkel tour was the highlight of their cruise.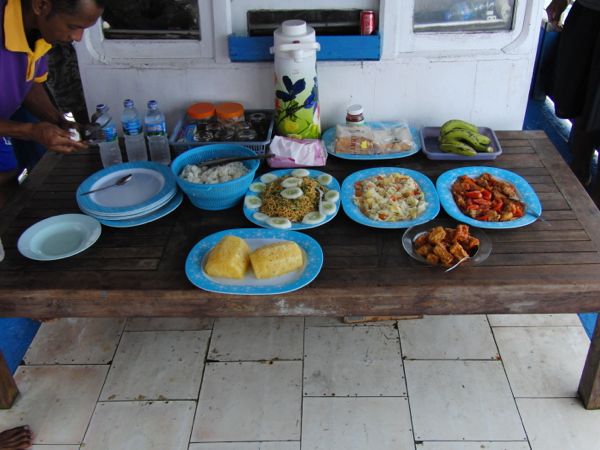 Komodo lunch
After the boats returned to the pier, Filbert took the tender back to the ship while Snookums shopped. She could have purchased Komodo dragon carvings, pearls, and t-shirts but ended up just buying six postcards with her remaining $5 worth of Indonesian money.
After getting back to the ship, Snookums showered and was going to attend the fitness class but took a two-hour nap instead! We received a letter that Papua New Guinea was being canceled and instead we would overnight in Brisbane. Free champagne will be served at Tuesday night's dinner for our inconvenience. Given Papua New Guinea's crime rate and HIV rate (around 50%), not many people are complaining about this itinerary change. Prior to going to bed we set our clocks forward 30 minutes.