Contributed by: filbert Saturday, December 17 2011 @ 11:49 AM CST
The 29-Day Ultimate Northern Discovery Cruise, Holland America Eurodam
Text by Snookums, Pictures by Filbert
Part Six
August 24 (Wednesday, Day 17, Dover, England; £1 = $1.63; $1 = £0.61) –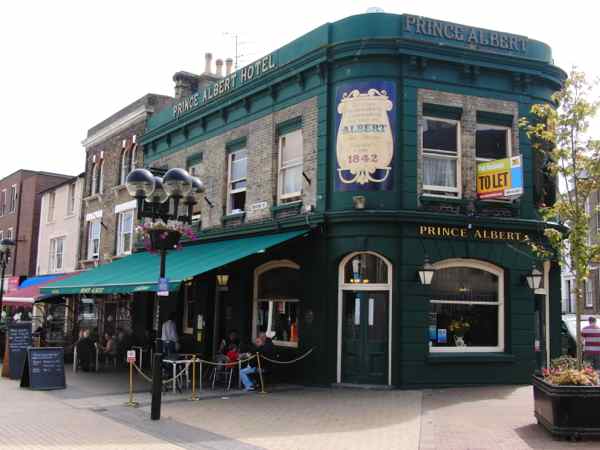 The Prince Albert Pub, Dover
We woke up during one of the many announcements letting disembarking passengers know what tag color could leave. It didn't bother us too much. However, the two crew members that walked across our balcony around 8 AM surprised us since we hadn't been notified about balcony maintenance. Luckily Snookums was still in bed and Filbert was fully dressed! Filbert decided that he needed to notify the front desk of this since he wasn't sure that the ship knew we were staying on board. (In the past, we've always received notes the day before whenever there was going to be maintenance to our balcony.) The front desk man didn't seem too bothered by it, but apologized to Filbert and said it wouldn't happen again. We took the shuttle to downtown and walked around for about an hour. It was misting a little bit and cloudy, but we were in England after all! We decided that we really liked Dover. It is a small seaside village with a huge history. We managed to run into Gary and Charlotte right as they were getting off the bus. We showed them where the McDonald's was for free wifi and Filbert and Charlotte immediately logged on. Snookums went with Gary to buy Manchester United jerseys. Gary bought three – one for himself and two for gifts for his room steward and for his room steward's son. Gary was like a kid in a candy store. After we all used the free wifi we went to the pub next door, Prince Albert, and Roger and Margaret were there using its free wifi while enjoying coffee!
Snookums and Charlotte ordered the ploughman's lunch. It consisted of two hard rolls, butter, a large scoop of some kind of sour/sweet/salty pickle chutney, two large pickled onions, two huge wedges of sharp cheddar cheese, two slices of ham and a tossed salad. It was delicious and very large and cost $10 (or £5.99 – the same price as a McD's value meal!). Filbert and Gary each ordered the fish and chips and mushy peas and enjoyed that, too for $16.50 each. Filbert had a pint of locally brewed bitters and Gary had a Beck's beer. Roger and Margaret insisted on buying our lunches since we have been treating them to wine every night. (4-star Mariners can buy 7 bottles of wine at a time for $18 per bottle which is 50% off We just can't let them give HAL more money than is needed!)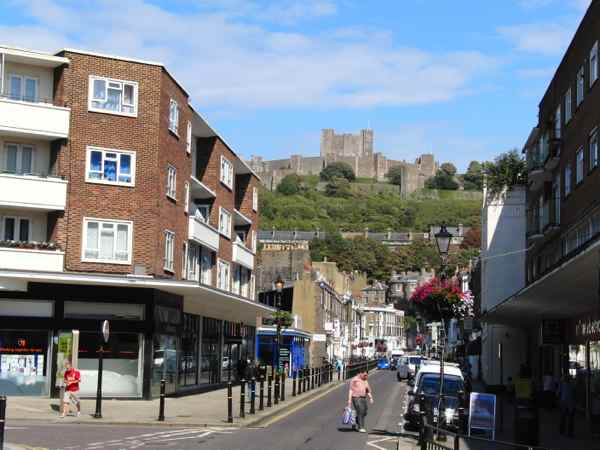 Dover Castle above Dover town
After lunch we went to a used book store and once again Gary was like a kid in a candy shop. He bought two books about British maritime history (he's ex-Navy, after all) and six paperbacks of maritime fiction. Surprisingly, Filbert didn't buy anything. The sun was shining, though, so everything was good. And, Snookums managed to find three different coins on the ground throughout the day for a total of $0.08!
Then it was time for the various grocery stores and we loaded up on Coke Zero (six 2-liters) and various English beers (five 4-packs). All of the reusable bags that we brought with us were loaded and we walked back to the shuttle bus stop.
Once on the ship, it was obvious that new people were on board. Snookums went to the gym for the schedule of classes and also weighed herself. She was ecstatic that she weighed one pound less than on August 12 on the first day of the cruise! We had to do the lifeboat drill again, but this time Snookums just wore her jacket and not her winter coat since it was sunny. Windy and a bit chilly, but sunny.
Snookums decided to call the restaurant reservation person to verify all of the reservations that she made over the past two days for the rest of the cruise. (Holland America doesn't let people make restaurant reservations for future segments so although we bought one 29-day cruise, we had to treat it like a 12-day cruise and then a 17-day cruise and we weren't able to make the 17-day cruise restaurant reservations until two days ago. This is a serious downfall of a Collectors' Voyage.) Unfortunately, the Pinnacle Grill dinner reservation that was made for us for August 31 that was made by a Holland America employee in Seattle on June 17 didn't "happen". The Holland America Seattle employee made it since there was a Pinnacle Grill snafu on our last cruise and Snookums wrote a letter to the company and they gave us a free dinner and said that they would make the reservation. Snookums is confident that Jane Curtis in Seattle made the reservation but is also confident that the ship screwed it up. Anyway, we'll see what happens.
The six of us ate at Tamarind which is the $15 per person Asian restaurant. It costs $7.50 for 4-star Mariners so Gary and Charlotte paid for three people and Snookums and Filbert paid for three people. None of us wanted Roger and Margaret to have to pay full price so we just took care of them! It was fabulous and since we are on a Collectors' Voyage, the six of us had also been notified that we get to eat at Tamarind for free on September 1. Snookums ordered the chicken pho soup followed by the Thai beef salad. Filbert also had the pho soup and then had the spring rolls. The soup was very tasty, but was hard to eat since we had Asian porcelain soup spoon/ladles that didn't work all that well. Next time Snookums will probably order the Thai beef salad and the green papaya salad and skip the soup. Everyone else ordered the tempura shrimp for an appetizer and really enjoyed them, too. Filbert and Snookums both ordered the chicken with red curry sauce as their entrees. Filbert ordered his spicy and it was. Snookums ordered hers medium and it wasn't spicy enough. But, it was delicious in its coconut and red curry sauce. Side dishes consisted of several types of vegetables and the table agreed that the bok choy side dish was very good and so was the mushroom side dish. Desserts were ho-hum. Snookums ordered two of them – the chocolate filled fortune cookie and the tamarind flavored chocolate shell filled with ginger chocolate mousse. The ganache in the fortune cookie was good, but the cookie itself was very bland so she won't order it again. The tamarind flavored chocolate shell was just a dark chocolate shell so it was good. The ginger chocolate mousse was very, very gingery – almost too strong. Filbert ordered the coconut bread pudding with caramelized bananas on it and it was okay. But, it was a great dinner and we all agreed that it was the best dining experience we had on board. Hopefully our next Tamarind experience will be as good.
After dinner Gary, Snookums and Filbert went to the Pinnacle Grill to try to resolve the Pinnacle Grill reservation mess. Anne, the Pinnacle Grill manager, talked to us. Gary and Snookums showed her the letters each had received from HAL's headquarter in Seattle. After a little bit of discussion (and no giving in on Snookums's part regarding a free dinner for four people in Pinnacle Grill on August 31), Ann said that both of our reservations would be handled. We were very pleased with her resolution. For once we found someone at Pinnacle Grill that understood customer service. It was a good day.
August 25 (Thursday, Day 18, Amsterdam, The Netherlands; €1 = $1.43; $1 = €0.70) –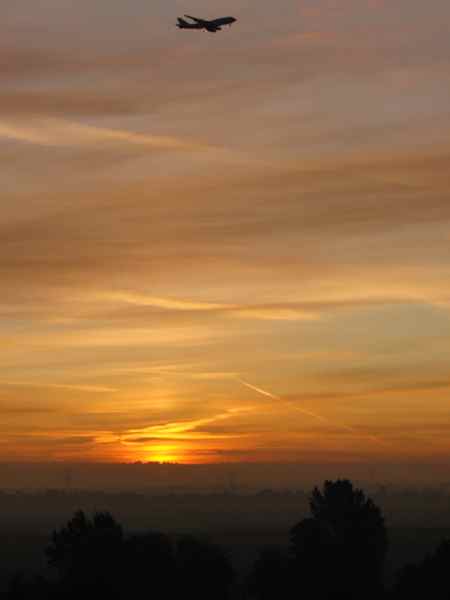 Sunrise in the Dutch canals
The day started out well and it was clear and in the high 60s. Filbert and Snookums boarded a hop-on/hop-off canal cruise at the ship's dock and got off at the Hermitage. The special exhibit was Russian Orthodox Church Art, but we passed on seeing it since we had seen more than enough in St. Petersburg. Instead, we walked to Dam Square and the Royal Palace. During our walk we needed to use toilets and could only find pay toilets. Even McDonald's was charging €0.50. We weren't in desperate need so we just kept on walking. Snookums wanted to see the red light district and a lot of it was closed since it was only 11 AM, but some of the women were standing in the windows. And, after we kind of got out of the red light district we saw that there was one more "store" but this one had four hefty older (and very worn-looking) women in its windows. It was obviously a cheaper establishment since the quality of the merchandise was very poor.
Amsterdam red-light district
We walked back to the ship and had lunch. Yunus, a waiter from Bali that we had talked to during other lunches, went to the crew mess and got homemade sambal for Filbert. Yunus apologized for it since it didn't have any habanero peppers in it since they hadn't been unpacked yet from the Dover shipment. However, it was plenty hot for Filbert and contained jalapenos, fish sauce, lemongrass and onions. The Indonesian crew mess cooks make it fresh every day as long as the ingredients are in stock.
After lunch we caught another canal cruise route from the ship's dock and rode it the whole way around. At one point we were passed by a dredging boat that was carrying a bunch of filthy bikes that had been dredged from the canal. The boat captain was using a bucket of canal water to wash off his dredging boat and managed to accidentally splash our canal cruise boat. Snookums's hair got wet and she got some canal water in her mouth. Hopefully that won't end poorly.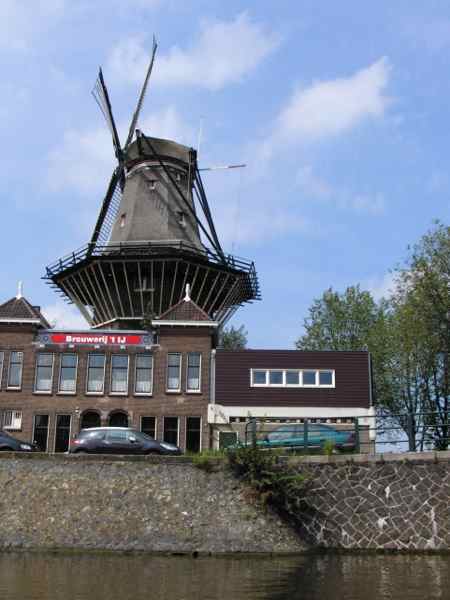 Dutch windmill
One of our canal boat stops was at Central Station which is the main train station for Amsterdam. There was actually a bike parking garage that was at least four levels tall and it was packed with bikes. Snookums doesn't know how bike owners actually find their bikes at the end of the day since most of them are just basic black, old bikes. Snookums would own a neon green bike if she lived in Amsterdam!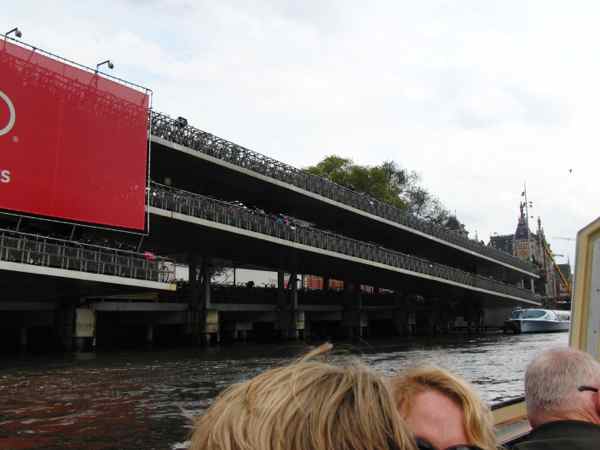 Bike parking ramp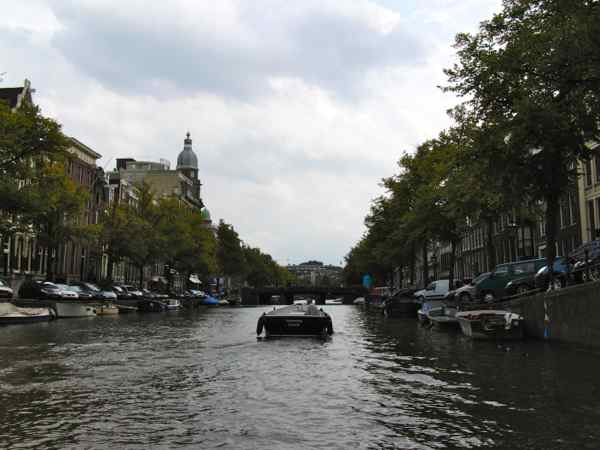 Along Amsterdam's canals
When we cruised out of Amsterdam the port lecturer gave a commentary of the scenery and he said that there are around 570,000 bikes in Amsterdam and 72,000 are stolen each year. That explains why 99% of the bikes are beat up, old junkers. However, they all have lights on them.
Dinner was uneventful, but we all commented on the strange names cruise ships give to various dishes. One of the desserts was "Tom Pouce" and it was described as layers of pastry with coffee cream between them. None of us had ever heard of "Tom Pouce" before and we've all cruised many times.
August 26 (Friday, Day 19, Zeebrugge, Belgium; €1 = $1.43; $1 = €0.70) –
Zeebrugge is an 11-minute train ride from Blankenberge to Bruges. The ship docks in a working port and no one is allowed to walk anywhere. Shuttles took people to either downtown Zeebrugge (5 minutes away) or downtown Blankenberge (15 minutes away).
When we woke up it was raining hard but we decided to see Bruges anyway. We boarded the shuttle to Blankenberge and were the first ones to the train station from our shuttle. We bought our €5.40 per person roundtrip train tickets and since Blankenberge is at the end of the line, the train was there so we boarded it and sat for 20 minutes. It rained the whole time we were on the train and we thought our day in Bruges might have to be spent in the French Fry Museum (yes, there is one in Bruges). But by the time we exited the tourist info center at the Bruges train station, it had stopped. (The tourist center charged €0.50 for a map and Filbert thought the map that the ship gave us was good enough. We did pick up a brochure for the French Fry Museum just in case it started raining again.)
We walked around the historic city center (a prominent World Heritage Site of UNESCO) and stopped in a chocolate shop. They seemed to be everywhere, but most of them were independently owned. Snookums bought a dark chocolate bar with crystallized ginger on it for her mother. We saw a Crowne Plaza hotel and went in for a free map and to use the free toilets. We also saw a restaurant called "Tom Pouce", just like last night's dessert!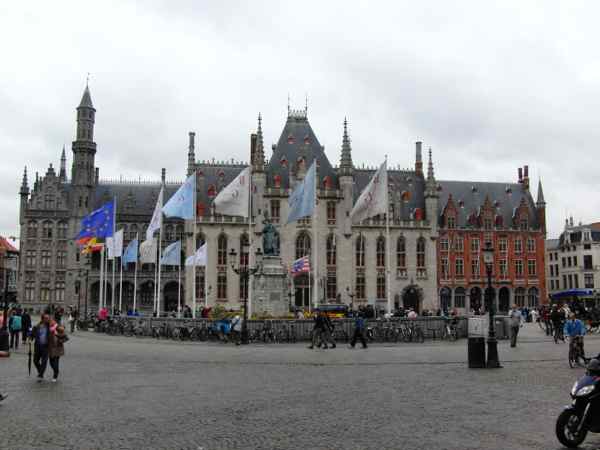 In Bruges
Snookums saw St. Paul Bakery and wanted to go in. While we were looking at all of the wonderful breads and pastries, Filbert decided to get a Coke Zero. Then Snookums decided to get a sandwich for lunch and Filbert did, too, so that we would have a picnic lunch. Snookums decided to get the $4 pre-made omelet sandwich. It was on thick multigrain bread and had lettuce and mayonnaise on it. The ½-inch thick, fluffy omelet was probably a 2 ½ or 3-egg omelet and had bacon and onions in it. It was one of the best sandwiches Snookums had ever eaten. Filbert got a $4 white baguette with salami and cheese in it and he said "yes" to all of the vegetables. He got slices of egg, shredded carrots, cucumbers, lettuce and tomatoes and he said it was great. We also saw "Tom Pouce" for sale with the other pastries but decided to share a rhubarb tart instead. We took our sandwiches and immediately found some benches and enjoyed our lunch in the brisk, windy air. The clouds were rolling in so we decided to walk back to the train station and catch the next train to Blankenberge.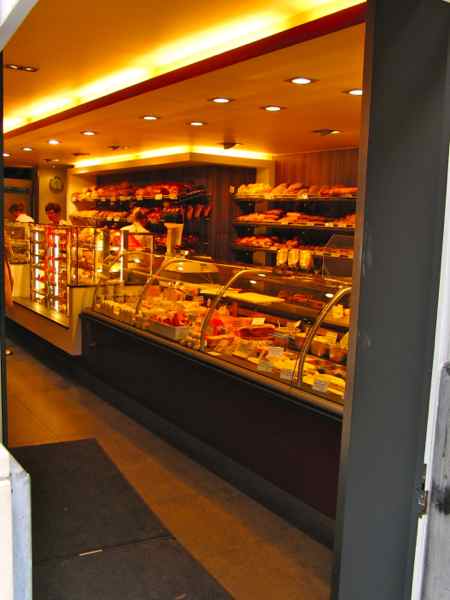 An unassuming little bakery
At the Bruges train station there was a Carrefour Express (a grocery store) and Filbert loaded up on Belgian beer and Coke Zero. We boarded the train and Filbert decided to take random photos. As we were pulling into the Blankenberge station he put his camera away. Right then we saw Gary standing on the platform taking pictures of the train. Too bad Filbert didn't get a photo of Gary taking a photo of the train (and us)!!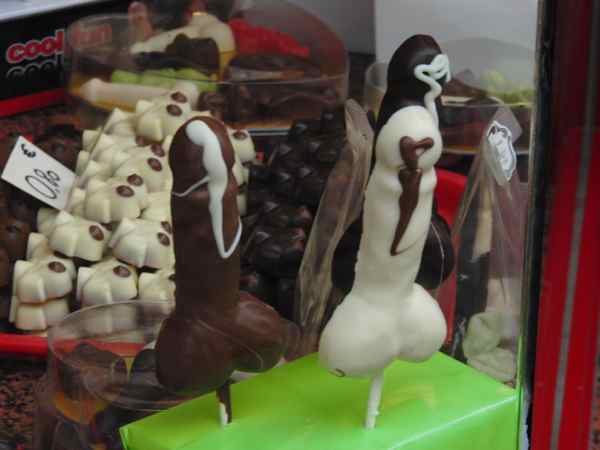 Belgian confectionary humor. We think.
Tonight was a formal night and we had already made dinner reservations for Canaletto so that we wouldn't have to dress up. We had a great dinner here on August 22 but tonight wasn't as good. Service was very poor and the food was quite salty. Many crew left the ship in Dover since their contracts were up and were replaced by new crew and it seems like the ship isn't running as smoothly as it did for our first 12 days. Only time will tell.
August 27 (Saturday, Day 20, Cruising the English Channel) –
Snookums woke up and went to "Fabulous Abs" at 7:30. Ouch! Then she decided to use the sauna. Unfortunately, there were three Chinese women in it, all speaking Chinese and there wasn't much room. She stayed for about 10 minutes and left. She then used one of the three hot tubs next to the Lido pool. She finally returned to the cabin, showered and got ready for the day.
Filbert attended the 11 AM lecture about the eruption of the Icelandic volcano, Eyjafjallajokull, in 2010. Jon Vidar Sigurdsson presented the lecture and he is a geologist from Iceland and has also been on over thirty expeditions to Greenland. His wife is on board, too, and is a travel guide in Iceland.
Snookums, Gary and Charlotte ate lunch in Tamarind (free, but reservations required). Filbert decided that he had been eating too much so he passed on this lunch option. It's a set menu and none of us were impressed. You got hot and sour soup (pretty good), a salad (also pretty good) and then a steamer basket with four pieces of gooey dim sum in it (not good, in Snookums's opinion) and four half-pieces of various egg roll type things. A little mound of fried rice came on the plate, too. Snookums ordered two desserts (coconut ice cream and a bland egg tart) and wasn't thrilled by either of them. After lunch, Charlotte and Gary went to Lido to get more food. Charlotte wanted ice cream and Gary ate some of the items from the daily Asian buffet. Filbert didn't miss anything and we won't recommend lunch at Tamarind to anyone. Dinner is a different story, though!
Filbert went to the afternoon lecture on the Milky Way, but was not impressed. Later at dinner, Roger said the same thing when he started talking about his attendance at the afternoon lecture. It sounds like HAL doesn't need to ask this lecturer back! After the Milky Way lecture Filbert stayed around to hear the travel guy talk about Dublin and what to do there. We spent three nights there in 2007 and have seen all of the touristy things.
While Filbert was being educated, Snookums was watching the movie "Unknown" on TV starring Liam Neason. It was okay. She also returned the ½ price Holland America polo shirt that she bought earlier in the cruise since it shrunk two inches in length after it had been washed by HAL.
The highlight of dinner was that Charlotte brought the ½ pound box of Leonidas Belgian chocolates that Gary bought for her to share with all of us. We each had one and they were tasty, indeed!
Comment (0)
---