Contributed by: filbert Thursday, May 27 2010 @ 07:58 AM CST
The Panama Canal-Ft. Lauderdale to San Francisco-20-night Voyage, May 6-26, Regent Seven Seas Navigator
Text by Snookums, Pictures by Filbert
Part Thirteen
May 19 (Wednesday, Day 15, Acapulco, Mexico) –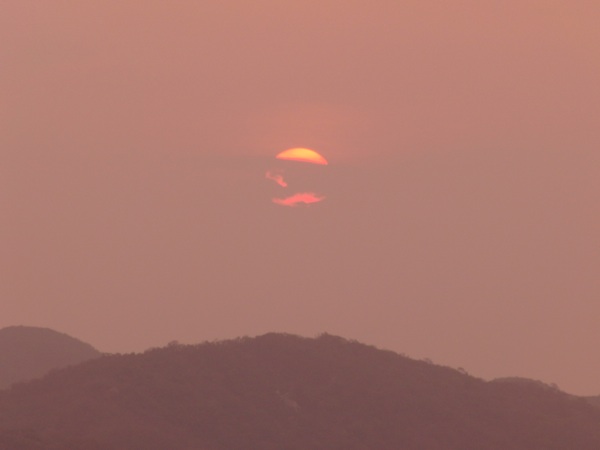 May 19 sunrise
Filbert was up early again, taking pictures and hoping for dolphins. No dolphins today. Just one big honking moth, that Filbert originally thought was a hummingbird because it was so big. It had to be a good six inches long, and five or six inches' wingspan.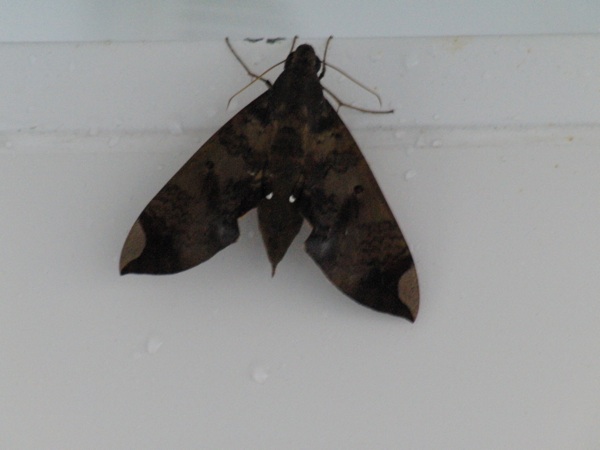 Big honking moth
Filbert and Dad decided to stay on the ship while Snookums, Judy, Mom and Bill went to the 5-star Fairmont Pierre Marques Hotel for 4 hours. There were three very nice freshwater pools and a nice beach. Snookums got a great sunburn and even Judy ended up with a sunburn line on her chest! A buffet lunch was included, too, but the only Mexican items were refried beans, excellent guacamole and tortilla chips. We all had a very nice time. This is the off season in Acapulco and the hotel was hosting a Siemens training session and there seemed to be only about 10 other guests around the pools.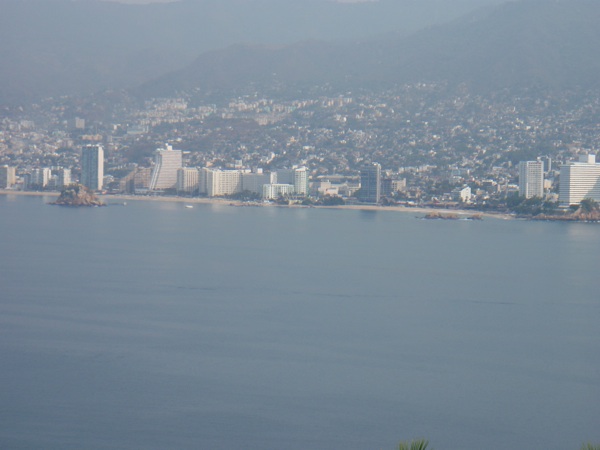 Acapulco
When we got back to the ship Judy and Snookums ventured out again to go to the "Pelican" grocery store about 3 blocks away. Mom had mentioned that she wished she had brought some mint Tums or Rolaids so that was our mission. Of course, the grocery store only had fruit flavor so we decided to keep on walking in hopes of finding a pharmacy. We went into two different OXXO stores. These are nice convenience stores that are on every block (no kidding). They didn't have them, either. We kept walking and came to the next big grocery store and got lucky. We walked back to the ship and figured that we walked 3 miles total. The weather was very pleasant and all day we could tell that we were farther north than we had been since it wasn't stifling hot and humid.
Dinner was a special event – a Grand Deck BBQ followed by a Mexican Folkloric Festival. The staff closed the pool deck at 3PM in order to get it decorated and set up.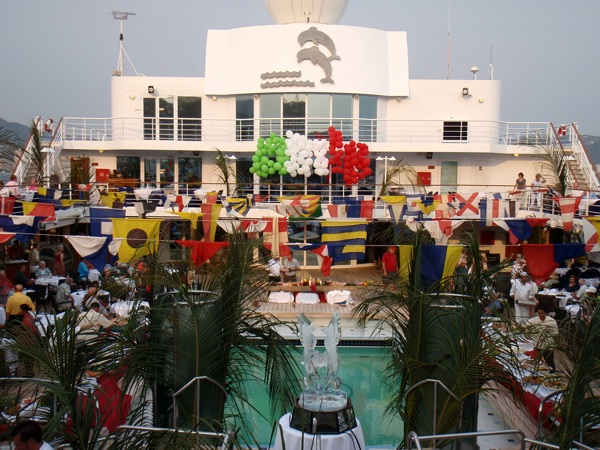 The pool deck set up for the BBQ
All of the deck chairs were moved out and tables and chairs were brought in on both decks 10 and 11. There were balloons and banners and palm fronds in front of every pillar. It was very, very well done. Judy didn't want to eat outside so she ate at Compass Rose while Mom, Dad, Filbert and Snookums enjoyed the buffet.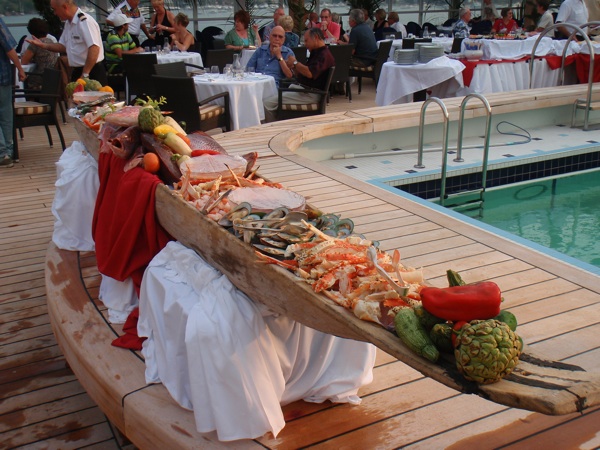 Seafood canoe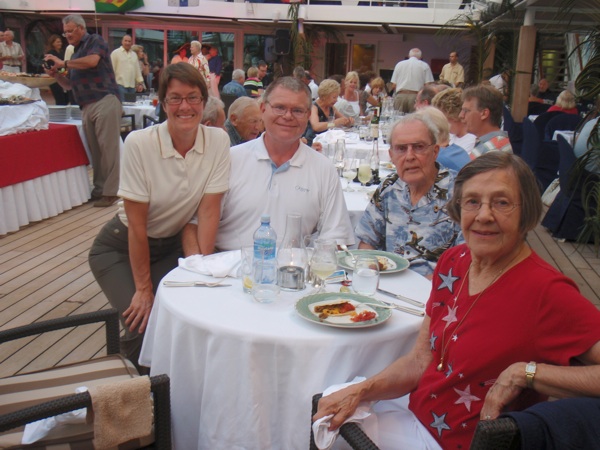 Family (sans Judy) at the BBQ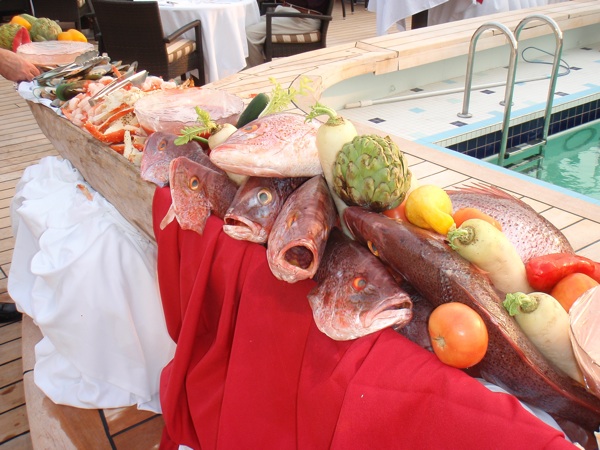 Seafood: a closeup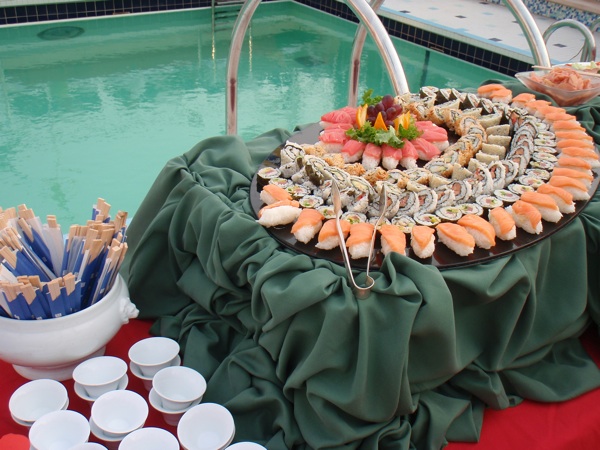 Sushi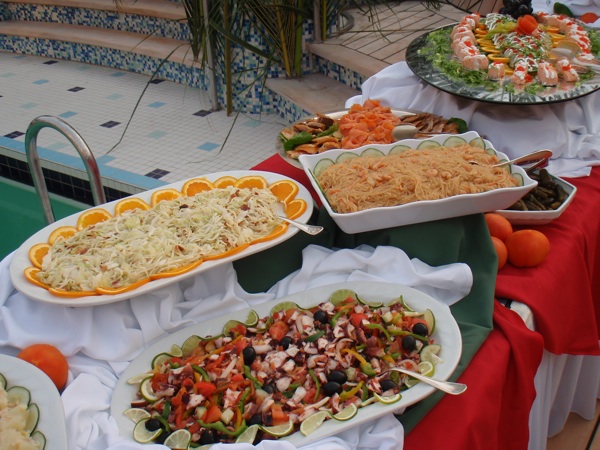 Salads
It wasn't crowded at all and everyone had seats. It was kind of amazing, actually, that there weren't any lines and no one seemed to be looking for places to sit. Dad enjoyed king crab claws while Mom enjoyed varieties of smoked fish, among other things. Filbert really enjoyed the grilled jalapeno and cheddar sausages and Snookums liked picking at a little bit of everything, except the sushi. It really was one of the better outdoor pool-deck events that we've ever seen on a cruise ship–well laid out, well run, and very good food. At 9:15PM a 20-member folkloric dance group and mariachi band performed and it was very festive.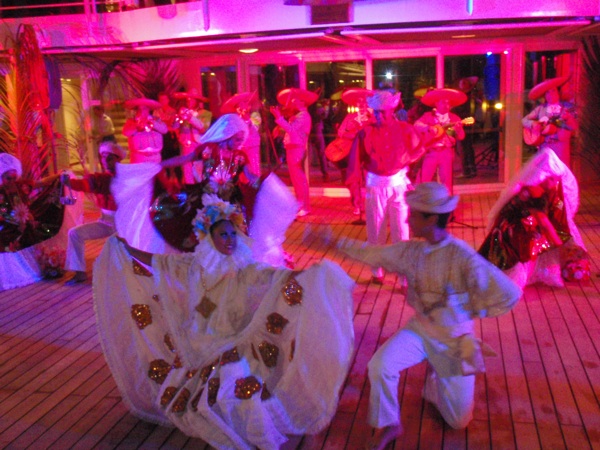 Festive folkloric dance
May 20 (Thursday, Day 16, At sea)
Sea days are great.
Filbert got up early again for more dolphin-watching and a bit of radio listening–he even got a Los Angeles AM station for a while right around sunrise. But no dolphins. Sniff.
Snookums slept until 9:45 this morning so that meant no "Abs Express" for her. After slowly waking up and then showering, it was time for the noon "curry buffet" poolside for Snookums and Filbert. A little while later Dad and Judy appeared and had curry, too. Then it was Mom's turn to show up poolside. Snookums decided to go back to the room around 2:30 and found Filbert fast asleep in a perfectly dark room. She took her book out to the balcony and read, watched for sealife and dozed a bit, too. She contemplated attending the 3PM "Body Sculpting" class, but laziness prevailed! At one point she put a robe on since it was cool on the balcony since the sun was on the other side of the ship. Yep, we're definitely heading north.
(Here's the explanation: up until about Puerto Vallarta, we've been sailing with the north-bound equatorial current–that's warm water. Around the tip of the Baja California peninsula, and right around Puerto Vallarta, that current meets up with the southbound, cold California current. That's why the sea around Cabo San Lucas and Puerto Vallarta is so rich in sea life. But that's also why it gets a lot colder when you get north of Puerto Vallarta and Cabo.)
Around 4PM Snookums decided she wasn't going to eat in Compass Rose tonight and instead was going to be a bum and order room service and eat in bed. She was just very exhausted. Filbert decided yesterday that he wasn't going to eat in Compass Rose for dinner again since he eats too much and drinks too much when he goes there. Snookums ordered risotto carbonara and Filbert ate his high-protein, low calorie instant oatmeal. We watched two movies, Bedtime Stories with Adam Sandler and Up. It was a very, very, very hard day at sea!!
Regent television has "pay-per-view" movies (free) as well as the Cruise Director's channel (Paul Reynolds reviews the upcoming daily schedule and interviews an entertainer or crew member), a channel with a camera view from the front of the ship, a channel describing upcoming shore excursions, a channel that replays the lectures from the previous day, CNN International, Fox News, TNT, ESPN Latin America, Explorer Cousteau, channels that just play "CSI Las Vegas", "24", and "Blue Planet" documentaries, and a channel that shows the menus for the evening. There is also a DVD player in every suite if you want to check out some DVDs from the library.
May 21 (Friday, Day 17, Puerto Vallarta, Mexico) –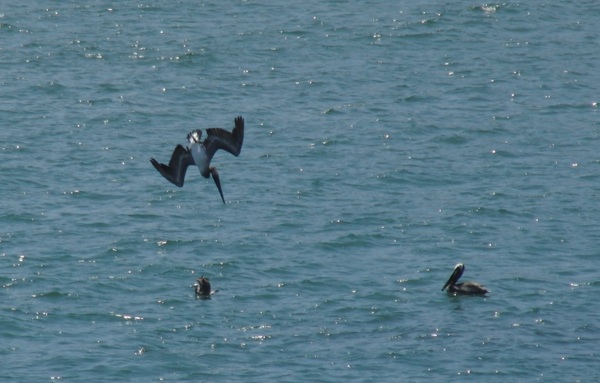 Diving pelican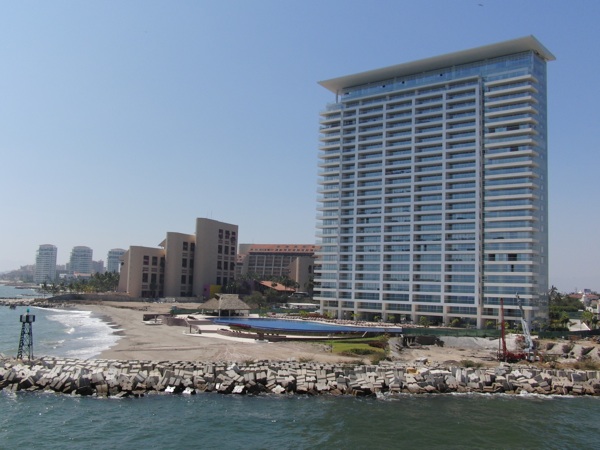 Snookums' favorite building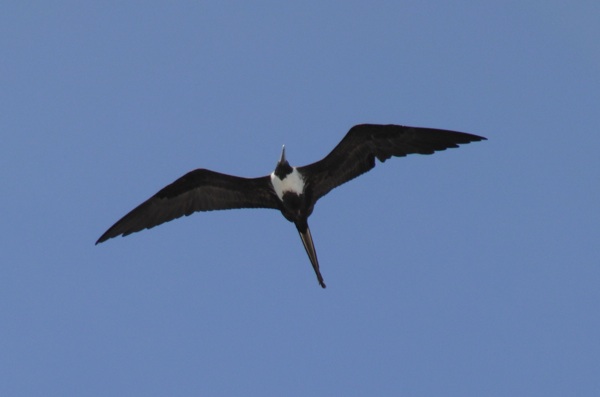 Magnificant Frigatebird
Next: Getting personal with sea lions!