Contributed by: filbert Wednesday, May 26 2010 @ 10:53 PM CST
The Panama Canal-Ft. Lauderdale to San Francisco-20-night Voyage, May 6-26, Regent Seven Seas Navigator
Text by Snookums, Pictures by Filbert
Part Twelve
May 18 (Tuesday, Day 14, Huatulco, Mexico) –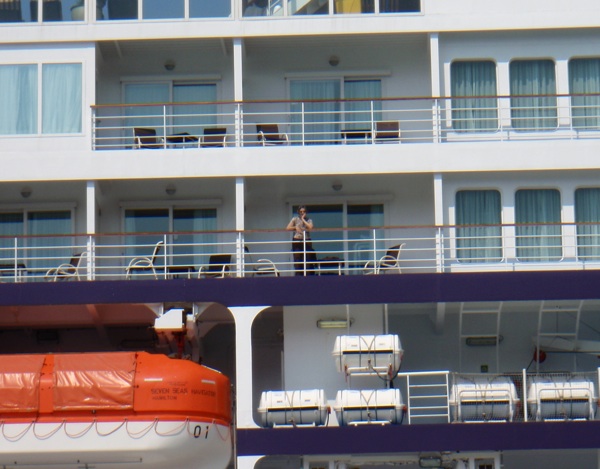 Mom on watch
Mom, Dad, and Judy headed out for a tour, but Mom bailed out after walking a long, long, long way down the pier and onto the dockside, and then finding out they were only half way to their bus. So she headed back to the ship for some quiet alone time.
More after the jump . . . Snookums and Filbert went on a snorkeling trip and saw some great fish, including a ray "vacuuming" the bottom of the ocean while a flounder (?) stayed close by. Our guide caught a puffer fish that Snookums got to pet and also found two starfish that Snookums held. We snorkeled into a cave, too. The water was so warm that for the first time ever, Snookums would have been completely comfortable without wearing her wetsuit. But she wore it anyway.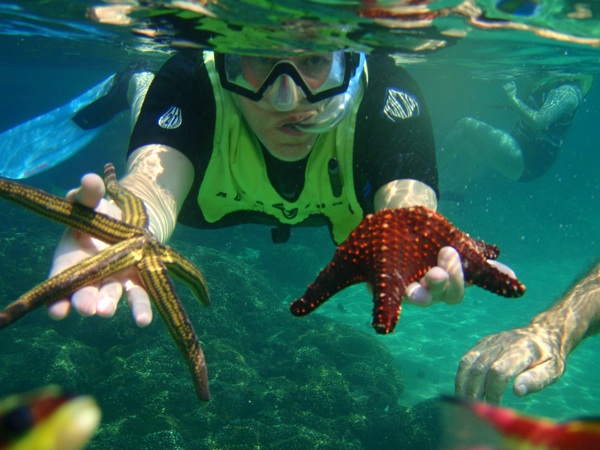 Snookums and the starfish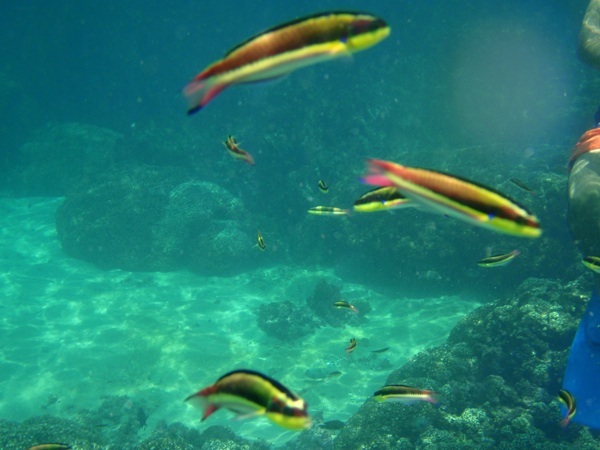 These little nippers were everywhere. And they nipped–Snookums, at least.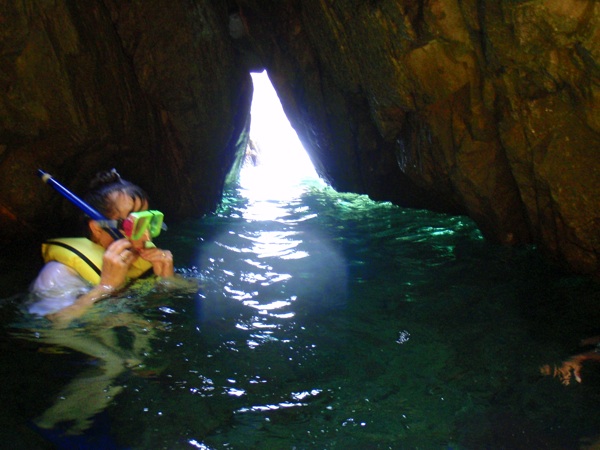 The cave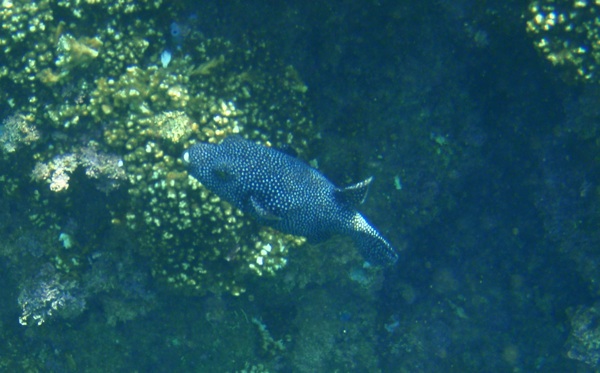 The puffer fish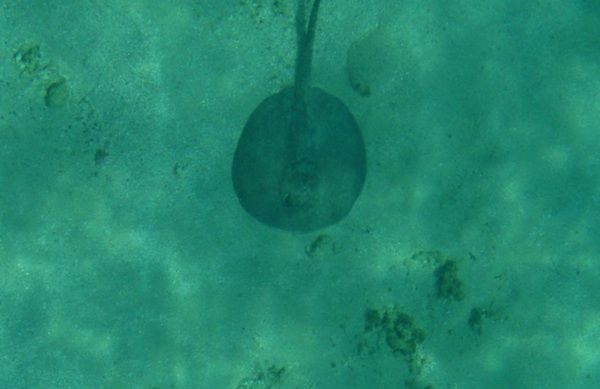 Ray, with flounder wing-man
After the snorkel trip we shopped in the tourist shops at the end of the pier, continuing the quest for a Mexican shirt for Filbert. We had 350 pesos and a credit card. We found a shirt that was 420 pesos (around $35). We didn't show the credit card and managed to get the shirt for 350 pesos ($28). That was probably still too much, but as another past cruiser (Gary G.) used to say, "we helped the local economy".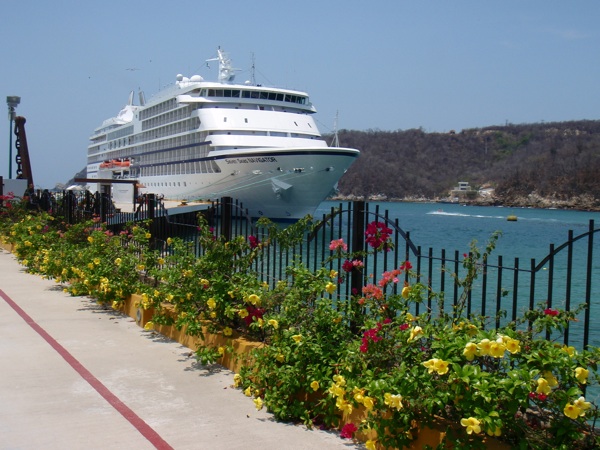 The Navigator at the Huatulco dock
While Filbert and Snookums were on the snorkel trip, Judy and Dad 9as mentioned previously) went on a catamaran trip around 5 of the bays near Huatulco. There are 9 bays that make up the 22-mile area around Huatulco that the Mexican government has chosen for the site of a master-planned resort area and 52,000 acres are going to be ecological preserves in order to protect the nature's environment. The government is hoping that Huatulco will rival Acapulco, Cancun and Puerto Vallarta as one of Mexico's most desirable beach getaways.
That afternoon, after showers, changes of clothes, and lunch all the way around, Filbert and Dad went on the bridge tour and that was a first for them while we were docked. They learned that the three lifeboats that are on Deck 7 beneath our rooms are really a rescue boat that holds 50 and two lifeboats that hold 150 each.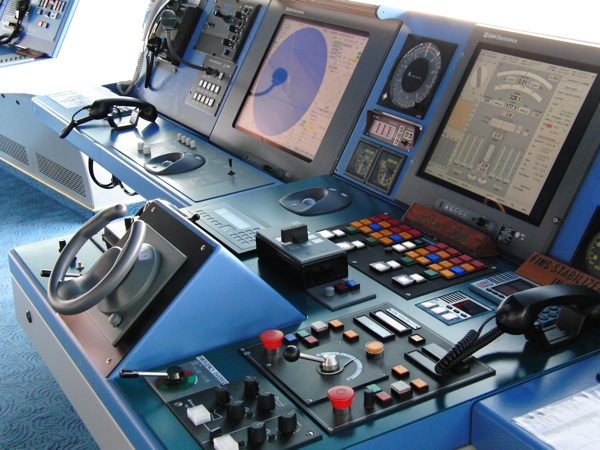 The bridge
The ship sailed away at 4PM and Filbert thought that we needed a private sail away party so he ordered champagne and snacks. (What can I say? I like private intimate little sailaway parties . . . –Filbert) The room temp champagne arrived so Snookums called and requested chilled champagne. That soon came as did the snacks (cheese plate, fruit plate, prosciutto-wrapped melon). Mom was taking a nap and when she woke up she enjoyed the champagne and nibbles. Judy didn't eat or drink anything since she was going to yoga at 5.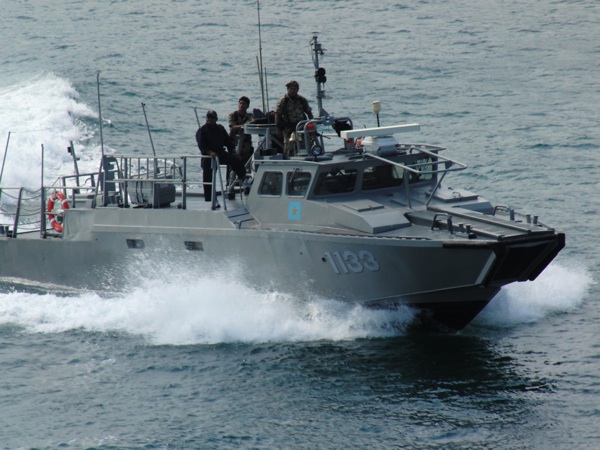 The Mexican navy wants no incidents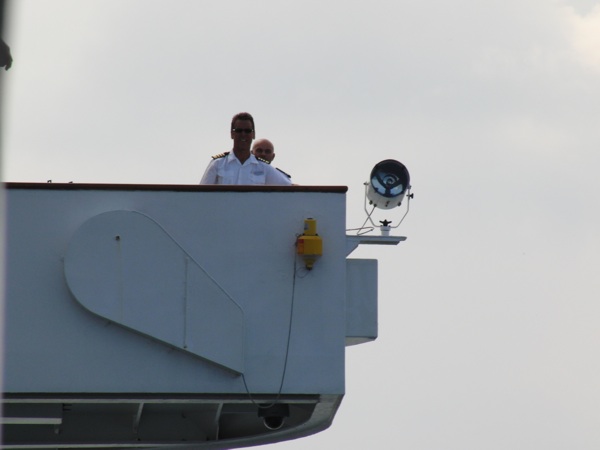 Captain overseeing the departure from the flying bridge
Filbert stayed outside on the balcony even after we sailed away and listened to short-wave radio. For the first time ever, he listened to Radio Romania.
Next: A big honking moth, Acapulco, and a good BBQ . . .
p.s. Huatulco is pronounced "Wah-TOOL-co."