2010 Panama Canal Cruise, part 8
Contributed by: filbert Sunday, May 23 2010 @ 04:33 PM CST
The Panama Canal-Ft. Lauderdale to San Francisco-20-night Voyage, May 6-26, Regent Seven Seas Navigator
Text by Snookums, Pictures by Filbert
Part Eight
May 13 (Thursday, Day 9, Panama Canal Crossing) –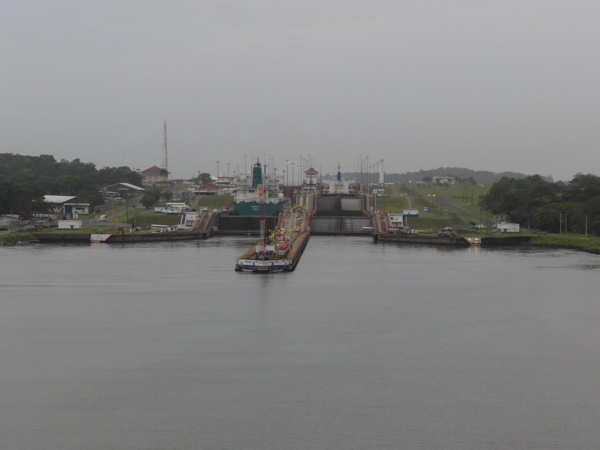 Approaching the Panama Canal
Filbert woke up around 4AM after not sleeping much due to the bad weather and waves. Snookums heard the tenders being lowered and that woke her up around 4:30AM. (We don't know why the tenders were being moved. No one was getting off the ship. Maybe they were testing them or something?) We were scheduled to start going through the Panama Canal around 5AM so she just stayed up.
More after the jump . . .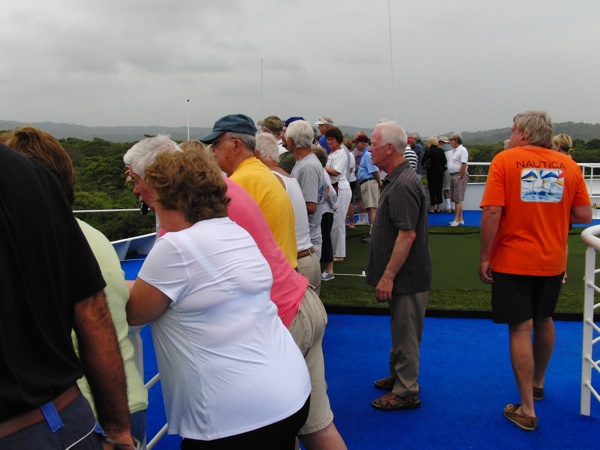 The passengers congregate at the front of the Navigator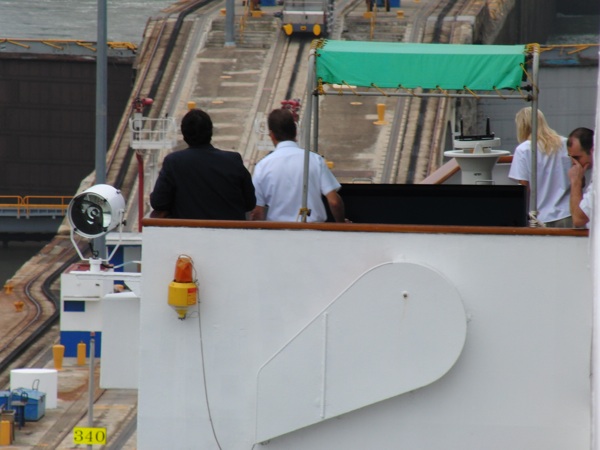 Captain and canal pilot check the tight fit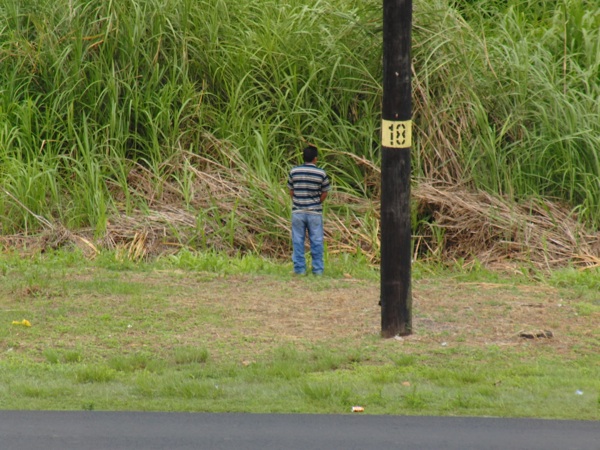 Panamanian checks his own tight fit
Filbert and Snookums wandered around the decks and checked out the operation of the Gatun Locks. Snookums grabbed a donut and cinnamon roll and some fresh fruit around 5:45. At 6:30 we wandered down to La Veranda for a "real" breakfast. Nothing like having two breakfasts in one day!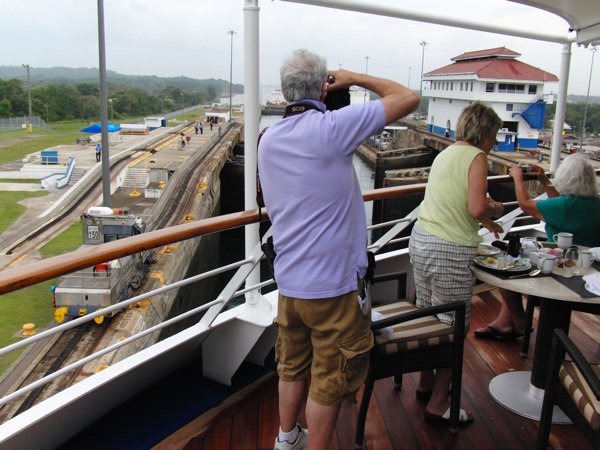 Photograph of a photographer, David Burnett
Snookums was scheduled to attend a fitness class but all of the classes were canceled today since the ship's staff felt like people would use the Aerobics Room, which is on Deck 11 at the front of the ship, as a viewing area. No one did. Everyone stood outside, in front of the Aerobics Room, where the golf putting green is. It was a good excuse for Snookums to be lazy.
Our ship was the 14th ship to go through the Panama Canal today and finished going through all of the locks by 3PM. It cost $89,000 for the Navigator to go through the canal. Not including the packs of cigarettes we saw being handed off from the ship to the canal operators as the day wore on–we think.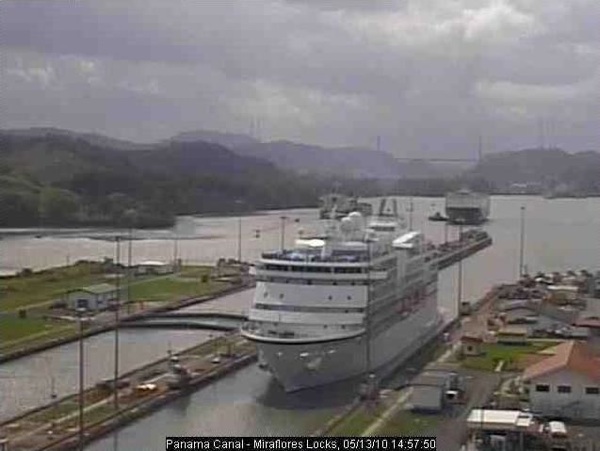 Navigator enters the Miraflores Locks (on the Pacific side) (Courtesy Bill[*1] and pancanal.com[*2] )
The ship received souvenir items from Panama early in the morning via the pilot boat and sold them on the pool deck. The ship didn't let anyone off in Panama, but people were buying Panama t-shirts and other souvenirs like crazy. Snookums bought some postcards and Mom bought a magnet for the room stewardess, Romaria, since she collects them. Romaria is from the Philippines and has two children.
Most of the day was spent wandering around the ship and talking to people. It was a slow day and with a lot of people not getting much sleep the night before, everyone seemed to get a bit drowsy by early afternoon. Around 4PM it started to pour like a monsoon for 30 minutes. It didn't interfere with anything and the humidity was much less after the rain. All day it had been 90 degrees and probably 90% humidity and after it rained the humidity was probably around 60%. So far all of our days have been very hot and very humid. We are the last ship at most of the ports we've already stopped at for this cruise season. This ship, and others that had been doing Caribbean cruises, is re-positioning to start Alaska cruises. So, the weather is getting hotter and more humid in this part of the world which cruise passengers don't necessarily enjoy.
No live entertainment was scheduled for the evening which meant it was Popcorn Movie Night. (Out to Sea was the movie that was being shown in the Card Lounge.) Judy grabbed some popcorn (reportedly unsalted and stale) and Mom, Dad and Judy watched a foreign film, with subtitles, in their room. Regent has "pay per view" movies that are free so there is a large selection to choose from in the comfort of the cabin. Snookums and Filbert had already watched the Michael Jackson This is It "documentary" of his concert rehearsals (don't bother, unless you're a MJ trufan, sez Filbert) and started watching Precious. Anyway, they watched a subtitled movie and Snookums and Filbert went straight to sleep after dinner.
May 14 (Friday, Day 10, At sea) –
Dolphins!
Snookums and Judy went to Body Sculpt at 9AM. It is a 45-minute class that has seven stations with either one or two exercises at each station and you do each exercise for the required number of reps and then switch and do the other one and switch again and keep going for 3 minutes and then you go to the next station. It's exhausting, even when the weights are only 5 or 10 pounds each, since you end up doing a million reps during those 3 minutes. Snookums stayed for the 30-minutes Abs Express class, too.
After the workouts Snookums decided that today would be her "lay out in the sun" day. She showered and put on her bathing suit, tshirt and shorts and the sky immediately clouded over and the temperature dropped. She kept her outfit on and wandered around the ship.
After lunch Filbert and Snookums decided it was a good day to look for sea life. Filbert listened to his short-wave radio and when he saw something, Snookums ran to the balcony. We saw a big pod of dolphins (probably around 20 or 25), a sea turtle and birds.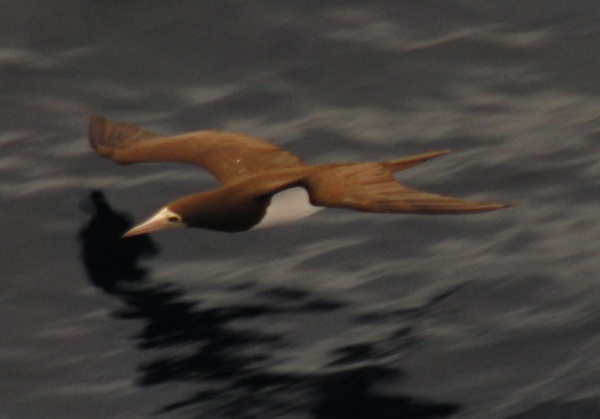 Boobie flying low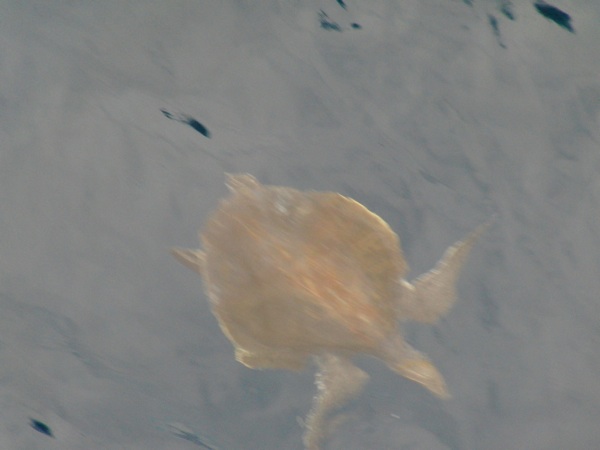 Oh, my gosh! A Turtle!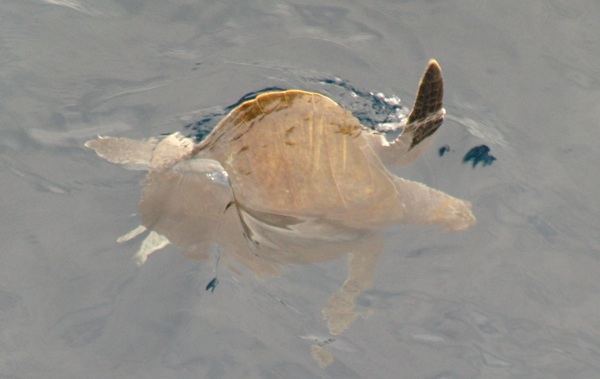 Turtle waving a flipper
After going on cruises in Asia/Pacific and then India/South Africa/Brazil, we realized that the best sea life seems to be found in the Mexican Riviera. It seems like we saw more today than we had seen in our last 2 or 3 cruises combined! Dad was on his balcony (adjacent to ours) and he saw the dolphins, too, before he went to "waffle teatime".
Dinner tonight was our second time in Prime 7, which is Regent's reservation-only steakhouse. Mom ordered the Dover sole which Dad had during our first visit. Snookums again ordered 4 side dishes rather than a hunk of meat (or fish). Dad ordered the lamb chops, Judy the fish of the day (tilapia) and Filbert had the filet mignon and lobster tail. He said that the lobster was so good it didn't even need the clarified butter. And this from a guy who LOVES butter! (Mmm . . . butter . . . –Filbert)
After dinner Mom, Dad and Judy went to the production show, "Viva la Vida". Regent just contracted with the Jean Ann Ryan Singers and Dancers and this cruise is the first Regent ship showing the shows. Well, a female dancer's zipper broke, the ruffles on all of the costumes were smashed and not ruffled and the costumes for the finale looked like they were designed and sewn by a first-year high school sewing class. Both Mom and Judy agreed on all of these points. They have not been impressed with either of the production shows.
Next: Puntarenas, here we come!