Contributed by: filbert Wednesday, April 21 2010 @ 09:15 PM CST
On about the last part of March, I noticed my much-neglected homebrew equipment, sitting in the basement. I decided to stop neglecting it.
So I whipped up three batches of beer. Two of them are the same thing:
Filbert's Light (10 gallons)
3.3 lbs Munton's American Style Lager Beer malt/hops extract
Yeast (came with the Munton's)
2 lbs sugar
2 gallons tap water, 3 gallons distilled water (in batch #1)
5 gallons distilled water (in batch #2)
Initial specific gravity: 1.032
I went a little wild with the next one:
Filbert's Cascade Amber Dark
3.3 lbs Briess CBW Traditional Dark malt extract
3.3 lbs Briess CBW Sparkling amber malt
1 lb sugar
3/4 oz. Cascade hop pellets
1 tsp. Irish Moss (clarifier)
1/2 oz. Cascade hop pellets (finishing)
Vierka Dark Munich yeast
5 gallons distilled water
Initial specific gravity: 1.020 (which I really have a hard time believing . . . the wort was sweet, much sweeter IMHO than the Filbert's Light above. It was a bit on the warm side when I took the hydrometer reading, which can cause it to be low.)
This guy, I'm just going to leave alone until June 1 or June 2–that's nine weeks–before bottling. We'll see. If I test it and it's still sweet, I'll have to figure something out.
Anyway, I bottled up batch #1 of Filbert's Light tonight.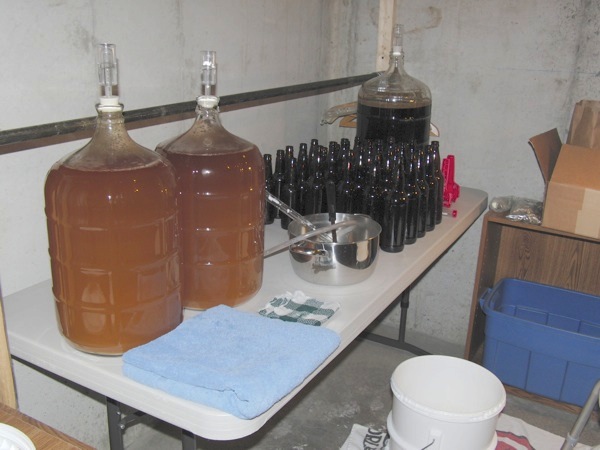 Here's my home brewery, hard at work. The two batches of Filbert's Light in front of course, the batch of the Cascade Amber Dark behind the bottles.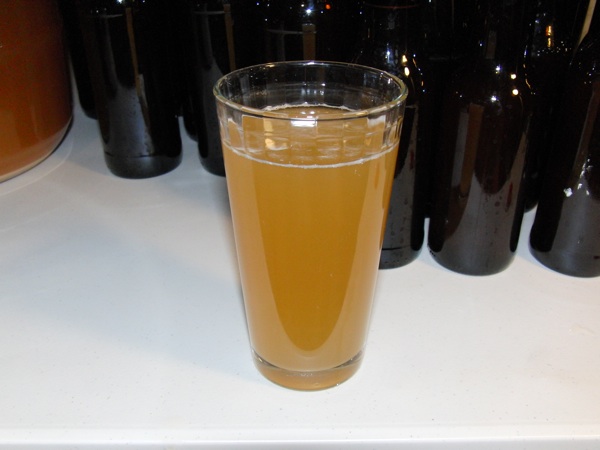 Here's what a glass of fresh Filbert's Light looks like.