Contributed by: filbert Friday, October 31 2008 @ 09:20 PM CST
The Grand Asia & Australia Voyage – Holland America Amsterdam, September 19-November 23, 2008
Text by Snookums, Pictures by Filbert
Part Twenty-one
October 16 (Thursday, Day 30, Phu My [Ho Chi Minh City/Saigon], Vietnam) –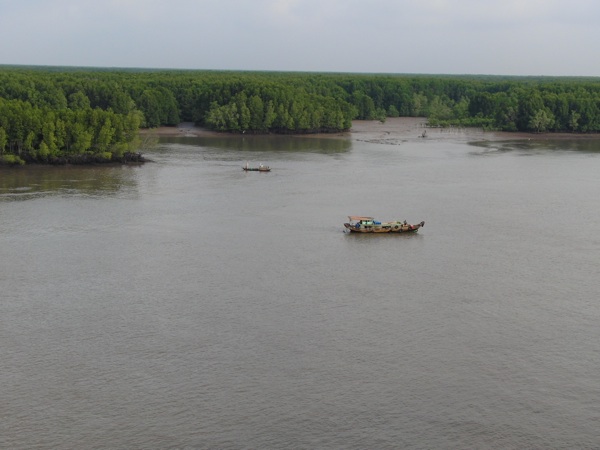 The Mekong Delta
In celebration of our 4th anniversary, we bought a shore excursion. We decided we should go to Ho Chi Minh City (or Saigon, population 7,000,000). It was about 70 miles or 2 hours from the port so we bought a roundtrip transfer.
More after the jump . . . The Saigon Transfer Photo Portfolio:
We were dropped off at the Rex Hotel and had four hours on our own. We walked to the Ben Thanh market which was a single story open-air market that was really for the Vietnamese and the few tourists in Saigon. It had silks, t-shirts, luggage, sunglasses, shoes, clothing and a "food court". The food looked good but we weren't hungry yet. Plus, it was probably 85 degrees F and 85% humidity and both of us were completely drenched. We left the market with the hope that there might be a breeze outside and walked some more. (There was not a breeze.) In Downtown Saigon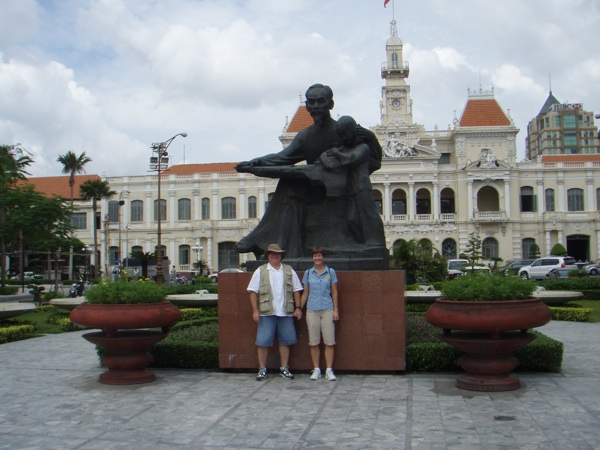 In downtown Saigon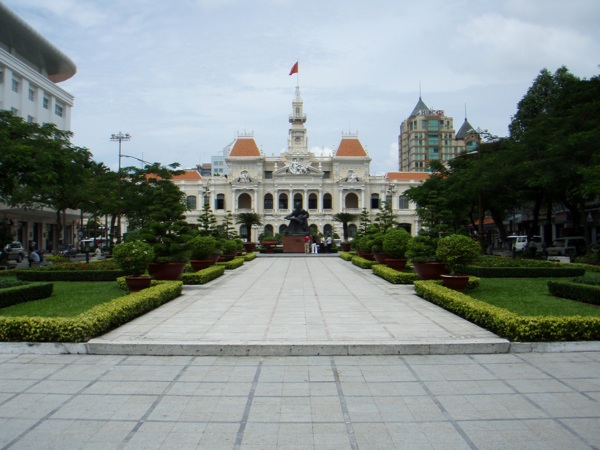 Saigon City Hall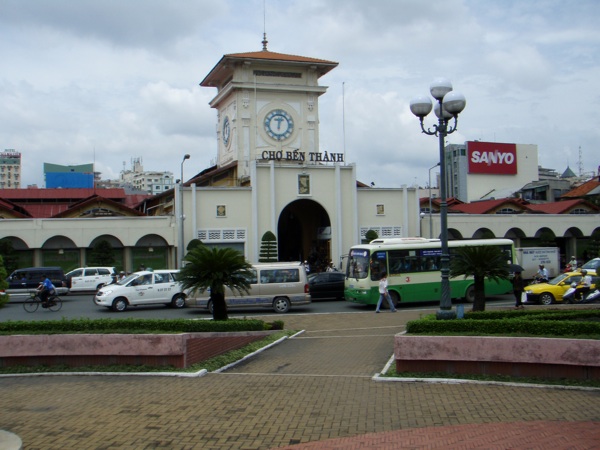 Ben Thanh Market
We stopped at Pho 24 which appeared to be a chain restaurant for pho (Vietnamese noodle soup). It sold beer so we went in and Filbert ordered a couple beers and Snookums ordered watermelon juice and we shared a bowl of beef pho. It was pretty tasty and also came with a plate that contained bean sprouts, limes, hot pepper slices, leaves from some herb and another kind of green herb/vegetable. We also were given wrapped packages of deep-fried tofu. Filbert put the condiments from the plate in his little bowl and added pho while Snookums just ate the pho as is. The deep-fried tofu was incredibly greasy and was kind of rubbery. But, the air conditioning in the restaurant was outstanding and since not many places had air conditioning, that made it a great establishment. Our bill was $7.50. We probably could have gotten the same thing at the open-air market for $3.50.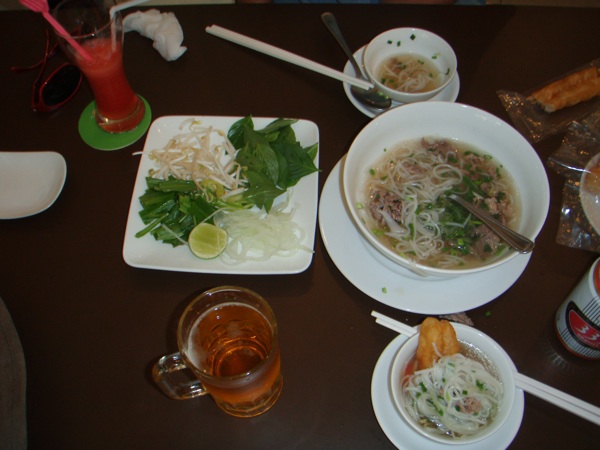 The spread at Pho 24
After lunch we stopped at Parkson Department Store. It was four floors and was your typical department store, including selling Clinique products on the first floor. The strange thing was that there were probably no more than ten customers in the entire store and that is NOT an exaggeration. Vietnamese obviously can't afford to shop at department stores. Nothing in it was unique so we didn't stay there long. It was very clean and well organized, though, since the saleswomen didn't have anything else to do but keep their areas tidy.
We returned to the Rex Hotel about two hours early and just sat in the lobby with other cruisers who had seen enough of Saigon. Snookums walked across the street three different times to buy $1 beverages, including beer, from a lady on the sidewalk. Saigon was very hot and humid and had motorcycles everywhere. Mostly the drivers obeyed the traffic signals, but you still had to be very careful when crossing the streets. They parked their scooters on the sidewalks so sometimes they would drive on the sidewalks. There were open-front establishments on either side of the street and they could be stores, restaurants with seats on the sidewalk or even motorcycle repair places.
We went to dinner on the ship and were surprised by anniversary cards from Jae and Bari and Yvan and Alice. Holland America gave us another cake like the one we got at Pinnacle Grill but without the whipped cream on the top. The staff sang some song in Italian (we think) and it was kind of nice. We passed the cake around the table three times and everyone took a forkful each time, just like one big happy family. Then the desserts we ordered came and everyone ate their own desserts. It was a good anniversary but we decided we don't need to return to Saigon (or maybe not even to Vietnam).
Next post: Thailand!