Contributed by: filbert Tuesday, September 30 2008 @ 06:03 AM CST
The Grand Asia & Australia Voyage – Holland America Amsterdam, September 19-November 23, 2008
Text by Snookums, Pictures by Filbert
Part Three
September 23 (Tuesday, Day 8, At sea) –
Snookums woke up early and decided to work out for the first time. She returned totally sweaty after an intense session on the elliptical as well as after doing some floor work and free weights.
We were supposed to cruise through the Aleutian Islands today but since the Russian port was cancelled our course is more diagonal down towards Japan and we were just "at sea" today.
In the middle of the ship, the main atrium contains a big map that shows our cruise progress.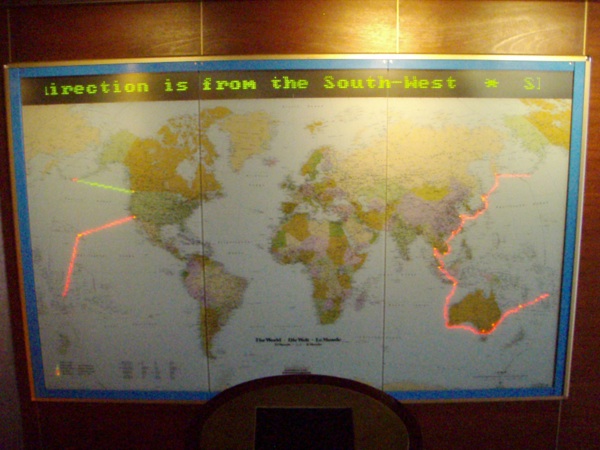 The Big Map in the atrium
There's also a big . . . thing in the middle of the central stairwell of the main atrium. It's supposed to be some kind of old-style clock/chronometer thingie. It's artsy. It's also almost impossible to photograph, but Filbert had to try. Here are some views of the Big Chronometer in the main atrium of the Amsterdam:
The Atrium Thingie-A Photo Study
Snookums finished a book (her fourth so far) and started watching a movie ("88 Minutes") but fell asleep. Filbert worked out and returned to the cabin all hot and sweaty.
Snookums's cold is getting better but now Filbert is worried that he's coming down with something. The weather for the day was mostly cloudy and very windy but the seas were still calm. The captain thinks we might hit 10-foot waves tomorrow. We're trying to beat a low-pressure system and so far, so good. Dinner was very nice (Snookums ordered 6 appetizers/soups/salads and no entrée and Filbert ordered crab legs which he doesn't want to do again – too messy) and we returned to our cabin and promptly fell asleep.
Each night on this cruise we have moved our clock back one hour which means we get back to our cabin around 9 PM (using the "new time"). And each night we promptly go to sleep around 9:30 PM. Tonight we not only had to move our clock back one hour, we needed to move the date forward since we will be crossing the International Date Line some time in the middle of the night. There will be no Wednesday, September 24 for us!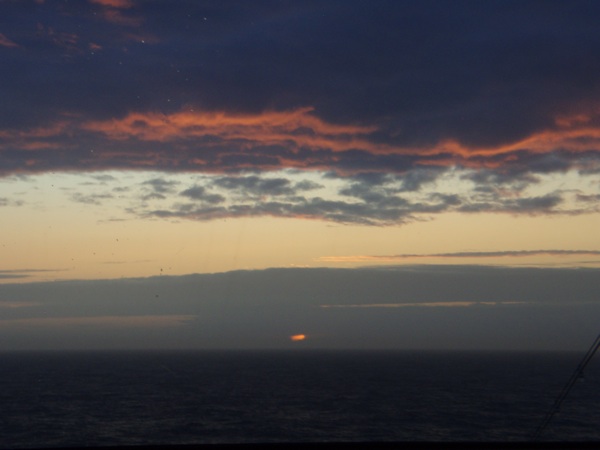 A sunset from the Crow's Nest lounge
September 25 (Thursday, Day 9, Crossing the International Date Line) –
Snookums woke up bright and early at 7:30, showered and went to the dining room for breakfast and ordered the special of the day, chocolate chip pancakes. The pancakes were loaded with gooey, melted chocolate chips and were delicious. Filbert woke up in time to eat scrambled eggs and sausage from the buffet. Snookums's cold is gone and she felt "normal" for the first time since boarding the ship and Filbert felt very rested.
The seas are still very calm and we're hoping that the 10-foot waves don't materialize. The captain told us that we crossed the International Date Line at 7:36 AM.
We decided to try the dance class to learn to waltz, but after 20 minutes of battling the rocking and shuddering ship, we gave up. Snookums already has two left feet and doesn't need the added handicap of waves and Filbert's heel was starting to hurt for the first time since being on the ship. The seasickness bags are strategically placed around the ship and there was definitely motion in the ocean yet the Navigation Channel still listed the seas as "slight – 1 to 4 feet".
After attempting the dance class we decided to work out. Snookums used the circuit program that our personal trainer developed for her and managed to drench a T-shirt and burn 600 calories and Filbert met his goal of burning 1000 calories a day by biking and lifting.
Snookums was disappointed to see that the only free workout class on the ship would be aerobics. With her two left feet and no sense of rhythm, she doesn't do aerobics. She was hoping that the free class would change and focus on abs one day, circuit training the next, power bands another time, etc. The fitness instructor (a woman in her 50s) said that since this cruise has elderly people on it, they decided to only offer aerobics. They also offer yoga and Pilates every day but those classes cost $10/each. Yoga was supposed to occur while we were working out but we didn't see anyone taking it so we think that it was canceled due to lack of participation.
It was formal night and Snookums wore Judy's gorgeous hand beaded dress from India. Many, many woman commented on how beautiful it was. We went to the Crow's Nest at 6 PM to see the sunset and managed to see a little bit of one although today was mostly overcast. After the Crow's Nest we bar-hopped to several other bars before going to dinner. We learned that the bar appetizers change every day and are even listed in the drink menu.
We got back to our room and found sweatshirts with the Grand Voyage logo on our bed. Filbert's was the right size but Snookums's was too big and she's hoping to exchange it for a smaller one.
The seas have picked up and our cabin is very noisy. It sounds like people are climbing stairs or are walking above us, but the noise is just from our cabin. The Neptune Lounge is the same way so it's not unique to our cabin. Snookums can sleep through the noise, but it has been keeping Filbert awake.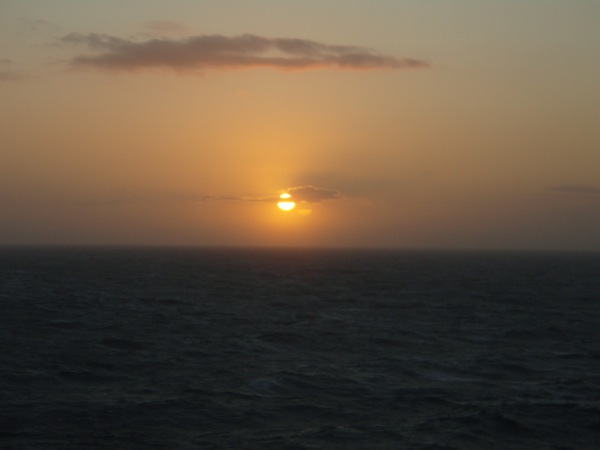 Another sunset from the Crow's Nest