Contributed by: filbert Thursday, July 31 2008 @ 11:00 AM CST
Over The Water And Back Again—A Transatlantic Trip
By Snookums, edited by Filbert, photos by Filbert
Part 4

May 6 (Tuesday, Day 10, Azores) –
Off the topic of cruising, Snookums and Filbert received an email from their subdivision's Board of Directors informing them that the annual garage sale would be delayed one week in order to handle the crowds associated with American Idol.  That's right folks, there was an American Idol contestant in our subdivision.  David Cook's mother and stepfather lived in our subdivision and American Idol was going to film David in his surroundings that upcoming weekend.  So, to accommodate the press and hordes of people, the annual garage sale was moved to May 15 – 17.  (By the way, Snookums stopped selling her rebate items at the garage sale two years ago and  instead donates the drug store items to the local battered women's shelter at a rate of about $8,000/year.)  Now back to cruising…
The Azores
A jail with a nice view:  Azores
Snookums was sniffling, coming down with either a cold or allergies so she didn't sleep well, but still ended up going to the 7:30 AM stretch class followed by the 8 M shape and tone class.  There still wasn't enough exercise mats (or space) but the class gave out "ShipShape dollars" to redeem at the end of the cruise for tacky Royal Caribbean stuff.  Snookums hoped to get 20 tokens for the t-shirt but thought that she would probably have to settle for a plastic water bottle for 6 tokens—7:30 AM is VERY early.
When Snookums got back to the room Filbert was showered and ready to go so we had breakfast for our second time on the ship.  Then we went to the 14th floor lounge in order to do Internet and when we arrived in the lounge, we saw that we were now within sight of land for the first time in 5 days.  We saw two sets of dolphins about 5 minutes apart so that was neat.  We docked at Ponta Delgada, Azores at noon.  Sperm whales live year-round and breed in the waters off the Azores, and we signed up for a 3 ½-hour whale watching excursion. They are supposed to be the 2nd largest whale type.
Before we could go on our whale watching tour we had to meet in the main theater at 1 PM.  Unfortunately, Royal Caribbean decided that EVERY tour needed to meet in the main theater at 1 PM and that each person would be given a sticker with the bus number on it.  There were two people handing out bus stickers.  We lined up on the stairs outside of the theater at 12:40 and actually got our sticker around 1:15 which meant we were standing in line for more than 30 minutes.  The appropriate word for this method for organizing the shore excursions was a compound word, beginning with "cluster" and ending with a word starting with "f."  Everyone was VERY upset about this and when we finally got to the bus with the other whale watchers, no one was in any mood to see whales.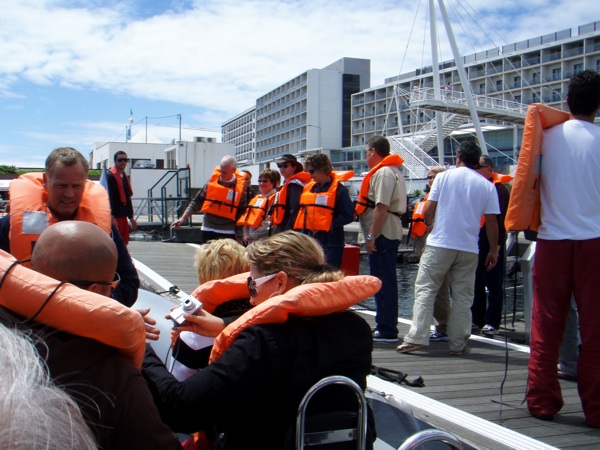 Boarding the zodiacs
On the water
Whale Tail!
After we recovered from the trauma of disembarking from the ship, we had a great time on our whale watching tour.  There were three inflatable boats with 12 seats in each.  We picked the seats in the rear since the tour guides said would be the most stable—we were glad we did.  The folks in the very front got a very bumpy ride.  As it was, we enjoyed bouncing up and down a lot and got sea spray (especially Snookums's side of the boat).  We went very fast for about 30 minutes to a spot where we started looking for whales.  We found out that there is a house on the hill that finds the whales and then radios the boats.  Anyway, we soon saw a spout from a sperm whale's blow hole and watched it for a few minutes before it disappeared.  We could often see the top of the whale's back and its rather small dorsal fin.  Sometimes we saw a flipper, too, when it was getting ready to submerge (but not do a deep dive).  Then we found four sperm whales in a group, then another single one, then another one.  We finally saw whale get ready for a deep dive and so we saw its tail flukes—very neat.  We ended up seeing two flukes during our excursion.
We also saw several Portuguese Man O' War jellyfish, that Snookums thought it was a plastic bluish-purple bottle.  She didn't believe the Zodiac captain at first when he kept saying that it was Portuguese Man O' War.  They can kill you instantly.  Yikes!  It really did look like a hard plastic colorful thing floating in the water.  We had seen jellyfish before and this didn't look like them at all.  We realized that we saw a bunch of them as we were pulling into the Azores on the ship and just didn't know it at the time.  We thought they were pieces of colorful trash!  Dumb landlubbers, I guess.
After seeing the whales we went to another part of the sea off the islands to see a bunch of bottlenose dolphins.  We found about 20 of them and watched them for a few minutes before they disappeared.  Both the whales and the dolphins would just be there one minute and then gone the next.  The dolphins came back (or were they a new pod?) and we watched them some more.  They were graceful in the water but they didn't do the jumps that we've seen before.  We think that spinner dolphins do the jumps and stuff.  These bottlenose dolphins were kind of "boring" in Snookums' opinion.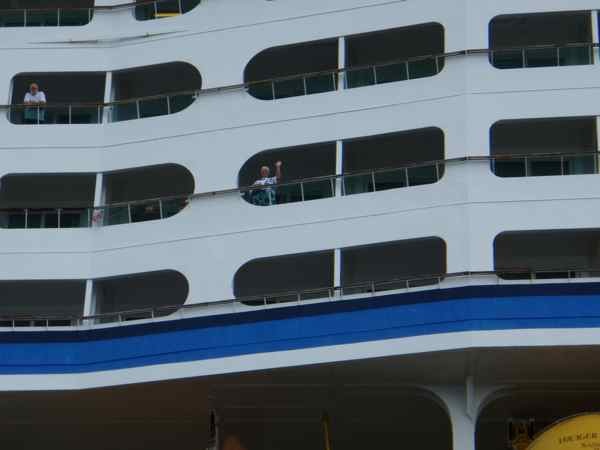 Hi, Anja!
When our inflatable boat was coming back to the marina it took went by our ship, and actually circled in the water so that people could take pictures.  Snookums looked up and saw a woman on her balcony and realized it was Anja, one of our Danish tablemates.  Snookums yelled and Anja started waving.  Filbert took Anja's picture and Anja took our picture.  It was pretty amazing that we could pick her out (and that she was outside at the right time).  It was the talk of the table at dinner!
We were hungry, cold and tired when we got back, so we went right to the concierge club for free drinks and food to tide us until dinner.  Snookums actually went back to the room to get some mail, since she had been told yesterday that the ship would get Portuguese stamps today and mail would go out right before the ship left.  She wanted to get some things sent off.  (Here we go again-Ed.)  When Snookums got to the front desk with her mail, she was told that the ship decided to NOT buy Portuguese stamps since this was the only stop in Portugal for its season and mail wouldn't go out until Cartegena, Spain on Friday.  That irritated Snookums big time.  When we got back to our room the tv didn't work.  It takes a lot to get Filbert really upset—but his outrage meter finally moved from apathy to anger.  So, Filbert called and was put on hold and decided to write a letter to the Guest Services Manager since being on hold for so long wasn't a pleasant option.  His letter dealt with the poor organization of the tour groups, the Portuguese stamp situation and the tv not working (again).  The letter was dropped off at the front desk after dinner.

May 7 (Wednesday, Day 11, At sea) –
Our phone rang around 10 AM and it was the Guest Services Manager responding to our letter.  She was a welcome change—both courteous and concerned, and apparently in a position to actually do something to ameliorate the bad service we'd received.  Unfortunately, she wanted to give us a future cruise certificate, but we told her that we had decided several days ago that we would probably not sail on RCI in the future.  She asked what we wanted and when Snookums told her shipboard credit, she said that she can't really give a lot in that area and asked if there was anything else.  She finally came up with a soft drink sticker for Snookums to use, a credit for our Internet bill for Filbert, and a pedicure, t-shirt, and backpack for Snookums.  We decided that it would do.
We finally got in touch with the spa manager from her phone message several nights ago.  She had heard that there were problems in the gym and wanted to know what they were.   Snookums told her that there weren't enough exercise mats or fitness balls during classes and that it was so crowded that she couldn't even do some of the classes and therefore couldn't get ShipShape dollars.  The spa manager told Snookums to ask for ShipShape dollars at her pedicure.
Snookums started getting a cold/sinus pressure a few days ago and was very tired.  Since she was given antibiotics in mid-April for the same thing she decided not to wait to nip it in the bud.  A $162 doctor's visit produced a Z-Pak (antibiotics) so she was happy.
Dinner was fun again and then we all went to the 10:30 Karaoke Championships and then met in the Promenade (the 24-hour pizza/dessert/coffee bar) after that for another hour or so.  It was the latest we had been up.  Our table decided to go to "Quest" at 10:30 tomorrow night, too.  (Quest was some kind of adult game that is on every Royal Caribbean cruise that our tablemates have been waiting for the whole cruise!)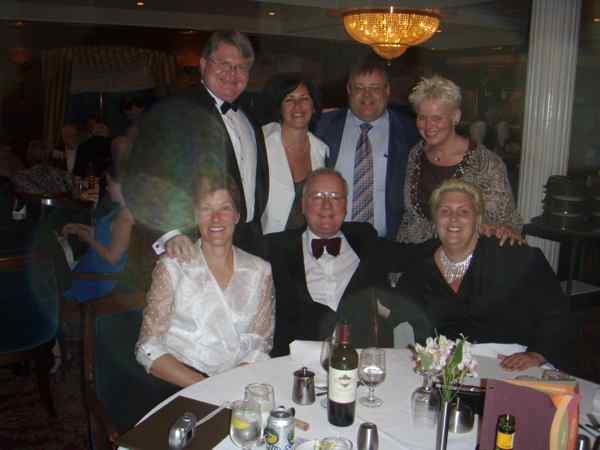 The table gang (sorry for the dirty lens)