Contributed by: filbert Wednesday, February 27 2008 @ 02:14 PM CST
Wow, that season went by incredibly fast. So fast that I fell far, far behind in posting the Road to the Summit series. It's all over, now, the traveling to all of the Summit League basketball venues. We made it to all of them except Oral Roberts in Tulsa. I'm now sitting at my sister's house here in South Dakota, waiting for the final weekend's games in Frost Arena.
So, I'll try to catch up, with the final two installments of the Road to the Summit.
We headed back north from Kansas City to Brookings for the Summit League home openers for the South Dakota State University men's basketball team. They hosted Oakland University of Michigan on Thursday night, and are the nightcap of a women's/men's basketball doubleheader with Indiana-Purdue Ft. Wayne (IPFW) on Saturday night. The weather was good–clear to partly cloudy, and highs above the freezing mark. This rates a 10 on the South Dakota January weather scale.
The drive was, as always, uneventful. The usual drug interdiction law enforcement activity in Iowa had a couple of cars pulled over as we pass. That's about as exciting as it got. We pulled into the Fairfield Inn for our stay, went across the parking lot to the Applebee's, then headed to the Oakland game.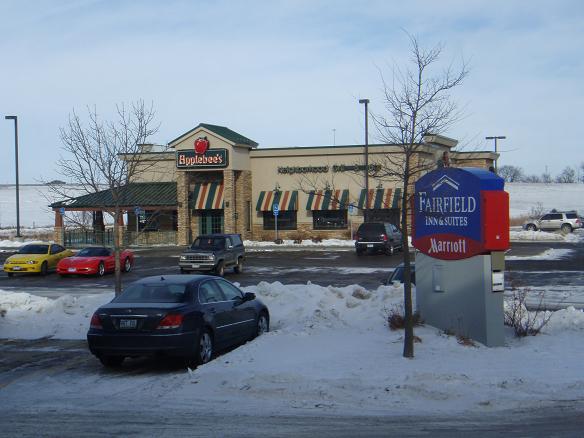 The Brookings Applebee's
All I'll say about the Oakland game is: that wasn't goaltending.
Friday morning, we shuffled down the hall to the Fairfield's breakfast area, and encountered Mr. and Mrs. Williams–parents of SDSU's sophomore forward Kai Williams. We had a pleasant chat with them, then hustled off to meet my sister and brother who came over to see us for the day. My sister was after scrapbooking supplies, and my brother wanted to find a globe light fixture to replace a broken one, so we spent the day shopping in Brookings. (We found scrapbooking stuff, but not an acceptable light fixture, by the way.) They headed back home about mid-afternoon, and we retired to our room for a while before going out to supper at the Pheasant restaurant.
The Pheasant Restaurant was about as up-scale as a restaurant gets in Brookings–actual cloth tablecloths and napkins, even, and a non-smoking room separate from the larger bar/dining area for smokers. The only downside of the non-smoking area was that it was very cool–OK, it was cold. Real cold. But we huddled together for warmth and broke down one of the chairs at the table to start a little fire, and we were good after that. (Yes, I'm kidding. But it was pretty chilly.)
I started with a very meat-rich bowl of chili–marred only by being a bit too salty, but otherwise very flavorful. This was followed by a pretty good side salad–a bit better than your usual iceberg lettuce and grated carrot affair. My entree was prime rib–a required staple of any self-respecting steakhouse in meat-eating South Dakota on a weekend evening. It was, of course, quite good, as you expect when eating beef in the North Plains. Snookums had the pork tenderloin sandwich, which she reported to be quite good, although the sauce on the sweet potatoes she ordered as her side were a bit too sweet. We both agreed we'd have to come back to the Pheasant.
The next morning, we again availed ourselves of the complementary breakfast at the Fairfield, and again were joined by the Williamses. Then, we settled down for a day of travel writing, of which this is one of the work products.
The results of the two Saturday games were most satisfactory–two wins. So on Sunday we packed up and headed back home to K.C.
Three days later, we were on the road again, this time to Macomb, Illinois to watch the guys take on Western Illinois University. The drive from Kansas City was a bit easier than I thought it would be, with some two-lane roads between Columbia and Hannibal in Missouri, and between Quincy and Macomb in Illinois. But we arrived in good shape on a fairly gloomy, cloudy day, checked in at the Holiday Inn Express, and quickly discovered that it was the SDSU team hotel. We taped up our SDSU flag to our room's window–which was right over the main entrance to the hotel.
The eternal question when on road trips is: where to eat? A local steakhouse named the Red Ox was recommended to us, so we went there. It was what you'd expect from a long-established steak house–wood paneling, poorly lit, etc., etc. I had what they called an "ugly steak" which was basically a blackened steak, but the blackening wasn't the usual peppery seasoning. The seasoning is, of course, a house secret and our waiter couldn't or wouldn't divulge the secret ingredients. It wasn't bad at all, but at $21 certainly overpriced, especially when the side was just potatoes. I had the shredded potato with  cheese with jalapeños, Snookums had them without jalapeños along with her teriyaki chicken. The potatoes and cheese were pretty bland without the jalapeños, but quite zippy with them.
The next morning (Thursday) we ran into SDSU assistant coach Deryl Cunningham and were happy to hear that the team saw our flag in the window as soon as they came off of the bus. Rah rah Rabbits! Some of the guys were studying (or, at least, reading really, really big books) beside the hotel pool.
Lunch was next up, so we went over to the Student Prince, and old-school greasy spoon of a restaurant, open since . . . well, open for a long, long time. I had a very good hamburger and Snookums had a good open face roast beef sandwich (with, she admitted, too much gravy, as if such a thing was possible). The restaurant had the requisite saucy waitresses, cheerfully abusive local patrons, and was really quite an excellent example of the classic American Greasy Spoon Restaurant.
We scouted out the Western Illinois campus and got our bearings, before heading back to the room. We lounged there reading, doing some writing and Internet surfing before heading out to . . . yes . . . eat. This time we picked out Rocky's Bar and Grill. Another long-time Macomb institution, or so it seemed. We ordered a mixed platter of appetizers (chicken nuggets, mushrooms, cheese sticks, and fried cauliflower). The cheese sticks were oddly made of a mozzarella stick with a wonton wrapper around it. Odd, but not bad. Snookums followed up the appetizers with a very good Cajun chicken sandwich, with the chicken breast fillet twice as big and half as expensive as the teriyaki chicken dinner at the Red Ox. I had a patty melt sandwich on rye bread that was on the greasy side, but otherwise OK.
Since the Western Illinois' home arena is Western Arena but their basketball court is the Waste Management Court, I have decided to call their home arena "The Waste." No offense, of course.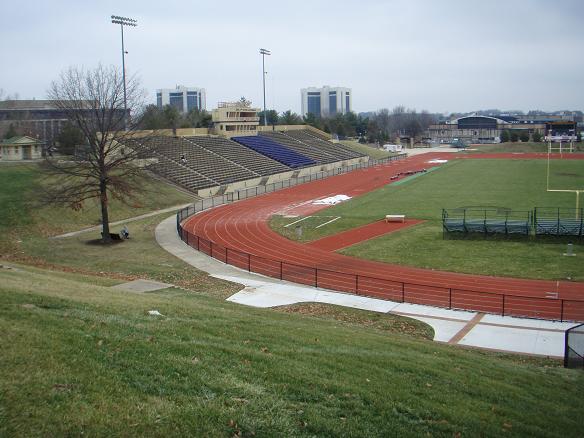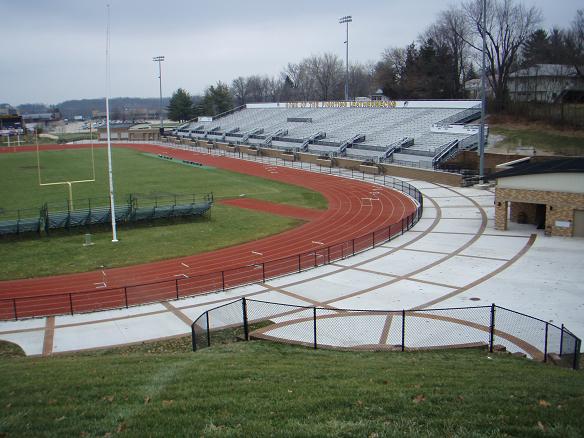 WIU's football stadium (2 pics)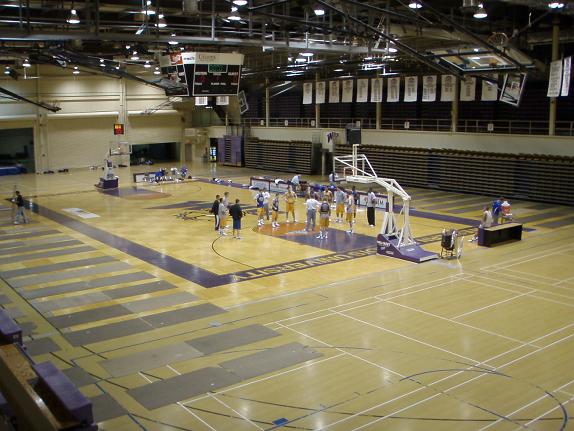 Jackrabbit practice in the Waste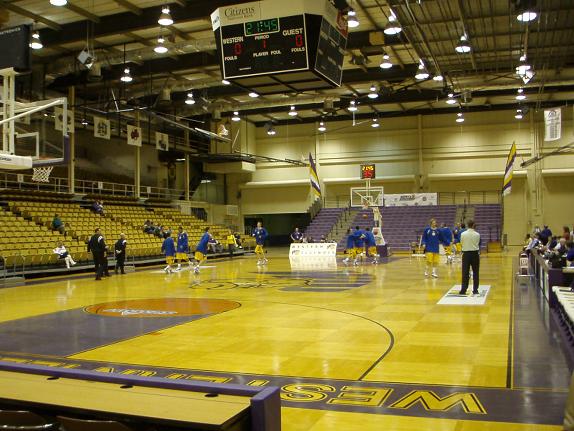 The Waste, ready for Basketball
Of the men's game with Western Illinois, the less said, the better.
Friday morning and we were on the road again. We stopped at Le Roy, Illinois for a late brunch at Woody's just off I-74, and found a pretty extensive lunch buffet. They even had fried smelt. I don't like smelt. But they also had fried chicken, shrimp, cod, and chicken-fried steak, and a pretty good Yankee pot roast, all for $6.99 a person. We tried and mostly succeeded to avoid eating too much–a common hazard of buffets.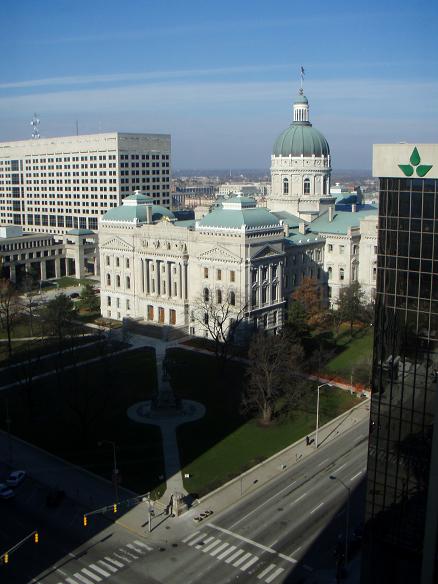 The Indiana State Capitol from our room
The Indiana State Capitol from our room
We settled into the Indianapolis Hyatt Regency and, after the Le Roy brunch wore off, wandered out at about 9 PM to find somewhere to eat. We ended up at The Ram Restaurant and Brewery, a brew pub in downtown Indianapolis. (Not affiliated with Brookings' Ram Pub, this Ram was a chain out of the Pacific Northwest). Their calamari appetizer was very good, with a good portion of breaded, fried calamari in a spicy sweet chili sauce. Snookums had chicken quesadillas, and I had a steak salad. Both dishes got thumbs up.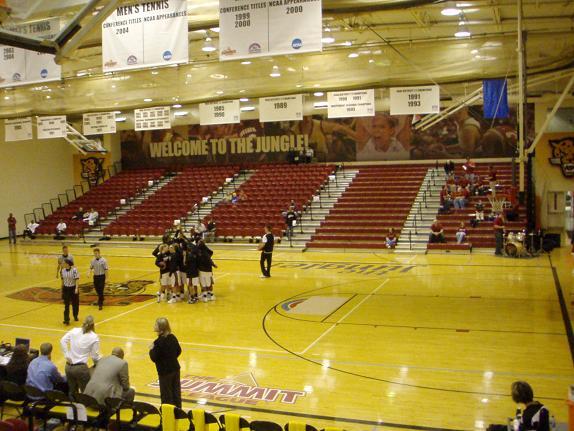 The Jungle
On Saturday we walked about 1.5 miles to the SDSU pre-game rally in the restaurant of the hotel on campus at IUPUI, and met some local SDSU fans and alumni. We got a drive across campus to "The Jungle," a small high school gym somehow transplanted onto an urban 30,000-student university campus. The SDSU women's team beat the Jaguars.
The men, um, don't.
The drive home to Kansas City was a straight shot on I-70 (except a short diversion through the northern suburbs of St. Louis on I-270).
Our story continues . . .