Contributed by: filbert Friday, October 16 2015 @ 06:40 AM CST
The 2012 Grand Asia & Australia Voyage, Holland America ms Amsterdam
Text and pictures by Snookums, webification by Filbert
Part Nine
November 2 (Friday, Day 43, At Sea) –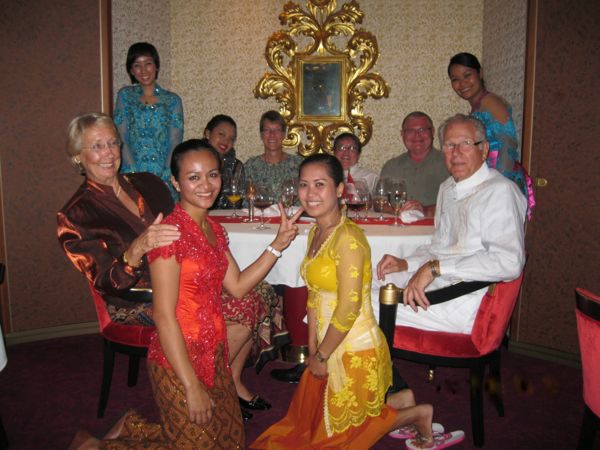 Indonesian dinner
For the first time since she hurt her neck last Thursday, Snookums went to the gym for Fab Abs. After showering and breakfast, she napped on the verandah for a couple of hours until Filbert came outside announcing that rather than overnighting in Brisbane, the ship was going to drop anchor in Hamilton Island, Australia which means a Great Barrier Reef snorkel trip. (Filbert was coming back from the lecture on "The Pacific: Hotbed of Volcanoes & Earthquakes" and the announcement was in the mailbox.)
The ocean was like glass all day and we saw dolphins once and flying fish several times. Filbert spent a lot of time on the verandah listening to his shortwave and he also attended the "Darwin, Northern Territory and aboriginal Australians" lecture in the afternoon. While he was there, Snookums attended crafts and made a pretty lariat necklace out of various green glass beads that she will actually wear. Snookums also attended Total Body Conditioning at 5 PM.
We attended the $69 Indonesian Dinner in Pinnacle Grill. Snookums wore the blouse she bought in Lombok and the necklace that she just made. We ate with David, Mary and Roberta (all Deluxe Verandah Suite guests, although four of us had never seen Roberta before and that was a standing joke during dinner) and we all had a great time. Tina, one of the Pinnacle Grill waitresses, was the cook for this superb dinner. Her mother actually brought her the various Indonesian spices (like Indonesian basil that she used in the beef rendang) when the ship was docked in Semarang. Tina enjoys cooking and made her mother's recipes for all of us to enjoy. It was definitely well worth the $69. And, every woman received a handmade 2012 Grand Voyage commemorative angklung (Indonesian musical instrument). Snookums and Filbert both really enjoyed the steamed barramundi fish marinated in lemon grass that was wrapped in a banana leaf and the dish made of sautéed tofu and bean sprouts. All of the items were delicious, but these two were the best.
November 3 (Saturday, Day 44, Darwin, Australia; $1.00 AUD = $1.04, $1 = $0.97 AUD) –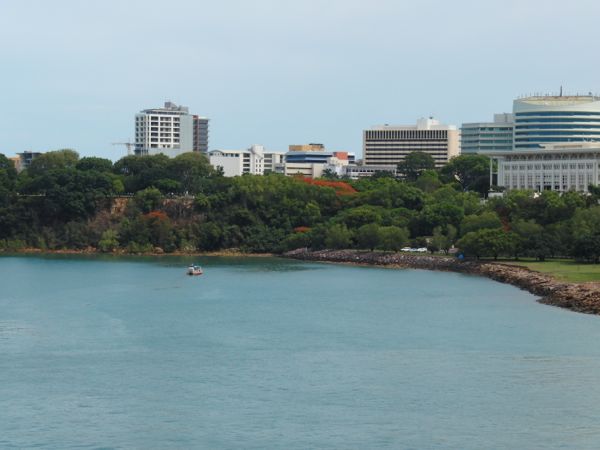 Darwin, Australia
Snookums woke up and went to Total Body Conditioning. We decided to get on the first shuttle to town since the shuttles were going to run every thirty minutes. We stood in line for 15 minutes prior to the ship's planned docking time and since the ship was thirty minutes late in clearing, it ended up being a 45-minute wait in line on the ship. We DID get on the first shuttle but there were actually around six shuttles waiting for people so we would have been just fine waiting in our cabin. Live and learn!
The weather was very humid since it rained in the morning and the temperature was around 90. Needless to say, it was thick. We got off the shuttle and decided to just walk around Darwin. We talked about walking to Bicentennial Park, too. While walking around, we stopped at a bush outfitter store and Filbert bought a nice pair of shorts. Then we went to the post office and found that mailing postcards from shore ($1.60) was cheaper than on the ship ($1.85) so we mailed our five Komodo Island post cards. Snookums then bought a pair of shorts at a camping supply store. At that point we decided to go to Woolworth's (a regular grocery store) and then head back to the shuttle. So much for doing a lot of walking! Filbert bought alcoholic ginger beer and regular beer for himself and John (tablemate) and Snookums bought licorice for her mom.
We got back to the ship around 1:45 and headed to Lido for lunch. A lot of the humidity burned off and it was actually much more pleasant after noon than before. We did not time our excursion well at all. Oh well! After lunch Snookums took a nap while Filbert sat on the verandah. While listening to Australian radio, Filbert learned that Prince Charles and Camilla were visiting Papua New Guinea for the Queen's Diamond Jubilee. It isn't safe enough for our ship but is safe enough for British royalty. Go figure. (They'll visit Australia and New Zealand, too.)
Snookums went to Fab Abs at 5 PM and then got ready for dinner. There was an Aussie Outback Barbie poolside from 5:30 PM – 8 PM, but we didn't go since all of HAL's barbeques seem to be the same. They usually serve grilled sausages, hamburgers, hot dogs, steaks, fish and various salads. The decorations are different, but the menus are usually the same. In this case, there were directional signs taped up that said Sydney and Perth and things like that and the servers wore bush hats. We went to our regular table (#25) in the dining room instead, and like always, had a very enjoyable dinner with John/Sharie and John/Laura.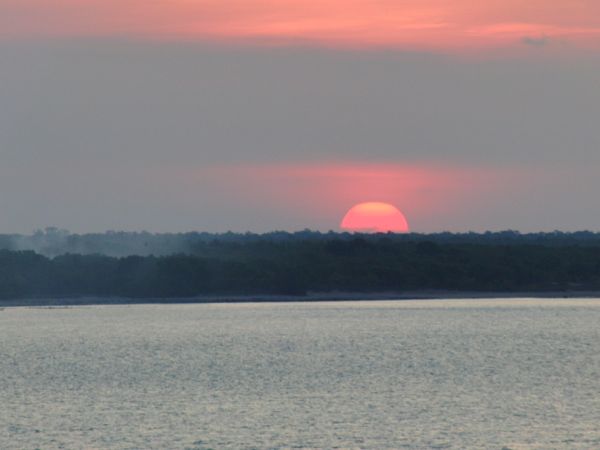 Darwin sunset
November 4 (Sunday, Day 45, At Sea) –
Snookums went to Fab Abs and then had her normal low-cal breakfast of blueberries, plain yogurt and Special K. Filbert ordered room service since Neptune Lounge has too many carbs for him. The Faberge eggs were being displayed in the Neptune Lounge so Snookums looked at them. There were only four eggs, though, and she didn't feel like spending $30,000 on any of them or spending $3,000 on cufflinks. Snookums used the rest of the morning to write the journal and then we went to the suite lunch held in the galley. Eight tables were set up in the galley, with cooks doing their normal line duties, and we ordered from the regular lunch dining room menu. We sat with Roberta (she really does exist, but we still hadn't seen her since our Indonesian dinner in Pinnacle Grill) and it was loud and chaotic, but was a change of pace.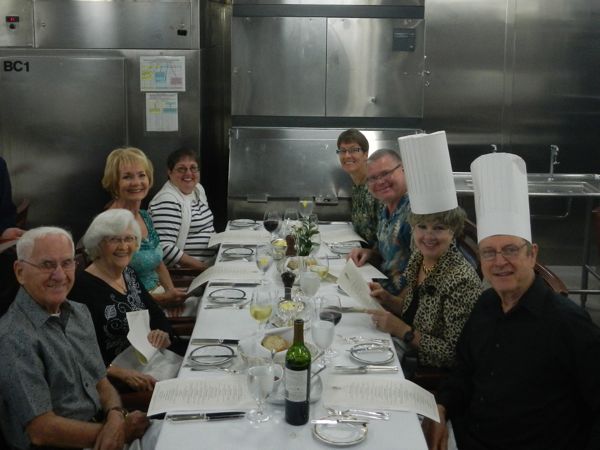 Suite lunch in the galley
At 2 PM, the clocks were set forward 30 minutes. Snookums attended crafts and made an Australian Aboriginal dreamtime tissue cover and then went to Total Body Conditioning. Then it was time for the Black & Gold formal night followed by the Black & Gold Ball. The restaurant and Queen's Lounge were both decorated with tons of black and gold decorations and looked very nice. When we returned to our cabin, two Steiff stuffed bears, wearing HAL 2012 Asia/Australia scarves, were on the bed. Snookums would have rather had luggage tags for the new luggage.
November 5 (Monday, Day 46, At Sea) –
Snookums and Filbert slept until 9:00 and then went to "Things to See & Do in Brisbane". Sharie had complained about the toilet paper in their Deck 1 cabin so Snookums went on a toilet paper quest. The toilet paper in the Deluxe Verandah Suites was the same as in three other public bathrooms which further convinced Snookums that Sharie's room steward was just getting their toilet paper from a different pallet and it wasn't because they were in "steerage". Snookums and Filbert then met John and Sharie at noon for lunch in Pinnacle Grill and Snookums presented Sharie with four rolls of quilted toilet paper. Snookums and Sharie really, really enjoyed their hamburgers and fries. (Snookums and Filbert learned that Canadians eat white vinegar on French fries and even Canadian McDonalds provide packets of white vinegar.)
Snookums and Sharie then went to crafts and were happy to see that four other women saved spots for the two them. And, one of the women gave Semarang, Indonesia bookmarks to the five women that were made out of cow skin (but not leather). Then we got down to business and made tropical wood necklaces and earrings. While Snookums was busy bonding with women, Filbert played his computer game most of the afternoon. Snookums went to Fab Abs at 5:00 and it was a killer workout for the three people that showed up. She even had to take a few breaks during some of the sets and that rarely happens. And, Snookums was very happy to see that she got her trophy on the face of her watch since she met her weekly goal and that happened even though she was on "injured reserve" until Friday!
Scenic commentary occurred throughout the day since a Great Barrier Reef pilot boarded the ship. He pointed out the locations made famous by Captain Cook and Captain Bligh. We saw islands and on the starboard side of the ship, the coast of Australia. In fact, around 2 PM the casino closed until November 8 due to local regulations since the ship is so close to Australia.
At 7:00 Filbert and Snookums went to the Guy Fawkes Bonfire Night celebration in the Crow's Nest. Once again HAL did a great job with decorations. There were two realistic-looking bonfires, lots of orange balloons, a stuffed Guy Fawkes and Guy Fawkes' poems on every table. It was happy hour so Filbert enjoyed a double Manhattan for $1 more than a regular Manhattan. John and Laura ate dinner at Canaletto so just like at lunch, John & Sharie and Snookums & Filbert ate dinner together. Sharie said that when she returned to their Deck 1 cabin after crafts, she couldn't believe her eyes – the toilet paper that the steward left was the quilted kind! Snookums was right. The toilet paper is the same all over the ship, but various shipments come at different ports and are stored in different locations on the ship which is why some of it is different. In any event, Sharie is now happy!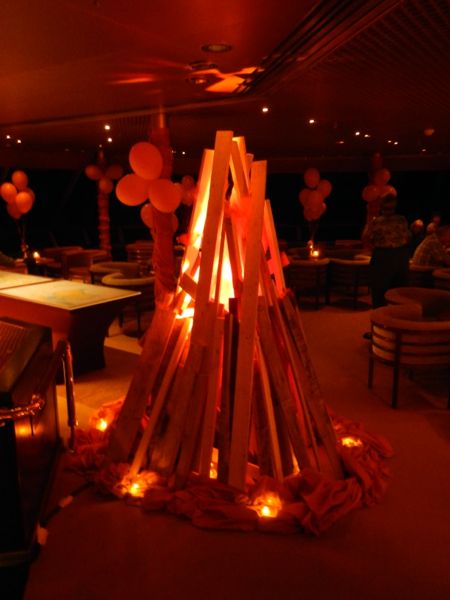 Bonfire
November 6 (Tuesday, Day 47, At Sea) –
Snookums went to Fab Abs (and her watch showed the trophy she got for making last week's goal) and ran into Filbert while leaving the gym. Even though it was very windy, he was up and about taking photos of Australia. We went to breakfast and lounged around until we finally showered prior to enjoying the lunch curries served poolside.
After lunch Snookums and Filbert went to the Crow's Nest for the 152nd Melbourne Cup Winner's Circle Celebration. The Crow's Nest was decorated in pink and green fabric and tons of matching Mylar strips on the floor. There were two big screens showing the horse race live since this morning the ship completed the negotiations for the rights to show it. The ship couldn't officially sponsor any betting due to local regulations, but several passengers had various pools going. The Crow's Nest waiters were passing around various salmon canapés and champagne was being sold at Happy Hour prices (buy one, get one for $1). Filbert enjoyed four Coopers Original Pale Ales since the bartender told him they were also on happy hour pricing, but they weren't and he was only charged for two. (And Filbert read the label on this Australian beer and found out that it was imported to San Francisco. So much for drinking beer from Australia!)
Prior to the start of the race a woman on TV sang the Australian national anthem and everyone in the Crow's Nest stood up and all the Aussies sang along. Snookums thinks that most of the Australian passengers were in the Crow's Nest and most of them were dressed up. Snookums was also dressed up, including wearing a fascinator, but she was probably the only non-Australian to do so. Snookums asked one of the Australians if she was appropriately attired with her fascinator (made by Mom) and was assured that she looked great. And, after seeing the other women with their fascinators, Snookums's looked every bit as good (and maybe even better!) than theirs. The woman that Snookums talked to actually owns three horses and last year had a horse in the Melbourne Cup so she should know about race day fashion. 24 horses started the race and Green Moon was the winner.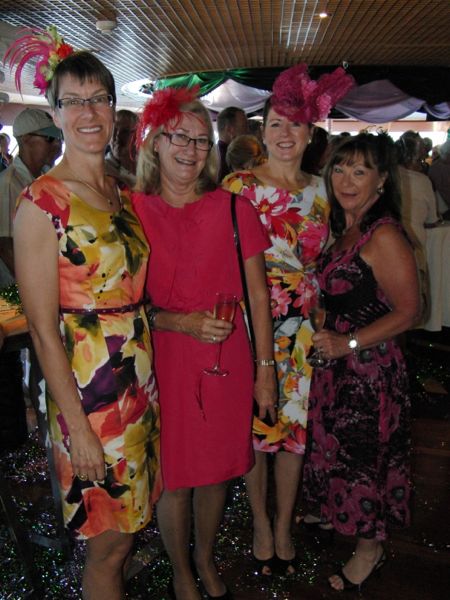 Race day
Snookums left the party prior to the race starting since she had to get to crafts to make her teabag folding art greeting card. Nancy Grace, the crafts teacher, pointed Snookums out to the group by announcing, "We have a fascinator in our midst. Show everyone." Snookums gladly obliged and walked through the Lido restaurant aisle to show the other 49 crafters her outfit. While Snookums was at crafts class, Filbert got some Australian money in order to pay for our passenger-organized $150 (AUD) snorkeling trip tomorrow.
Snookums went to Total Body Conditioning at 5 PM and then our regular table of six met for dinner at 7 PM at Canaletto, HAL's Italian (no charge) restaurant. Snookums wore her Melbourne Cup outfit (including fascinator) and everyone loved it and dinner was a nice change of pace. (And the cotton candy machine was working, unlike in July during our Alaska cruise, so we received a plate of cotton candy after dinner.)
November 7 (Wednesday, Day 48, Hamilton Island, Australia; 1 AUD = $1.04, $1 = 0.97 AUD) –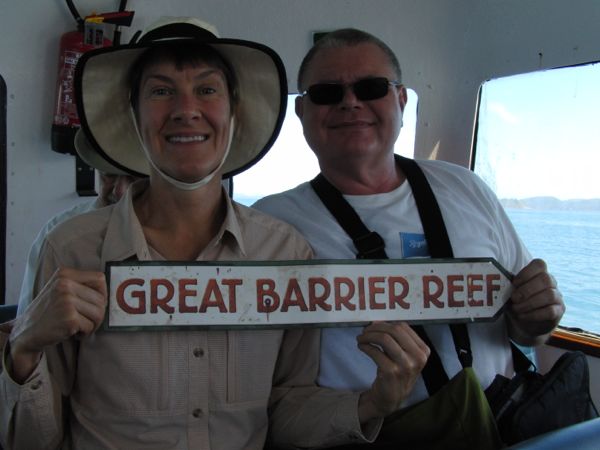 At The Reef
Hamilton Island is the largest inhabited island of the Whitsunday Islands in Queensland, Australia and has a population of 1,400 on 1.9 square miles. On a beautiful sunny day, we met the other 27 snorkelers in the Ocean Bar at 7:45 AM and got on a tender. After filling out several forms and getting equipment (including jellyfish stinger suits), we boarded a fast boat for the snorkel spot on the outer reef. It took about 30 minutes to get there and the boat was going very fast which made it very windy. We had a great snorkel even though Snookums was the second person back to the boat since she was cold. The coral was colorful and the fish were, too. No one got stung and everyone was pretty chilled by the time the boat started back. Unfortunately, since the boat went so fast that made for a very cold ride back to Hamilton Island. We did stop at Henning Island National Park to warm up and for our morning tea (soft drinks and cookies) and that was great. Then we had another ten minutes in the fast, windy boat to get back to the dock.
The Reef (2 pictures)
Filbert and Snookums went to Bob's Bakery for lunch since everyone said that it was the best, and cheapest, place to eat. Filbert bought a $4.50 beef, bacon and cheese meat pie and Snookums bought a $4.50 chicken pie. Snookums thought hers looked just like a Banquet Pot Pie removed from the foil tin but it tasted much, much better. Filbert returned to the dock and took a tender back to the ship in order to watch the election results. (Obama won.)
Snookums wandered around a bit, looking at the colony of fruit bats and the white cockatoos, and caught the free island shuttle for a trip around the island and enjoyed the beautiful scenery. This island is the nicest island she has seen. The views all over the island were spectacular (and everyone speaks English!). Cars aren't allowed so people use golf carts or the complementary shuttles.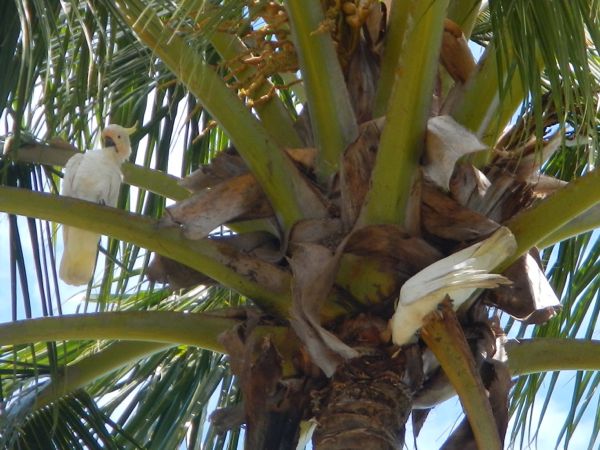 Cockatoos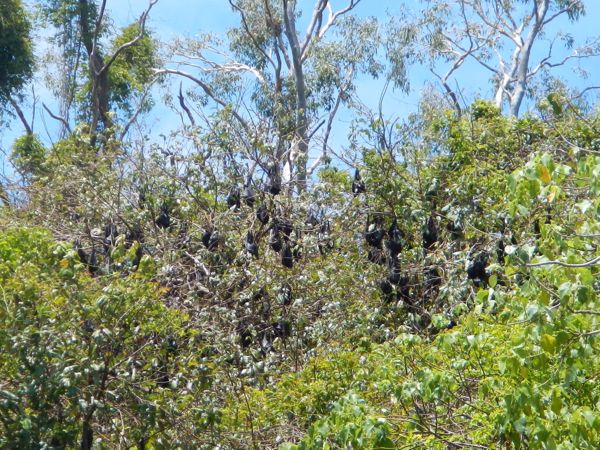 Fruit bats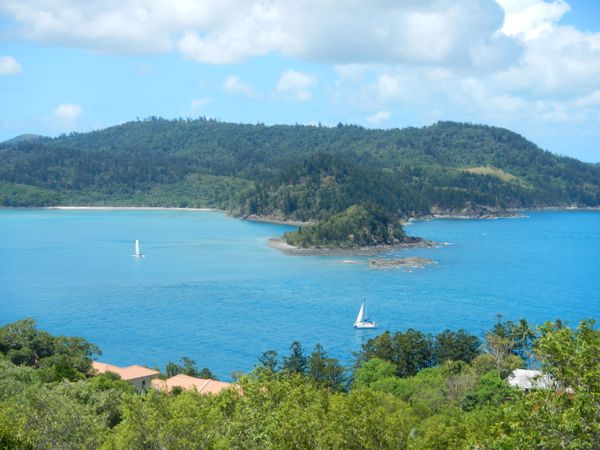 Hamilton Island view
Snookums returned to the ship and had some snacks from Neptune Lounge before falling asleep on the verandah. After a shower she watched "Muriel's Wedding" which was filmed on Hamilton Island.
November 8 (Thursday, Day 49, At Sea) –
Snookums woke up around 9:15 and sunbathed on the verandah until Filbert woke up around 10:30. We showered and then went to the Commonwealth Brunch in Lido and enjoyed the various Commonwealth foods like a full English breakfast, Scotch eggs, fish and chips, beef and mushroom pies and Australian Lamingtons (chocolate soaked sponge cake rolled in coconut). It was definitely a tough morning!!
Snookums went to crafts and made a tuck-away travel wallet and then did Fab Abs at 5 PM. Somehow she managed to get a cramp in her hamstring while doing the ab exercise of back extensions. Only Snookums can work her legs while she is supposed to be working her abs!
John and Sharie made dinner plans for Pinnacle Grill since they wanted to let the four Americans discuss the election. However, the outcome was known at last night's dinner and only about ten words were mentioned at that time. But, we four Americans ate in Lido and literally said nothing about the elections! We were NOT impressed with Lido for dinner, either, since three entrees had run out and three of us had to wait for up to five minutes for the next batch. And, no one from the bar staff ever stopped by the table. It just seemed understaffed and lackadaisical for dinner and none of us feel like returning. It was formal night, however, so we did not dress up since Lido doesn't require it.