Contributed by: filbert Thursday, April 05 2012 @ 06:46 PM CST
The 2012 14-Day Eastern & Western Caribbean Cruise, Holland America ms Nieuw Amsterdam
Text and pictures by Snookums, webification by Filbert
Part One
January 28 (Saturday, Day 1, Flying to Ft. Lauderdale) –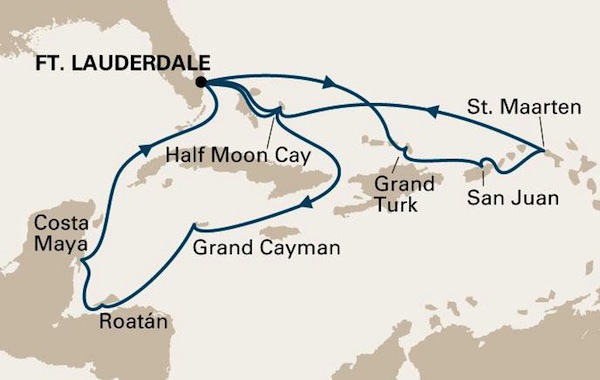 The Itinerary
Note – Filbert isn't on this cruise. He is attending South Dakota State University basketball games in Brookings, South Dakota and also hosting good friends of ours at home. Snookums's cruise roommate is her sister, Pat. Pat's husband isn't on this cruise and neither are their seven children. Pat is ready to party! Filbert drove Mom, Dad, Judy and Snookums to the airport. It was sunny but right around freezing. We arrived in Ft. Lauderdale on time at 3 PM. After a short wait for the Sleep Inn Dania Beach shuttle, ten hotel guests loaded onto the shuttle. We all had luggage, too, including our five checked bags, two rollaboards, one walker and one wheelchair. Somehow the driver managed to get everyone's luggage in the van (with no attached trailer) and we got to the Sleep Inn. Snookums checked into our two rooms and was surprised that Pat hadn't already checked in since her flight landed one hour prior to the Kansas City flight. Snookums wasn't worried, but wondered what had happened.
Snookums wheeled the FULL luggage cart to the hotel room and right then Pat walked into the Sleep Inn. She had been waiting at the airport for the four of us and after about an hour decided not to wait any longer. She called the hotel for the free shuttle and when she was asked "What airline?" she realized that Ft. Lauderdale had multiple terminals! She is actually a very experienced traveler but was in vacation mode and just wasn't thinking. And, she was really enjoying her peace and quiet. Delta and Southwest are at different terminals.
We quickly said our hellos and did some basic unpacking and then Snookums, Judy and Pat went to the Publix across the street to purchase the alcohol for the cruise. Three boxes of 3-liter Franzia box wine were purchased. We wanted to get Scotch for Dad, but Publix is only allowed to sell beer and wine. Then we walked back across the street to Walgreens (24-hours and next to the Sleep Inn) to get several cases of water and Snookums's 12-pack of Caffeine Free Diet Coke.
Back at the hotel Mom and Dad had a chance to review the menu from Pancho's Backyard and were ready to go eat. The restaurant is also across the street in the same complex as Publix. The five of us had a great dinner and Mom said her fried red snapper was the best fish she had eaten in several years. Judy and Snookums enjoyed the ropa Viejas (shredded beef), Dad enjoyed his grouper and Pat ate her fish tacos. And, the pitcher of Dos Equis Amber was enjoyed by all, too.
January 29 (Sunday, Day 2, Boarding ms Nieuw Amsterdam) –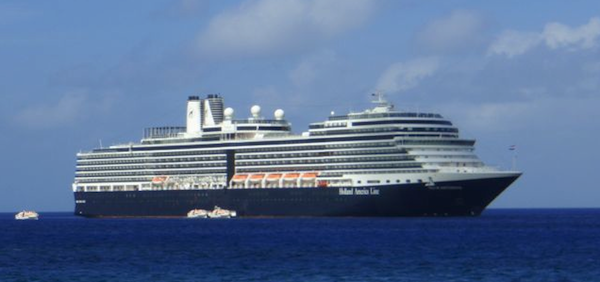 ms Nieuw Amsterdam
We were scheduled for the 11:30 shuttle to the port. This time the driver had to load up nine passengers, TWO wheelchairs, one walker, thirteen of our bags (we added three cases of water and Pat's luggage to our original count) plus other luggage. Somehow he managed to get it all in the van. The first stop was for a Carnival ship and then we finally got to Holland America's. Boarding the ship was uneventful and we managed to go directly to the dining room for lunch at 12:55. (It closed at 1.) After lunch we went to our rooms. No one's luggage had been delivered yet. Pat and Snookums explored the ship and got back to the cabin (7029 – Deluxe Verandah Ocean-view – 2 lower beds convertible to 1 queen-size bed, bathtub & shower, sitting area, private verandah, floor-to-ceiling windows, ~213 sq. ft. with verandah). (One thing to note on the Nieuw Amsterdam is that in order for the cabin lights and TV to work, a key must be put in the key slot next to the door just like in most European hotels. This was not the case on the Eurodam, the 1-year older sister ship to the Nieuw Amsterdam.) We started to unpack and then it was time for the lifeboat drill. Snookums's last Holland America lifeboat drill was on November 28, 2011. The Costa Concordia ship disaster occurred on January 13, 2012. Snookums noticed several differences in this lifeboat drill. For one thing, during the announcement five minutes prior to the actual drill, it was stated that not attending was grounds for disembarkation. During the actual drill, every stateroom was announced and the passengers had to raise their hands. At the November 28 lifeboat drill (and the August 12, 2011 one) the crew didn't appear to have a list of passengers and the cabin numbers were certainly not announced. And, during today's drill, the announcer was talking about the lifeboats and made a point to say that the lifeboats could still be lowered during a power outage and even if the ship was at a severe tilt. The 32-minute drill was much longer than normal, too.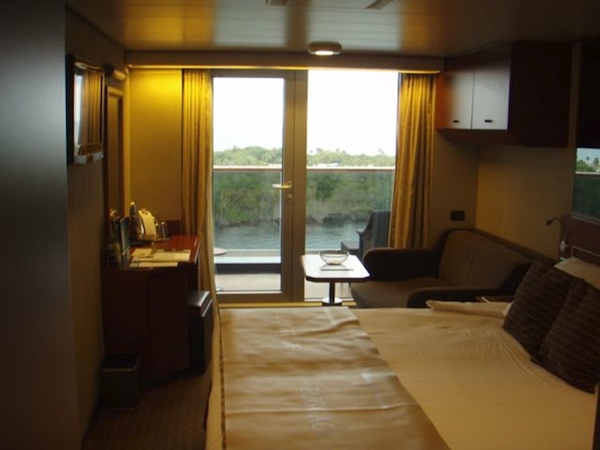 Verandah stateroom 7029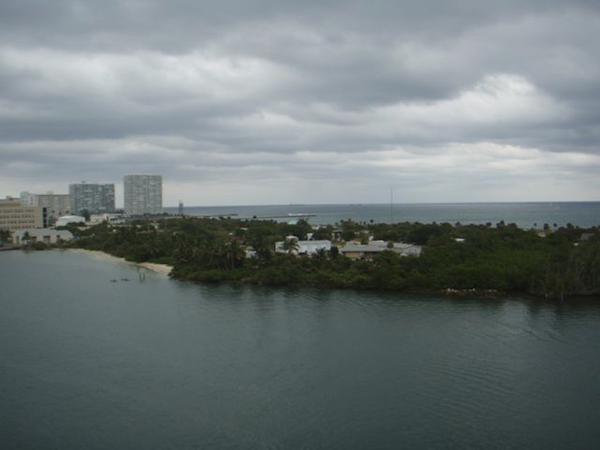 View of Ft. Lauderdale from cabin 7029
We returned to our room and continued to unpack until it was 5:30. (Snookums's parents like to eat during the early sitting so dinner will be at 5:30 every night.) Mom ordered the cobia (fish) and said it was also one of the best fish dinners she had eaten in several years. She is two for two with fish so far! Dad ordered the veal chop and said it was the best veal he had ever had. After being a prisoner of war in World War II, he certainly enjoys all food but rarely says that something is "the best" so we knew that he really enjoyed it. Snookums and Judy liked the pasta with tomatoes and pancetta and Pat enjoyed her mushroom risotto. After dinner Snookums and Pat continued their ship tour and Snookums found five $1 bills on the floor of the show lounge. The casino should have been the next stop, but Pat and Snookums ultimately went back to the cabin and chilled out. Mom, Dad and Judy went to their suite reception and enjoyed the free drinks. Mom had said that she was exhausted but she and Judy even managed to attend the 9:30 "Listen to the Music" show featuring the Entertainment team. After the show Judy stopped by our cabin and gave Pat some popcorn since Judy and Mom stopped at the theatre, too, and picked some up. Pat has a theater-like industrial popcorn popper in her living room and loves popcorn. Snookums was asleep by 10:30 PM.
January 30 (Monday, Day 3, Half Moon Cay, Bahamas) –
Snookums woke up when the Travel Guide, Ian Page, announced that the tenders were starting to take people to Half Moon Cay, Holland America's private island. Snookums took a shower and by then Pat was awake. We put on our beach clothes and went to breakfast. Snookums had her normal HAL oatmeal (with raisins and cinnamon) and a raisin bun. The raisin bun wasn't too good since it didn't have too many raisins in it. Pat enjoyed the muesli with added yogurt.
Judy came to the cabin at 10 AM and we headed for the tender. Half Moon Cay has double-decker tenders but the open-air top was full so we sat downstairs. Our ship was the only HAL ship anchored here today so the beach wasn't crowded. It was partly cloudy and the water was very clear. We found three empty chaise lounges and after awhile Snookums ventured into the water to check out the snorkeling. It was a very easy snorkel spot and there were several sunken concrete thingies (that looked like hen and chick planters) that the fish darted in and out of and there was also a large patch of sea grass that the fish liked. It wasn't that large, but there were ten or so species of fish and it was a good first snorkel. Snookums went back to the beach and convinced Pat and Judy to brave the cooler water. They put on their borrowed snorkel gear and slowly walked in until they could deal with the water temp. They finally immersed themselves and did just fine. Pat last snorkeled around 29 years ago and Judy snorkeled two years ago.
Snorkeling pictures:
After our snorkel we enjoyed the island BBQ. It seems that hamburgers, hot dogs, coleslaw, potato salad and fruit salad never taste as good as they do after a snorkel when you are all sticky, salty and hungry! After lunch we enjoyed more time on the chaise lounges before getting on the tender and heading back to the ship. Half Moon Cay has beach wheelchairs available and we decided that if Dad wanted to join us next Friday, we would take him ashore.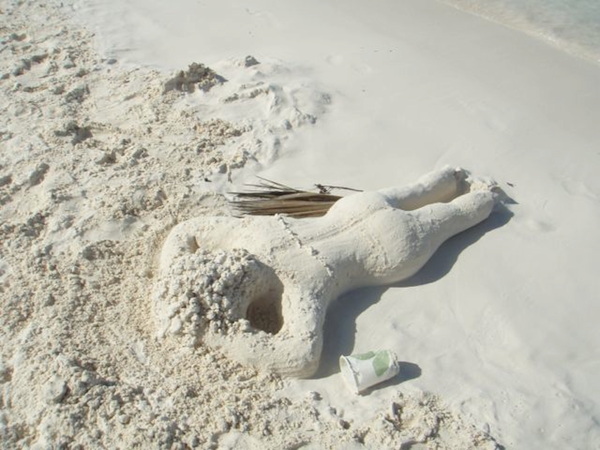 Half Moon Cay sand sculpture
Half Moon Cay beach:
We dropped Judy off at her room and heard about Mom and Dad's day. Dad spent a lot of time on deck 11 (the top) in Crow's Nest and Explorations Café (the library) while Mom went to "Glee – The Movie". Since lunch wasn't being served in the dining room, they ate hamburgers and lamb burgers at Terrace Grill. They also enjoyed sitting on their verandah getting some sun.
After showering it was almost time for dinner. After another very good dinner, Judy, Mom and Dad went to the production show while Pat and Snookums enjoyed watching "August Rush" on TNT.